Makeup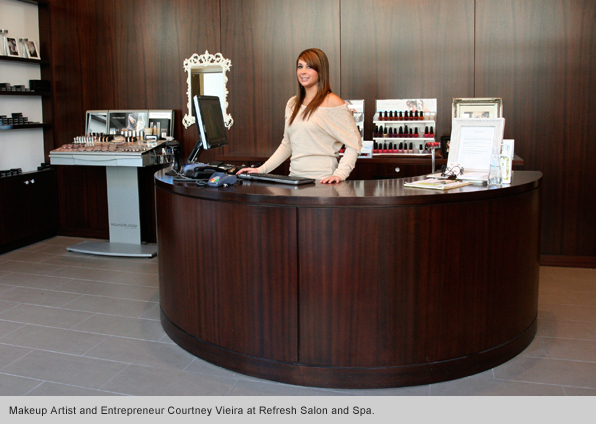 Two and a half years ago Blanche Macdonald Makeup Graduate Courtney Vieira walked into a meeting with her bank manager with a business plan. She was looking to open an affordable Downtown Vancouver-style salon and spa in Suter Brook Village, a retail and living community in the rapidly growing Lower Mainland town of Port Moody. By the time Courtney walked out of that meeting, she had shaken hands with a seriously impressed bank manager and secured the investment to make that dream a reality.
"I had a business plan and explained everything I wanted to do," recalls Courtney. "The bank thought that I understood the industry and would be opening in the perfect area. I didn't even have to do a makeup on anyone in the bank!"
That investment, paired with Courtney's vision, became Refresh Salon and Spa. Courtney is the owner, manager and in-house makeup artist. And her staff of hair stylists and estheticians have all been chosen to meet Courtney's vision and exacting standards.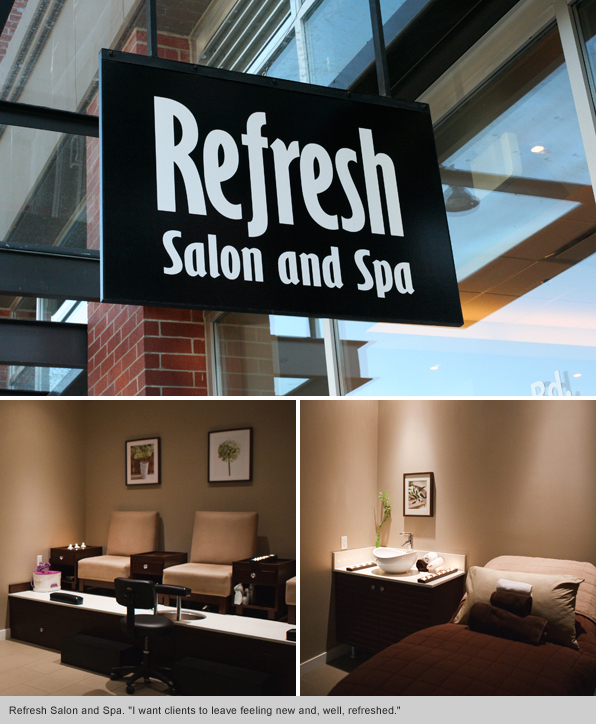 That vision is paying off. Business booming? You can say that again. When the space next to the original incarnation of Refresh became available, Courtney seized the opportunity, tripling the size of the salon and spa.
"When we started Refresh we had six chairs in a little space and spa in the back with two esthetics rooms and a manicure/pedicure room. Six chairs were all I could afford.
"When the space opened up after we'd been open a year and a half I thought, let's take over! Suter Brook is really growing. There are going to be two more high-rise blocks and another low-rise going up soon. We needed to jump on the chance to expand when the opportunity came up."
Courtney knows all about seizing opportunities. She had already decided that cosmetology was going to be her career before she'd even graduated high school. It was just a matter of choosing where she was going to study.
"I was always into art and fashion," she continues. "I was always reading style magazines. I was always the person my friends would come to with questions about fashion and makeup and hair. I'm a Pisces. Artistic, right? So that led me to cosmetics. A family member said, why don't you check out Blanche Macdonald? I found the web site, had the interview and I knew that was where I wanted to be. Makeup School looked so interesting. I saw all these students with big makeup cases walking around and they all looked like they were loving it. There was an effects shoot going on when I visited. Someone looked like Pinhead, the character from Hellraiser. I was really interested in the beauty but I wanted to learn how to do makeup like that too. I thought, this has to be my path."
Courtney was soon sampling that enthusiasm for herself.
"I was more interested in the bridal and fashion photo shoots than the effects, but I enjoyed every minute of it. Everyone was super friendly. I had come to Blanche Macdonald straight from high school and it wasn't like that, where you had to do maths and science. It was super fun."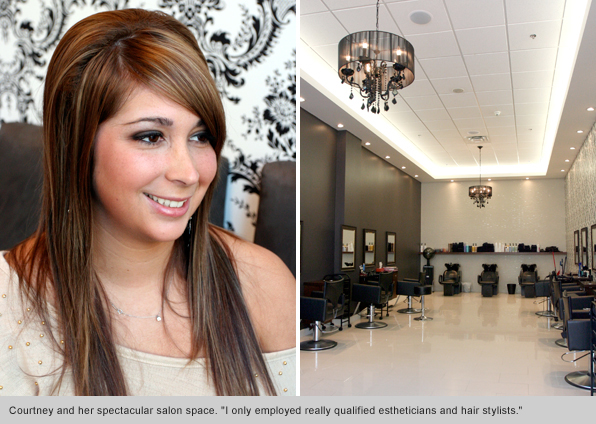 Courtney also understood that if she was going to find a niche for herself in the Canadian makeup industry, she was going to have to show people what she could do.
"A lot of people want to be a professional makeup artist, so to stand out you need good stuff on your résumé," she explains. "I did a lot of volunteer work at The Bay. I did the makeup for a music video for a rock band from Toronto called Esther Monk. I'm not sure what happened to them but I know they didn't become huge.
"A few months after graduation I was hired by a salon and spa company. I built up my clientele in their Pitt Meadows location then was transferred to the spa at Metrotown in Burnaby. I could do a really good makeup application in 15 to 20 minutes. People would come in for evening makeups for special occasions. I did more smoky eyes you could ever think of! Then they'd get their hair done while they were there. I ended up working there for five years, eventually becoming head makeup artist. I guess they liked my technique and how I went about the work. Still, in the back of my mind, I knew I wanted to open up my own place. That's what I wanted since I was at high school."
Courtney heard a rumour that Suter Brook Village might have some space for rent and paid Port Moody a visit. It was love at first sight.
"Gorgeous!" she beams. "The beach is only a short walk away. I looked into what it would take to open up a salon and spa, and signed everything. Done! It took me about eight months to finish the design. I wanted something high end with a high end product line. We carry Young Blood Cosmetics. It's organic and mineral based. I only employed really qualified estheticians and hair stylists. In less than a year we'd already expanded to the size Refresh is today.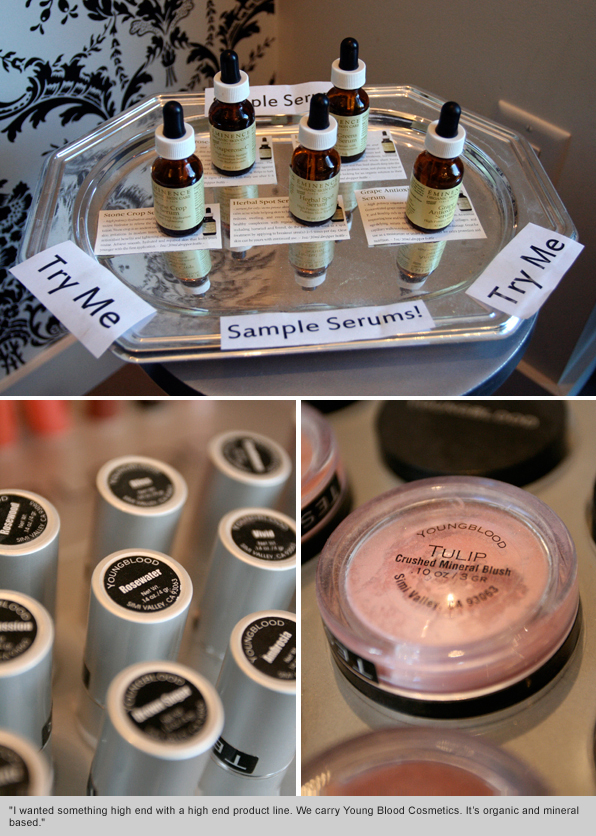 "I'm still the makeup artist. I never did any esthetics treatments myself, but working with estheticians and hair stylists in my previous job and watching what they did, I caught on and learnt a lot about their industries. Thursday, Friday and Saturday are when makeup applications come through. Those are my busy days. I love makeup, but I love the management angle of running Refresh too."
The makeup artist turned manager understands exactly what makes a great salon and spa. It's what has turned Refresh into a rapidly expanding success story.
"Always smile. People love to see a smile on your face. I want people to come in and be relaxed when they're getting their service done. And I want them to leave feeling new and, well, refreshed. I have great people working for me. I want to keep my employees happy. If they're happy, clients are happy. The clientele and my employees have become my friends, so I basically get to see my friends at work all day."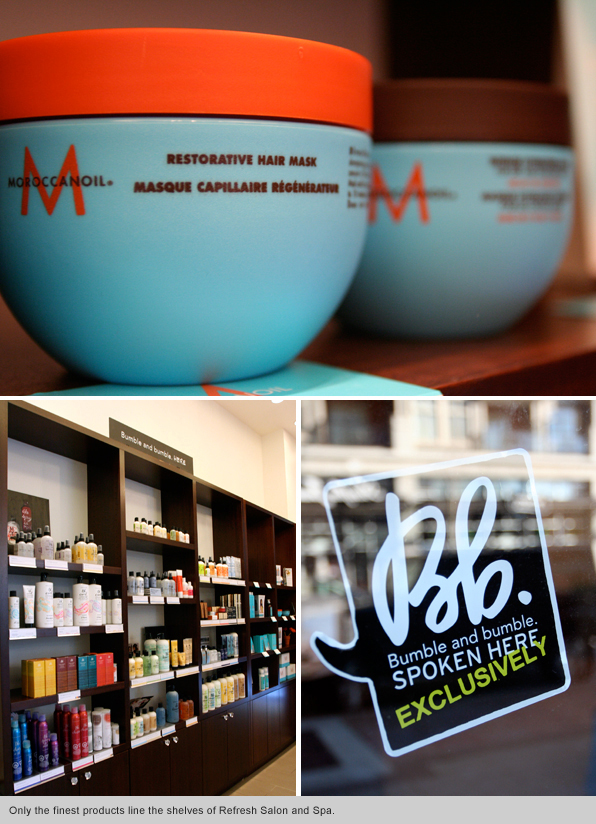 Courtney is already thinking about taking Refresh to a second location. Not in immediate future you understand, but she appreciates that there's no time like the present when an opportunity presents itself.
"I wish I'd started this business sooner," she admits. "I was young. It took me a few years to realise I was ready for this. I don't know if I was ready to own a salon or spa when I graduated, but I think I could have opened a store that was strictly cosmetics and beauty. We took business courses at Blanche Macdonald, so we knew what was out there.
"If becoming a makeup artist is in the back of your mind, don't double think it. Go for it. Blanche Macdonald is totally worth it. It was the most fun year of my life. You'll never forget it."