Makeup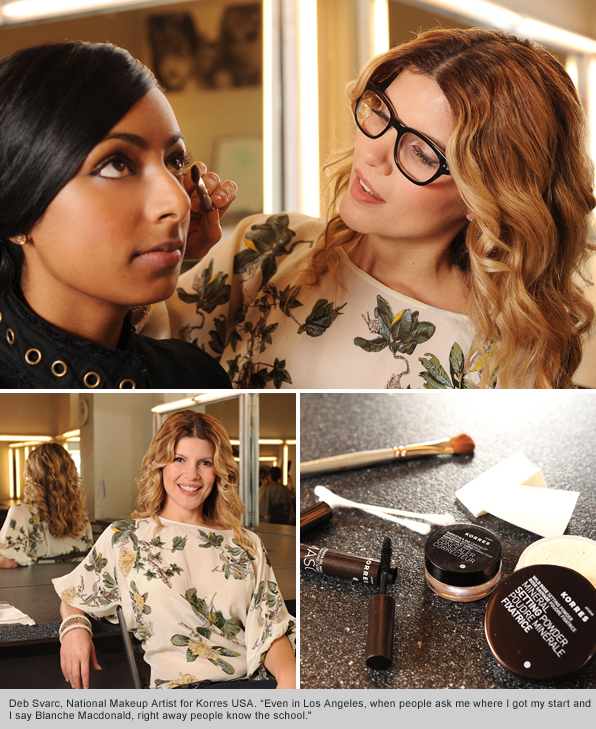 As a young girl growing up in Northern Manitoba, Deb Svarc had a dream. She didn't know how she was going to make it happen but somehow, some way, she was going to live in Los Angeles.
"I remember sitting in the donut shop when I was 14 years old, telling my friends that I was going to move to Hollywood," she explains on one of her regular visits to Vancouver. "I wasn't joking. That was always my plan."
Deb did move to Los Angeles. It's the perfect base for her role as National Makeup Artist for Korres USA. She looks after the Korres accounts in seven ultra-high profile stores in LA, and manages everything in Canada from Winnipeg west. There are regular trips to the New York head office and the home of Korres in Athens, Greece. And yet, whenever she returns to Los Angeles, Deb knows she's coming home.
"When I fly back from Canada the plane is always full of kids heading to Disneyland. They'll be clapping and cheering because they can see the Hollywood sign through the windows. And I'm always there with them!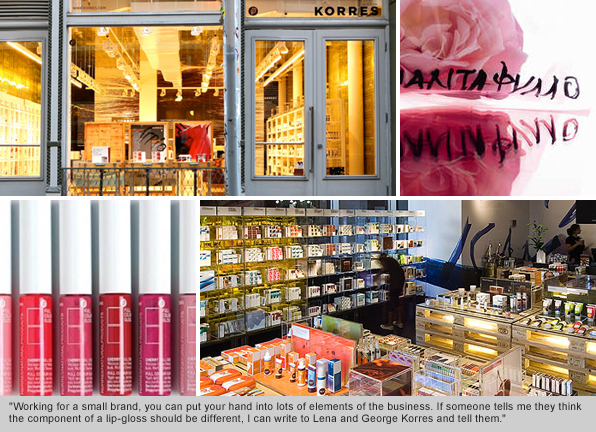 LA was always the destination, but Deb had little idea how she was going to reach California until she was introduced to the name Blanche Macdonald.
"I'd finished a Broadcast Journalist program but I'd always wanted to be a flight attendant. I thought I'd try it for one year. I met Alicia Noon, one of our instructors, who was a Blanche Macdonald makeup grad. As soon as she told us about Blanche Macdonald, I'd decided on my next job. I became a flight attendant, transferred to Vancouver, quit the job and started at Blanche Macdonald."
The first thing Deb learnt was that she wasn't the makeup artist she thought she was.
"Every girl thinks they have some level of technique with makeup," she smiles. "I thought I had more than the average woman in terms of my ability. But when I started here all that went away. I thought, whoa, this is serious! It was intimidating at the beginning but my instructors and my admissions director made me confident in myself.
"At first I questioned my ability to do scars, bruising and all of the gore. At the end, that was what I enjoyed most. For example, if you have to set a bald cap, you have to perfect the edges and make sure that the colour that you paint the cap to match the skin is exact for it to look convincing. That translates directly into figuring out someone's foundation colour. Those are the things you really pay attention to in special effects and they directly translate to beauty makeup. Same as chiaroscuro, figuring how to pull out a deep eye by using dark colour to recede it back and light to pull it forward. I grasped the concept of that in the special effects classes.
"I knew makeup was going to be my career and Blanche Macdonald was going to be my launching pad. I wanted to take full advantage of everything it offered me, which was a lot."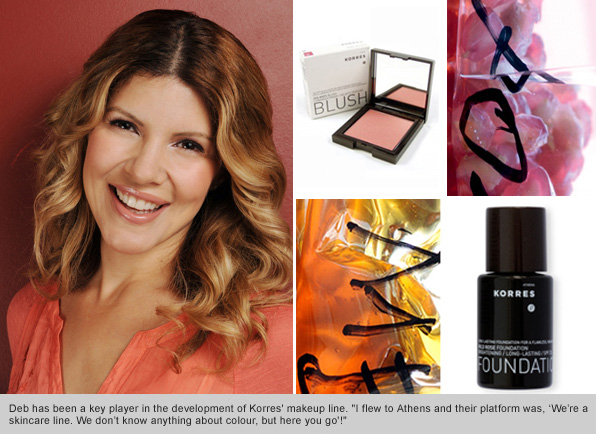 A star student, Deb had the opportunity to work on set before she'd even graduated. Instructor Joanne Kinchella selected Deb to assist on the TV cooking show she was keying.
"The best thing about Blanche Macdonald is that the instructors are not just teachers," insists Deb. "All of these instructors walk the walk. They're all working on sets or photo shoots. They know what they're talking about.
"I learned so much on set with Joanne. TV and film is an amazing field, but they explain at Makeup School that if you work on set you will have a 5am call time and you may not finish the day until midnight, with a 5am call time the next day. I didn't want my work to be my life."
Instead, Holt Renfrew's Jennifer Daerendinger (now one of Blanche Macdonald's Career Directors) selected Deb to work for Laura Mercier in Canada's premier fashion store. When British line Pout was looking to introduce its line to North America, Deb was perfectly placed to jump into a management role.
"Pout only came to Toronto and Vancouver in the whole of North America. I knew that if we had a measure of success they would expand. And if they expanded, a job in Los Angeles would be there. I became fascinated by the business side of cosmetic retailing, which I had a background in from my time at Blanche Macdonald. When I left Makeup School I had enough knowledge and confidence to run my own line and do makeup on anyone who sat in my chair."
Pout's confidence in Deb was well placed. Vancouver became Pout's number one business in the world outside London, England. And sure enough, the offer came for Deb to move to Los Angeles to run Pout's West Coast business.
"I couldn't believe it," smiles Deb. "I walked off the plane with two suitcases and print out from mapquest for where I was going, thinking, I've actually done it! LA is horrible for all the reasons you think it might be horrible, and it's fantastic for all the reasons you might think it might be fantastic. If you accept that going in, you'll have no problem."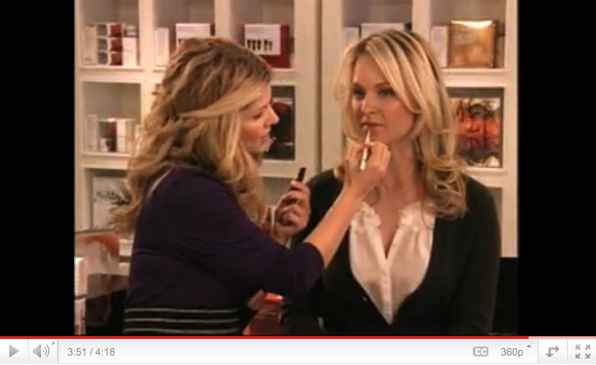 Deb was working as Pout's National Makeup Artist when she received another offer she couldn't refuse. Greek skincare line Korres was developing a line of natural makeup in North America. And they wanted Deb involved from the start.
"I said I'd do it, but I wanted a role in product development. I flew to Athens and their platform was, 'We're a skincare line. We don't know anything about colour, but here you go!' Korres really pioneered a lot of the natural cosmetics movement. I looked at the raw product line, explained that European women and North American women wear makeup differently and whittled away with what we would bring over and what we would change. I'd go back and forth to Athens and we'd actually produce the cosmetics in the lab."
Either in Greece or North America, there's no such thing as a typical day at work for Deb.
"I ended up doing Korres' TV slots on Lifetime, Home Shopping Network and QVC, so my broadcasting training came into play too. A lot of what I do is training and education. A big part of building a brand is getting in there and making sure our accounts have everything we can provide them with to make them successful. Working for a small, European brand, you can put your hand into lots of elements of the business. If I'm at a store and someone tells me they think the compon ent of a lip-gloss should be different, I can write to Lena and George Korres and tell them.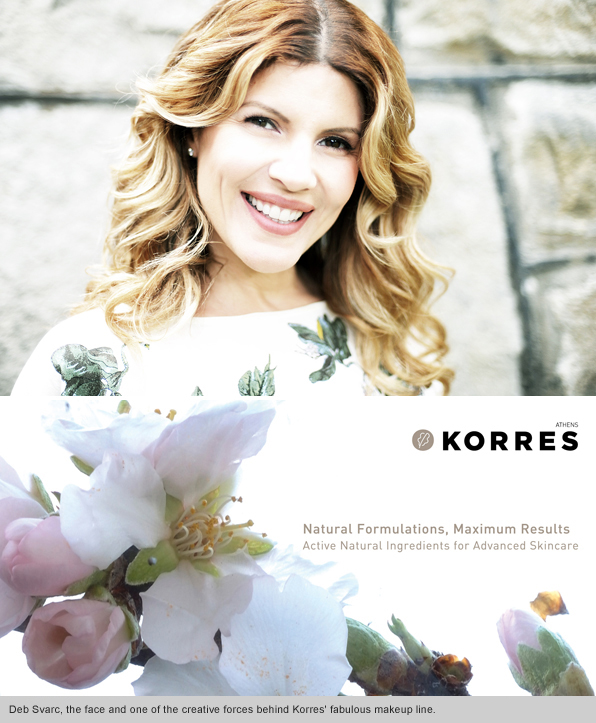 "I still get to do as much makeup as I want. I don't have the time to do freelance makeup much, although I will make the time when someone asks me to work for something like the Grammys or Oscars. I did the makeup for the producer of The King's Speech and his wife for the Oscars this year. When you get that kind of call you don't say no."
Deb Svarc has racked up plenty of air miles since she explained her masterplan to her young friends in a Manitoban donut shop. But she still appreciates that everything came together once she'd enrolled in Makeup School."Even in Los Angeles, when people ask me where I got my start and I say Blanche Macdonald, right away people know the school. It's so reputable and I'm so proud to have this background. I learned the fundamentals of makeup and was taught them very well. Then you have to do it and do it on a daily basis. That's when you get really good."
She's stayed in contact with the school too. One of her colleagues at Holt Renfrew was Cory Roberts. They've been close friends ever since.
"Cory is human sunshine and she's kept my connection to Blanche Macdonald strong. I've spoken at the school twice. It's such an amazing experience. Blanche Macdonald gave me an opportunity that's led me to labs in Athens and boardroom meetings in Manhattan. Now I'm giving something back to them."