Makeup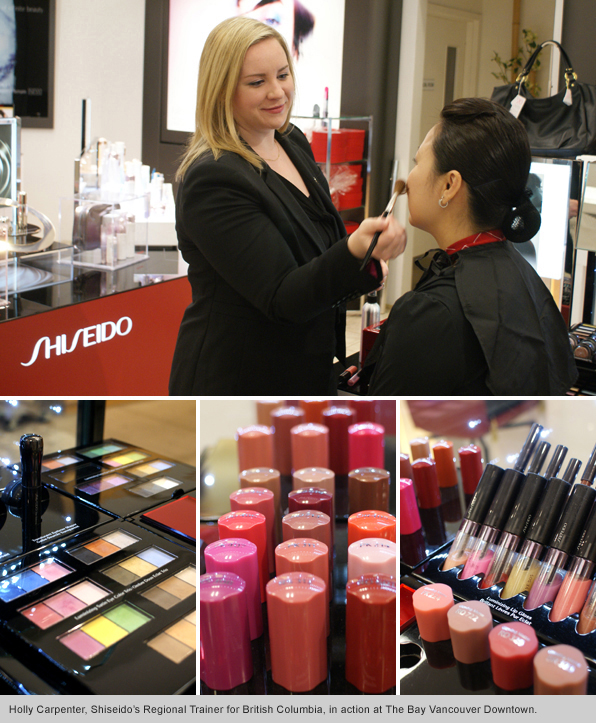 For Holly Carpenter, her role as Regional Trainer for British Columbia with cosmetics giant Shiseido is more than a job. It's a passion.
"Shiseido introduced the soda fountain and ice cream machine to Japan," she beams, "And the first toothpaste! We launched Japan's first sun care product, the first brightening product and the first Softener, Eudermine."
Holly's enthusiasm for Shiseido's impressive 140-year history is matched by her commitment to ensuring its future is equally bright. As one of only five Shiseido Trainers across Canada, Holly's role is to ensure the artistry and professionalism everywhere Shiseido is sold in British Columbia reaches her and the Company's high standards.
"My responsibilities," she explains, "are to make sure the Beauty Consultants recommend the proper product to our customers, embody the brand's Mission and provide our signature service, which we call 'Omotenashi'. In English, 'Omotenashi' translates to Ultimate Hospitality. We welcome the customers like we'd welcome guests into our own homes. There's a specific way to serve the customers, projecting ourselves with elegance and respect. If a customer is looking at something, it's more than just asking 'Can I help you?' We strive to inform and educate them about the product. We want to pique their interest."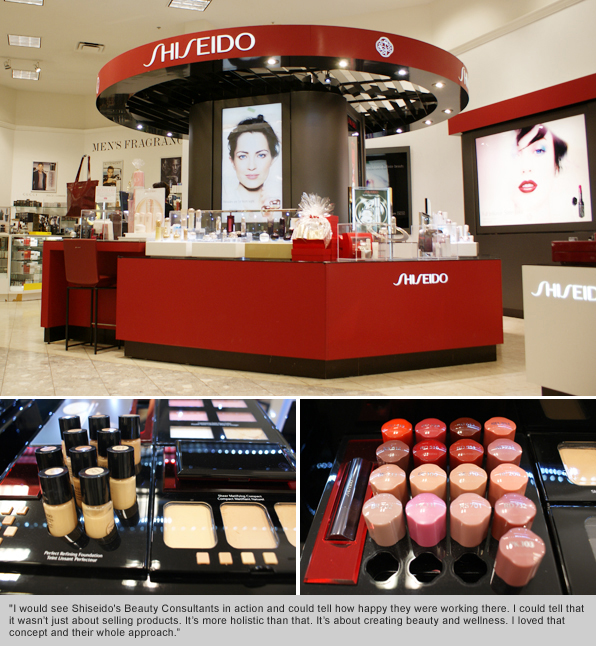 Achieving makeup perfection is the daily goal for Holly these days. It's what brought her to Vancouver from her home in the Northern BC town of Dawson Creek to begin with.
"I was always colouring on my Barbies when I was a little girl!" she laughs. "When I was about 15, I took a Career and Preparatory course in high school where we analysed what we wanted to do in the future. For me, it was a strange combination of wanting to do forensic science, teaching or makeup artistry. Now I get to do two of out of the three!
"After school I was Store Manager of a Tim Hortons in Fort St John. I enjoyed it, but I knew I didn't want to stay there forever. A fellow student from Dawson Creek, Devyn Griffith, had been to Blanche Macdonald and became a successful TV and film Makeup Artist. She told me about the school and I looked into it. Add in the mountains and the ocean in Vancouver and it wasn't a hard decision."
The move to Vancouver proved extremely successful for Holly. She met her husband and got married while she was still at Makeup School. In the classroom, things were going well too.
"Blanche Macdonald was an amazing experience! Every instructor had their own concept and ideas. Different teachers would recommend using different brushes and techniques to achieve the same thing. In the end, the lesson was that they wanted us to find our own way and find what worked for us."
Initially, Holly was contemplating a career in TV and film makeup, which led to some entertaining evenings at home.
"I remember practicing bruises on my own face one night. I sat down and started watching TV and forgot that I had the makeup on. My husband came home and freaked out. 'What happened to your face!?' That's when I realised I still had the bruises on my face."
When Holly learned that she was expecting her son, she felt that she wouldn't be able to commit to the lengthy hours that the TV and film business demands. Instead, she devoted herself to the retail industry, where a passion for perfection was instantly ignited.
"My first position in cosmetics was part-time in fragrances at The Bay in Park Royal in West Vancouver. I really wanted to get onto a cosmetics counter, and five months later I did. I was approached by Estée Lauder and offered a full-time position and was there for almost three years.
"Retail isn't for the faint of heart. It's not about standing there, looking pretty and waiting for someone to come to you. It's about going that extra mile. It's about being able to make every woman feel beautiful. The people who succeed in this industry are very driven. They are passionate and motivated."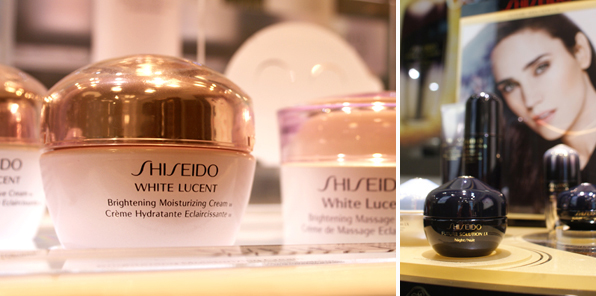 As Holly's makeup skills developed, so did her ambition.
"I really wanted to become a Counter Manager, and I really coveted the Counter Manager's position at Shiseido. I would see the Beauty Consultants in action and could tell how happy they were working there. It was the whole approach that Shiseido has towards customers and employees. I could tell that it wasn't just about selling products. It's more holistic than that. It's about creating beauty and wellness. I loved that concept and their whole approach."
Holly earned the coveted position of Shiseido Counter Manager in Park Royal and after just over a year was promoted to an Account Executive, servicing over 30 accounts across British Columbia. Two years later, she was named as Regional Trainer for BC for both Shiseido and its high-end line, Clé de Peau Beauté.
"Part of the training is teaching how to do things the Shiseido way," she continues. "There are certain techniques for a makeup application. For example, when a Beauty Consultant is using our foundation brush they need to stipple for full coverage, twist for medium coverage and blend for light coverage. There's a specific method and a reason why with everything we do.
"With over 100 stores selling Shiseido in BC, I may go directly to them for in-store training or do the training in a classroom setting. For example, in drug stores there are a lot of brands, so I teach their staff what makes us special and why we should be the 'go-to' brand."
Holly's commitment to the Shiseido brand is unwavering, but the number one reason why she loves her job is the people she's encountering and teaching every day.
"I get to see the Beauty Consultants flourish," she smiles. "I love seeing them succeed, and being part of that is an honour for me."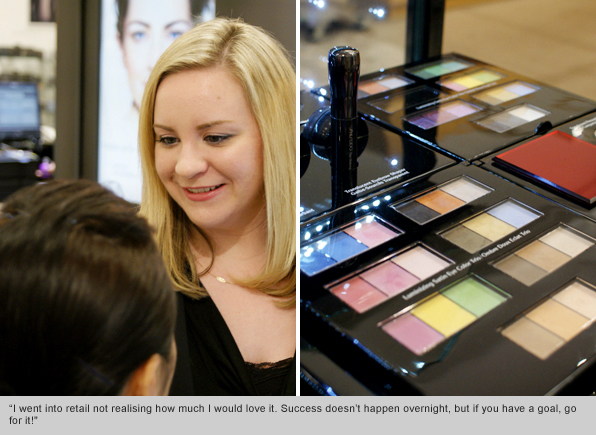 Holly has kept in touch with Blanche Macdonald and now helps to find the next wave of talented, hardworking Makeup Artists in the school where her own makeup journey began.
"We like to go to Blanche Macdonald about once or twice a year to look for freelance Makeup Artists, estheticians and counter staff. We've been very happy with many of the recruits from there. We've had quite a few students start working for us as volunteers who we've gone on to employ on a freelance basis. It's always great to watch people develop."
These days Holly is one of Shiseido's go-to artists, taking charge of the brand's Ginza Experience events across BC and being flown to Toronto to lead Seasonal Schools. She's living proof that any counter position can be the springboard for truly great things, and she's happy to share the lessons she's learned on that journey.
"I went into retail not realising how much I would love it. Success doesn't happen overnight, but if you have a goal, go for it! Have the drive and professionalism to back it up, and do your homework. No matter what you're doing, do it well. You have to give 100% all the time. First impressions in this business are everything. You never know who's walking past or coming up to your counter. People always have their eyes open for great talent in this industry. Makeup Artists who give the best service are always sought after, and there is always room to grow."