Makeup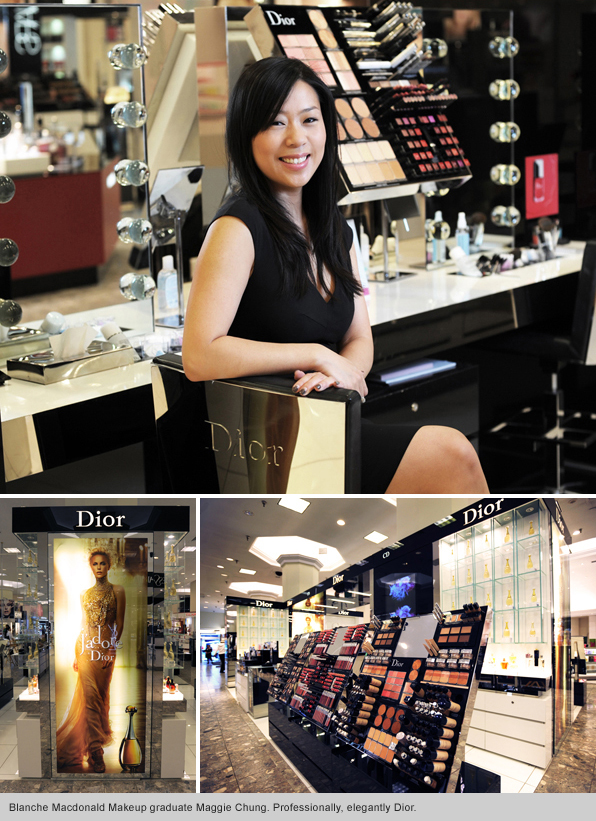 When Dior Account Executive Maggie Chung is searching for new recruits to fill positions at the global brand's many outlets across British Columbia, the first place she looks is the school that launched her into the makeup industry.
"We're always scouting for talent," she explains. "[Career Director] Heather Sosa and her team at Blanche Macdonald are very hands on with placing their students. When I contact other schools it always takes a lot more effort. With Heather I know that with one email or phone call, she'll get back to me. She finds me the applicants and I'll interview them. We've picked out a few shining stars from Blanche Macdonald for Dior, and before that for NARS. Heather's sent some good ones my way."
Uncovering makeup talent that's the perfect fit for Dior is just one of Maggie's responsibilities. Selection is the easy part. Moulding makeup artists to represent one of the world's premier beauty brands is where Maggie shines.
"Of course you feel special working for Dior, but you also have to be extra mindful. Dior hasn't become this big by accident. You have to make sure you meet all the standards and regulations. It's not just about doing beautiful makeups. It's about sales. If I coach a beauty advisor on how to book appointments, and the next time I talk to them they tell me how well that's working, that's music to my ears.
"Makeup artists need to get people to sit down in their chairs. If you can master that, you can run any business. Our beauty advisors often open their own businesses and become very successful."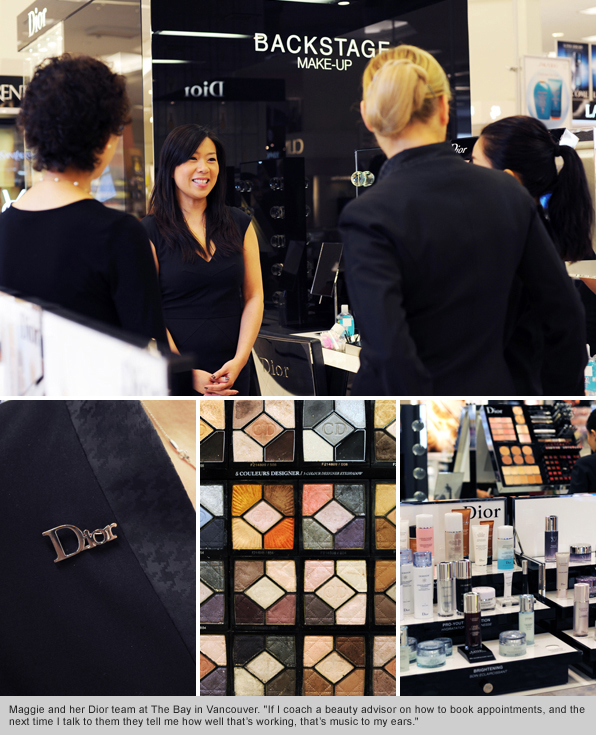 Maggie has become an expert on success. Working for Dior's makeup, fragrance and skincare divisions, she looks after 22 accounts in and around Vancouver, one on Vancouver Island and a cluster in the BC Interior, working with stores including The Bay, Sephora and Shoppers Drug Mart.
"I always wanted to work with a big worldwide brand," continues Maggie. "My lifestyle, and my compensation, is great. I always wanted a job where I could travel. And when a woman is surrounded by makeup, fragrances and skincare products – that's a dream!"
Maggie may be living the dream now, but she arrived at Canada's top Makeup School with completely different aspirations.
"When I was in high school I was slightly obsessed with Buffy the Vampire Slayer and the show's makeup effects. Todd McIntosh was the key makeup artist on the show, and when I found out that he was affiliated with Blanche Macdonald I knew I had to go there. My year at Blanche Macdonald was great. I came in loving special makeup effects and came out loving fashion and beauty makeup.
"I worked as a freelance makeup artist for six years after I graduated and every job I did, I knew I could do it with conviction and confidence. They teach professionalism at Blanche Macdonald. Grads know how to make models feel good, and how to close a transaction quickly. I mainly did bridal work, with a little bit of editorial. I loved it, but never quit my day job. I'd work during the week and squeeze in whatever makeup I could at weekends. I really enjoyed putting the brides at ease, making them look and feel good on their big day and helping everything fall into place. But after six years I left the makeup business for a while. You can't really do makeup half-assed. You need to commit to it 100%."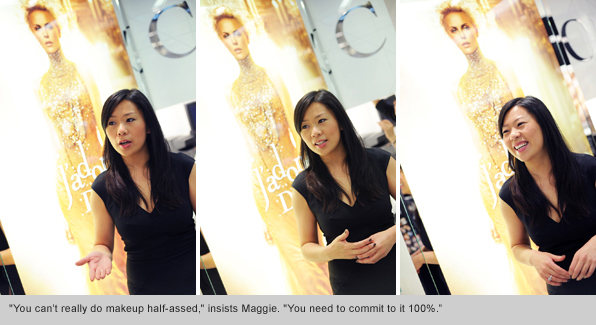 Maggie took her professional attitude to the world of fashion, working for menswear stores Hugo Boss and Harry Rosen at the management level, before a craving for something a touch more ladylike brought her back into her original area of expertise with cosmetics brand NARS.
"NARS could see how much management experience I had, and they knew I had experience in the beauty industry because I'd been a freelance makeup artist and I'd been to Blanche Macdonald. That tied everything together. At NARS I was a trainer, events coordinator and account executive, making sure targets were met, standards were maintained and that the right people were being employed. I wore a lot of different hats."
Those hats had been worn for less than a year when a missed phone call was the introduction to one of the world's iconic beauty brands.
"I had a message on my voicemail to call Dior. Someone had referred me to the Vice President of Dior Canada. I didn't know who it was. It was just a name and a message on my voicemail asking if I wanted to chat. She told me they were trying to fill a vacancy in Vancouver and my name had been mentioned. I still had to apply for it, but when I went in to meet them I loved the resources I saw. I applied, and the next thing I knew I was on a plane to New York for an interview, which was fantastic.
"On the way back to Vancouver we flew through Montreal in February. The weather was terrible. They couldn't land and at one point the plane just dropped in the sky. I was sitting beside some poor guy nearly wrenching his arm off. But when we landed I received a call saying I got the job. So it was worth the near-death experience."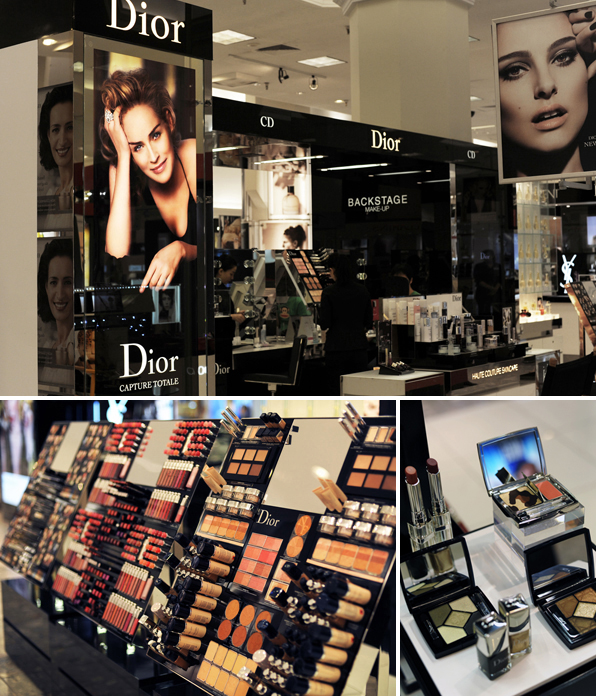 Of course there's an element of glamour to a management position with Dior. There's also a lot of work.
"My responsibilities now are similar to what I was doing at NARS, but the calibre is higher and the volume is bigger. On Monday I'll be at my computer at 7am, because the business in Toronto is on Eastern Time, trying to answer all my emails. Then all the way until Friday I'll position myself with my various accounts, meeting to touch base on sales plans, event dates and any new launches or new collections Dior has coming out. We have a specific makeup trainer, although we share him with Alberta and Manitoba. I do training too, but it's more business practices than actual makeup. Weekends are technically days off, but there are a lot of events on weekends, so sometimes I'll stop into stores to check everything is ok. The beauty of our job is we create our own schedule. Although because there's no set schedule its easy to go overboard."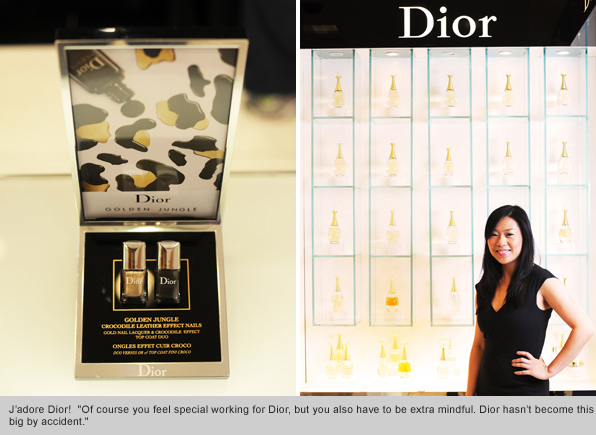 There are still occasional chances for Maggie to do makeup applications on customers, opportunities that are seized with pleasure. But her main role is to help her colleagues reach their maximum potential. She knows the secrets to success, and she doesn't mind sharing some of that knowledge with Blanche Macdonald students past, present and future.
"Before you apply for a position you should do your homework to see what that company embodies. I'm always looking for candidates with the right experience. But there are also candidates who don't have that experience, but they have the look. They're professionally, elegantly Dior. Good communication and interaction skills are almost as important as good makeup technique. If you can communicate your desire to me, I know you can communicate with customers."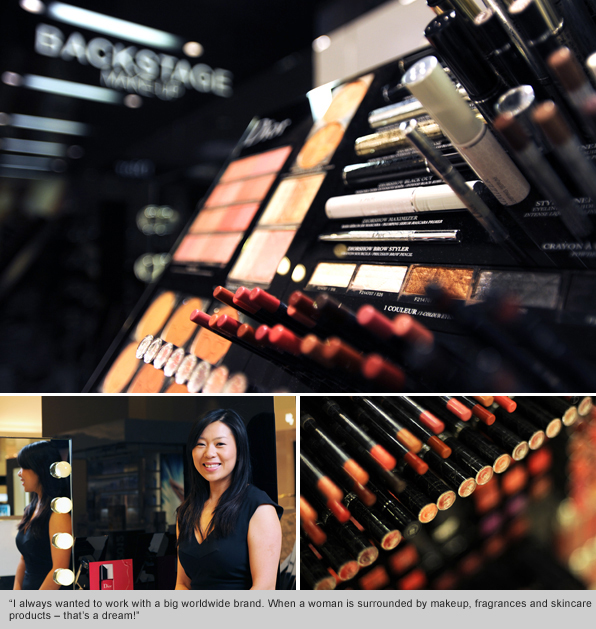 As a rising star with a global brand, Maggie may well end up in Toronto, the USA or even Europe. She's open to new challenges. Which just happens to be exactly what she's looking for in the next generation of makeup artists.
"We feed off our team's enthusiasm, and we want to maintain it," she smiles. "The new recruits are the eager and willing ones. I know that if I had started when I was younger I could have done even more. But it's never too late to set yourself up for success."