Makeup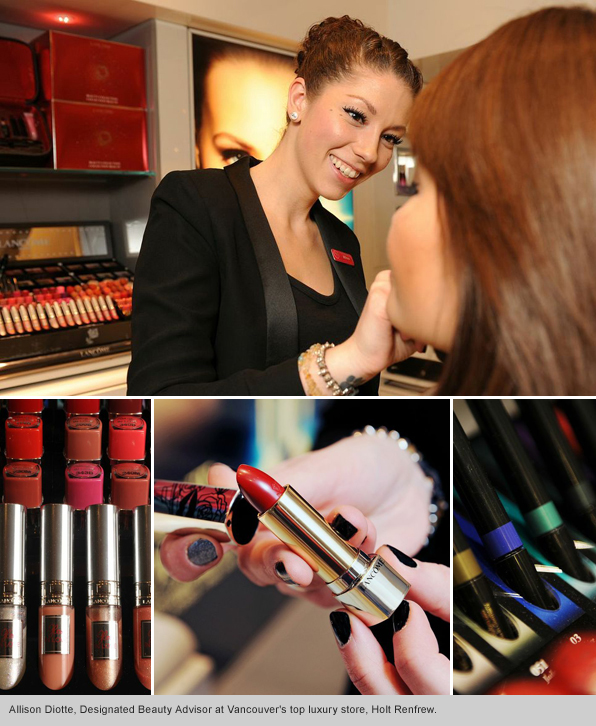 Once customers discover the Lancôme counter at Holt Renfrew they tend to come back. And a huge part of that loyalty is down to Designated Beauty Advisor and Counter Manager Allison Diotte, who ensures that every client she meets is always recommended products perfect for their individual needs. As an Esthetics and Makeup Graduate from the Blanche Macdonald Centre, Allison is supremely qualified to ensure the right skincare choices are made every time.
"There's a lot of trust there," she explains. "And it's built from making the correct recommendations. I'm focused on selling people what they need, not what's the most expensive or the cheapest. The price isn't important. Whether it's skincare or makeup, I want the products to give our clients the desired result."
Helping people look and feel their best comes naturally to Allison. It's been what she's wanted to do for as long as she can remember.
"I've been interested in esthetics and makeup since a very young age. My Mom was a model, and before that she was a hair stylist. So I always had this beautiful glamorous woman to look up to. I loved colour, special effects and skincare in general. I was a total girly girl when it came to makeup!"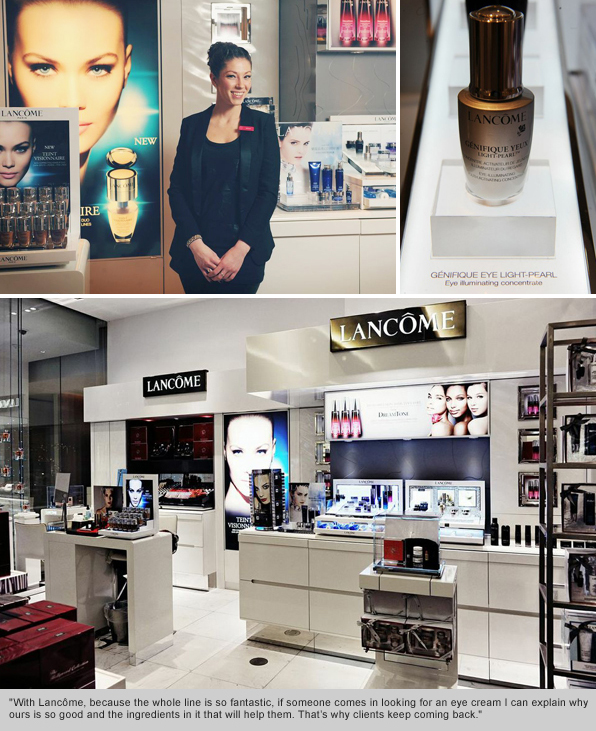 Growing up in Port Perry and Oshawa, Ontario, Allison had her eye on the #1 Esthetics School in British Columbia before she'd even graduated High School.
"My sister Samantha attended the Esthetics program at Blanche Macdonald. I'd visited her in Vancouver and loved the school, the teachers and the atmosphere. Samantha gave us spa treatments as part of her practical tests and I loved it. I did some research and learned about the school's amazing reputation. I put my paperwork together and applied. It was difficult concentrating on finishing High School because I just wanted to go to BC."
Even though Allison suspected that she'd have Makeup in her future, she still had the foresight at her young age to appreciate how an Esthetics Education could provide a foundation for any number of careers.
"I thought that if I eventually wanted to do Makeup I should know everything about my canvas. I wanted to prime the skin. What helped and what didn't. If you have great skin to work with then your Makeup is going to look that much better. Esthetics School actually exceeded my expectations! It was great! I'm a bit of a nerd, so I really liked the biology side of it. Yavanna Arnold was one of my amazing teachers. She's offered me jobs since then, but I'm happy at Holts so I never took her up on it. Elisha Scott taught me Makeup Fundamentals. She was my Yoda! She took me under her wing. I'd ask so many questions and always want to see more. She invited me to see a burlesque show she was working on, and I ended up cleaning her brushes and soon after that progressed to doing faces. So I had quite a strong foundation in Makeup before I came back to take the program at Blanche Macdonald."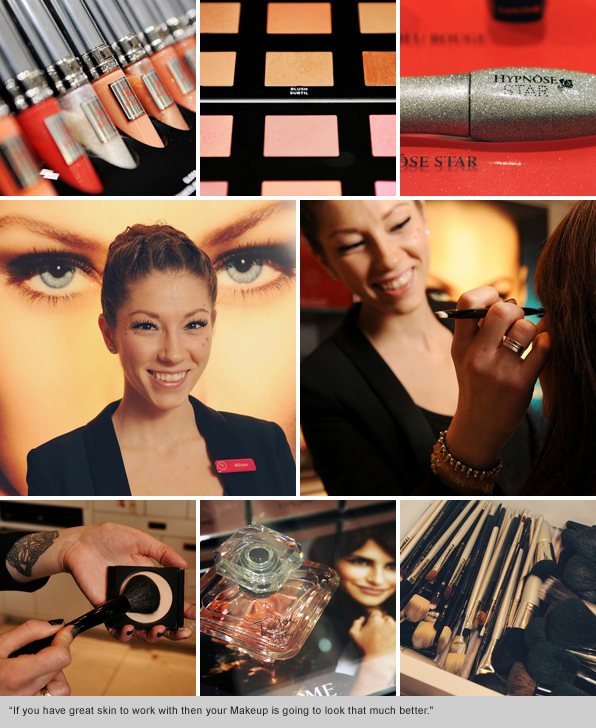 Even though Allison had an eye on the Makeup business, she was serious about Esthetics, diving head first into the industry the moment she arrived in Vancouver.
"I moved to BC two weeks after graduating high school. I got off the plane, dropped my stuff off at my sister's, went straight to the Vida Spa for an interview for a guest service position on the front desk and started working three days later. My sister was an esthetician there so she put in a good word for me. I was 18, but I didn't act like it. I'm a Taurus; very stubborn and passionate about what I want to do and I work hard for it. I stayed with Vida after I graduated and ended up managing the retail section of the business for the three locations they have downtown."
Having become firm friends with instructor Elisha, Allison was also carving a freelance career for herself as a Makeup Artist, working with burlesque and cabaret troupes alongside weddings. Eager to develop her Makeup skills to their maximum capability, she returned to the school that had launched her into the beauty business.
"Makeup School was amazing. I wanted to get as much information out of it as possible and there is so much you can get out of the teachers. My favourite instructor was Sydney Silvert. He gave you credit when it was due, but you had to fight for it. I liked that. I love a challenge!
"When I graduated I was still working at Vida and doing odd gigs like weddings and a bit of TV, including a breakfast TV show for Shaw. It was an early start but it was fun and I met some great people. I did a lot of photo shoots, connecting with models and photographers on Model Mayhem. I wanted to try as many things as I could to see what I liked."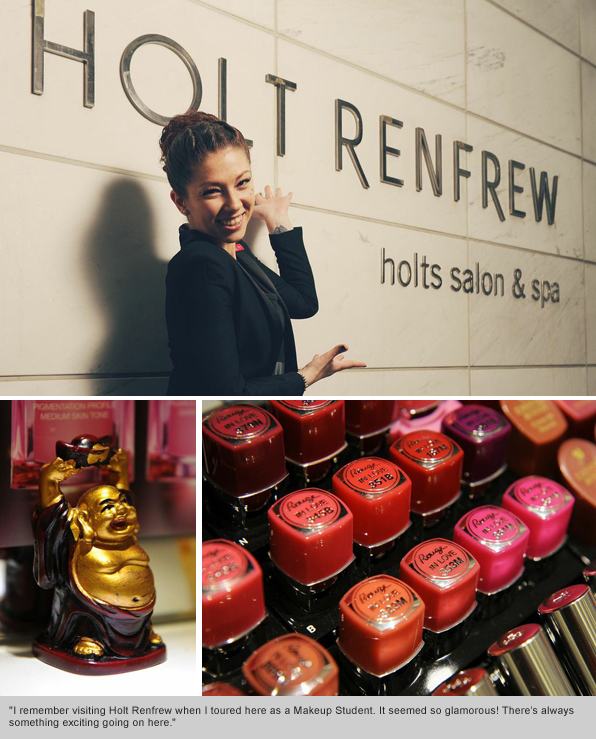 Allison was managing a busy spa in Vancouver's Gastown when she heard that Holt Renfrew was hiring.
"I didn't have a particular counter in mind," she smiles. "I just wanted to work for Holts! I originally interviewed for the Benefit Cosmetics counter, which was fun and edgy, but then a part-time position on the Lancôme counter became available. My mother and my grandmother both used a lot of Lancôme, so I knew their product was really high quality. It's a heritage brand but also constantly evolving. I was hired as a part time Beauty Advisor on the counter, and after three weeks they offered me the position of Counter Manager."
That was three years ago. Allison has been enjoying life at Holt Renfrew ever since.
"I remember visiting Holt Renfrew when I toured here as a Makeup Student. It seemed so glamorous! It hasn't lost its sparkle at all. We do product knowledge for all the lines here all the time. There's always something exciting going on.
"I get to do both skincare and makeup on a daily basis, which is great! With Lancôme, because the whole line is so fantastic, if someone comes in looking for an eye cream I can explain why ours is so good and the ingredients in it that will help them. That's why clients keep coming back. They like the extra knowledge. And I like to nerd out with them. Then I can take them to the makeup counter and show them a tip I've learned for getting rid of bags under the eyes. Being the Counter Manager I also have to plan sales goals, and create, organise and help promote new incentives for clients. I reach out to our client base via mail, email and phone. I like being busy and having a lot to do. I'm a natural bossy boots!"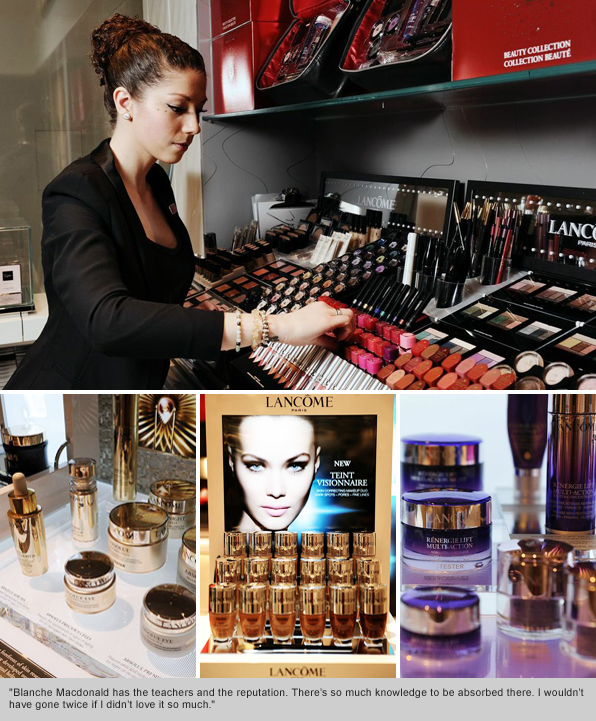 This combination of makeup, esthetics, marketing and sales has formed some uncommonly strong bonds.
"I love my clients! I have women that come to see me every few weeks for makeup. And they've been coming since I started. They don't feel like clients. They feel like friends. They bring their family to see me and I really get to know people and their lives."
When aspiring beauty professionals ask Allison for advice, the straight-talking superstar cuts straight to the chase.
"Step one, go to Blanche Macdonald," she insists. "It has the teachers and the reputation. There's so much knowledge to be absorbed there. I wouldn't have gone twice if I didn't love it so much. During and after school, you need to work hard for it. Start making those connections as soon as you can. Don't be afraid to clean brushes. Be open to experiences. You never know where that might need. Never assume that you know everything or that you wouldn't learn something from a job."
Of course, even the most focused esthetics and makeup professionals need to break the rules sometimes.
"I'm a bit of a rebel with the dress code," laughs Allison. "My rep calls me the Lancôme Pirate!"