Makeup
"When I was 16 I snuck into the theatre and saw Aliens. At that moment I knew I wanted to make monsters."
Holland Miller knows all about monsters. The young man from Sacramento now inspires the next generation of Makeup Effects magicians. You've seen his work on Fringe, Supernatural, Once Upon A Time, The Cabin in the Woods, Elysium, Sucker Punch, Underworld Awakening, A Haunting In Connecticut, Fantastic Four: Rise of the Silver Surfer, Underworld: Evolution, The Chronicles of Riddick, Twilight: New Moon, The X-Files, and Stargate. And when he's not on set, Holland teaches at Canada's #1 Makeup School. Which just happens to be where his own makeup journey began.
"After Aliens I bought a whole lot of Fangoria magazines and all the science fiction and horror fanzines I could get my hands on. I went to community college when I was 17 and did a couple of art courses. We had to do a commercial illustration for a funeral home and I drew a coffin with a corpse coming out of it. I thought it was funny as hell. My instructors rejected it without even looking at it."
With an artistic career looking unlikely, Holland enlisted in the US Navy. On duty in the Persian Gulf during the First Gulf War, the opportunity to reignite his creative tinderbox arrived unexpectedly.
"We'd run emergency simulation operations. Part of that was first aid. One time they were looking for someone to simulate wounds. I said I was really into horror movies and that I'd played around with rubber before. I had cotton, latex, rubber and little bits of plastic. I did a broken femur and tibia from what I remembered from Fangoria. People were blown away with how graphic it looked. Seeing how shocked people were with how gross and realistic they thought it was, I knew I could do this."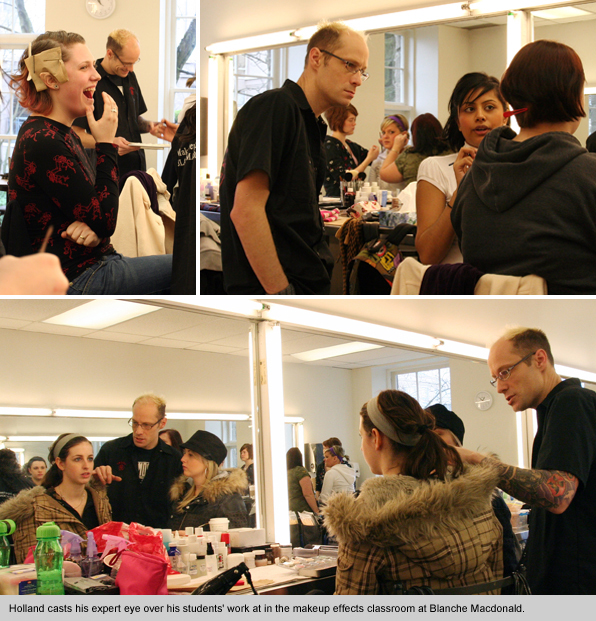 Holland left the Navy and moved to Victoria, BC. Now in his early 20s, the time was right to chase his dream career.
"My friend Brandy McQueen had moved to Vancouver to study Makeup at Blanche Macdonald. She told me they taught kit effects. I went over, took a look at the portfolio of work coming out of the school, got a student loan and started the program."
The military man with a taste for the macabre threw himself into the less gruesome side of makeup artistry.
"I'd never done a beauty makeup before I came to school. I learned so much every day. When I got to the out of kit effects part of the program it was like instinct. It came so naturally to me. I knew the business was hard to get into, but it was what I wanted to do. When I had any free time, I'd do my own makeup effects projects."
After graduation, word of Holland's abilities quickly spread around Vancouver. The phone call from Toby Lindala (also a Blanche Macdonald graduate) of Lindala Schminken FX soon followed.
"He was working on Millennium, The X Files, a feature and was swamped. I went in, did an interview and was hired on the spot."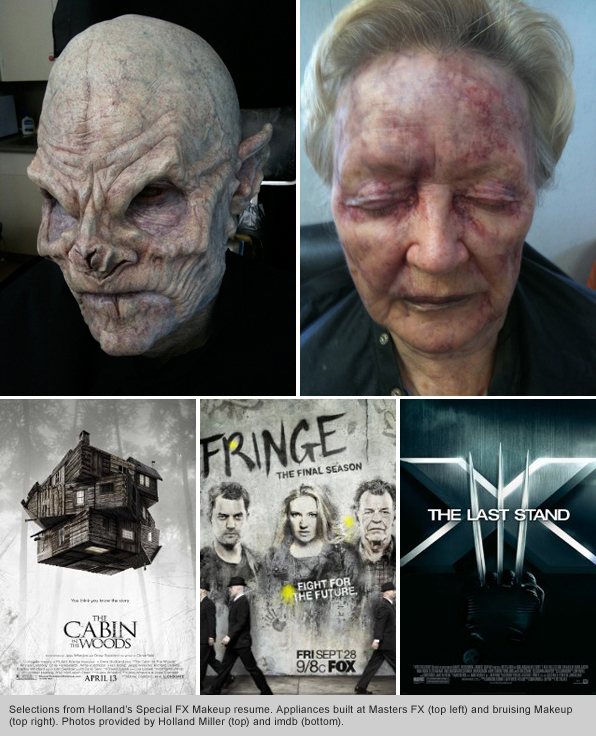 Holland worked in Toby's Lab for two years before being called to set. It's a day he can still recall vividly.
"It was a horrible," he laughs. "It was a 6am call in February. I was on three hours sleep after working 18 hours in the lab the day before doing a cotton/latex treatment on skeletons for The X Files. Everyone else had to go do a makeup and I had to stay with the bodies on a bridge in Mission. I was all by myself for nine hours in the cold and damp. As I got out of the car I stepped into a puddle so my feet were wet the entire time. And there was nowhere to go the bathroom. I think Toby did it purpose to see how tough I was."
Holland could handle the adversity. Working with Lindala Schminken FX took him to more sets and presented more challenges.
"Working in the lab was fun. And when I started knowing crews and directors it became really fun. I was learning from my co-workers at the lab and taught myself."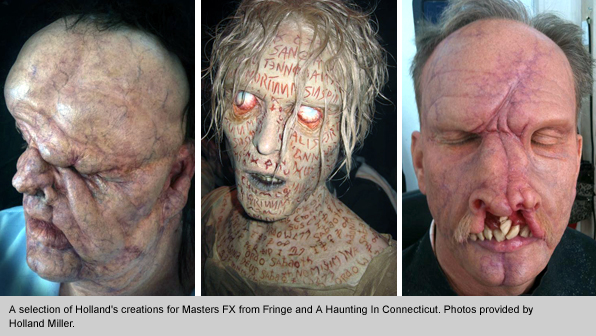 After several happy years working with Toby, another makeup effects superstar sought out Holland's talents.
"Todd Masters was doing an episode of Stargate, and they needed people to help. He asked if I was available for five days of work."
Holland has been part of the MastersFX team ever since. He's won a Leo (for Sanctuary), a Gemini Award (for Stargate: Atlantis) and was the lead on-set Prosthetics Artist on Underworld Awakening. But the work he's most proud of came on a daily basis when he was the on-set effects artist for cult sci-fi series Fringe.
"What made Fringe so much fun was that it was basically a variety show every week. There was always something different. A lot of the makeups were very challenging because we'd never done anything like that before. The scripts would be so bizarre, but we would make it work. There was an entire team back at the MastersFX shop working on things. I'd get those things brought to me on set, where I'd glue them on and refine them.
"Sometimes Todd would tell us, just make it look good. That's something I love about working with Todd. He'll trust my abilities and my eye to just let me play. That's a makeup artist's dream."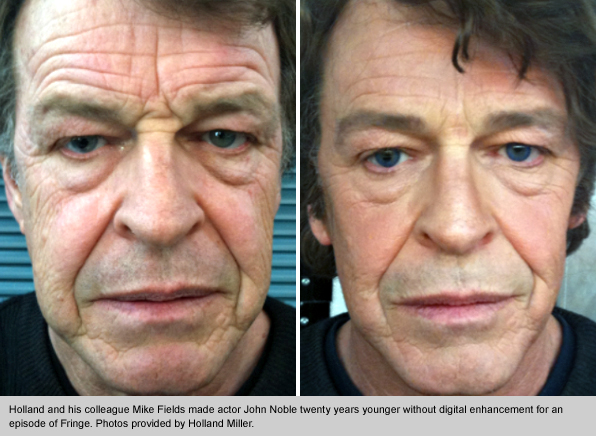 Fringe also happens to include some of Holland's all-time favourite makeups.
"I had to do a reverse aging on John Noble, who plays the character Walter. The whole episode took place in the 1980s, so we had to make him look over twenty years younger. I thought we should go back to basics and use pulls, tethers you glue to the skin that pull it back, like a facelift. My colleague Mike Fields came up with a design for a rig that we could hide in his hair. My assignment was to come up with pulls that were going to be strong enough and tabs that could stay down for 16 hours a day, yet couldn't be seen. Reverse aging had been done before, but not to the extremes Mike and I took it without the aid of digital enhancement. Not to my knowledge anyway.
"In a later episode two universes collided and one character's two bodies fused. So he had his own upside down head fused onto his real head. The team at Masters made a beautiful silicon mask for me to put on the actor. I glued the mask on, blended it so it was seamless, put the hair on, and integrated all the paint so you couldn't see where his skin started and the mask began. It had a mechanical eye and jaw that could move. But we weren't aware that the character would get shot and fall down. The chords controlling the movement were strapped to his back, and when he fell down those chords would push the mask off his face. I had to sever all the mechanics, but the makeup was still a success."
The lure of Fringe was so strong that it even pulled Holland away from a five-episode stint as both Effects Coordinator and Key Makeup Artist on the fabulous series Supernatural.
"I was going to meetings and talking to the producers and directors about concepts and designs, getting things organised for each episode, and hiring the people I wanted to work with. That was really interesting."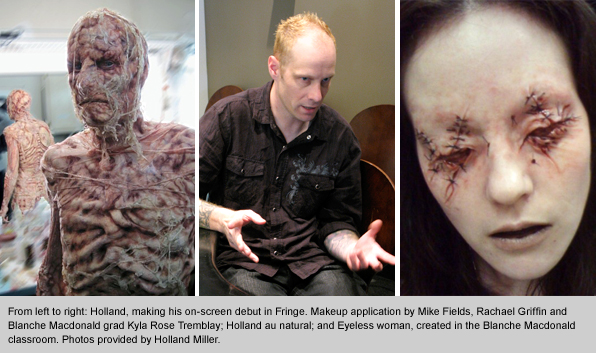 Returning to teach at the Makeup School where his journey began is always a pleasure for Holland. Not only does he get to inspire the next generation of Monster Makers. It's inspiring for him too.
"When I returned to teaching after being full-time on Fringe I saw the finals in the prosthetics classes and many of them blew my mind. There's some really great talent coming out of this school. That's a reflection of the teachers that are teaching here. The students are hungry to learn, so there's an energy here that I really enjoy. I'll do a demo and the students are excited to recreate what I've done.
"The Key Makeup Artist on Fringe, Calla Dreyer, is an ex-student of mine. My wife, Daemon Cadman, taught Colleen Conroy, who was Calla's assistant. Sarah Graham, the Key Makeup Artist for Once Upon a Time, is a grad. Juliana Vit, who was the Key Makeup Artist on Supernatural, now she's on Once Upon A Time, and Amanda Kuryk from Fringe are both grads. I see Blanche Macdonald students in the industry everywhere."
Holland now delivers the latest techniques direct from the very biggest productions. He's also a voice of encouragement.
"Makeup effects as a career is totally doable," he insists. "You just have to be better than the people you're competing against. You have to have something the person who's hiring you will notice, whether it's your personality, charm, talent or artistic merit."
Holland continues to wow audiences and motivate students, all the while bringing to life some of the most grotesque creations ever to hit screens. So has the monster man ever created a makeup that even freaked him out?
"Oh yeah," he smiles. "All the time."