Makeup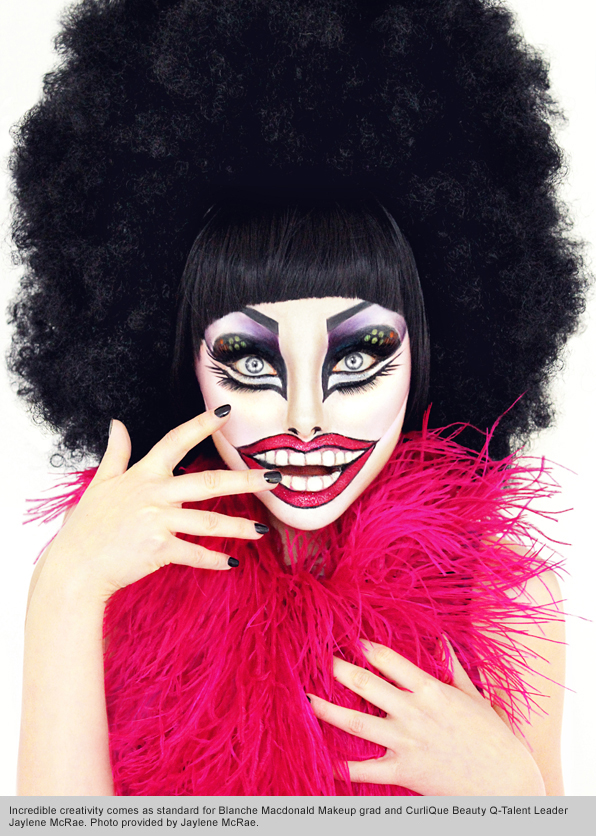 Every day, visitors to Blanche Macdonald's CurliQue Beauty Boutique are greeted and treated by the expertise and artistry of Q-Talent Leader Jaylene McRae.
Q-Talent Leader, just to clarify, is a combination of Manager and Makeup Artist; two roles that Jaylene excels at. Everyone that walks through CurliQue's doors is immediately impressed by her creativity, friendliness and professionalism. She makes it look easy.
Which is ironic, because the journey that took her to Vancouver's best Beauty Boutique was anything but.
"I was adopted when I was three years old and grew up on a farm in Saskatchewan," she explains. "I wasn't sure where to identify with my culture and gender, which was really difficult for me. I lived in a community where boys were encouraged to play hockey and do farm work, which did not fit me.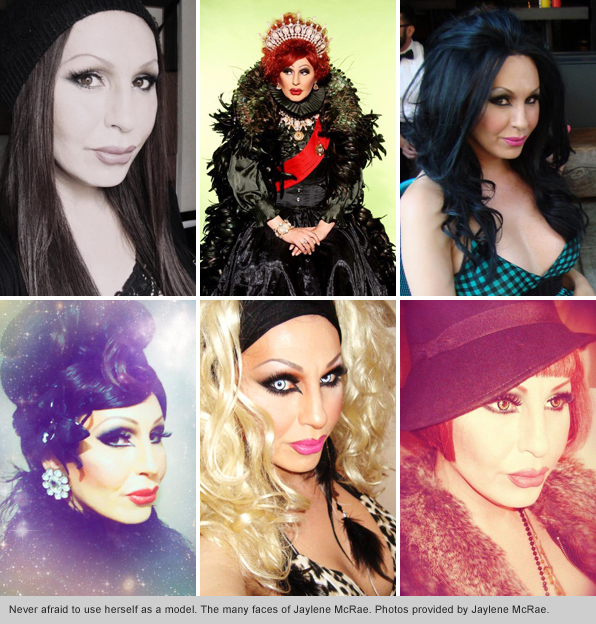 "My escape as a child was my creative process. I wasn't into sports or farming. But give me a piece of paper and a pen and I could have something that was my own. I thought dolls were beautiful and would make costumes. I was really inspired by fashion magazines. It was a farm, but there were still stores nearby!"
Jaylene left the farm and moved to Red Deer to attend college and study Fine Arts. She still had no idea that makeup would be an integral part of her future. Instead, she started to explore her identity on a journey that took her to Banff, Calgary and eventually Vancouver.
Jaylene's not shy discussing the difficulties she encountered on the West Coast. It's part of who she is.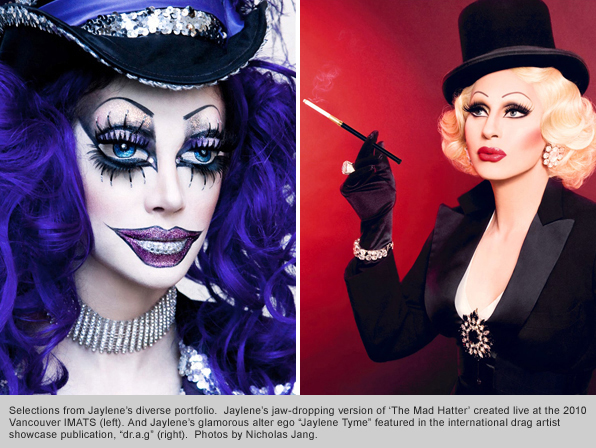 "I got into an intense drug and alcohol addiction that lasted six years," she recalls. "I didn't have a home. I was literally on the streets. I was physically, emotionally, spiritually sick. I couldn't go on any more. Somehow I was able to go to a recovery program in Surrey. The state I was in, I wasn't able to make any rational decisions. I believe that a special energy rescued me. I can't explain it. Even after all this time, I'm humbled by it."
It was at the recovery house that Jaylene was able to reconnect with her First Nations heritage and use the resources available to start moving her life, and her art, in a positive direction.
"I wanted to develop a safety net. I met the Metis Provincial Council and got my documentation in order to get my Metis Status Card. I also learned that the Metis Provincial Council can provide funding for post-secondary school education.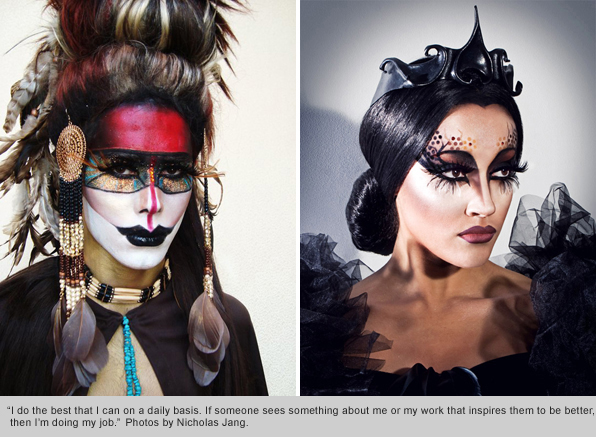 "When I was living on the streets, I remember walking downtown and seeing students with their Blanche Macdonald makeup kits. For some reason I knew I'd eventually go to school there. It wasn't possible for me then, because I didn't have any money. I didn't have anything. I just knew I wanted to go there."
Having been clean and sober for two years, and armed with the knowledge that she was eligible for a Metis Provincial Council scholarship, Jaylene went for an enrolment interview at Blanche Macdonald.
"I was interviewed by Barb Johnston. All I had were some drawings to show her, but when it comes from the heart to the paper, people can read that. The Council paid my tuition, my rent and my supplies, and I got a part time job at a store on Denman, so I wasn't a struggling student."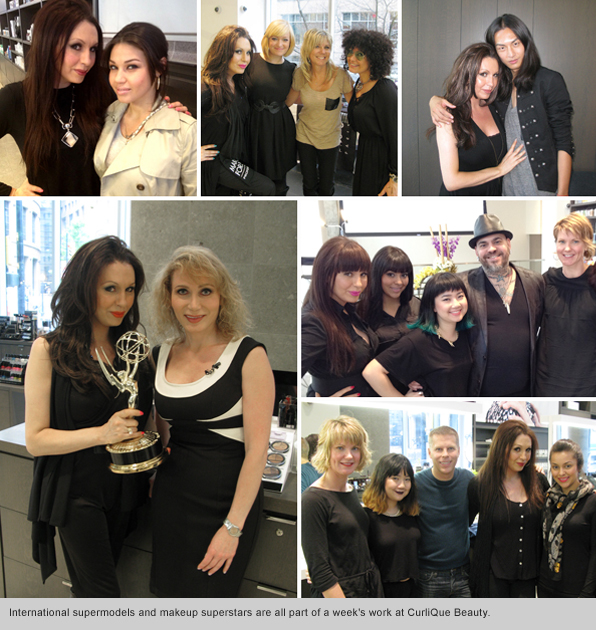 Having been given an opportunity to turn her life around, Jaylene threw herself into her studies, reinventing her life as she learned.
"I knew I had to do well," she explains. "I'll never forget the feeling of overall gratitude. I'd never fit in anywhere, so to find that I could take what I was good at – art – from paper to people was great. I did really well at Makeup School. I was inspired by the people I met. My experience at Blanche Macdonald was really safe, inspiring, challenging, impactful and resourceful. It meant so much to me. It felt like a second chance."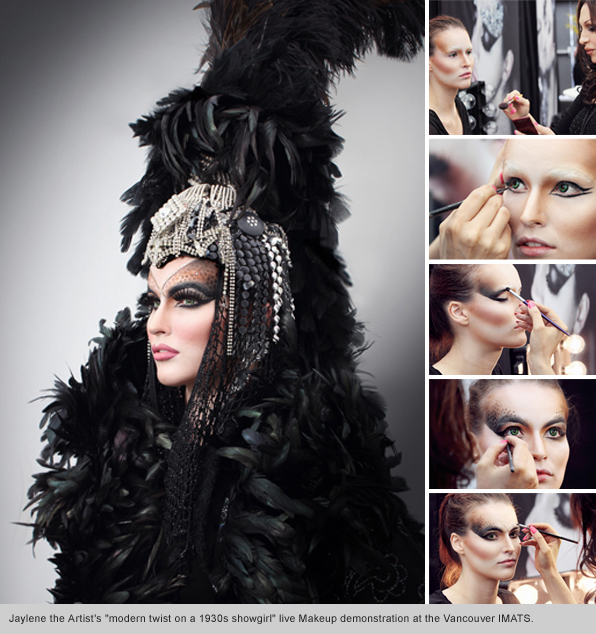 Jaylene began working at The Body Shop before she'd even graduated. Four months after she started, she was leading product training. Not long after, she was made an Assistant Manager.
"The Body Shop stands for principles before personality. It's commerce with conscience. They have beautiful values to the core. The Body Shop's founder, Anita Roddick, came into the store one day. I shared some of my story with her on how much her company had helped me develop as a professional and a person. Anita was all about helping people no matter where they'd come from. Our store would go to the Downtown East Side to do skincare consultations on the street women. I'll never forget when she said she was proud of me. We hugged and a few days later my manager told me that I'd really impacted Anita just by telling her my story.
"I was still awkward, but I was becoming really good at expressing myself through the art of drag performance. That was the closest I was getting to myself at that time. I became more involved with the LGBT and the Two Spirit First Nation communities. I was elected Empress of Vancouver, which is like Miss America for Drag Queens. I represented the city and raised funds and awareness for different charities. Soon after that I was appointed to the International Court Council as a Canadian representative. One night I was in San Diego with trumpets playing as I was about to go on stage to represent my country. At that moment I remembered myself so vulnerable and weak years earlier. Now I was representing Canada! I never want to forget where I've been or all the opportunities I've been given. It's those moments that give me strength."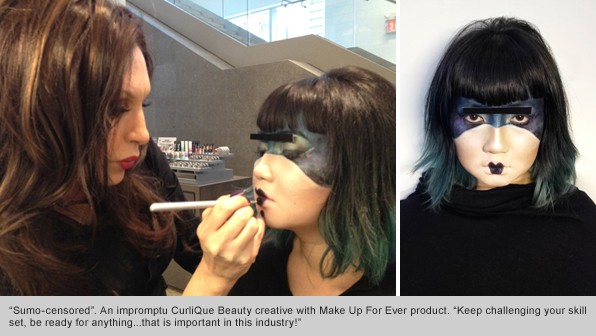 Make Up For Ever scouted Jaylene to work at a drag event at Sears. When a position arose for an Artist at their counter at The Bay, Make Up For Ever knew who they wanted.
"The rest is history," smiles Jaylene. "Working for Make Up For Ever secured the fact that I was a Makeup Artist. I had the skill set and ability to be a manager. I was representing the community and that gave me the confidence to continue to grow."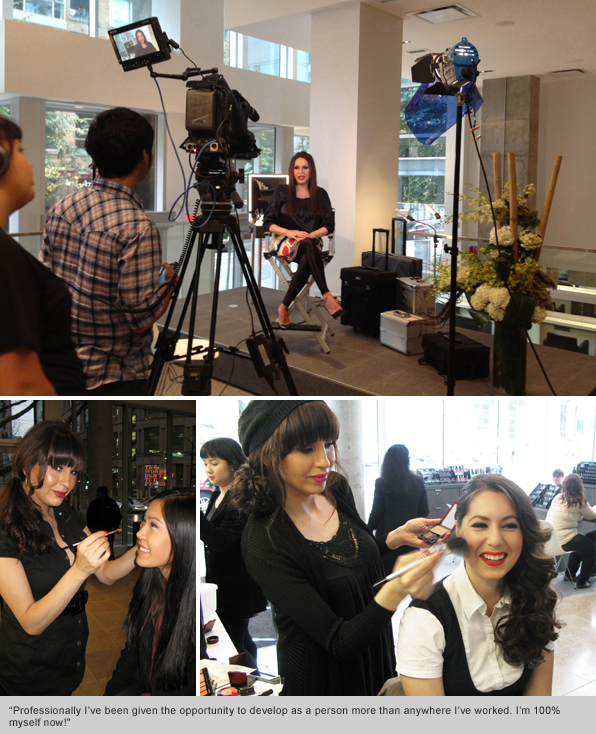 Blanche Macdonald would send students to Jaylene and the Make Up For Ever counter during their retail trips. When she heard that Blanche Macdonald was looking for talented Artists for a new Beauty Boutique, it was an opportunity she jumped at.
"CurliQue was where I wanted to be. I had another interview with Barb Johnston, who had enrolled me years ago. When she first met me I was known as Jason, but now I was Jaylene. I was so confident. I'd reached the point of my true identity as a transgendered woman. I was hired for the true me. It wasn't even an interview. We were just talking about my journey and what inspired me.
"Professionally I've been given the opportunity to develop as a person more than anywhere I've worked. I'm 100% myself now. A lot of students who come to Blanche Macdonald don't fit in, but they have this beautiful creative energy. This is the space where I can say, 'Welcome – you're in the right place. We celebrate everyone and I'm glad you're here.'"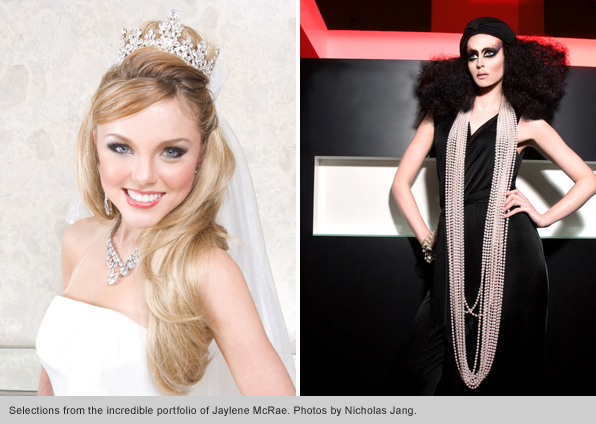 Working with students and customers every day, Jaylene understands the inspirational and transformative power of makeup and why artists like her are drawn to it. It's why she loves what does.
"It's never been a focus of mine to make money from being a Makeup Artist," she insists. "I just want to live a happy existence. To anyone who feels that they don't fit in, but find a freedom in arts, follow that instinct. That's something really special.
"I do the best that I can on a daily basis. If someone sees something about me or my work that inspires them to be better, then I'm doing my job. If you think your career aspirations are not attainable, I'm proof that they are. I've been clean and sober for almost 15 years and have the career of my dreams.
"I don't worry what people think any more. I grew up with that. It took me a long time to realise the freedom of authenticity."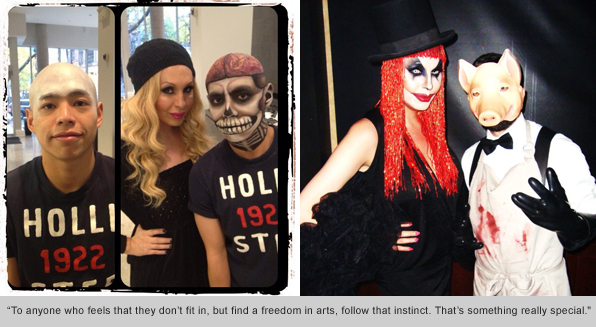 Follow Jaylene's incredible transformations on Instagram: @JayleneTyme