Makeup
Last week, Blanche Macdonald Centre graciously hosted the Queen of cosmetic colour, Ayami Nishimura, for two fun filled days of lectures, laughs, life-lessons and some of the most celebrated avant-garde makeup in the world.
For those of you not familiar with Her Highness Ayami Nishimura, her pioneering makeup has graced countless covers of Vogue, AnOther, Dazed and Confused, Mixt(e), V Magazine, Harpers Bazaar, W, Numero, has been immortalized in campaigns for Vivienne Westwood, Missoni and Escada, and transformed celebrities of the highest order… can we say Lady Gaga?!
The self-taught Japanese native, who now calls New York City home, credits the tenacity and perseverance of an eighteen-year tenure in London England for her phenomenal success in the world of High Fashion Makeup.
Dripping in head to toe Givenchy, the ever-chic Ayami candidly shared her first steps of an epic career.
"I moved to London twenty years ago to be a hairdresser. I never really fit into Japanese society and always loved how civilized London looked…well in the movies at least; dinner at fancy tables with forks and knives, no chop sticks or tables on the ground, glamorous fashion and of course the rock and roll. Everyone seemed so cool! I thought to myself, I am going to move there and hang out with those people. So I did!"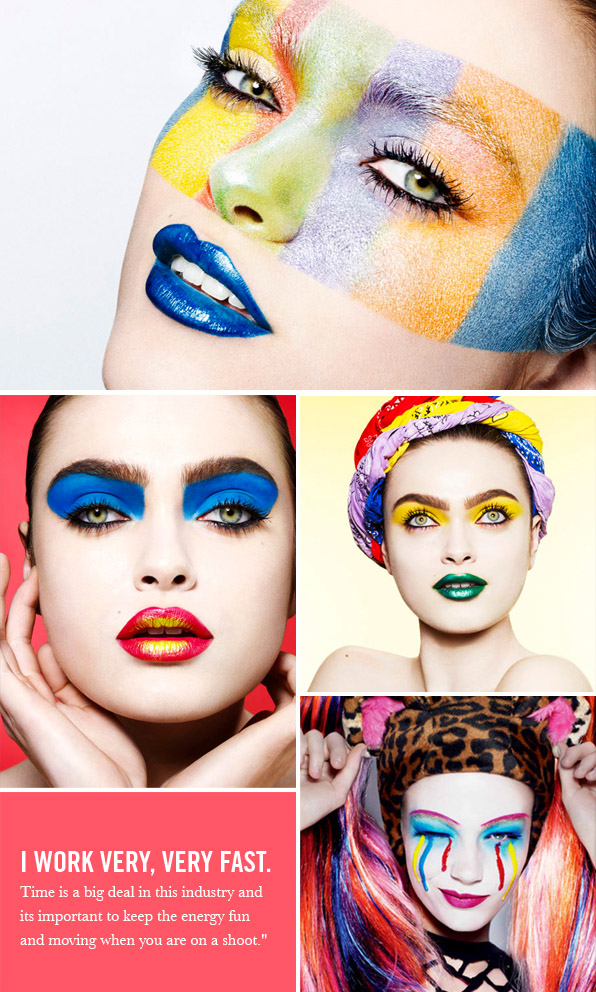 With a cheeky smile and hit of reverence for a career she started nearly two decades ago, Ayami explained to the eager BMC students how she caught the makeup bug.
"When I first moved to London I started doing hair on photo shoots for magazines like The Face and Dazed and Confused. One particular job I was asked to do the makeup as well, and was instantly hooked. I found it so much more interesting than doing hair. From that moment forward I was a makeup artist."
Ayami's rise to the top wasn't a quick and easy one.
"For years I was not very busy. But every single day I would go to the library at Central Saint Martins to do research. I made a fake ID and flashed it to their security guards. I wasn't a student and the ID looked nothing like me, but before long they would be saying hello with a big smile as I walked through the doors with my head held high."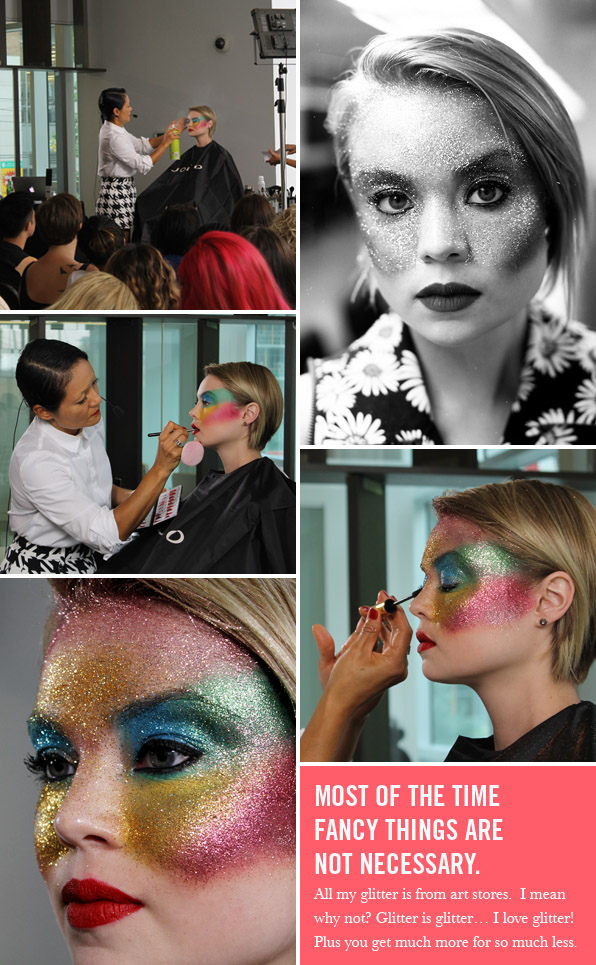 Not so hard to believe, Ayami seems to possess one of those infectious laughs that could loosen up even the most star struck student at BMC.
"References are very important to me. I must have gone through every issue of Vogue and Harpers Bazaar from the 1950's onwards. Those were very interesting times. I always knew in my heart that someday I would be a famous makeup artist and wouldn't have time to research and collect inspiration. So I gathered up as much information as possible. I still have stacks and stacks of photocopies from those days."
Ayami was right. Between shooting countless editorial stories, campaigns, being a Key Note Speaker at the IMATS and traveling to some of the most exotic places on earth, Ayami managed to find time to visit Blanche Macdonald Centre, Canada's Top Fashion School.
"I have had the BEST visit to Vancouver. I have never been to Canada before and am so happy. This school is serious! I have been talking about coming here for over a year, but I didn't fully understand just how impressive it really is."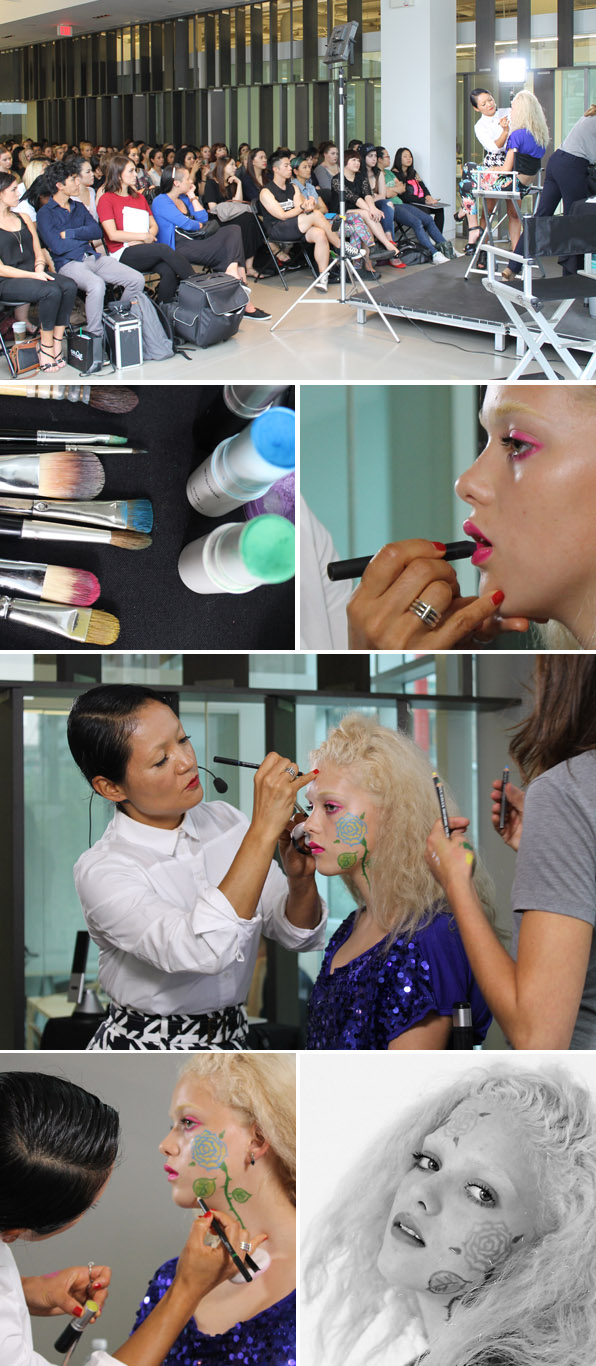 Over the course of two days Ayami shared her personal journey as an artist, her secret tricks of the trade and demoed multiple looks, all based off her cult-collectable book, Ayami Nishimura, published and photographed by famed UK photographer, Rankin.
"I am really proud of my book. This is my best work and I am so pleased to see it all together in one place. Even though the makeup is really quite crazy, I think all the women still look very beautiful. That is quite important for me as an artist and is probably my signature style".
One particular student with bright-eyed optimism, asked Ayami to share an all time favorite moment from her illustrious career.
"Years ago, I was a makeup assistant on Yves Saint Laurent's final couture presentation before he retired. I believe it was spring of 2002. I remember being given this special VIP pass where I got to watch the most incredible show from backstage. It was a very important moment in history. The show was at the Pompidou Centre in Paris and all the supermodels were there. I remember for his final bow, Yves came out and everyone was so quiet. Catherine Deneuve (the French film star who acted as YSL's muse for the bulk of his career) stood up and started the hugest round of applause. I have never heard or seen anything like it. Everyone was crying and smiling and clapping for what felt like forever. That was a really special moment for me. That was when I knew, this is what I want to do with my life."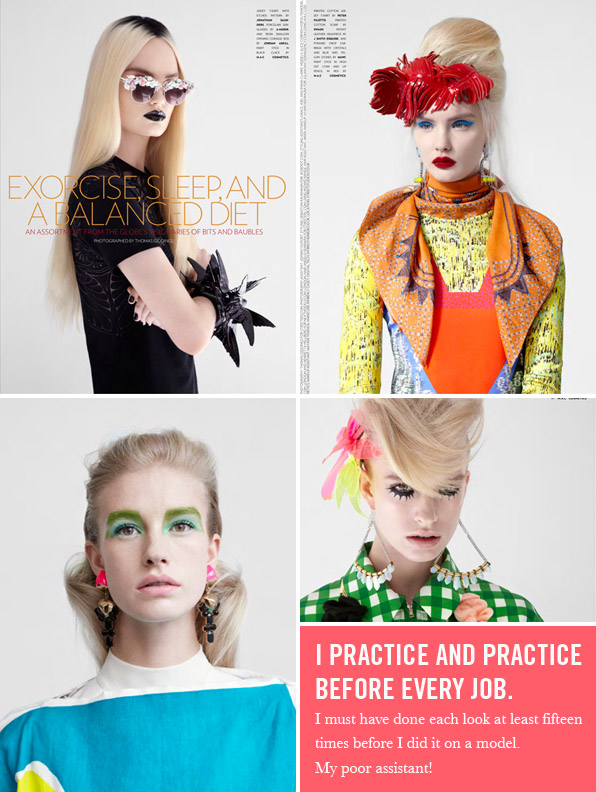 We would all love to be a part of such special moments in fashion. Students asked for any tips that would help get them on the path.
"I work very, very fast. Time is a big deal in this industry and its important to keep the energy fun and moving when you are on a shoot. Otherwise, people get bored and I don't like that… doing things that are boring. I want to have fun and get on with everyone. Remember, you are there to take pictures! Not only do makeup. The team needs as much time as possible to shoot. You simply cannot take two hours to do one look. Unacceptable." Says Ayami with an earned authority that would make even the most seasoned artist waiver.
Then she softened. "However, when I got to do my book, it was 100% my creative vision. Rankin let me do whatever I wanted so I took more time and was a little more precious with my applications. Don't be fooled though! I practice and practice before every job. I must have done each look at least fifteen times before I did it on a model. My poor assistant!"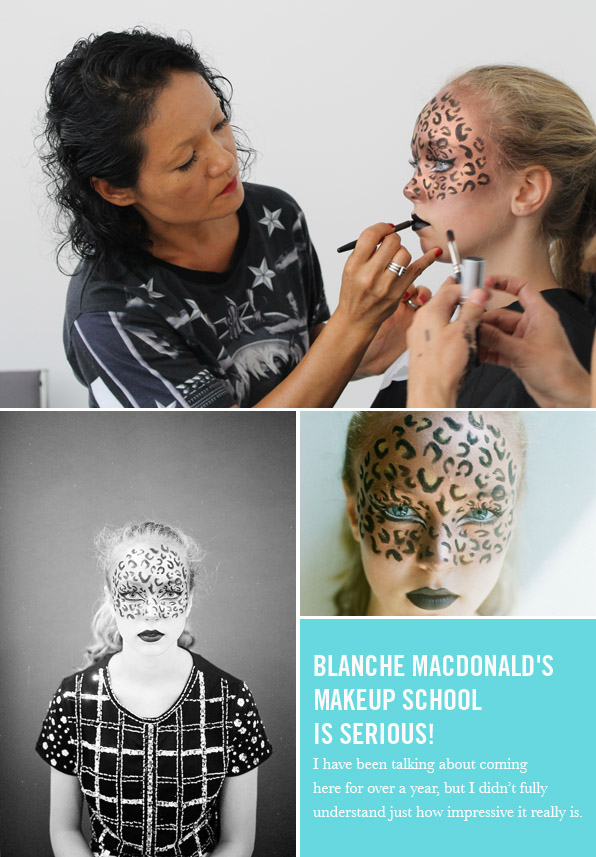 Ayami smiles at her beloved assistant Breianne Zellinsky, yet another revered alumni from Blanche Macdonald Centre.
"I am scared of things that I don't know and understand. Exploring before the job gives me the confidence to perform. I like things to be easy"
Seeing Ayami transform fresh faced models into the most progressive looks the industry has to offer (while simultaneously talking mind you) makes it a little difficult to believe that her work is, as she bluntly puts it, "easy".
One common thread that stuck out in both Ayami's student presentations and master classes was her eye for everyday objects that could be used in a luxury makeup world.
"Oh, these brushes are for water colour painting, but they are really nice and much cheaper! Most of the time fancy things are not necessary. All my glitter is from art stores. I mean why not? Glitter is glitter… I love glitter! Plus you get much more for so much less."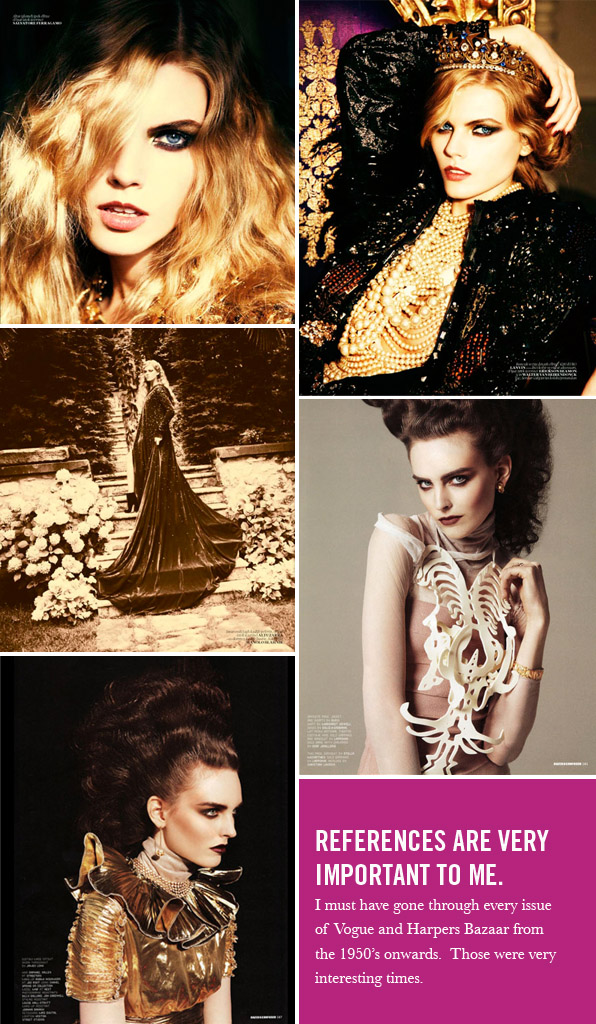 It's tough to fathom that Ayami uses generic paint brushes and dollar store stickers to work on some of the most famous faces of our generation, Lady Gaga, Kylie Minogue and MIA to drop a couple names. We saw first hand the transformative powers of basic arts and crafts supplies. If ever there were neon signs pointing towards a future Ayami Nishimura Makeup Line, it was on stage at Blanche Macdonald Centre. You heard it here first!
It was a whirlwind of creativity here at BMC last week. Students and instructors alike are still surfing the tidal waves of inspiration that Ayami conjured during her time here. We are so happy to have learned from this makeup legend and more importantly to have made a new friend.
Needing to make it back to NYC for an exclusive event (for none other than Madonna), followed by a sling of back-to-back advertising jobs; Ayami left BMC with a Cheshire cat grin on her face. "So… when can I come back??"