Makeup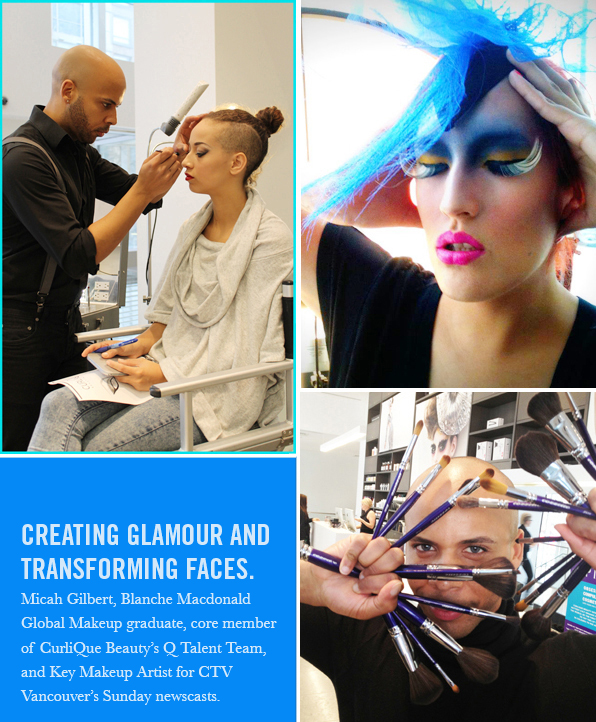 Micah Gilbert understands the responsibility that comes with having people in his makeup chair. As a member of the Q Talent team at Blanche Macdonald's Beauty Boutique, CurliQue Beauty, and as the Key Makeup Artist for CTV Vancouver's Sunday newscasts, whether he's creating glamour or on screen professionalism, he knows that makeup can transform more than faces. It can change states of mind too.
Micah discovered the power of makeup sitting in other artists' chairs while working as an actor and model in Vancouver. It's what inspired him to come to Blanche Macdonald and start making magic of his own.
"I had parts in the TV series Noah's Ark and Godiva's," he explains. "In The Chronicles of Riddick I played a Purifier's Assistant. My soul had been sucked out and I had a pair of prosthetic vents coming out of my neck. Jennifer Folk, who teaches at Blanche Macdonald, was my Makeup Artist for the movie. What she was doing to me seemed so interesting. I'd always ask her loads of questions. She said, 'why don't you go into Blanche Macdonald and ask them?' All the Makeup Artists I knew from my time as an actor either taught at or had gone to Blanche Macdonald, so there was only one choice what school I'd go to."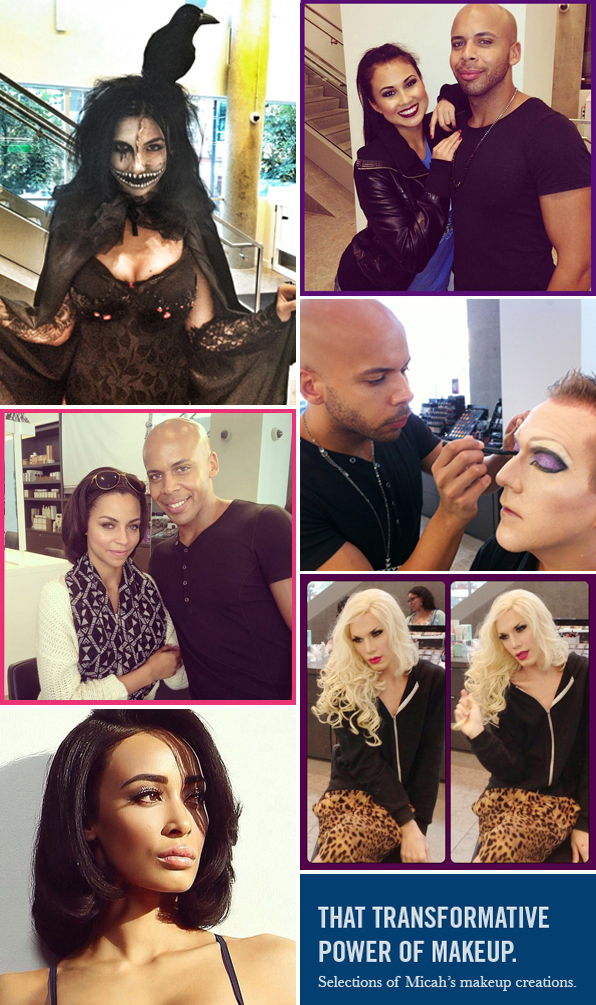 Micah came to Canada's #1 Makeup School with zero experience but an eagerness to learn: a trait welcomed by his fundamentals instructor, CJ Wills.
"CJ is such a good teacher," continues Micah. "On my first day she asked us to do a lip with a black liner. I remember touching my classmate's lip with a pencil for the first time and thinking, what the hell is this? It felt like I was floating on her face. CJ was encouraging but unforgiving too. She'd convince you that you could do it, but if it wasn't perfect she'd get you to do it again."
Micah arrived at Blanche Macdonald thinking that his future would lie in Film and TV Makeup. But the more he learned, the more exciting new avenues started appearing.
"With every section of the program I thought, this is what I want to do! I loved how you could transform someone. It doesn't even have to be a huge amount of makeup. You just bring out their natural beauty. What made it click for me was the way people felt when I was done. It was like I helped that person feel good. Now they're ready to go!"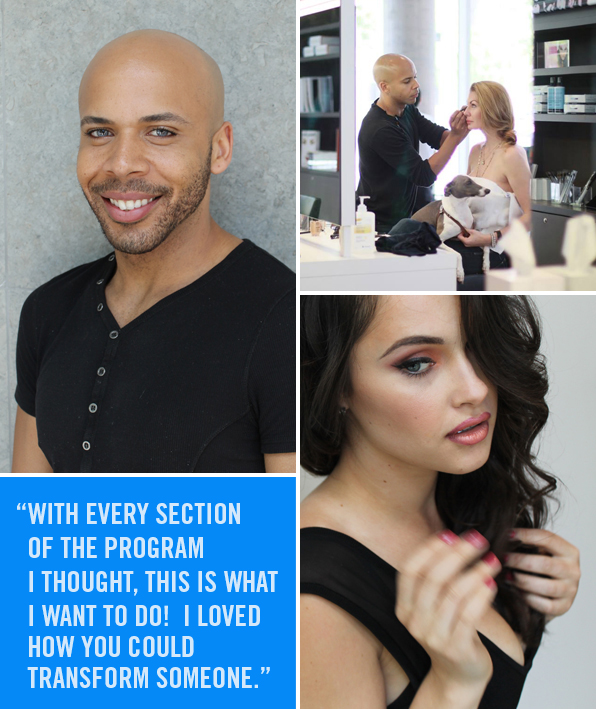 Micah knew that to get his career off to the right start he had to start making connections. With the help of Blanche Macdonald's Career Directors he began assisting the great Jaylene McRae at Make Up For Ever and NARS. Jaylene's generous words helped open Micah's door into a dream job at MAC.
"I would join Jaylene on Saturdays at The Bay, learning the business and cleaning her brushes. She's one of the most respected artists in Vancouver and MAC knew that I volunteered with her. They said, 'if we call Jaylene she'll say that you're amazing, right?' I said 'absolutely,' then called her to make sure she knew what to say when they called! I went to work for MAC at the Metrotown location and eventually worked my way into the pro store in Downtown Vancouver.
"I loved my time at MAC. They have amazing products and a crazy level of artistry. I became unafraid of colour. I started taking more of a fashion approach to beauty makeup and getting even more into the transformative element of it. I enjoyed it so much because I was selling something I believed in. That's not selling to me. I'm a Makeup Artist, and the sales come because I believe in the products I'm using. I'm just sharing what I love. I always tell students when they visit us at CurliQue; if you love the products they sell themselves. You just have to use them properly."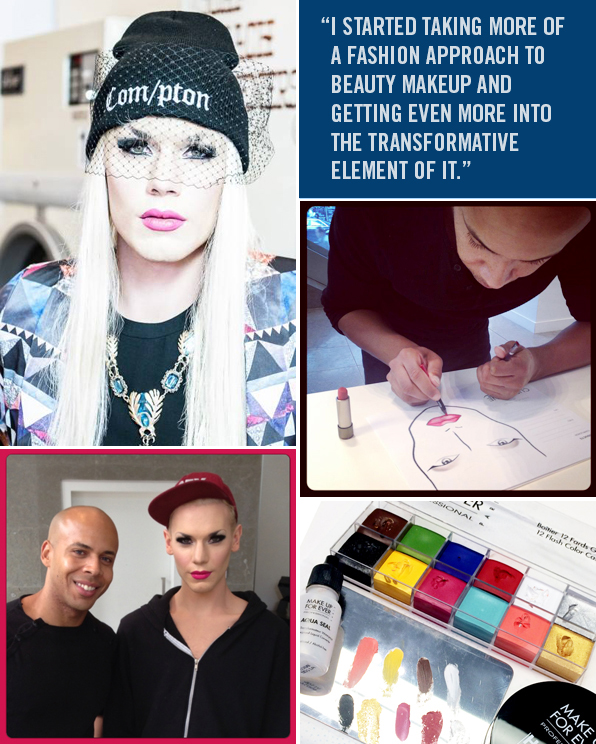 The MAC store on Robson Street is directly across the road from the CTV Vancouver studios. When the channel goes searching for Makeup Artists, they don't have far to look.
"Rebecca Simmons from CTV would come into the store to buy products. One day she told me that she needed me to cover a shift for her the next day. I freaked out but at the same time I was like, YES! I say yes to everything. Even if I have no idea how to do it, I'll figure it out. There will always be someone to help you do it so never say no. Rebecca invited me to see what she did and how she did it. She was so fast! When you're working in news, you're expected to do at least four people an hour. With Beauty Makeup that's the time you're expected to do one.
"The next day I was on my own and I was trembling as I did it. I must have done ok, because from then I was on call for mornings and weekends, and soon after that I began to be the regular Makeup Artist on Sundays. I've had some interesting guests in my chair. Christy Clark came in when she was campaigning. She had a whole entourage with her. I love seeing my work on screen. I'll see their faces on TV and think, I just did that makeup and now there are thousands of people watching this."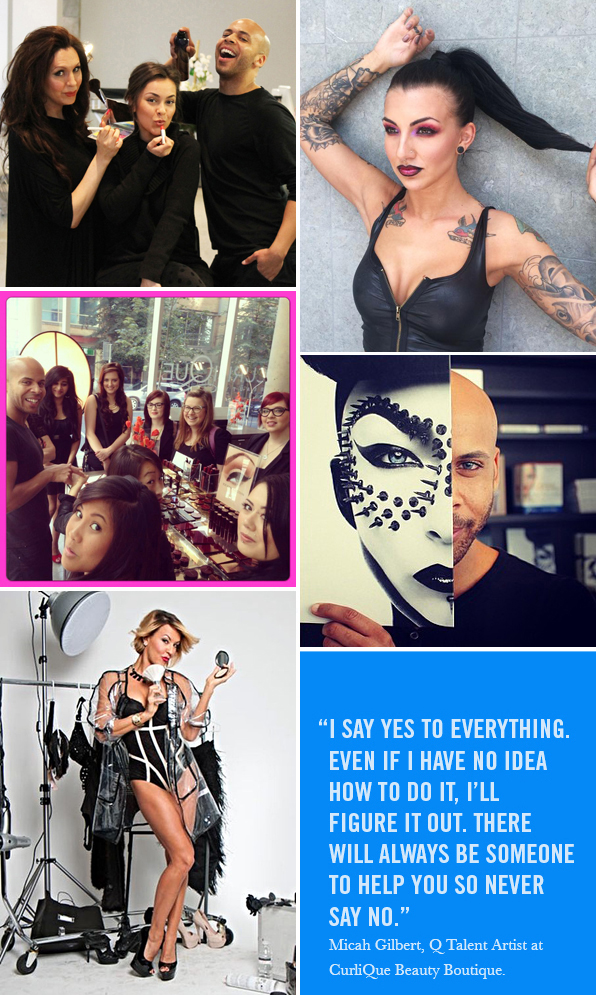 Newscasters require subtle makeup. Micah's work as Key Artist for Vancouver dance instructor Chantal Hunt and her troupe The Stillettoettes requires something different entirely.
"The Stillettoettes are focussed on empowering women. They start as students and eventually they'll join the troupe. When they first enrol they're not used to having their makeup done, which makes it even more exciting for me to go really theatrical and full glam! It goes back to that transformative power of makeup. I'm bringing out their natural beauty but manipulating it to the max to create a more impactful visual experience too."
Micah's been busy since he graduated. When he's not at CTV or keying The Stillettoetes he's regularly working at weddings and professional photo shoots, and he always has performers eager to sample his makeup skills at Celebrities nightclub, where he doubles as the Entertainment Manager ("Now they have no choice but to let me do their makeup"). Blanche Macdonald students know and love him for his work at the School's own makeup magic emporium, CurliQue Beauty. It's where education and artistry go hand in hand, which suits Micah perfectly.
"I was happy at MAC, but Jaylene told me that there were a lot of opportunities at CurliQue and I should come in for an informal chat. I was sitting with Jaylene and Gina Hansen, and everything was so polished and beautiful and glamorous. I could see the values they had along with the opportunity to be part of the School I loved. I thought, I want this job!"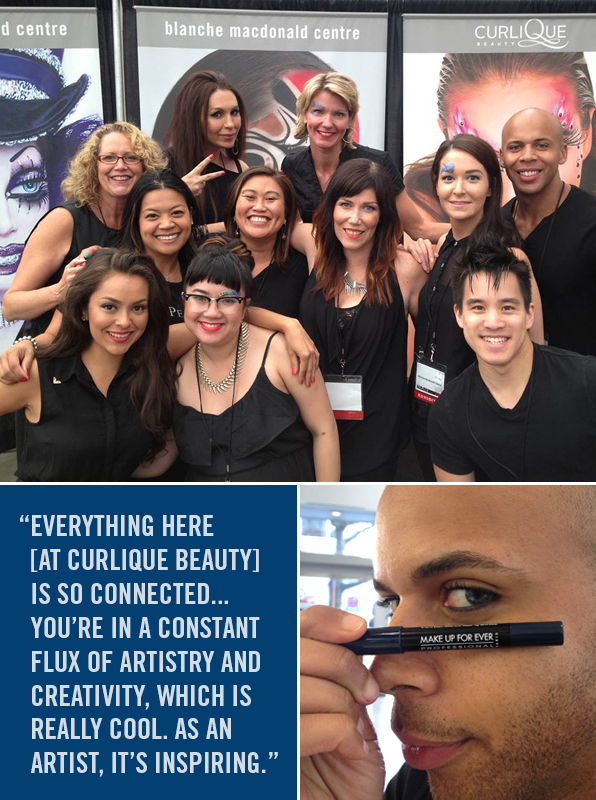 Micah's been a core member of CurliQue's Q Talent Team ever since, inspiring customers and students with the same attitude and enthusiasm he brought to Blanche Macdonald as a Makeup novice.
"Everything here is connected. You have fashion, makeup, hair, skincare and nails. We all work with each other and it's all connected to the industry. You're in a constant flux of artistry and creativity, which is really cool. As an artist, it's inspiring. You're present when those things are happening. It can be a whirlwind, and it's great to get caught up in it.
"I love educating Makeup students. It all goes back to transforming someone. I'm passing on my experience and you can see the spark in someone's eye when they get it. When they get inspired it's the most amazing feeling. A few weeks ago I was walking down Davie Street and a student ran up to me and was like, 'Micah! Micah! I love you so much. I'm really inspired to be an artist and it's all because of you.' Even if only 10% of that is true, that's a great thing to hear. People like Jaylene, CJ and Jon Hennessey inspired me and gave me that spark. If I can do the same for someone else, that's amazing!"