Makeup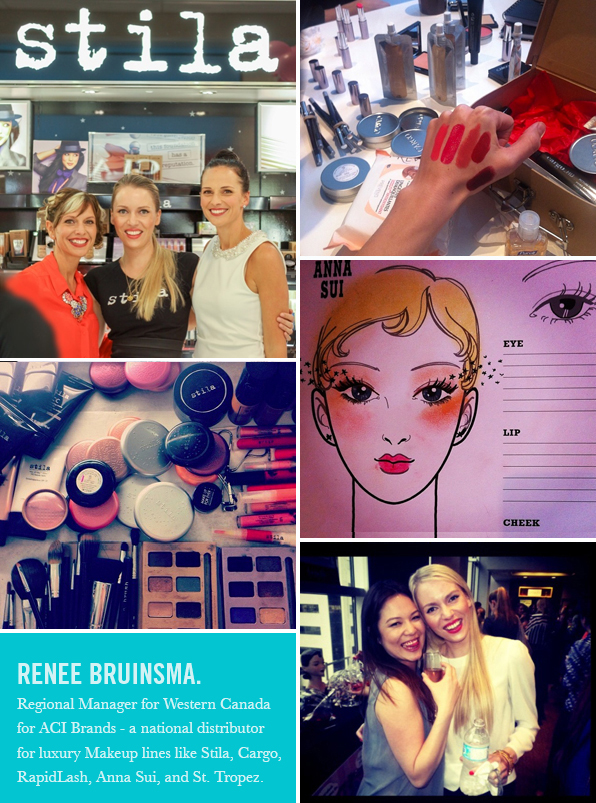 Never underestimate the power of instinct. Ten years ago a teenage Renee Bruinsma was idly surfing the Internet in her home in Abbotsford when an ad for the Blanche Macdonald Centre popped onto her screen.
"I thought, that sounds really cool, so I sent them a message," she recalls. "I got an email back an hour later and set up an interview. I started the program four months later."
Ten years after that fateful day in front of her computer, Renee's loving her job as Regional Manager for Western Canada for ACI Brands, a nationwide distributor for luxury Makeup lines like Stila, Cargo, RapidLash, Anna Sui, Ceramic Glaze, St Tropez and many more. Just as she was inspired by an ad, now she's inspiring Makeup Artists from Vancouver Island to Winnipeg to the frozen north of Fort McMurray.
"I'm still doing hands-on training, which I love, but I'm also looking after the business side. I have to focus on stores making their sales goals, so we do a lot of events to help them. I lead a lot of master classes as a Guest Artist, doing demos for specially invited clients.
"I still get to be creative every day, just not always on someone's face. I'm always thinking, how can I get a team inspired about a certain brand?"
It's no coincidence that Renee's daily task is getting clients and Makeup Artists excited about Stila. It was the line she fell in love with at Canada's #1 Makeup School.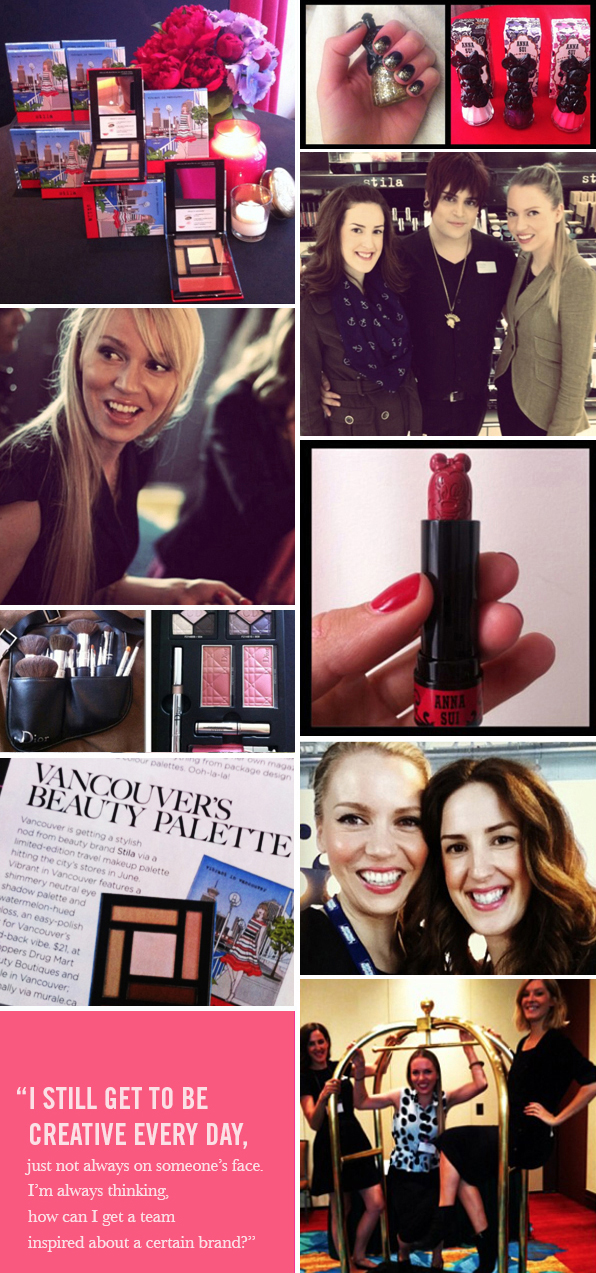 "Sharlene Gill was my instructor for the Retail Module, and she told me that I was going to present on Stila. She just said, 'You're a Stila girl.' She saw that I would connect to the brand. I went home, researched it and thought it was amazing! I went to the counter at Holt Renfrew, they gave me all this information and I did an awesome presentation. Sharlene suggested that I should try to get a job at the counter, and I started working at Holt Renfrew when I was still a student at Makeup School."
Renee's year at Blanche Macdonald kick started her career. It also fired her creative imagination.
"The entire year was amazing. I didn't go in with expectations. I tried to experience every module and see what spoke to me. I had Holland Miller as my Special Makeup Effects instructor. He's such a cool, talented person. I'm a perfectionist, so if I'm doing a bald cap it'll be the best I can do it. Deep down though, I knew I liked doing pretty Makeup. That's where I could let my creative energy out, but it was still great to learn from teachers like Holland. You get out of Blanche Macdonald what you put into it and I put 150% into it. There are opportunities there. I put a lot of work into every project I did and I volunteered at all the events at counters that I could. I was busy but it was awesome. I wanted to learn so much. I still do. Because I'd already had this great start in retail I wanted to follow this path and see where it would lead. I graduated, was hired full-time by Stila and was flown to Santa Barbara for five days for one-on-one training with their Creative Director, Sarah Lucero. It was epic."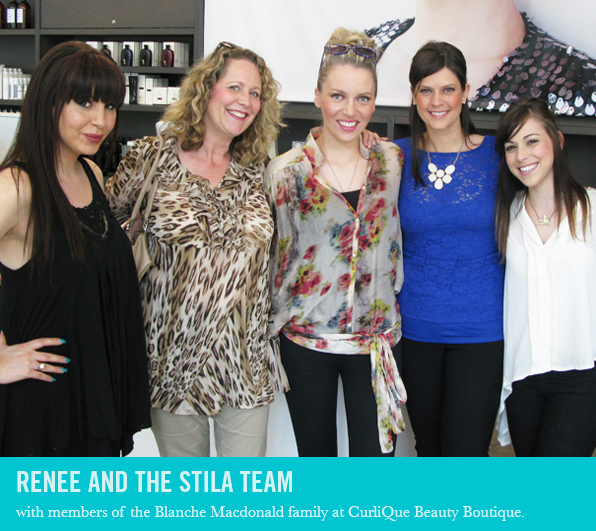 In less than a year Renee had been promoted to Counter Manager at Holt Renfrew, where she continued to refine her Makeup skills and discovered her talent for promotion.
"I could put into practice everything I'd learned. I built up my client file, worked hard and always had a positive attitude. I wanted to make sure I was the best I could possibly be when I was at Holt Renfrew. As a Manager I was still doing Makeup, but I was in charge of these huge events too. We'd have an event over two days with big sales targets, and it would be on my shoulders to meet them. Any time there was a new collection we'd do a launch with the new products and invite as many people as possible. There would be a lot of responsibilities, but it felt natural. I like organising and seeing results."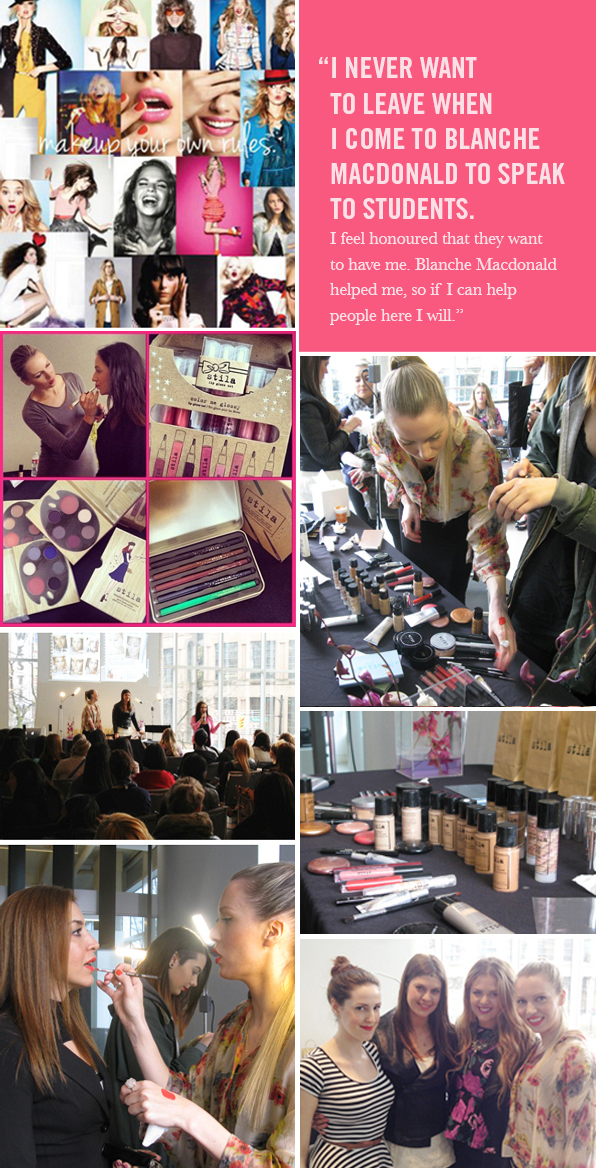 After two and a half years at Holt Renfrew Renee was poached to be a Beauty Expert at Shoppers Drug Mart. For a young Makeup Artist fascinated by the industry, it was another opportunity.
"I thought that this would be something new to learn. I knew department stores. Now I could learn drug stores. It was a really great experience. I was able to take on new business and management roles. I had to know all the brands, not just one. Shoppers Drug Mart is all about sitting people down and seeing what works for them, so I was able to get each customer in my chair trying different brands. That opened my eyes to what other products could do. It was cool because I'm a huge product junkie. Now I have to stay in the industry! I need to know what's new all the time. If I didn't, I'd go crazy!"
Just because Renee had access to every line at Shoppers didn't mean she didn't have personal favourites. A special affinity to a certain French brand provided the inspiration for another career goal that would soon be met.
"I loved Dior!" she laughs. "I was obsessed! I wanted to make Dior one of the biggest brands in my store. I wanted to prove to Dior I could do it, because I wanted to work for them too. I would put on cool events and really pump up the brand in the store. I told the Dior Account Executive that I wanted to be on their Demo Team and started working for Dior as a Pro Artist on my days off from Shoppers. Sure I was working six or seven days a week, but I feel like the more you can learn and the more you can do the better!"
Renee's hunger for more was appreciated and understood by her Manager at Shoppers Drug Mart, Rhonda MacMillan. So when Rhonda heard that a job was available with Stila and ACI even though she was sad to see Renee leave, she knew it was the perfect position for her.
"That's the kind of person Rhonda is," smiles Renee. "She is one of the most inspiring people I know. A quote comes to mind when I think of her; 'a true leader raises up leaders.' That's Rhonda in a nutshell and I will always appreciate her kind spirit."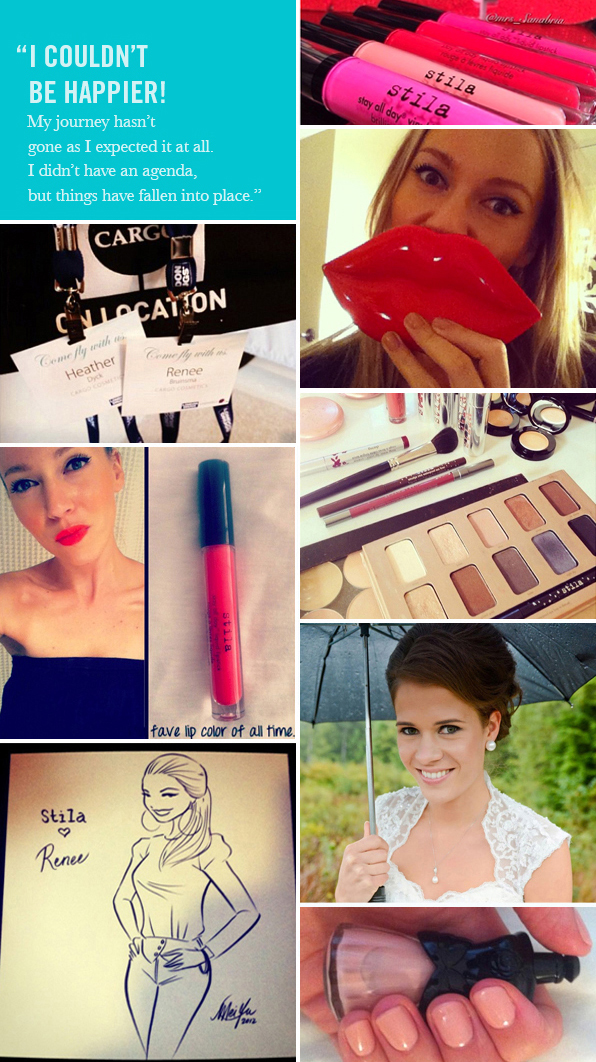 Renee's been the Regional Manager for Western Canada since the beginning of the year, working one-on-one with her team of reps and spreading the gospel of ACI Brands across the country.
"The bottom line is meeting sales goals. To make sure those goals are met I'm always motivating people and seeing what we can do to get their levels up. The people are the joy of the job. I get excited to see them to the point where they're so awesome that I don't even feel like I'm working. Some stores feel like my family."
Which is exactly why Renee feels like a proud parent when she has the chance to come back to Blanche Macdonald and CurliQue Beauty to inspire to the next generation of Artists.
"I never want to leave when I come to Blanche to speak to students. I feel honoured that they want to have me. Blanche Macdonald helped me, so if I can help people here I will. I hired Bonnie Chan when she was a student here. Now she's the Counter Manager at The Bay. I did a presentation at CurliQue and she approached me after and asked, 'How do I get to be where you are?' I thought, that's a good attitude, so I asked for her résumé and invited her onto my Demo Team. She didn't have much experience but she had the right attitude."
For ten years Renee has been spreading inspiration onto faces across Canada. Not bad going for an adventure that started with a click of a mouse.
"My journey hasn't gone as I expected it at all," she laughs. "I didn't have an agenda, but things have fallen into place. Thanks to the love of my life for always believing in me. I couldn't be happier!"
All photos provided by Renee Bruinsma @reneekaur, @stilacosmetics, and @stilagirlcanada on Instagram.