Makeup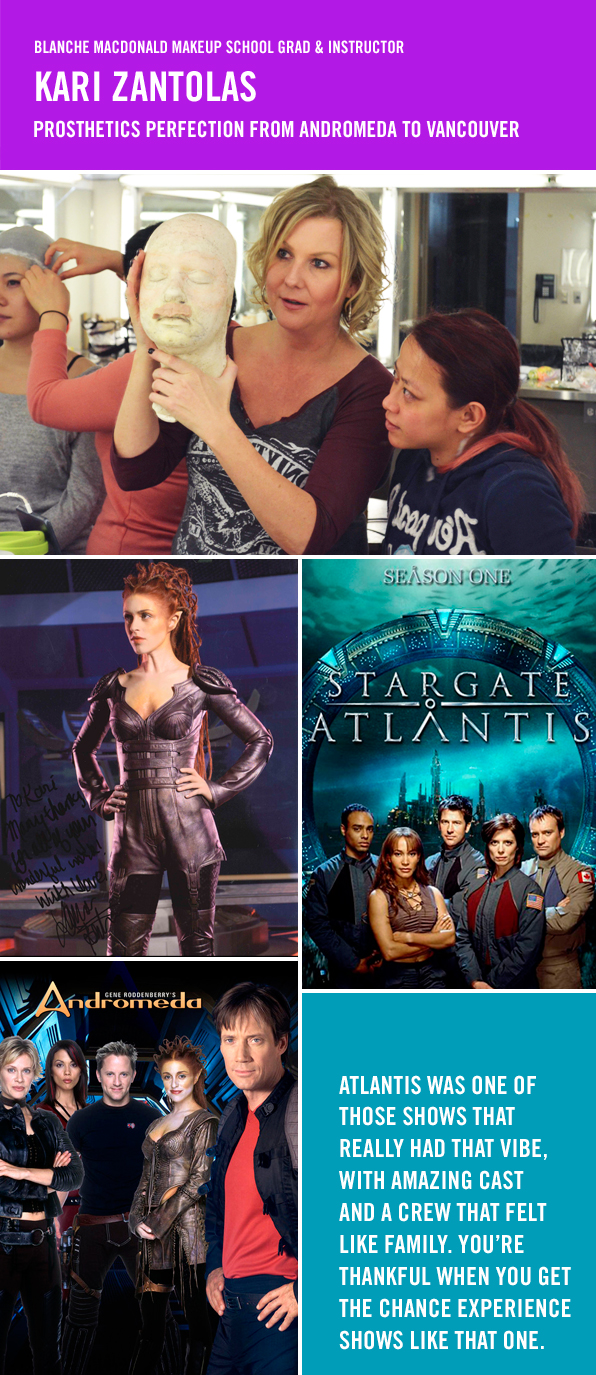 For aspiring Makeup Artists enchanted by Fantasy and Science Fiction Makeup Effects, Kari Zantolas transforms classrooms into prosthetics-filled candy stores. Students at Canada's top Makeup School immediately understand that they're learning from one of the very best; a star on the teams on internationally beloved sci-fi productions, excelling in the roles of Head of the Prosthetics on Andromeda and Makeup Department First Assistant on Stargate Atlantis.

"I have a lot of passion for this," smiles the Blanche Macdonald graduate-turned-instructor. "I love seeing that passion in my students and watching it drive them forward. I give them the tools they need, the opportunity to learn what I learned, and it always amazes me to see what they do with that. It's incredible when students come back to Blanche Macdonald and tell me what they're up to. There's a sense of pride that comes with knowing I've made a difference in someone's life."
From Blanche Macdonald classrooms to sets of TV shows and movies like Scary Movie 3 and 4, Battlestar Galactica, Harper's Island, Dark Angel, Mysterious Ways, Once Upon A Time, Life As We Know It, Reunion, Doing It, Little Man and White Chicks, Kari has been making a difference for two decades, ever since she decided to make the move to Vancouver from her native Ontario.

"I spent most of my youth dancing, singing and acting in musical theatre," she explains. "I graduated from Sheridan College with a Musical Theatre degree. I wanted to start acting in film and my agent in Toronto suggested that my best bet was to move to Vancouver. So that's what I did.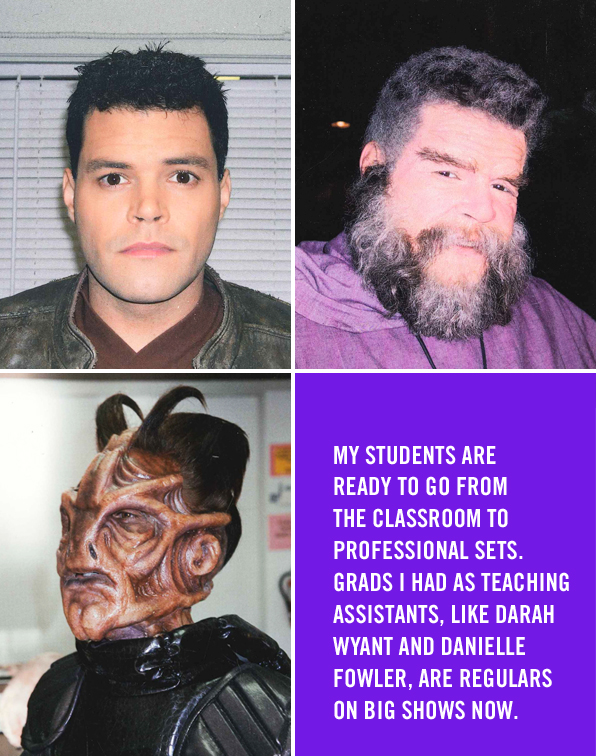 "Working as an actress in the theatre there were many times when I was responsible for my own makeup. I was the girl that people would ask, 'Can you do mine too?' I had knack for it and I liked it. I was auditioning in Vancouver but nothing was panning out. I thought if I could contribute to another aspect of the industry, I could still audition on the side. I really enjoyed it, so why not Makeup?"
Blanche Macdonald's reputation as Vancouver's best Makeup School was already established by the mid-1990s. For the actress who had enrolled to add another string to her artistic bow, classes were little short of daily revelations.

"It completely opened my eyes! I had some experience, but I really didn't know much about it. I didn't understand the concepts of makeup before I came to Blanche. I'd been doing makeup for a while, but suddenly I knew how to do it properly. That made a huge difference. I loved how these simple products on a table could transform the person in front of me. You could alter the shape of someone's face with a brush and some beautiful colour."

Having temporarily put acting on the back burner, Kari's first task after graduation was turning her newfound skills into paying jobs.

"Getting a full time job was my full time job," she laughs. "I felt that I was ready. I wasn't just sending résumés. I was visiting production companies, asking to speak to someone, handing them my résumé and then following up. I was letting people know who I was. I thought that the opportunities I volunteered for would eventually lead to paid jobs, and I was right."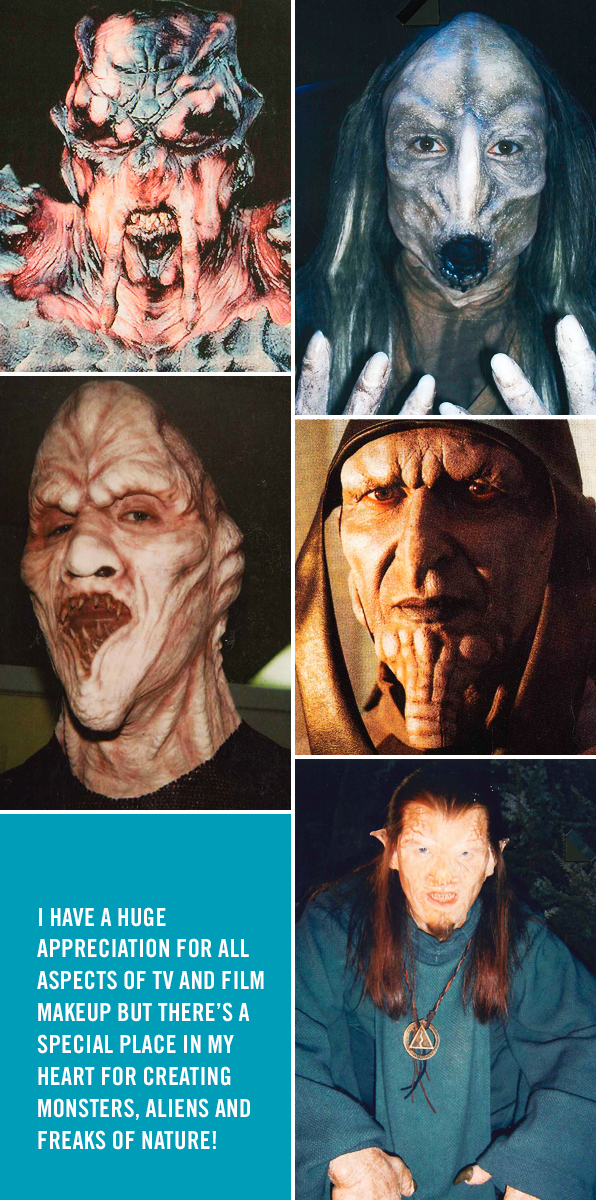 It wasn't long before Kari's talent and persistence led her to be the first option makeup artist for productions companies filming music videos for artists like Bif Naked and Swollen Members, and commercials for major brands like Ford and Mattel. Kari wanted bigger and better, working her way into the ACFC union and sci-fi and fantasy shows like First Wave and The Immortal. Having acquired the on-set hours to join the IATSE union, the door opened for a position on the team for NBC sci-fi hit Mysterious Ways. There was no stopping her.

"The long hours didn't bother me. I was young. I had energy. I loved it! I was waiting to get on the big shows!"

Kari had become an established member of Vancouver's TV and Film Makeup community, but she wanted more. Having studied at Blanche Macdonald in the days before prosthetics were part of the curriculum, Kari decided to teach herself. Much to her landlords' chagrin.

"I lived and breathed horror movies and wanted to be as well-rounded in all aspects of makeup as I could possibly be. I knew how to contour a face, but I wanted to know how to turn someone into a demon. I was reading books, watching videos and trying to figure it out myself. I kept blowing stuff up in my oven trying to figure out how to cook foam latex. I was continually upsetting my landlords! I was making a lot of mistakes, but I was learning."

Kari was the Key Makeup Artist on Dark Angel's second unit when a call arrived from Andromeda's prosthetics specialist Harlow MacFarlane that made all the appliances she'd destroyed worthwhile.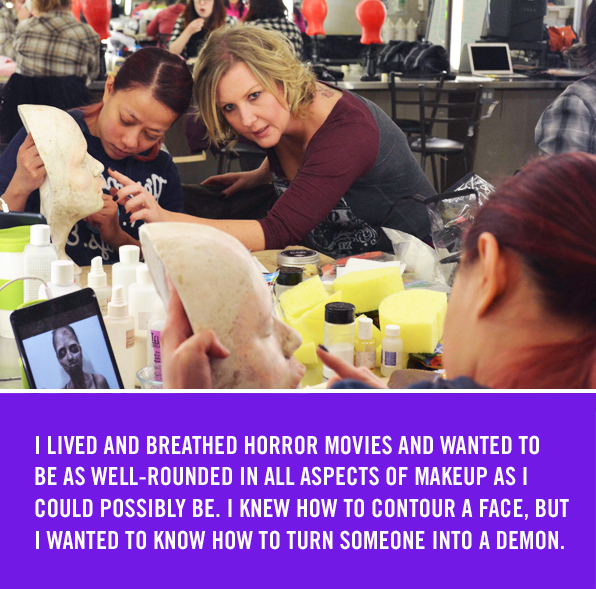 "Harlow heard I was into special effects. I promised him that I was a really fast learner and I would put 100% into it. And he gave me a shot! I was on Andromeda for four seasons. Harlow eventually left and I ran that prosthetics department for three seasons. The character Trance, played by Laura Bertram, played all the time. So many mornings we were there at three or four in the morning so she could start filming at seven. Every day we had to work on and colour different appliances. Some days I had 12 makeup artists working underneath me, some who had been in the industry for years. I made sure I learned from them."

The Makeup Team on Andromeda deservedly won a Gemini Award for their work for the episode when the entire cast were turned into their evil alter egos. Kari insists that although it's lovely to be appreciated by her professional peers, the greatest satisfaction comes from the creative journey.

"Some Heads of Department give their team a lot of input and it's great when that happens. It's so exciting. I have a huge appreciation for all aspects of TV and film Makeup but there's a special place in my heart for creating monsters, aliens and freaks of nature!"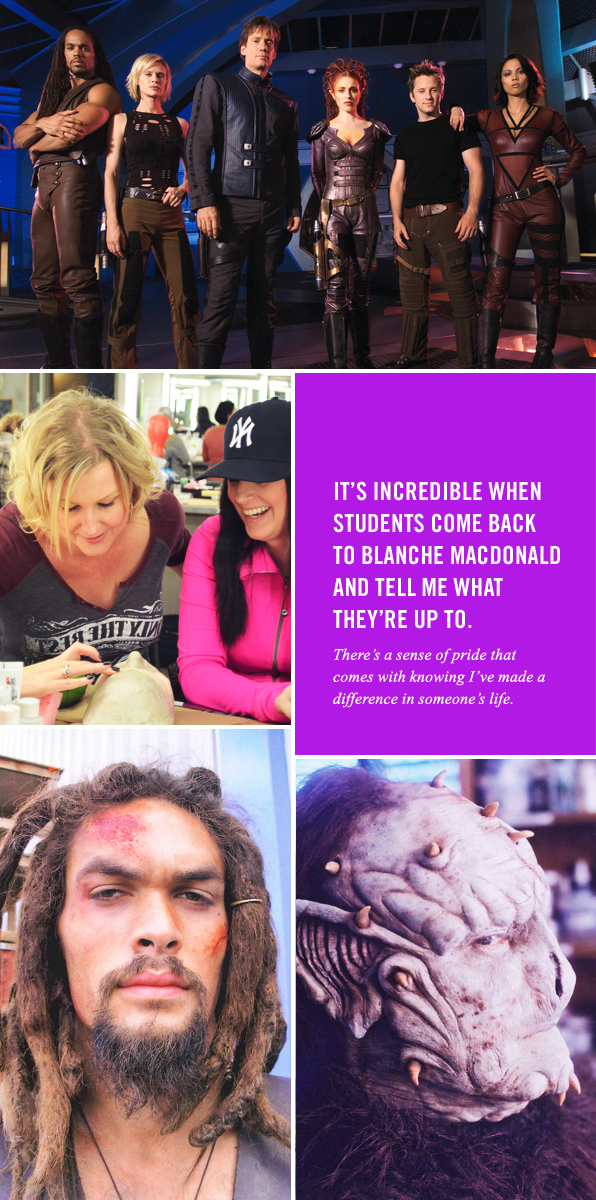 Kari spent three seasons working alongside Special Effects Director Todd Masters as the First Assistant Makeup on Stargate Atlantis.

"When you work in TV and film you can't help but become close with the cast and crew. Atlantis was one of those shows that really had that vibe, with amazing cast and a crew that felt like family. You're thankful when you get the chance experience shows like that one. The hours are crazy, and you're away from your friends and family, so it's fantastic to have that sense of comfort around you."

After her son was born, she decided to take a break from the long hours of set life. It was time to share everything she'd learned with the next generation. Which is why she chose to return to Blanche Macdonald, teaching Prosthetics and Makeup Effects and ensuring that today's students have the craft and insider knowledge to step straight onto set from the classroom.

"I'm laid back in class, but I'm tough. We're going to have a lot of fun on the journey but I always want students to learn things to an industry standard. They need to be details orientated, know the products and understand what's expected of them. They need to be prepared for the adventure that's going to be thrown at them. I want things to be done the right the first time. Showing you can do that gets you that second opportunity."

Kari's personal successes, combined with the triumphs of her students, prove that high standards and fun times can go hand-in-hand. Just make sure you bring a positive attitude and plenty of passion.

"Makeup Artists need to be confident in who they are and their abilities. I explain how they need to be prepared for everything from bad weather to actors with attitudes. My students are ready to go from the classroom to professional sets. Grads I had as Teaching Assistants, like Darah Wyant and Danielle Fowler, are regulars on big shows now. Danielle is already a Key Makeup Artist! It's always exciting for me to see my students succeeding. It gives me a great sense of accomplishment knowing I'm putting people on the right path."