It's never too late to begin a new career. Julie Brown is proof. As an in-demand BC Bridal Makeup Artist (with a Weddingwire.com Bride's Choice award to prove it), an IATSE permittee for the film and TV industry, a beauty columnist for Fresh Magazine and an instructor at Canada's #1 Makeup School, she's sharing those experience in the place where her own makeup journey began.
"I was in my late 30s, working as a flight attendant for Air Canada," she explains. "I was spending money on makeup like crazy and doing it on friends as a hobby. I was thinking about a career in makeup but felt like I was too old to make a change. I'd thought about going into makeup when I was younger, but I was dissuaded by my parents. It was always something I loved doing. I was fascinated by the transformation process. During my school years I would rip pages out of fashion magazines of makeup, clothes and hairstyles that I loved, and made collages in scrapbooks. I was so surprised when I came to Blanche Macdonald that we were asked to do assignments called photo morgues. That's what I did when I was younger!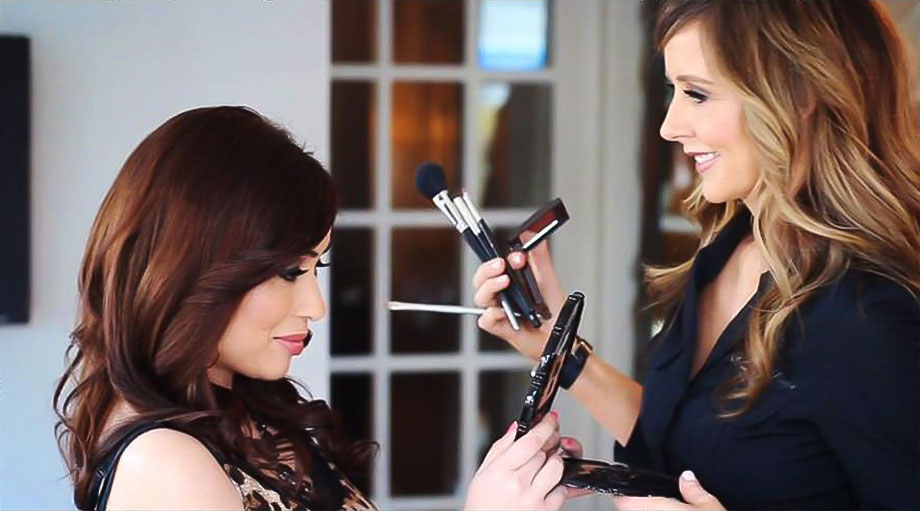 "A friend told me, 'You're going to be 38 anyway. Why not be a 38-year-old who's a professional Makeup Artist?' I knew Blanche Macdonald's reputation, so I went on the web site, and saw that I could do the Global Makeup Program Monday through Wednesday or Wednesday through Friday. I could go to school and still fly the other half of the week!"
Arriving at Blanche Macdonald with a determination to carve a new career, Julie was instantly impressed by the instructors she was learning from.
"I loved it! I knew it was going to be career changing, so I treated Makeup School like a job. These wonderful teachers all had industry experience. I knew they had things to teach me and I wasn't going to waste my time. The quality of the instructors was better than I could have ever expected. When I'm working now I still think, 'This is a Jon Hennessey technique' or 'This is what Jen Folk told me to do'."
---

I treated Makeup School like a job... The quality of instructors was better than I could have ever expected.

---
Julie threw herself into the world of makeup from the beginning, assisting instructors whenever she could, taking retails shifts at Shoppers Drug Mart and seizing every opportunity to work on set for independent productions like The Charlie Da Clown Show, The Dinner Suit and The House, along with TV commercials for brands including Aquafresh and Fisher Price.
"Retail is a great way to hone your skills," she insists. "Sometimes you'll want someone to sit in your chair just so you can practice on them. You get access to all the different lines so you learn about products too. I was buying the stuff anyway, so it was good I could do it professionally!
"Being on set was so exciting! Even when I had a newborn baby and had to fly with Air Canada, I'd still volunteer for independent films. Every day I'd be doing different makeups. You might have to do a bullet wound or cuts from glass. When the opportunity to join IATSE arrived, I was able to get in as a permittee."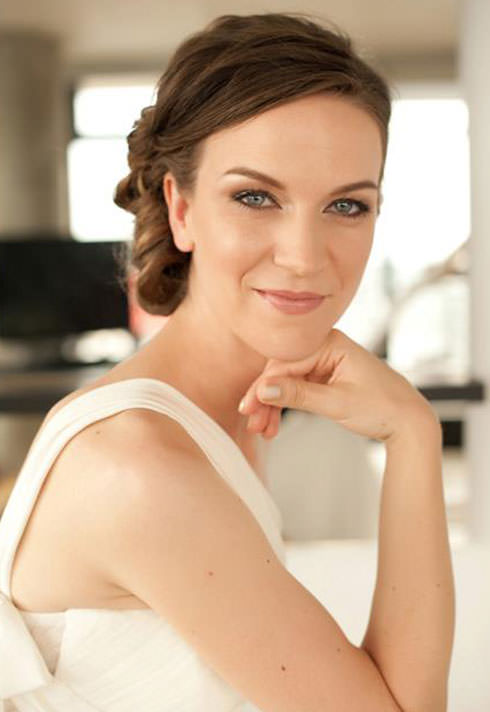 A busy career in the movies was on the horizon, but Julie's business brain had already started searching for new avenues. Once she fully appreciated the creative and financial opportunities as a Bridal Makeup Artist, she made a conscious decision to seek out and win clients.
"I saw I could get out there on-line with social media and marketing to create a business for myself. The hours are relatively short compared to TV and film, you get to make someone look absolutely wonderful and happy in a party environment, and it can be lucrative too. It was where I wanted to go."
She's been busy ever since. This summer will be the third in a row where every weekend is fully booked. Clients across BC know how good Julie is, which is why she was named the WeddingWire.com Bride's Choice Winner in the Bridal Makeup Artist Category.
---

When I see the wedding photos I feel proud of the work I've done.

---
"They give out their prizes for a combination of the most reviews and the rating on them. I came top! People were obviously pleased with the work. They liked my attitude and the attitude of the assistants I brought with me."
Julie's hectic schedule speaks for the quality of her work. She's happy to reveal the secrets to her success. In her expert opinion, it's as much about the approach as it is the application.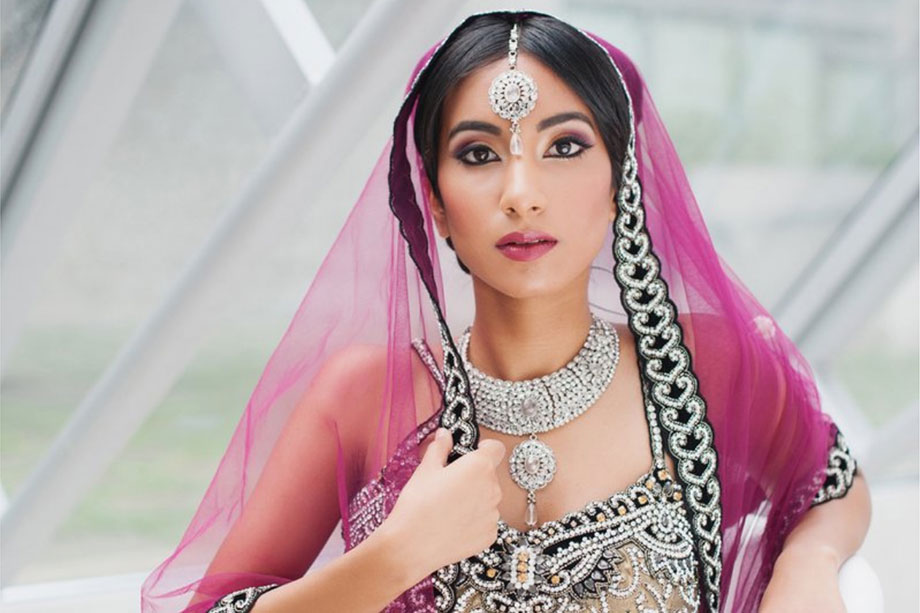 "With all areas of makeup, it's always important have a really good attitude. A Bridal Makeup is collaboration between what the client wants and what I know will look good in photos. It's the bride's decision. It's my job to add my professional expertise.
"People appreciate my flexibility. Even if we need to change location or add someone to the party, I can adapt at the last minute and can make everyone look beautiful and have their makeup last all day. That's key. It's one thing to apply a makeup but it needs to last all day and into an evening. Everyone always wants time with the bride, so it's always a race against the clock. Doing TV and film you learn to be quick, so if one of my assistants is falling behind I'll step in speed it up. You ride the waves as the day goes by.
---

I love seeing student's skills develop, from the right attitude to the marketing to the artistry.

---
"I'd been taught by a renown South Asian Bridal Makeup Artist at school by Farah Hasan. That was an area I wanted to tap into because it gives me more creativity as an artist. As soon as I did some South Asian brides the word of mouth was amazing. I'd do a wedding, a groomsmen or bridesmaid would ask me for my card and boom, I'm in that realm!"
If Julie makes it sound easy, it's because she's mastered the relationship between artistry and people skills. That combination led her to be named as an esteemed judge at the Fantasy Makeup Competition at Vancouver's Asian Expo; and now she's sharing that expertise in the beauty column she writes for Fresh Magazine and with the students at Blanche Macdonald.
"After graduation I kept in direct contact with Karen Esprez and Jen Folk and when the time came I was open to teach whatever they would let me go into! Bridal was a natural fit, and so were classes like fundamentals and hair.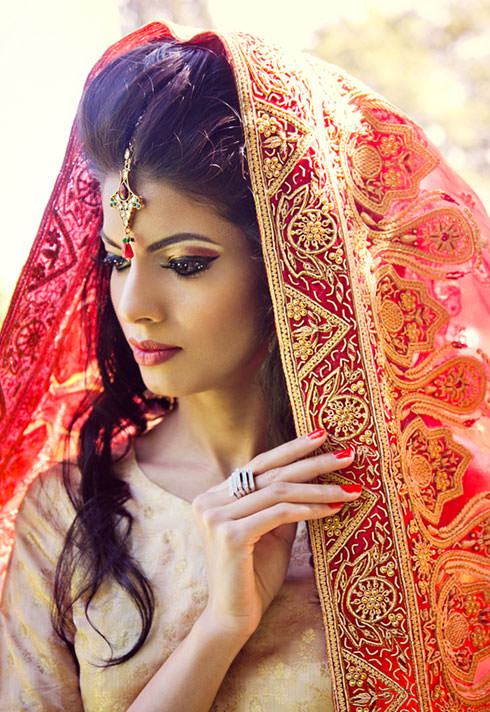 "I love seeing student's skills develop, from the right attitude to the marketing to the artistry; and I love seeing them make the breakthrough when they realize that they can do it. The feedback that I receive from students has been so positive and heartfelt.
"I try to explain that this is where art meets business. Your skill can be amazing, but you have to do the job in the timeframe you have. You need to make clients feel good about themselves; whatever age they might be. If I see standout students with great attitudes and skill sets I'll get them to assist me when I'm doing weddings."
It's only natural that brides from BC and beyond are leaping at the chance to work with Julie. It's a pleasure for her too.
"When I see the wedding photos or the bride puts her dress on I feel proud of the work I've done," she smiles. "I know that the photos from that day will last forever, and it's great being a part of that process."