Ten years ago Farah Hasan's creative brilliance was directed towards her laptop, delivering graphic design work for an in-house graphic agency. That's when a visit to City Square's food court opened her mind to new future.
"I looked upstairs and saw Blanche Macdonald," she recalls. "For some reason the name just clicked. I went home, googled it and decided, I want to be there."
That day changed everything. A decade later, Farah has regular opportunities to sample the delights of the City Square food court as a member of Blanche Macdonald's Makeup Faculty. Teaching at the Makeup School where her journey began is just one component of an incredible career that regularly takes her across Canada and the world for fashion and editorial work and has seen her become the ultimate bridal makeup artist for British Columbia's South Asian community.


"I'd always been an artist," continues Farah. "I have a degree in graphic design. Working as a graphic artist was well paid, but it was very template based and not very creative. Being confined in four walls with my laptop wasn't me. I needed more fun, more liberty. I had never thought about makeup artistry until I moved to Vancouver, but I came to Blanche Macdonald, met a program director and signed up. I felt like I was meant to be here.  It had that energy.  And the portfolio of students' work was full of art."
---

For me, bridal makeup is fashion makeup.

---
It was that artistry that convinced Farah that Blanche Macdonald was the best Makeup School for her. The opportunity for the designer to fully embrace her longstanding love of colour and passion for art was as inspirational as she had imagined.
"The first weeks were amazing. I knew from day one that this was the kind of environment I wanted to be in as an artist. It was full of great people and great support. I would open my kit every day, even when I wasn't in school, and just admire the products and the colours."
It wasn't long before the skills Farah had learnt in the makeup program were opening doors of opportunity outside the classroom.
"I had a classmate who worked for Elizabeth Arden. After our fundamentals and cosmetic retailing modules she asked if I wanted to help her at the counter at Sears at the Pacific Centre. I had no experience at this time, but I did that for two days, thoroughly enjoyed working with people and knew that this was for me."



Farah had started at Blanche Macdonald with an idea that she would focus on the special effects side of the industry. The creativity and challenges she saw at Makeup School opened her mind to new options. The realisation that she was on her way to becoming professional makeup artist was a profound moment for Farah.
"I didn't realise that the beauty and bridal side of makeup could be so beautiful and creative. When I'm working on someone's face, I believe I can change her on the inside too. They'll tell me right away how confident they feel, how beautiful they look. People don't realise how beautiful they are. They underestimate themselves. They just need a few things to bring out that beauty and personality."
Farah had secured her first full-time makeup position before she'd even graduated.
"I was hired by Estée Lauder to be part of their makeup team. The interviewer didn't even ask me a second question after I told her I was studying at Blanche Macdonald. 'You're doing the makeup programme at Blanche Macdonald? When can you start?'  She knew the level of professionalism that I'd been taught.
"After three years I was positioned at Holt Renfrew as Estée Lauder's Resident Makeup Artist for British Columbia. It took me three years to accomplish what had taken me 16 years in the graphic design industry! That was wild for me. I remember we did one event where I wasn't the key artist, but people knew who I was and were lining up to get in my chair."
---

When I'm working on someone's face, I believe I can change her on the inside too. People don't realise how beautiful they are.

---
After five years with Estée Lauder, an offer arrived from Farah's dream company.
"Heather Nightingale from Make Up For Ever and I are very good friends. After being Resident Makeup Artist for BC with Estée Lauder people thought I was going crazy to come down to the counter again. But that was what I was waiting for – the chance to work with colour. Make Up For Ever gave me the biggest opportunity in the industry – to create and believe in myself and to take my art in the direction I wanted."


Farah stopped working for Make Up For Ever full time three years ago. She's still part of the team, helping with special events and new product launches. Contributing an incredible 'Bollywood Extreme' look on the Make Up For Ever stand at this year's Vancouver IMATS. That's one of her specialities, creating Bridal and Fashion looks inspired by the world of Bollywood glamour, and one of the reasons why she's perpetually in demand from South Asian brides looking for the ultimate makeup on their ultimate day.
"My work is my passion. For me, bridal makeup is fashion makeup. South Asian brides can go for makeup that looks like a high fashion editorial shoot. Every bride is coming to me with a theme these days. The outfits and the jewellery and the themes they come up with can be extreme. I actually use a lot of waterproof makeup; products like HD and waterproof by Make Up For Ever. Ben Nye sealers, Kryolan makeup in addition with Bobbi Brown and That comes from my special effects training.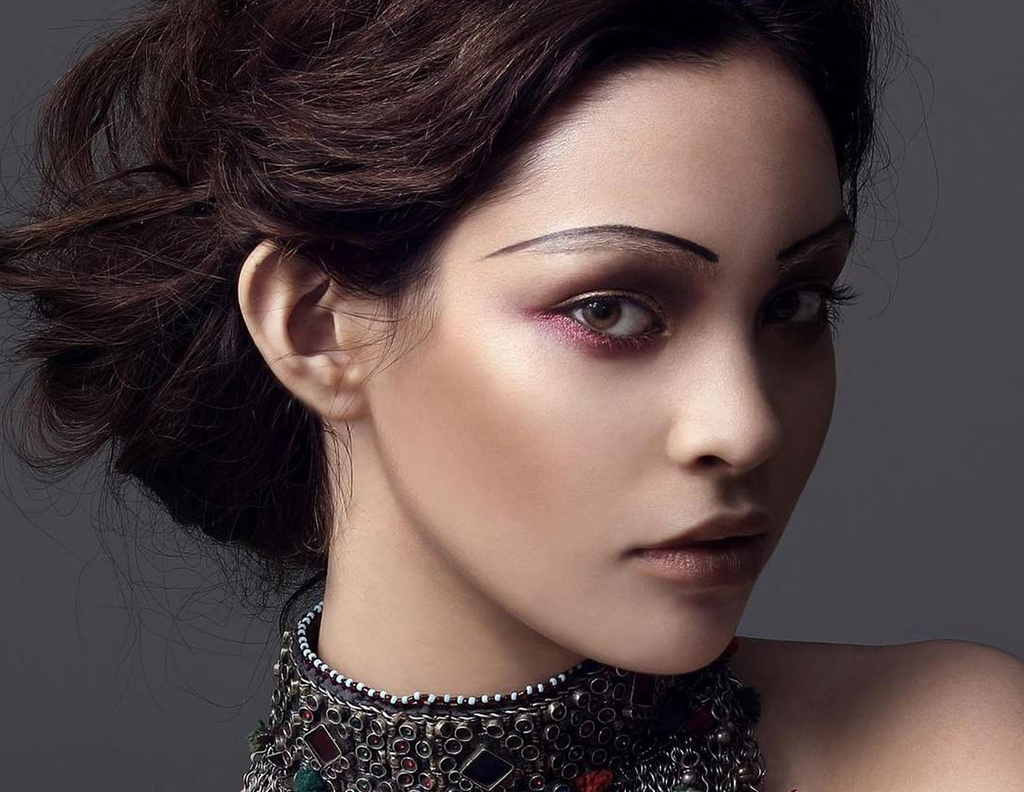 "I make a 100% effort to satisfy my clients and give them what they're looking for.  I'm a researcher too. I regularly go back to Pakistan and learn from what the industry there is offering. I research a lot of makeup artists in India, seeing what they're bringing to the industry. I don't do any marketing. My business is all about referrals. I'm booking for 2013 already!"
Farah is in almost-permanent demand. She's continually working on shoots for the South Asian community in Canada and Pakistan ("Last week, I did a fashion shoot and models were texting me at seven in the morning saying, 'Make sure I'm in your chair'"). She has a regular beauty column in Darpan magazine. You might have seen her sharing her expertise on the JoyTV show, Women in Focus. She's collaborating with fashion houses in India to bring their ideas to Canada. And somehow she's found the time to return to where her adventure began, teaching fundamentals, bridal and fashion makeup to students thrilled to be learning from one of the very best.
"Coming back to Blanche Macdonald was my dream. When I graduated I said to myself that I wanted to come back to this school and share everything that I'd learnt.
"This Makeup School is unbelievable. You have to experience Blanche Macdonald to appreciate the makeup world out there. Your basics are right. Your training is to the industry level. You get amazing support. You get kept up to date, not only with what's happening in Vancouver, but in fashion and movies everywhere around the world."
---

You have to experience Blanche Macdonald... You get kept up to date, not only with what's happening in Vancouver, but in fashion and movies and everywhere around the world.

---
Farah understands what that support means. She received it herself when she was a student.
"If you've ever been in my class, even after you graduate, whatever you're doing in the industry, please share it with me. If you ever need anything – in terms of what to use, where to buy it, how to create a look, I'm happy to share my opinion. I'm still connected to students from five years ago."
Creativity has no limits. It never rests either. These are concepts Farah embraced when she studied at Blanche Macdonald. Now she's sharing them with the next generation of makeup artists.



"When I'm teaching I'm observing every single student. Everybody brings something new to the class and the more I share, the more I learn. I had the creative side and the aptitude, but the attitude of the makeup artist was what Blanche Macdonald brought to me."