Esthetics Program: Graduate Highlights
Blanche Macdonald Centre is pleased to highlight some of our notable alumni. These Esthetician school graduates have excelled both personally and professionally, making an impact on a local, national and global scale. Read about their success and how Blanche Macdonald impacted where they are today.
Alana Delcourt
Esthetics/Spa Therapy Graduate
Esthetician and Laser Technician - Vancouver Island, BC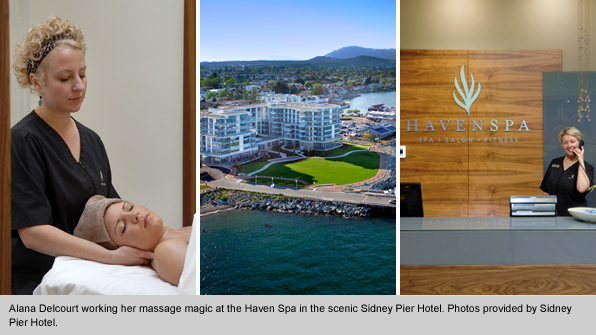 Ask Blanche Macdonald Esthetics graduate Alana Delcourt for the motivation behind a career that's taken her to management roles in some of British Columbia's most prestigious spas and you won't get a simple answer. She's always been hungry for success, but there's something in the actual action of helping people feel better that's always been irresistible for Alana. It's what brought her to Blanche Macdonald's Esthetics School to begin with.
"I always liked the idea of helping people," she recalls. "I was interested in nursing and I'd done the pre-requisite courses for it. But I spent some time in a hospital with an ill family member and at the last minute I felt there might be something else I could do to help people. I wanted to work in an industry that was about healing. Then esthetics came to me."
Alana came to Blanche Macdonald in 1999. The first time she walked through the doors, she knew she was in the right place.
"Blanche Macdonald is the best. It had the best reputation," she insists. "From my first interview I was impressed. The facilities are beautiful, they really take care of you and it's totally professional. Once I was there I don't think I ever questioned the decision. It was something I was completely engrossed in. I loved the education there. I loved that we used professional products in our training. And it was extremely hands-on."
Read more about Esthetics/Spa Therapy Graduate Alana Delcourt
ALLISON DIOTTE
Esthetics/Spa Therapy Graduate
Designated Beauty Advisor - Holt Renfrew, Vancouver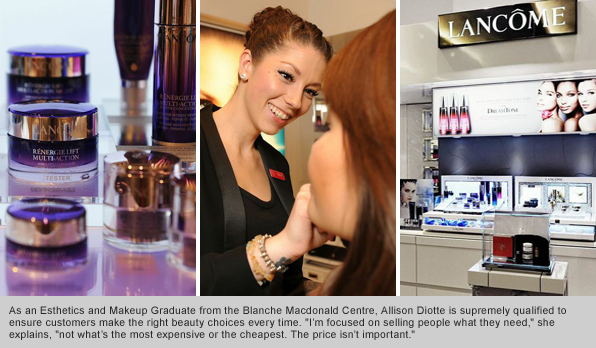 Once customers discover the Lancôme counter at Holt Renfrew they tend to come back. And a huge part of that loyalty is down to Designated Beauty Advisor and Counter Manager Allison Diotte, who ensures that every client she meets is always recommended products perfect for their individual needs. As an Esthetics and Makeup Graduate from the Blanche Macdonald Centre, Allison is supremely qualified to ensure the right skincare choices are made every time.

"There's a lot of trust there," she explains. "And it's built from making the correct recommendations. I'm focused on selling people what they need, not what's the most expensive or the cheapest. The price isn't important. Whether it's skincare or makeup, I want the products to give our clients the desired result."

Helping people look and feel their best comes naturally to Allison. It's been what she's wanted to do for as long as she can remember.

"I've been interested in esthetics and makeup since a very young age. My Mom was a model, and before that she was a hair stylist. So I always had this beautiful glamorous woman to look up to. I loved colour, special effects and skincare in general. I was a total girly girl when it came to makeup!"
Read more about Esthetics/Spa Therapy Graduate Allison Diotte
Alisa Usher
Esthetics/Spa Therapy Graduate
Western Canada Regional Trainer for Elizabeth Arden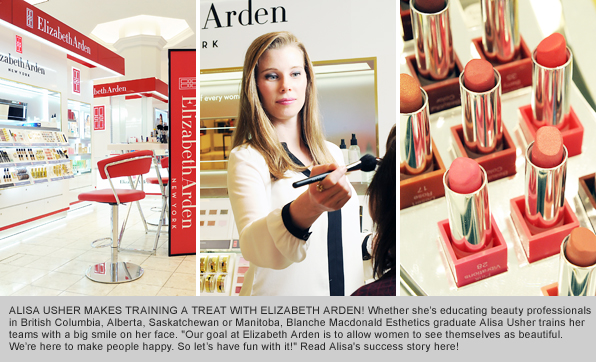 Skincare. Makeup. Fragrances. As Western Regional Trainer for Elizabeth Arden, Alisa Usher does it all. And whether she's in British Columbia, Alberta, Saskatchewan or Manitoba, the Blanche Macdonald Esthetics School graduate does everything with a big smile on her face.

"As beauty professionals we're in one of the most rewarding professions there is," she smiles. "Our goal at Elizabeth Arden is to allow women to see themselves as beautiful. As professionals we want to create positive conversations that are focussed on attainable benefits, knowing that the products we suggest can lead to a lifetime of healthy and beautiful skin. We're here to make people happy. So let's have fun with it!"

Fun is fundamental to Alisa's work. As an Elizabeth Arden Regional Trainer she's regularly travelling from Vancouver Island to Winnipeg and every major city in between conducting daylong schools with makeup and skincare experts from stores like Sears, Hudson's Bay, London Drugs and Shoppers Drug Mart. Whether she's detailing new product launches or developing customer loyalty techniques, entertainment comes as standard.
Read more about Esthetics/Spa Therapy Graduate Alisa Usher
AMANDA BARR
Esthetics/Spa Therapy Graduate
Esthetician and Educator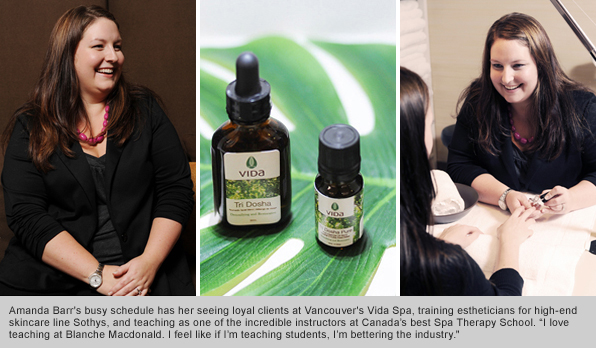 "I kind of have three jobs," smiles Amanda Barr. "I love them all!"
Amanda likes to keep busy. Every week the Blanche Macdonald Esthetics graduate sees loyal clients at Vida Spa's three locations in Vancouver, trains esthetics teams for high-end skincare line Sothys, and teaches as one of the incredible instructors at Canada's best Spa Therapy School. Considering Amanda wasn't originally sure that esthetics would be the right career for her, it's been a remarkable journey.
"Growing up in Pemberton I wasn't really sure what I wanted to do," she explains. "My grandma introduced me to manicures and facials, and I loved what the industry was about. There are zero spas in Pemberton, but a lot in Whistler nearby. I never went to them though. Spa trips weren't exactly in my high school student budget."
Unsure of where to take her career after high school, Esthetics seemed like an enjoyable (and low risk) option.
"Friends of friends had been to Blanche Macdonald so I'd heard great reviews and knew about the School's reputation. It was only a yearlong course and I figured that if I didn't like it, I'd still learn some stuff for myself. And if I did like it, great! My family came down to Vancouver for a tour of the school and we all loved it. Everyone was so friendly. I knew I wasn't going to regret it."
Read more about Esthetics/Spa Therapy Graduate Amanda Barr
Amanda Erickson
Esthetics/Spa Therapy Graduate
Director of Esthetics, Icon Salon Systems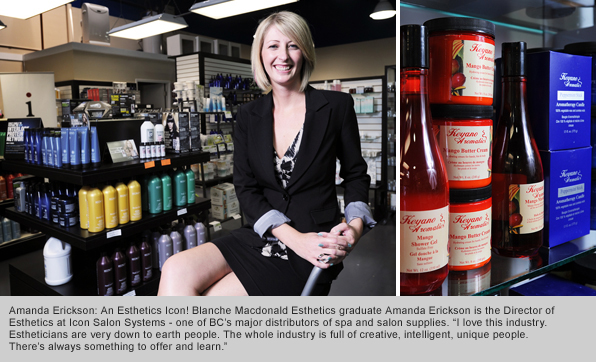 Amanda Erickson, Director of Esthetics at Icon Salon Systems, enjoyed a straightforward interview process before she started work at one of BC's major distributors of spa and salon supplies. It was the family business after all.
"When I was in high school I never really thought about working for Icon," she laughs. "It was never forced upon us to get involved. We were encouraged to do our own thing and find our own way. We worked here weekends and summers, but I never thought about doing this for a career."
It's a good thing that Amanda changed her mind. She came to work full time at Icon after graduating from Blanche Macdonald's Esthetics School and has helped grow the Surrey-based company to where it is today, working with 3,500 accounts in BC and another 100 across Canada on top of that. As Director of Esthetics Amanda is a saleswoman, a stock handler and a liaison with manufacturers. But above all, she's an esthetician.
"I took a semester off from university and started working here at Icon running the wholesale store," she continues. "One day I was given the job of entertaining a woman who ran a spa in New York. She spoke about her job and her spa and I fell in love with the industry. She told me about the treatments she offered, and how she helped people and changed their lives. Back then Icon was really only focussed on the hair industry. We didn't carry much for esthetics and we didn't know much about the spa industry.
"She was so inspiring I told my Dad I wanted to work here full time. He said I could either become a hair stylist, an esthetician or get my business degree: something that could benefit the Company. I had a week to decide. The time I had spent in the industry meant that I already knew Blanche Macdonald's reputation."
Read more about Esthetics/Spa Therapy Graduate Amanda Erickson
Amy Berry
Esthetics/Spa Therapy Graduate
Spa Manager, CHI The Spa at the Shangri-La HotelVancouver, BC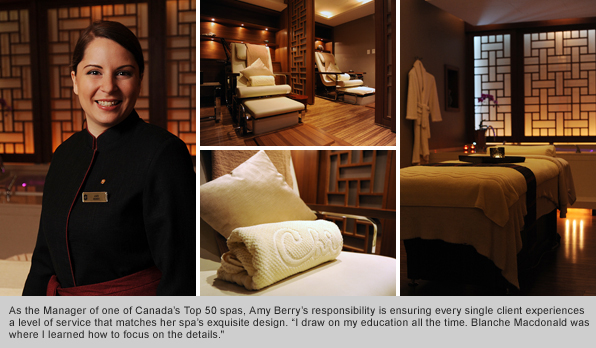 In Amy Berry's office at CHI, The Spa in Vancouver's Shangri-La Hotel, a certificate rests on the wall proudly announcing that this is one of Canada's Top 50 spas. The briefest of tours reveals exactly why. It's stunning. And as the Spa Manager of the in-house temple of relaxation at arguably Vancouver's best hotel, Amy's responsibility is ensuring every single client experiences a level of service that matches her spa's exquisite design.
"What we have at CHI is a spa within a spa," explains Amy. "Each treatment room is its own private spa. You walk into the suite and you have your own fireplace, relaxation area, washroom, changing area, steam shower and hydrotherapy bath. You don't have to worry about lockers or common areas. It's all for you. Once you've had your consultation you'll be taken to your suite and you get to stay there in your own private space whether you're getting one, four or more treatments."
As Spa Manager Amy doesn't provide treatments to guests. Instead, her role is one of team leader and standard setter. CHI, The Spa is more than a well-oiled wellness machine. It's far smoother than that.
"Each morning starts with a morning briefing with the Hotel's general manager and all the department heads. We'll do a run down of the day – who's coming in, what kind of volumes we're dealing with. We'll discuss any promotions we may be having and I can inform the other managers of any new treatments we're offering. We're the spa department but we're working with the entire hotel. I'm keeping the spa together on a daily basis – scheduling and working on promotions – but I also get to work with our marketing department and the Shangri-La digital marketing manager in Toronto. I'm making sure we're one step ahead – working on the marketing for next year and creating new treatments.
Read more about Esthetics/Spa Therapy Graduate Amy Berry
Amy Luong
Esthetics/Spa Therapy Graduate
Esthetician at Raintree Day Spa - Richmond BC

The mystical calm of Long Beach and Tofino after the rain and the serenity of the West Coast Rain forest inspired Barbara Bell's Raintree Spa & Tea Company in Richmond, B.C. The spa has recreated that feeling in its environmentally-friendly design, natural products and services.

Unique to the Raintree Spa is the Tea Bar where guests can sip and purchase organic teas. The spa also presents monthly events and workshops on a variety of topics from aphrodisiac essential oils, makeup techniques to tea ceremonies and cooking.

Raintree's spa services mirror Bell's love of nature and holistic lifestyle. Clients can choose from traditional spa services as well as a number signature Raintree services such as their Shiatsu Fusion Massage or their Thai Herbal Stem Massage. The Thai Herbal Stem Massage combines yoga-style stretches and warm herbal compresses to relieve muscular aches, inflammation and release toxins using aromatic powerful antioxidants like turmeric, lemon grass and quaffer lime peel and leaves.

Esthetician Amy Luong loves her position at Raintree. A graduate of the Blanche Macdonald Esthetics program in 2004, Amy works alongside Barbara Bell, sharing her love of esthetics by delivering an authentic, nurturing spa experience to their clients.

"Blanche Macdonald was my dream. I've wanted to be an esthetician for nine years, ever since I was little, but never thought my dream would come true."

"Dedicated instructors, who are in the industry because they love it, are very inspiring. Being educated by those who have worked in the industry is an amazing way to learn. Experience is the key to success in this industry and Blanche does everything to demonstrate the importance of this."

"I now work at Raintree Day Spa in Steveston and I love it. Without Blanche, I would not be where I am today".
Anne Lauener
Esthetics/Spa Therapy Graduate
Owner of Beverley's on 4th - Vancouver BC

Specializing in up-to-the-minute skin care treatments, rejuvenating power facials and amazing French Vichy Shower Body Escapes, Beverly's, The Spa on 4th's passion is skin. Imagine blissful olive,fig and date seed or ambrosial orange and sandalwood scrubs with warm, cascading water overhead lulling you in and out of reality. Pampering and professional with a warm Mediterranean decor, Beverly's on 4th has been Kitsilano's favourite destination day spa for over two decades.
Anne Lauener, co-owner of Beverly's with husband and business partner, Paul, followed her interest for health and beauty after a successful career in sales and marketing of designer building products.
Living in Switzerland and France, Anne had the opportunity to live near and go to spas on a regular basis. Her passion and focus for Esthetics began there.
"I chose and wanted this career, going back to school and starting all over in my thirties, so I am happy to say that I am in the business I want to be in", says Lauener.
Enrolling in Blanche Macdonald Esthetics program gave her the skills and credibility to realize her goals in the industry. Anne Lauener has worked as an esthetician, BC representative for Avance, a spa algae product line and national trainer for Dermalogica.
Beverly's on 4th continues to thrive and expand their spa at an incredible pace. Even though managing the spa means long hours, she enjoys the flexibility that enables her to balance her personal life with her spa life Anne Lauener has maintained her bond with the Blanche Macdonald Centre since graduating in 1993.
"My relationship with Blanche Macdonald started over thirteen years ago as a student, then as a guest instructor for Dermalogica, followed by today as an employer of BMC students. We feel very confident when interviewing and hiring BMC grads", says Lauener.
"For over two decades, Beverly's the Spa on 4th has always supported and employed Blanche Macdonald graduates. We appreciate the BMC teaching staff's flexibility in continually updating the curriculum to reflect the rapid changes in our industry. At Beverly's the Spa on 4th, we consider Blanche Macdonald a partner in our success", says Lauener.
Anu Varma
Esthetics/Spa Therapy Graduate
Chanel Skincare Specialist - British Columbia
Anu Varma didn't grow up dreaming of a career in the esthetics industry. She came to Blanche Macdonald because she thought it would be a solid investment for the future. Instead, what she learnt at Vancouver's top Esthetics School ignited a passion, changed her life and led to a coveted position as Chanel's Skincare Expert across British Columbia.
"I often get asked where I went to school," she smiles. "As soon as I say Blanche Macdonald, it's like, 'Aaah'. Everybody knows Blanche Macdonald. It's a well-respected Esthetics School and has a really good reputation.
"As a single parent, financial independence is of great importance to me. And my investment in the Esthetics Program at Blanche Macdonald has allowed me to achieve that. I was always taken care of, first by my parents and then by my husband while we were married. I never had to worry about paying bills until my separation. Prior to my divorce, I consulted with a lawyer, which is a service provided by the provincial government. She blatantly said that I would have to rely on spousal support because I was not going to be able to support my daughter and myself. The first thought that crossed my mind at that time was, 'Just watch me'."
There's far more to Anu's success than just financial rewards. As a Skincare Specialist for Chanel, she has the honour of being part of the team for arguably the most famous luxury goods brand on the planet. And on top of that, she loves every minute of what she's doing.
"The ongoing satisfaction that I get from my job is incredible," she explains. "Knowing clients are having a great experience is so important to me. It doesn't feel like work. I'm very proud to be a part of the Chanel team that's always welcoming and caring for each other."
Read more about Esthetics/Spa Therapy Graduate Anu Varma
BRENDA BELO
Esthetics/Spa Therapy Graduate
OPI Educator and Guest Artist - North America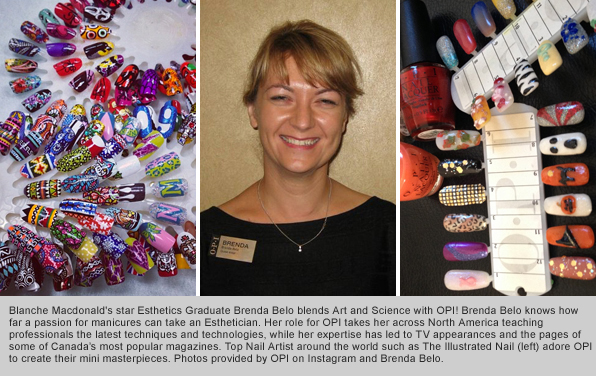 As an Educator and Guest Artist for global nailcare brand OPI, Brenda Belo knows how far a passion for manicures can take an Esthetician.
"The Industry has really exploded," she insists. "Fashion doesn't end at your fingers any more. It ends at your nails. It's about having a complete look. When I was growing up I never had a manicure before I came to Blanche Macdonald. Now young girls are having princess parties and getting manicures and pedicures. Nail enhancements are becoming the norm for anybody who wants to always look good.
"The Nail Industry has come out of its infancy and is almost an adult. It's not quite there yet, because there's still more growth to come. Every year there seems to be new technology coming out that creates new opportunities for Nail Technicians. It's a real career now."
Brenda understands. She's been involved in the Nail and Spa business since she graduated Canada's #1 Esthetics School two decades ago. Now her role for OPI takes her across North America teaching professional Nail Techs and Estheticians the latest techniques and technologies, while her expertise and charm has led to multiple appearances on TV screens and within the pages of some of Canada's most popular magazines.
Read more about Esthetics/Spa Therapy Graduate Brenda Belo
Carla Sage
Esthetics/Spa Therapy Graduate
Pre-Opening Spa Director for the first Park Hyatt Spa and Wellness Centre in China

Carla Sage's passion for Spa Therapy has taken her across borders and continents. After lending her expertise as a consultant to various spas in the Caribbean and Central America, Sage was honoured to become the Pre-Opening Spa Director for the first Park Hyatt Spa and Wellness Centre in China. "The opening project aimed to offer guests a choice of two spas," explains Sage, The first classified as a Hyatt 'pure luxury' spa sharing an international menu with a flare for the authenticity of traditional Chinese massage methodology, while the second Spa offered a menu dedicated entirely to traditional Chinese medicinal based treatments. I designed both the menus and the treatment protocols for both. "Along with the Spa there is a wellness centre offering yoga, Pilates, and meditation sessions. A juice bar, a nail bar, 8 foot massage stations and an additional 16 treatment rooms, 2 fitness centers and 2 - 25 meter pools completed the facility. I designed the programs, the menus, the layouts for the complete facility from start to finish."
Sage also played an integral part in the regional pre-opening support team. She was responsible for training new and existing spa staff in all positions with a special focus on esthetics and massage therapy for the Seoul, Hong Kong, and Saipan properties, as well as properties in 3 smaller communities throughout China.
While she began her education in Esthetics unsure of which College to attend, her meeting with BMC President Lily Lim and Executive Program Director Peggy had her convinced that Blanche Macdonald was the right school for her. "I made the best choice and learned some great business skills from both Lily and Peggy and Esthetic techniques from my course," says Sage. "I found the course interesting and realized that Spa was the route for me... along with my RMT I thought I had a good basis for instructing and Lise [the Esthetics Director at the time] was a great inspiration to instructing. BMC gave me my foundation and also gave me the avenue to work for Dermalogica, which was a career move that made my path what it became and how I got to where I am."
Read more about Esthetics / Spa Therapy Graduate Carla Sage
CATHERINE NORDMAN
Esthetics/Spa Therapy Graduate
Registered Nurse at La Derma Medical Aesthetics - Vancouver, BC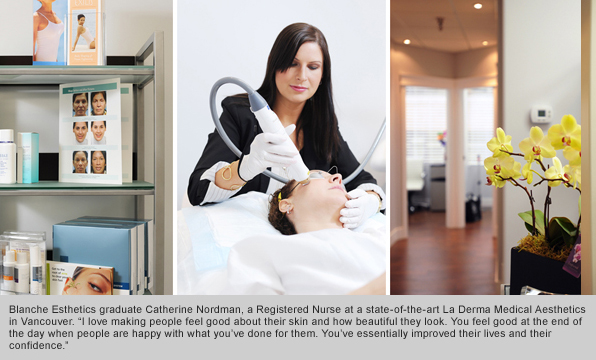 "I was amazed by the care I received. Catherine did my hair removal and did an amazing job. Her attention to detail was superb and I felt very comfortable in her chair. I strongly recommend to anyone who wants laser hair removal or to look and feel younger and sexier."

These are words from just one of many testimonials on the Yaletown Laser Centre web site, extolling the technology and service while at one of Vancouver's leading private Laser and Cosmetic Dentistry Centres. As a Registered Nurse, Catherine Nordman is responsible for many medical procedures at some of the best facilities in town. Now, Catherine has extended her vast expertise to La Derma Medical Esthetics, a state-of-the-art medical facility in Vancouver. But no matter where she shares her knowledge and skill, the heart of her work is still reliant on the theories and techniques she learnt during her time in the Esthetics Program at the Blanche Macdonald Centre.

"The way I do treatments and most of the services I'm providing, the basis is esthetics-driven," explains Catherine. "I learned so much in my year at Blanche Macdonald. I use that knowledge a lot more than what I learnt in four years at nursing school. Going through the Esthetics Program and working in the spa industry, you definitely develop the ability to interact with your patients and build relationships. You learn how to read people. You can figure out what their individual needs are and help them feel comfortable. A lot of that comes from my esthetics training."

Catherine isn't playing down her nursing training. She's dealing with medical conditions every day. But she understands that it was her decision to enter the esthetics industry and her embracing of the philosophy behind it, that's taken her from her Vancouver home to Toronto, around the world and back again.
Read more about Esthetics/Spa Therapy Graduate Catherine Nordman
Cecilia Valdes
Esthetics/Spa Therapy Graduate
Owner of Moor Spa + Nails - Mexico City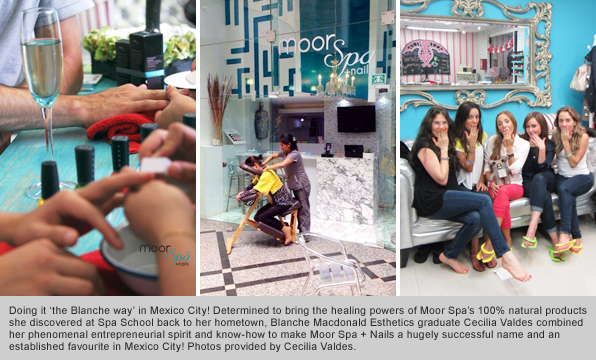 For Cecilia Valdes, born and raised in the bustle of Mexico City, an opportunity presented is never untaken, especially when it involves a business plan and a venue through which to share the healing powers of natural products.
"For me, it is the key element. The market in Mexico is only starting to be more aware [of the benefits of natural ingredients]. We are a little bit behind on that, but I feel that it is important. A line that gives you great results and is natural? Well, I think that's the best combination."
This winning combination comes in the form of Moor Skincare which, thanks to Cecilia's phenomenal entrepreneurial spirit and head full of fresh know-how from Canada's Top Spa Therapy School, is now an established favourite in her home city, sold in her lovely Moor Spa + Nails locales.
"After graduating from Blanche we came back to Mexico City, in November, and by February we had opened the spa. So everything was very fast!"
And it's been shooting up from there. In only three short years since Cecilia and her husband opened the doors to the first ever Moor Spa, they have laid the foundations of a botanical skincare empire with three buzzing locations, including one nestled in the prestigious walls of Saks Fifth Avenue. This growth may seem incredible, until you meet with her fiery sparkle and you realize that Cecilia is a woman for whom words of 'okay' or 'good enough' simply do not exist.
"You do the right things, you have the right personality and the right location… but I think the most important thing is the service you offer. As an esthetician we have to give our clients the best - not just a facial, the BEST facial they have ever had. We have to give them our whole selves, and I think that is the key element to being successful."
Read more about Esthetics/Spa Therapy Graduate Cecilia Valdes
Chaline Hird
Esthetics/Spa Therapy Graduate
Associate Director at Blanche Macdonald Centre

From behind her desk in Blanche Macdonald's Downtown Campus Associate Director Chaline Hird is the very essence of calm elegance. Her office is meticulous. Her smile is welcoming. Any time a student has a problem or a question, Chaline listens attentively before delivering the benefit of her considerable wisdom.

Little has changed in seventeen years. In 1993 Chaline was an Esthetics student at Blanche Macdonald. Her favourite instructor was Lise Graham, who today is the Managing Director of the Downtown Campus and just happens to occupy the office next to Chaline.

"As a student she was always at the front of the room," smiles Lise. "And there was always a grin. Everything she did was perfect.

"When I became Managing Director every time a position came up I'd say, where's Chaline? She's phenomenal, just like she was as a student. She's a perfectionist. She's very detail-orientated. And she genuinely cares about other people."

It's not unusual for Blanche Macdonald students to end up rejoining the family on a professional basis down the line. After all, they've had the best training. But Chaline's journey as a manager, director, trainer and consultant for some of the world's finest spas and back to the school is beyond remarkable. It's taken her from Vancouver to Australia to England to India and back again.

Her incredible adventure began with the decision to come to Blanche Macdonald.
Read more about Esthetics/Spa Therapy Graduate Chaline Hird
CHRISTY DENTON
Esthetics/Spa Therapy Graduate
Owner, Cranberries Spa, Vancouver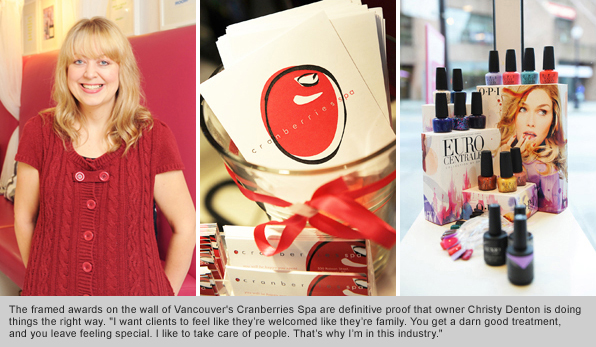 A framed certificate takes pride of place on the wall of Cranberries Spa. It's from The Westender newspaper, naming Cranberries as the Bronze Medal winner in the Top Spa category in its most recent 'Best of Vancouver' Awards. For the cosy Boutique Spa on busy Robson Street, Bronze is nothing short of spectacular.
"As far as I'm concerned that's a Gold for me," smiles Cranberries owner Christy Denton. "The first and second place winners were Absolute Spa and Spa Utopia, which are both huge companies with multiple locations."
For the graduate of Canada's #1 Esthetics School, that recognition was confirmation that she's doing things the right way. Cranberries isn't big, but its focus on providing the highest levels of treatments ensures that once people sample their services, they inevitably come back for more.
Read more about Esthetics/Spa Therapy Graduate Christy Denton
Daniela Belmondo
Esthetics/Spa Therapy Graduate
Founder of Belmondo Skincare, Vancouver, BC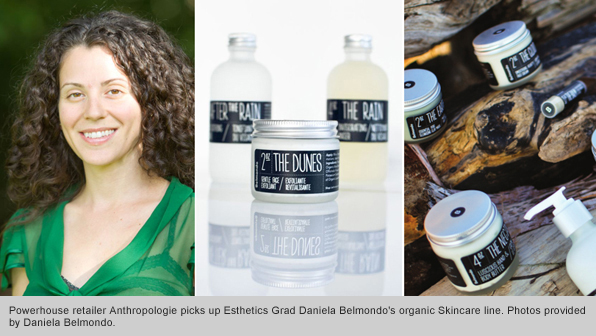 Daniela Belmondo will be the first to admit she didn't have to think too hard about what to call her line of organic skincare products.
"I love that my name is Belmondo," she laughs.
Born in Vancouver but raised in her parents' home in Italy until she was eight years old, Daniela has a surname that translates literally into 'Beautiful World'. Belmondo Skincare, which is now sold in boutique shops from Vancouver to New York to Florida, was never going to be called anything else. The unique selling point, also taking inspiration from her Italian heritage, is that one of its key ingredients is Organic Italian Olive Oil.
"There are many benefits to olive oil both when eaten or applied to
the skin," explains Daniela. "My grandma had these big chunks of olive oil soap and we would use them for everything. She'd shave them down and put them in hot water. Then we'd clean the floor with this or use it as bubble bath. We'd hand wash clothes with it. And obviously we'd cook with olive oil all the time. A good olive oil is like a good wine. You know how once you've had a good wine nothing else stands up to that? It's the same with olive oil.
"I actually source my oil from Calabria, which is where I was raised. I didn't plan it that way. It just happened that one of our suppliers I'm working with gets the olive oil from there."
Read more about Esthetics/Spa Therapy Graduate Daniela Belmondo
Heather Blundell
Esthetics/Spa Therapy Graduate
Owner of Mosaic Spa and Laser, Fort McMurray, Alberta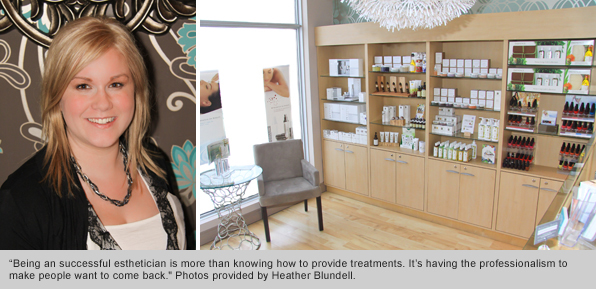 Winters are long, hard and very, very cold in Fort McMurray.
"It was minus 40 this morning," laughs Heather Blundell. "That's ok. It's good for business."
If you're out and about in a sub-arctic, Northern Alberta oil town like Fort McMurray, there's a fair chance you're going to experience some skin problems. Which is why its population is eternally grateful to Heather for opening Mosaic Spa and Laser. How grateful? Heather moved her spa and laser treatment business from her home to its store location in October. Since then she's had to recruit a staff of 17. You can almost hear her business booming.
"The main skin problem here is dryness," continues Heather. "There are a lot of skin issues with the extreme temperatures."
Defrosting the citizens of Fort McMurray comes naturally to Heather. Since she made the decision to come to Blanche Macdonald and make esthetics her career she's been facing and beating challenges on a regular basis.
"Things were changing in my life around 2005 and I needed a career change," she explains. "I was living in Shuswap at the time. I packed my children and some belongings into a U-Haul and made the five-hour drive to Vancouver. We moved to Yaletown and I started Esthetics School at Blanche Macdonald.
"My Mum had started me on facials when I was 12 years old. I used to go to the one spa in our small town and I loved it ever since then. My cousin and aunt had studied at Blanche Macdonald. I knew the name and I knew that girls that went there for esthetics were always hired first. That was important for me!
"On our first day of class we all had to introduce ourselves and tell everyone why we were there. I said I was there because I wanted to open up my own business. Now I've done it!"
Read more about Esthetics/Spa Therapy Graduate Heather Blundell
Jessica Rouse
Esthetics/Spa Therapy Graduate
Spa Owner/Esthetician at The Grizzly Bare - Montana, USA

They may breed people rough and ready in Montana, but that doesn't mean they don't like feeling good about themselves. That's the logic that's turning Blanche Macdonald esthetics graduate Jessica Rouse's waxing salon, The Grizzly Bare, into a success story in the cosmopolitan town of Missoula, home of the University of Montana.
"Missoula is a lot like Kamloops, British Columbia, which is where I grew up," explains Jessica. "So it wasn't that big of a change for me to move here. Montana is very much like BC. Snow in winter and hot in the summer, and we are surrounded by mountains. People are very freethinking and artistic here. It's a very community-orientated place. And everybody is so friendly."
Jessica moved to the US to be with her American husband, but there will always be a small part of her heart in Vancouver, the city she loved even before she came to the Blanche Macdonald Centre.
"I moved to Vancouver five years before I went to Blanche Macdonald," she explains. "I'd studied Fine Art at Thompson Rivers University in Kamloops, then I moved to Vancouver to take a photography course."
Jessica grew up with two great passions – art and skincare. The opportunity to combine both brought her to Blanche Macdonald, Canada's top Esthetics School.
Read more about Esthetics / Spa Therapy graduate Jessica Rouse
JILL BRYAN
Esthetics/Spa Therapy Graduate
Regional Manager - Absolute Spa, Vancouver BC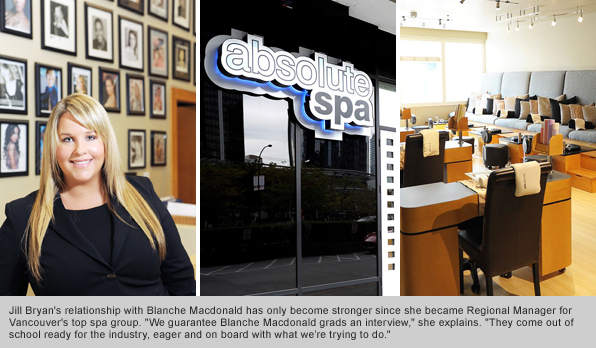 Jill Bryan wasn't sure exactly where she wanted to take her career when she graduated from Canada's #1 Makeup School. After weighing her many options she started working as a Makeup Artist at the Absolute Spa in Downtown Vancouver's Century Plaza Hotel.

A decade later she's back there at least once a week, having risen to the lofty position of Regional Manager for Absolute Spa's Downtown and West Vancouver locations, a role that's seen her build personal and professional connections with Blanche Macdonald's incredible Esthetics Department.

"We host an open house for Blanche Macdonald Esthetics students about four times a year," explains Jill. "Simona Gozner, the Esthetics Program Director, will let me know the class size and I'll do a presentation about what we have to offer and what's happening in the industry. Then we'll do a spa tour and a mini-trade show for Soluzione Spa Products, which is the manufacturing and distribution wing of Absolute Spa's business.

"I coordinate the spray tan training for the instructors at Blanche Macdonald too. We have so much respect for Simona and Blanche Macdonald students. We guarantee grads an interview at Absolute. They come out of school ready for the industry with an incredible knowledge of skincare and anatomy. They're always eager and on board with what we're trying to do. We're looking for estheticians that are warm and friendly. Obviously they need skill and passion for the industry, and flexibility with scheduling is a big one too!"
Read more about Esthetics/Spa Therapy Graduate Jill Bryan
JUDY DREW
Esthetics/Spa Therapy Graduate
Owner of Atlantis Day Spa - Tsawwassen, BC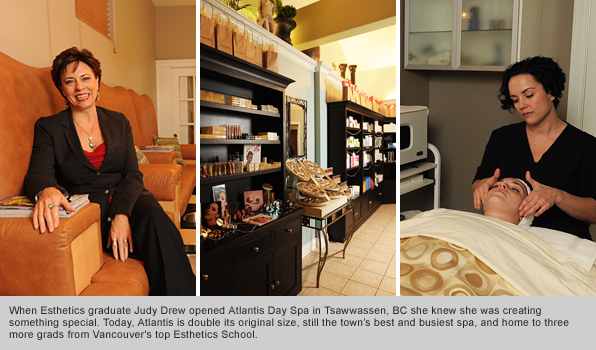 When Blanche Macdonald Esthetics graduate Judy Drew opened Atlantis Day Spa in Tsawwassen, BC back in 1994, she knew she was creating something special. Today, Atlantis is double its original size, and still the town's best and busiest spa.
Judy's unwavering standards of excellence have made her an iconic figure in British Columbia's esthetics community. She's continually reinvented Atlantis with the introduction of new treatments and technologies, which is just one of many reasons why the spa has been the starting point for a generation of successful estheticians, including Blanche Macdonald grads and current Atlantis employees Laurie Watt, Jen Clarke and Jacqueline Bruce.
Judy never planned on becoming an inspiration. It just came naturally.
"Before I went to Blanche Macdonald I was working for a company managing cosmetic departments," she explains. "I wasn't able to provide the hands-on quality of service that I really wanted. I decided to open a business at home teaching people about makeup and skincare. I started seeing salons offering esthetics and I realised that I could do more.
"I did a lot of research before I went to Esthetics School and Blanche Macdonald had a real commitment to the industry. The other schools I spoke to didn't seem to have the same passion. The program gave me what I needed to move forward in the industry. I knew what I wanted to do but didn't know how it was going to look. At Blanche Macdonald my knowledge was extended to the point that I was really confident moving forward."
Read more about Esthetics/Spa Therapy Graduate Judy Drew
Julia Linford
Esthetics/Spa Therapy Graduate
Owner, J spa and J Naturals - Vancouver, BC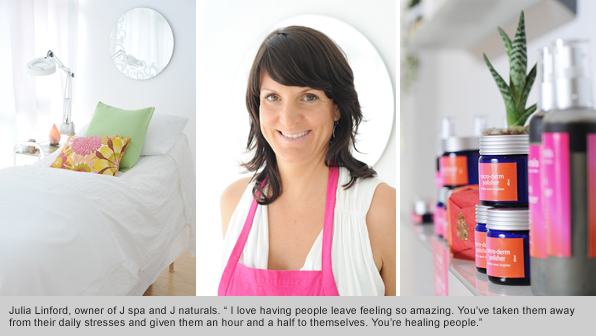 Facials make up 90% of Julia Linford's business at J spa, the light-filled space she owns in Vancouver's fashionable Kitsilano neighbourhood. Julia understands that for a spa to become known for its speciality, it really has to be special.
"You have to go above and beyond," she explains. "You have to give so much more than a facial. You have to create an experience. You do that with the music, the feeling, the vibe, the sound, the smells, the products, the textures, the hot and cold, the massage techniques, using your intuition and feeling what your client needs. It's about working with people's energy. Estheticians are givers. It can be exhausting but it's so rewarding. It's the only job where people leave loving what you've done. It's super positive!"
Perhaps it was inevitable that Julia would eventually return to her hometown to start J spa and its exclusive product line, J naturals. It's where she began an esthetics journey that took her to England, the South of France, the Caribbean and Brazil.
"I was always into pretty things and caring for my skin as a kid," she continues. "I wasn't really into the makeup side of things. More natural beauty. I've always been good at massage and I knew a lot about skincare just by reading about it. I got a job in Whistler selling skincare products by Lancôme and Estée Lauder, and decided to take the course at Blanche Macdonald a couple of years later."
Read more about Esthetics/Spa Therapy Graduate Julia Linford
Karen Melynchuk
Esthetics/Spa Therapy Graduate
Medical Esthetician at Dr. Brauns' Vancouver Laser Centre

Putting the boot to aging while softening the blow to clients with non-invasive laser and injectable treatments, is Karen Melynchuk, Medical Esthetician at Dr. Martin Brauns' Vancouver Laser Centre.
She feels that society is becoming more health conscious and is experiencing a natural desire to fight our collective biological clocks. Joining that fight are cosmetic rejuvenation clinics, that according to Melynchuk, are equipped to not just help smooth patient's wrinkles with Botox, but address the many concerns that plague individuals as their bodies age.
"No two people are alike, and therefore, their treatments will not be the same. As new technology continues to develop, we will have even more treatment options available as we battle on in the fight for our ideal face," says Melynchuk.
What is the most fulfilling part of her job as a Laser Technician at the Vancouver Laser Centre? It is her clients' over-the-top excitement about the results they see from their treatments. "It feels wonderful to know that you've played a large part in their new confidence," says Melynchuk. She feels her Esthetics / Spa Therapist training and the support of her instructors completely prepared her for a career in Medical Esthetics.
"While studying at Blanche, they taught me about client care, professionalism, and ultimately, how to give each patient I see a wow experience. The Instructors at BMC did a great job of not only giving praise and encouragement for the different areas we wanted to take our careers, but they managed to make every single person in the class feel that their individual dream was attainable."
KATHLEEN JANZ
Esthetics/Spa Therapy Graduate
Spa Owner and Business Development Specialist for Body Beautiful Canada - Vancouver, BC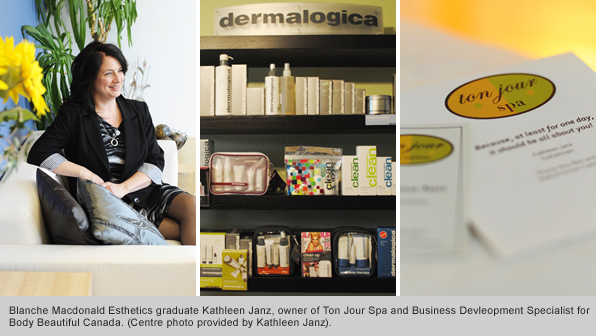 As the Business Development Specialist for Esthetics Distributors Body Beautiful Canada, Kathleen Janz spends much of her time travelling North America, training fellow Estheticians on the Company's incredible equipment and treatments.
For most people one exciting and extremely successful job would be enough. But Kathleen loves the giving and receiving nature of Esthetics so much, she still finds the time to run her own spa, Ton Jour. It's a remarkable dual career, especially when you consider its starting point.
"I was 38 years old," she explains. "I'd been working at home so I could be with my two girls before and after school. I realised that they would soon both be gone, and started thinking about what I would want to do once they left home. I was actually getting a treatment at a spa when I thought – I could do this! I loved makeup and skincare. I love people. It's a very nurturing business. And that was it!
Read more about Esthetics/Spa Therapy Graduate Kathleen Janz
KENDRA DUTCHAK
Esthetics/Spa Therapy Graduate
National Trainer, skoah - Vancouver BC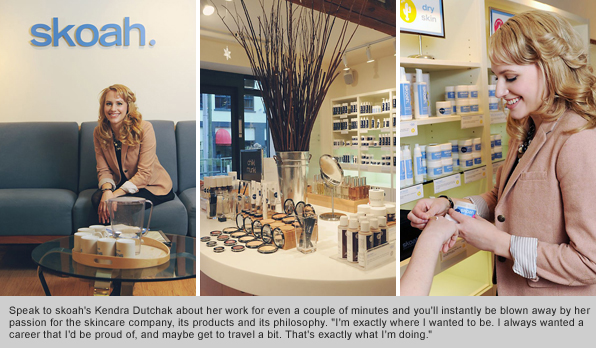 Speak to skoah's National Trainer Kendra Dutchak about her work for even a couple of minutes and you'll instantly be blown away by her passion for the skincare company, its products and its philosophy.
"The best part about skoah is that as a Trainer, I can still do the things I love to do," she smiles. "I still get to do facials on clients one or two days a week. It keeps me connected to the big picture. I love helping people feel good in their skin and seeing that change. I see people coming back to the spa and their skin's getting better and better. I can see the change, not just after the treatment, but when they take product home. That's the most important thing. I couldn't work for a company if I didn't believe in the product as well."
Kendra believes in skoah. And they clearly believe in her. Just over two years after graduating from Canada's #1 Esthetics School, she's been promoted to the position of National Trainer, travelling across North America teaching the techniques, products and concepts that's making skoah one of Canada's fastest-growing spa and skincare product lines.
Read more about Esthetics/Spa Therapy Graduate Kendra Dutchak
Kristie Thomas
Esthetics/Spa Therapy Graduate
Spa Owner/Esthetician at Cranberries Spa - Vancouver, BC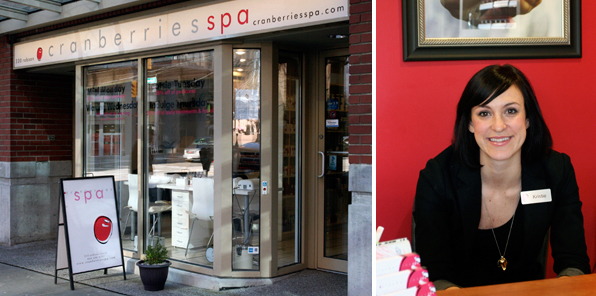 It's easy to miss Cranberries Spa. Tucked onto Robson Street directly opposite Vancouver's colossal Central Library, it's not a storefront that shouts about itself. It doesn't have to. Cranberries is a spot Vancouverites in the know like to keep quiet about. They want it all for themselves. Because when the moment comes to take a break from Downtown Vancouver's urban mania, they head to Cranberries and its owner, Blanche Macdonald Esthetics Graduate Kristie Thomas.
As a young entrepreneur running her own spa in the heart of Vancouver's commercial district for the past five years, Kristie has had to rely on more than her skills as an esthetician. She's needed to trust her business acumen too. Thankfully, she's been blessed with both.
"I worked full time for four years before I opened Cranberries," explains Kristie. "I worked in hair salons, a corporate spa and then this opportunity presented itself. Five years ago I was looking to move my career forward and heard there was a little spa for sale. I actually lived in this building, so I popped my head around the door, met the owner, and a few weeks later it was mine. It seemed like a really good idea."
Opportunity knocked, Kristie answered and invited it in for an herbal tea and a manicure. That wouldn't have come as a surprise to anyone that knew her. Kristie's never been afraid to make strong decisions based on good advice and self-confidence. It's what brought her to Canada's top Esthetics School in the first place.
Read more about Esthetics & Spa Therapy Graduate Kristie Thomas
Laura Eastveld
Esthetics/Spa Therapy Graduate
Eminence Organics, Vancouver, BC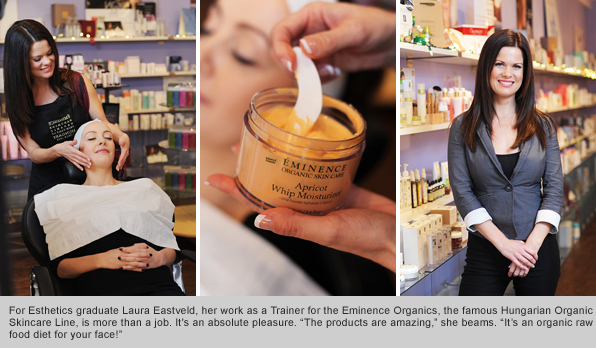 Ask Laura Eastveld about Eminence Organics and a smile instantly appears across her face. She doesn't just work for the famous Hungarian Organic Skincare Line. She absolutely adores everything they produce.
"The products are amazing," she beams. "It's an organic raw food diet for your face!"
For Laura, working for Eminence Organics is as much pleasure as business. The Blanche Macdonald Esthetics grad has sampled and enjoyed the many career options the industry offers, but she's found her calling as a Trainer for Eminence, educating fellow estheticians around Vancouver, and as far away as Lillooet and Chilliwack, about one of the world's finest skincare lines.
"I train estheticians on product knowledge, new product launches, how to do our facials and our massage protocols," she explains. "It's easy to fall in love with these products. They smell good enough to eat. Some people have tried. A colleague of mine left a sample of our Raspberry Pore Refining Masque in her fridge and her husband accidentally ate it on some toast.
Read more about Esthetics/Spa Therapy Graduate Laura Eastveld
LEAH LAVANWAY
Esthetics/Spa Therapy Graduate
Owner/ Esthetician, Essence of L Medi Spa - White Rock, BC
At first glance Dolphin Street in White Rock, BC looks like any other residential street in Greater Vancouver's greener suburbs. The only clue that something special is happening there is the Essence of L Medi Spa sign proudly standing in front of the home and workplace of award-winning esthetican and Blanche Macdonald graduate Leah LaVanway. It's where she's changing lives.
"Last year I won the Surrey Now Awards for the 'Best Day Spa' and 'Best Laser Clinic' for the Surrey/White Rock area and have been nominated for both categories again this year" smiles Leah. "That's people in the community voting for me! Every client that comes here for the first time says that they didn't expect a home-based spa to look like this. I wanted to create a tranquil sanctuary. The energy here is really calm and clients can connect with that."
The atmosphere at Essence of L may be relaxing, but that doesn't mean that Leah isn't providing serious skincare treatments. Dermapen, Celluma LED Therapy, Cold Laser Therapy, Microdermabrasion, Clinical Peels and Clinical facials are all available for clients looking for long-term solutions to skin concerns.
Read more about Esthetics/Spa Therapy Graduate Leah LaVanway
Laura Gobbo
Esthetics/Spa Therapy Graduate
Owner of Fruition Day Spa, Deep Cove BC

The dictionary defines fruition as "pleasure that comes from possession or use, enjoyment, the condition of having results, attainment."
For Blanche Macdonald grad and owner Laura Gobbo, Fruition Day Spa in North Vancouver is all that, and clients agree.
After graduating from the Blanche Macdonald Centre's Esthetic program in 1996 and following up with marketing training at BCIT, Gobbo used her people skills and love of beauty and fashion to start Fruition as a mobile esthetics business, working on clients in their own homes while working in a local spa for four years.
"Quality training is a must in our line of work," she says. "As a former graduate of Blanche Macdonald, I know their students are provided with a high level of esthetics training, given a well-rounded skill set and are taught to conduct themselves with the utmost professionalism. Attributes for which I, as an employer, look for."
Adds Gobbo, "I trust the training that they are given at Blanche Macdonald. It makes my training program much easier to integrate.
In 2001, Gobbo expanded from mobile esthetics and opened Fruition Day Spa in scenic Deep Cove with a mandate to provide top quality spa services at affordable prices and give people a place to relax and forget about their busy lives. It is her esthetics expertise and small touches such as little chocolates on pillows or warm lavender neck wraps, that make Fruition the success is it today.
Lindsay Koropchuk
Esthetics/Spa Therapy Graduate
Spa Manager, Rosewood Hotel Georgia, Vancouver, BC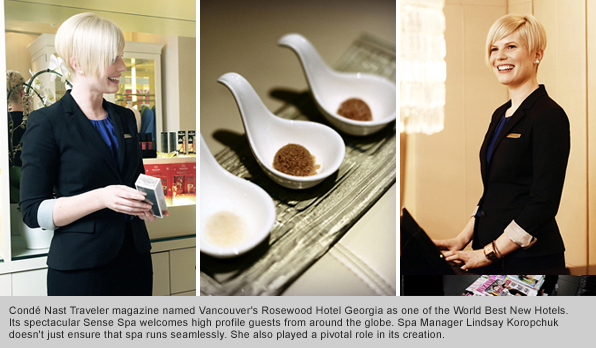 "When I was little I didn't have a dream career," smiles Lindsay Koropchuk. "My dream was a job where I could walk around in heels with a briefcase."

Heels and briefcases are perks of the job now that Lindsay has risen to the position of Spa Manager at Sense, A Rosewood Spa at Vancouver's Rosewood Hotel Georgia. There's also the prestige that comes from running one of the city's most spectacular spas in what Condé Nast Traveler magazine recently named as one of the World Best New Hotels.

The Blanche Macdonald Esthetics graduate has extra reason to be proud of her spa. She played a pivotal role in its creation.

"When I started working for Rosewood, the Spa and the Hotel hadn't opened," she explains. "When I came on board I had to take the standards of practice from all Rosewood's previous spas and make them my own. I wrote most of the protocols for the treatments and had a hand in interviewing and hiring the staff as well."
Read more about Esthetics/Spa Therapy Graduate Lindsay Koropchuk
Louise Dannhauer, Ailish Wallace and Niamh Fahl
SISTER ACTS
Esthetics/Spa Therapy Graduates
Owners of Spa Time, Tsawwassen BC

No one understands time or lack of it more than the owners of Spa Time in Delta, BC. The three very busy sisters, Louise Dannhauer, Ailish Wallace and Niamh Fahl, are also working Moms who created Spa Time to replenish what time takes away from us - the quality time we need to escape our nonstop lives, to relax and refresh. Spa Time opened 8 years ago and their timing was right on.
Spa Time offers full esthetics services from manicures to waxing as well as exotic treatments like Indonesian head massage, hot stone massage and full body salt scrubs and body treatments. Keeping current with the newest treatments, the sisters also provide a neighbourhood feel to their spa and keep prices reasonable, making Spa Time enjoyable and accessible for everyone.
They consider their biggest successes to be their great clientele and meeting new faces everyday. Spa Time's staff are friendly and knowledgeable.
"It is most fulfilling for us when a client has expressed how much they enjoy coming to our spa. Then we have done what we set out to do; to make our clients forget that there are a million things they need to get back to outside our walls", says Spa Time co-owner Louise Dannhauer.
"We were all Blanche Macdonald students at one time and then employees in different departments. This has definitely been a plus for us with our clientele and industry people. They find our background very interesting. We have developed a close relationship with the School and I can truly say that BMC has been very supportive," says Niamh.
"Knowing the school's reputation and the Esthetics program, our staff at Spa Time are about 95% Blanche Macdonald grads. We get alot of inquiries about the program from our clientele and we always recommend Blanche Macdonald. We let them know that as a graduate, it looks very good on a resume".
Read more about Esthetics / Spa Therapy Graduates Louise Dannhauer, Ailish Wallace and Niamh Fahl
Mary Valentina Banovac
Esthetics/Spa Therapy Graduate
Medical Esthetician at Dr. Martin Brauns' Vancouver Laser Centre

Mary Banovac is a 2004 Blanche Macondald Centre Esthetics graduate who now works as a laser technician and receptionist at Dr. Braun's Vancouver Clinic, a career that's constantly evolving with advances in skincare technology and one she finds both rewarding and challenging.
"You have to be flexible as each day varies. Hours at work fluctuate and you never know what next week brings," says Banovac. Overall, I feel very lucky to work here because it is one of the best clinics around. The Brauns and their staff are great people, always helpful if a challenge should arise."
Banovac's passion for the Esthetics industry has her excited to work with the latest skincare technology such as Photorejuvenation, which uses Intense Pulsed Light (IPL) to correct sun spots, rid the skin of sun damage, reduce pore size and diminish the appearance of fine lines on the face To those interested in her career path, she enthuses, "You'll meet wonderful estheticians who share your love for the industry and you can learn a lot from them. Enjoy it and have fun.
"My training at the Blanche Macdonald Centre really prepared me for my job. The skin care definitely helped as it is relates to my job. Also, certain work ethics were taught plus getting great advice from other employers in the same industry gave us an insight on what lied ahead."
Michelle Ambrosone
Esthetics/Spa Therapy Graduate
Laser Technician at Skinworks - Vancouver BC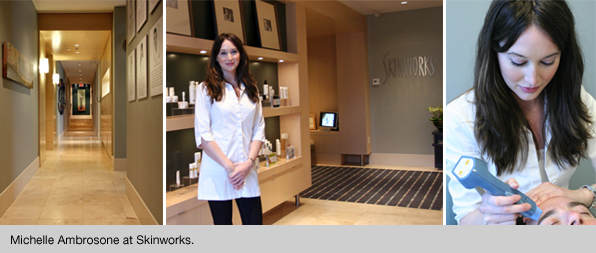 Dr Frances Jang is a dermatological superstar. When magazines like Fashion or Elle Canada, or broadcasters like CTV News need expert advice, Dr Jang is the person they speak to. When she's not sharing her extensive knowledge with the world, Dr Jang runs a private practice with plastic surgeon Dr Nick Carr: Vancouver's most prestigious cosmetic dermatology and plastic surgery clinic, Skinworks.
Blanche Macdonald Esthetics graduate Michelle Ambrosone is a key member of the Skinworks team. She's been a Laser Technician there for the past six years, taking her position at the clinic straight after completing her program at Canada's top Esthetics School.
"I started researching jobs before I graduated from Blanche Macdonald," recalls Michelle. "I wanted to start working right away, so I literally went through the phone book calling every doctor asking if they hired estheticians. I was pretty motivated. It was actually one of my instructors, Erin Grimble, who suggested contacting Dr Jang. She ended up being the one."
Read more about Esthetics / Spa Graduate Michelle Ambrosone
Mika Does Makeup
Esthetics/Spa Therapy and Makeup Artistry Graduate
Spa Owner and Makeup Artist, Vancouver BC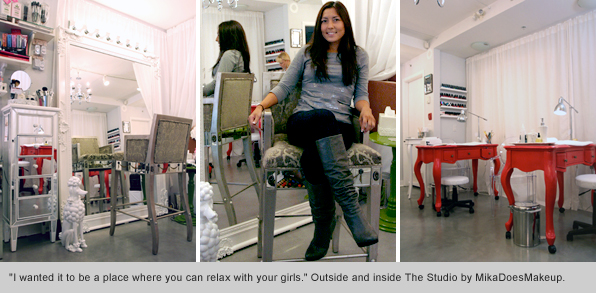 Mika from MikaDoesMakeup doesn't like using her real surname.
That's the only mysterious thing about her. Everything else is open, engaging and instantly likeable. You'll learn that first hand when you walk into The Studio, her elegantly eclectic spa and makeup palace in downtown Vancouver. Mika's personality is stamped all over the unique décor of her cute and cosy two-floor store. It's the career culmination and dream workspace for the graduate from Blanche Macdonald's Makeup and Esthetics Schools.
Read more about Esthetics / Spa Therapy Graduate Mika
Roxana Sanchez
Esthetics/Spa Therapy Graduate
Director of Spa and Recreation, Shangri-La Villingili Spa and Resort, Maldives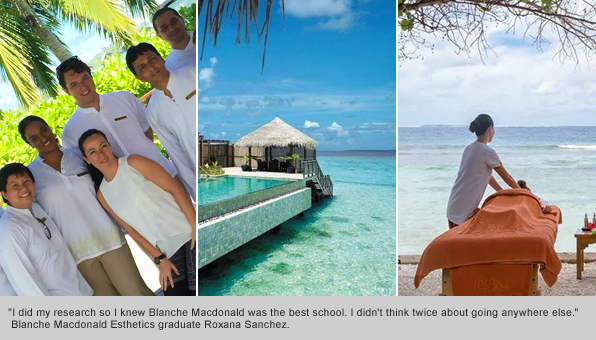 To be able to see and hear the Indian Ocean every morning is a truly inspiring awakening; its crystalline waves lapping at the white sand of the beach at Shangri-La's spectacular Villingili Resort and Spa, in the tropical paradise of the Maldives.
"My home is an island surrounded by natural beauty! Palm trees and clear ocean. Of course I'm enjoying it!" laughs Blanche Macdonald graduate and the Shangri-La Villingili's Director of Spa and Recreations Roxana Sanchez. "I have the opportunity to scuba dive every week and disconnect from the world into a breathtaking experience."
It's not all relaxation. Luxurious Island life keeps Roxana busy. Aside from recruiting, guiding and training the Villingili's international team of therapists and estheticians, she is responsible for the short and long-term strategic planning of her departments, purchasing and budgeting, and spearheading marketing campaigns, all the while keeping on top of everything going on in the spa and leisure industries, both in the Maldives and around the world.
It's an interesting challenge, but Roxana is used to management roles. She rose to the position of Spa Director with the Fairmont Hotels & Resorts group before she even began her Esthetics training at Canada's Top Spa School.
"I came to Canada from Mexico when I was 18 and lived close to the Fairmont Empress in Victoria, BC. Every morning I walked past this beautiful castle and really wanted to learn more about it. The first job opening I saw available was a spa receptionist, for which I applied instantly. The rest is history! For me it was the beginning of a beautiful journey that has taken me to places I would have never imagined. The more I learned about the industry, the more I became interested. I started to understand that it takes a special group of people to work towards the overall wellbeing of a complete stranger. It takes passion, selflessness and good energy to pull it all together. By the healing power of touch you can cure many conditions and make a good living at the end of the day."
Read more about Esthetics/ Spa Therapy graduate Roxana Sanchez
Sally Sue
Esthetics/Spa Therapy Graduate
Sales and Operations Manager, Soluzione Spa Products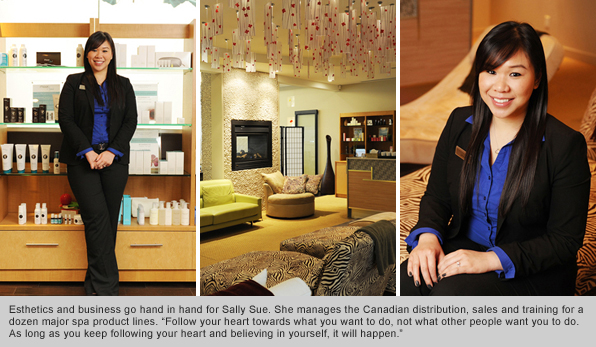 Sally Sue, Sales and Operations Manager at Soluzione Spa Products, has earned the right to talk about chasing dreams. She's running the day-to-day business for the Vancouver-based, Italian-inspired company, managing the Canadian distribution, sales and training for a dozen major spa product lines. It's a position that regularly takes her across North America on training missions. And it's the exact job she was aspiring to when she was a student at Canada's #1 Esthetics School.
"Follow your heart towards what you want to do, not what other people want you to do," she insists. "Start at the bottom and it will grow into something big. Everyone thought I wouldn't be successful. But as long as you keep following your heart and believing in yourself, it will happen."
You'd be forgiven in thinking that Sally's can-do attitude and school-to-success story sound like motivational fiction. But Sally's journey, from being discouraged to enter Esthetics School to a position with Absolute Spa at one of Vancouver's best hotels to her Management role and global travels, is all absolutely true.
Read more about Esthetics/Spa Therapy Graduate Sally Sue
SIMONA GOZNER
Esthetics/Spa Therapy Graduate
Director of Esthetics/Spa Therapy Department at Blanche Macdonald Centre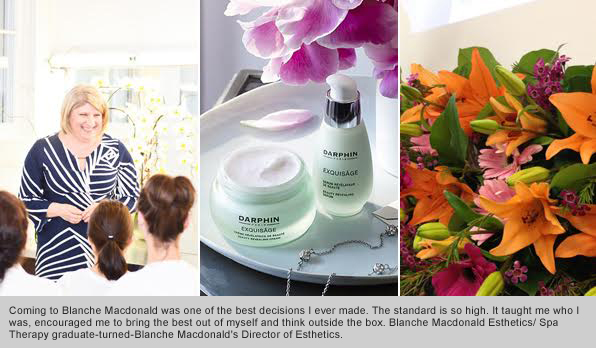 Hollywood doesn't make biopics on estheticians yet. There are still a few rock stars and revolutionaries to tick off the list first. When they do get to estheticians however, they'll probably begin with Simona Gozner.
25 years ago she was a refugee in a foreign land. Now, after a triumphal career with some of Canada's biggest spas and skincare lines, Simona has made a home for herself as Director of Esthetics at the same School where she once shone as a student.
"A great teacher is a student!" she insists. "We learn from each other and aspire to become better. One thing I've learned since I returned to Blanche Macdonald is how important it is to work as a team. That means the Esthetics Instructors, the faculty of our other departments, the Admissions Directors and students.
"As Instructors we're continually learning, taking different educational ingredients and connecting them in a way that creates a unique formula specific for each group of students. It's a very creative art."
Simona's creative journey to Canada's #1 Esthetics School began on another continent, where the violent overthrow of dictator Nicolae Ceauşescu in her native Romania forced her to make some dramatic and unscheduled life decisions.
Read more about Esthetics/Spa Therapy graduate Simona Gozner
Sugarbox: Lindsay Renton, Mara Bennett and Sarah Milewski
Esthetics/Spa Therapy Graduates
Esthetician and Wax Specialists at Sugarbox - Vancouver BC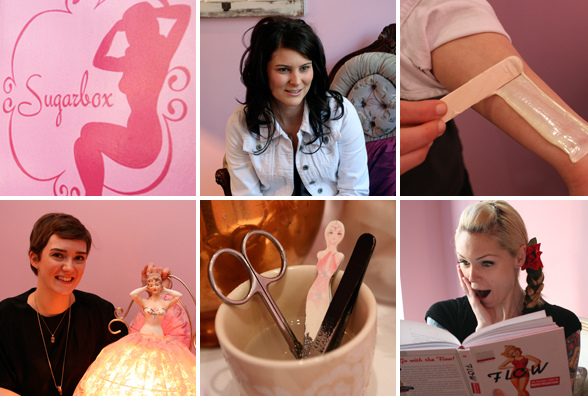 For the young ladies of Sugarbox, waxing is a serious business. Spend even a few minutes discussing their chosen craft and prepare to be dazzled by the thought and detail behind the hygiene regime, technique and even the high-end secret wax they use at Vancouver's best Brazilian Waxing Salon.
At the same time, the three Blanche Macdonald Esthetics School graduates at Sugarbox, Mara Bennett, Lindsay Renton and Sarah Milewski, appreciate that it's impossible to approach this personal and potentially painful art form without a delicate touch and a great sense of humour. Putting clients at ease is an essential element of what they do. People, understandably, can be nervous. And nobody is more apprehensive than the guys.
"Sometimes girlfriends and wives make men come in," smiles Sarah, who is one of Vancouver's few Male Brazilian specialists. "You can see they're terrified. I just tell them that we'll get through it and that we can take a break at any point. When they're done they normally say that they thought it was going to be way worse.
"There are a lot women who come in and are really embarrassed by hair somewhere on their body," she continues. "I'll say, 'Don't worry about it. I've probably waxed it on myself. Never feel embarrassed to ask me to wax anything'."
This spirit of fun and openness is everywhere at Sugarbox. It's not just clients that reap the benefit of this light-hearted atmosphere. It's incredibly enjoyable for the staff too.
Read more about Esthetics/Spa Therapy Graduates Lindsay, Mara and Sarah
Susan Turner
Esthetics/Spa Therapy Graduate
Owner of The Garden Spa - Langley BC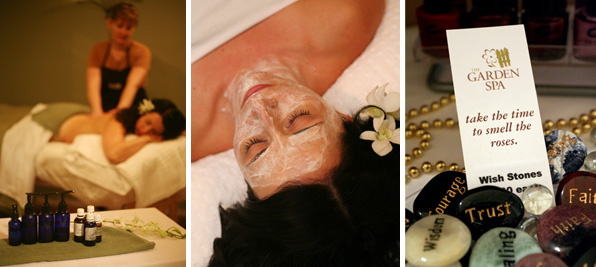 Susan Turner started her career at Shibui Skin Care, in White Rock. Later on, she took ownership of "The Garden Spa" and was nominated for the Greater Langley Chamber of Commerce 2008 Business Excellence Award. In the near future, Susan plans to teach esthetics and continues with hypnotherapy and Heart Resonance energy work.
"From the moment I walked through the gate doors at Blanche Macdonald on the first tour, I immediately knew this was the right school for me!" she says. "I experienced a very professional and caring atmosphere. Having visited other schools I recognized the quality of Blanche immediately. During my time at Blanche, the educators were committed to us. Not only did I receive esthetic knowledge but students were also exposed to sales and marketing ideas, as well as communication and interpersonal skill development. We received the full package needed to begin a successful career. We were also encouraged to keep learning, keep developing our skills after we passed our program…and to keep in touch! Support in job placement is such an advantage! I am thankful to Debbie Nickel, BMC Director of Esthetics for being so helpful through the years."
Adds Turner, "Because of my experience at Blanche I am a very confident esthetician. I know I have received expert training; therefore when clients have questions about skin or body care, I use the education and skills acquired at Blanche to express this knowledge in a way that clients can understand. We work together to solve their skin concerns in a caring and supportive, professional manner."
Read more about Esthetics / Spa Therapy Graduate Susan Turner
SUZANNE DIMICHELE
Esthetics/Spa Therapy Graduate
Manager and Skincare Specialist, Rejuva Medispa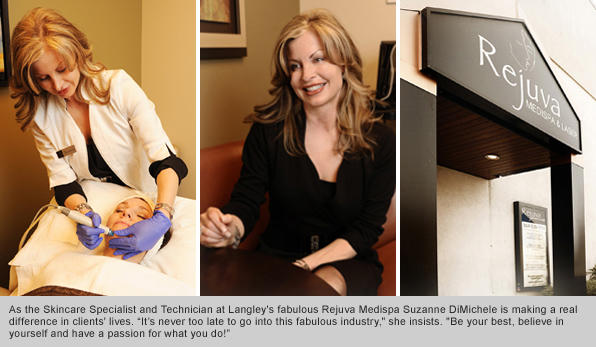 Walk through the doors of Langley BC's Rejuva Medispa & Laser and you're immediately transported into a world of professional serenity; the kind of space that fills clients with confidence that any skincare issues they have will soon be in the past. It's not a coincidence that Rejuva looks that way. It's exactly what the owners, and Manager, Skincare Specialist and Technician Suzanne DiMichele had in mind.
"The very first time I met with the Doctors we came here and it was completely empty, except for the beautiful paint colours on the wall," explains Suzanne. "I could tell they were wonderful people straight away. I wanted the opportunity to open and manage the clinic, and treat it as my own. They trusted me with their vision, allowing me the freedom to do my job and run their business. Two months after I was hired, we opened the doors to the public. It was really exciting!"
Read more about Esthetics/Spa Therapy Graduate Suzanne Dimichele
Tessa Patko
Esthetics/Spa Therapy Graduate
Owner of Mojo Mobile Spa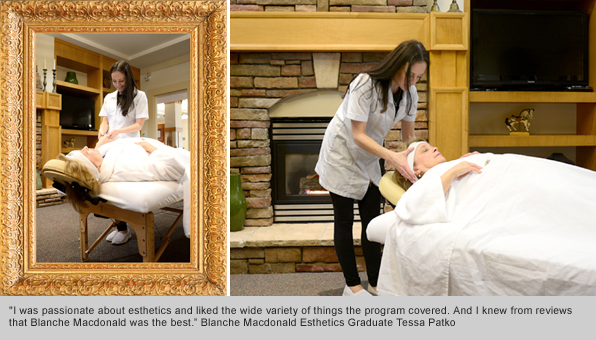 Everybody loves a trip to the spa as part of their wellness routine. But at the same time, not everyone has the opportunity to get out and give themselves the attention they deserve.
That's where Blanche Macdonald Esthetics graduate Tessa Patko and Mojo Mobile Spa enter the picture. If the people can't come to the spa, Tessa will bring the spa to the people.

"I'm providing services that clients might not otherwise be able to enjoy," she explains. "Mojo Mobile Spa is aimed at people who don't have the convenience of going to the spa, like busy mothers, people with health issues or people who don't have transportation. We're working regularly with seniors' homes now, which I love. I began receiving calls from grandchildren who were looking for people to go into the homes and give services. The need was there, so I started doing what I could to help. It really warms my heart to do those services. We'll do a soak, a massage and a polish and these seniors feel revived! They are really appreciative, love the attention and love to talk – as do I!"

Mojo Mobile Spa's reputation is growing fast. She was a finalist for the Richmond Chamber of Commerce's Young Entrepreneur of the Year, named as one of Richmond Review's 30 Under 30 business stars, and has been nominated for a business excellence award by the Surrey Board of Trade. Taking treatments to private clients, hospitals, hotels, pamper parties and corporate events across Metro Vancouver, Tessa already employs her own team of Estheticians, many of who come to her directly from Blanche Macdonald.
Read more about Esthetics/Spa Therapy Graduate Tessa Patko
Tracy Cherniak
Esthetics/Spa Therapy Graduate
Blu Harbour Wellness + Spa, Spa Lead - North Vancouver, BC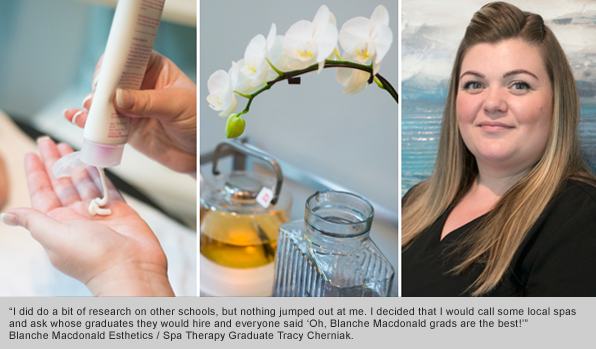 If life had turned out the way Tracy imagined, you'd be visiting her on the deck of a luxury cruise liner. But it was her piqued curiosity that got the better of her and forever set her life on a new path.
"Initially, I wanted to work in tourism. I had a friend who had registered for the Spa and Esthetics program at Blanche Macdonald and I thought it sounded so cool! I didn't know anything about esthetics, or even what to call it, but I made an appointment with the school to have a tour and the next thing I knew, I was enrolling in the program. I liked the idea of a service industry, but this was much more realistic and with so many more opportunities!"
The opportunities that followed a world class education at Canada's Top Spa School were almost immediately discernible to Tracy.
"I did do a bit of research on other schools, but nothing jumped out at me. I decided that I would call some local spas and ask whose graduates they would hire and everyone said 'Oh, Blanche Macdonald grads are the best!'"
That was over 13 years ago. Now firmly planted in the Esthetics industry, there's no other place Tracy would rather be. She's the Spa Lead of North Vancouver's Blu Harbour Wellness + Spa, the area's only spa certified in Medical and Advanced Esthetics, which has been her home for the last 6 years.
"This location is fantastic. And my clients here are really wonderful. One of the estheticians we hired here was actually the one that covered my maternity leave at another spa in the area so we're like a big family! And the owners are great - they've given me the opportunity to really grow my career and expand my skills."
Read more about Esthetics/Spa Therapy Graduate Tracy Cherniak
Vanessa Lin and Koko Mochizuki
Nail/Esthetics Graduates
Lash Extensions Specialists at Kinjou Lashes Beauty Studio - Vancouver, BC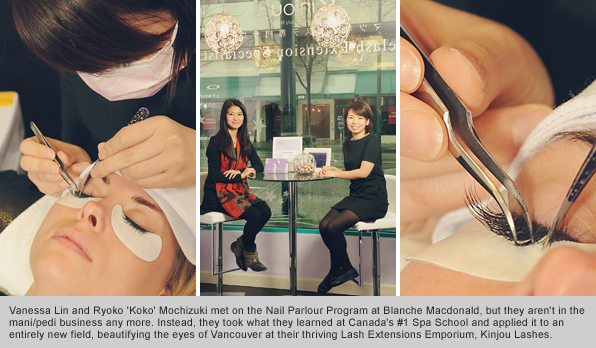 They met on the Nail Parlour Program at the Blanche Macdonald Centre, but Vanessa Lin and Ryoko 'Koko' Mochizuki aren't in the mani/pedi business any more. Instead, they took what they learned at Canada's #1 Spa School and applied it to an entirely new field, beautifying the eyes of Vancouver at Kinjou Lashes.
"Vanessa never even said hi!" laughs Koko. "At the time she didn't speak much English, which is why she didn't talk to me. I remember that after graduation a group of us went for sushi in Burnaby. I thought she was very mysterious."
"Well," smiles Vanessa, "I'm special!"
Vanessa jokes, but she's telling the truth. She's the owner of a growing lash extension business who first came to Canada from her native Taiwan to study English. When she discovered that she liked both Vancouver and the beauty business, Blanche Macdonald offered an ideal solution.
"I wanted a Canadian Diploma so I could work in Canada," she explains, "so I came to Blanche Macdonald. I wanted to be a proud graduate with a Diploma from a prestigious institution."
Read more about Blanche Macdonald Graduates Vanessa Lin and Koko Mochizuki of Kinjou Lashes Beauty Studio
Yavanna Arnold
Esthetics/Spa Therapy Graduate
Owner of Lavish Day Spa - North Vancouver, BC

Walk through the doors at Lavish Day Spa for the first time and you're temporarily transported to the most famous scene from Field of Dreams.
Is this heaven?
No, it's North Vancouver.
You also have to fight the urge to curl up and take a nap. It's that relaxing. That's the power of the serene style and elegant design in this compact retail space a short stroll from North Vancouver's celebrated Lonsdale Quay. But that's just the beginning of the hospitality. The real magic is the welcome you receive from the owner of Lavish, Blanche Macdonald Esthetics graduate Yavanna Arnold.
"We were voted third best Day Spa in North Vancouver in the North Shore Outlook a couple of months ago," she explains. "First and second were well-established places, so we have plenty of time to catch them up. People are saying it's the best facial they've ever had. And we get compliments on our space every single time. It's actually rare when someone doesn't say something."
For anyone who knows Yavanna, opening a spectacular spa of her own hasn't come as a surprise. It was always her ultimate aim, and it's what took her to Blanche Macdonald's Esthetics School to begin with.
Read more about Esthetics/Spa Therapy Graduate Yavanna Arnold
ROLL CALL
A selection of Blanche Macdonald Esthetics/Spa Therapy graduates and their career placements.
Ahn Do, Owner, Antiquity Dayspa
Aimi Sakino, Esthetician, Absolute Spa
Alexis Masaro, Owner, Alexia Day Spa
Alicia Whitehead, Esthetician, Raintree Day Spa
Alisha Smith, Esthetician, Cutie Pie Wax Bar
Allison Diotte, Retail Manager, Vida Wellness
Anne Lauener, Owner, Beverley's on 4th
Amie Smith, Esthetician, Bloom
Amy Harris, Esthetician, Atlantis Day Spa
Amy Luong, Medical Esthetician, Dr. Braun
Amy Roesler, Esthetician, A Dream's Touch Day Spa
Ana Vila-Cha, Senior Esthetics Instructor at Utopia Academy, Abbotsford
Angela Fu, Esthetician, Perfect Health
Angela Green, Esthetician, Manager - Urban Body Laser
Angela Gladu, Medical Esthetician, Dr. Braun
Anita Nanda, Owner, Feeling Great
Anita Saiking Lam, Esthetician, Biotherm
April Aquino, Esthetician, Pure Nail Bar
Arlene Guy, Esthetician, Rockwater Spa – Sunshine Coast
Ashley Fletcher, Esthetician, The Fainting Couch Spa – Gibsons BC
Ashley Mainwaring, Esthetician, Skoah
Ashley Sim, Owner of Mother Earth Day Spa – Lacombe AB
Bich Ngoc Le, Owner, Le Everlashes - Surrey
strong>Billie Rose Clark, Skin Care Expert, Sephora - Robson
Bita Jayez, Esthetician, Hennessy Spa
Bonnie Coleman, Medical Esthetician, Dr. Rivers
Brittany Clyde, Esthetician, Bare Elegance Medspa
Caitlin Vodnoski, Esthetician, Joie De Vivre – Yellowknife NT
Carmen Perez, Owner, Narcissus Beauty Services
Carla Sage, Pre-Opening Spa Director for the first Park Hyatt Spa and Wellness Centre in China
Carola Alder, Owner, No Time Skin Expert
Channa Ourn, Esthetician, Urban Body Laser
Chantalle Bevers, Esthetician, Bblonde Salon & Spa
Charlotte Jomphe, Esthetician, Skoah - Calgary AB
Charmaine Richards, Owner, The Fainting Couch Spa – Gibsons BC
Cheryl Hamada, Medical Esthetician, Dr. Braun
Cheryl Rose, Owner, Zen Wellness Centre
Chetanpal Randhawa,Esthetician,Spa Utopia Langley
Christina Hickey, Esthetician, Spasation – Sherwood Park
Christina Myhre, Esthetician, Escape - Dauphin MA
Christina Sather, Esthetician, Hummingbird Spa – Langley BC
Claire Vaughan, Esthetician, Spirit Spa – Halifax ON
Crystal Rosengren, Esthetician, Hairsoda
Cynthia Stephens, Spa Director, Aru Spa – White Rock BC
Daniella Van Eck, Esthetician, Afterglow Medical Aesthetics & Skin Care
Danika Powell, Esthetician, Beverly's Spa On 4th
Danna Johanson, Esthetician, Bliss Day Spa & Laser - Surrey BC
Dawn Loewen, Sales Rep, Nova Beauty Supply
Deborah Peterson, Esthetician, Great Cuts
Diana Narong, Esthetician, Tranquility Day Spa
Elizabeth Creighton, Esthetician, Absolute Spa - Fairmont Vancouver Airport Hotel
Elnaz Yousefian, Esthetician, Absolutely Fabulous Urban Spa
Erica Knox, Esthetician, Eccotique Spa – Langley BC
Erica Vargas, Medical Esthetician, Dr. Jang
Erika Swanstrom, Esthetician, Absolutely Fabulous Urban Spa
Erin Worrod, Esthetician, Solaris Spa – Whistler BC
Emerald Stock, Esthetician, Eco Chic Aveda
Emily Anaskan, Esthetician, Spa Pure
Esther Unsinn, Owner, Esther's Mobile Spa
Evelina Spurek, Esthetician,Rosewood Spa at Hotel Georgia
Everjoy Kriekenbeek, Medical Esthetician, Dr. Morel
Fame Maleknia, Esthetician, Educator - Cara Mia Associates
Farhana Rehman, Owner, Sashey Spa
Filomena Balletta, Owner, Filomena's
Gerald Mari, Senior Spa Therapist and Laser Technician, Chi Spa In The Shangri La Hotel
Gillian Cooper, Esthetician, Bloom
Gwen Nguyen, Owner, Euphoria
Hailey Nehring, Esthetician, Bloom
Harmanpreet Bhathal, Esthetician, Tranquillity Health & Day Spa - Delta BC
Heather Joy Wheatley, Esthetician, Chambers Salon
Hee Jung Daisy Kim, Esthetician, Suki's
Irene Ropcean, Esthetician, EvelineCharles Salons and Spas
Jamie Gemmell, Spa Director, Integrative Healing Arts
Jamie Van Erkelens, Educator, Somak International
Janet Nguyen, Esthetician, Eccotique Spas and Salons
Janine Thompson, Owner, Spa Above the Bay, Sechelt
Jaspreet Nagra, Esthetician, BeautyMark - Vancouver BC
Jeanne Trang , Owner, Granville Day Spa, Vancouver BC
Jenelle Tongol, Esthetician, Hummingbird Spa – Langley BC
Jenn Brown, Owner, Chill'a Cubbie – Kelowna BC
Jenna Thomson, Medical Esthetician, Dr. Shah
Jennifer Thompson, Esthetician, Hummingbird Spa – Langley BC
Jennifer Valentine, Esthetician, Absolute Spa
Jessica Dennison, Esthetician, Spa Villamoura
Jessica Mahon, Esthetician, Elizabeth Arden – Saskatoon AB
Jessica Mathies, Skin Care Expert, Sephora – Robson
Jessica Rouse, Owner, Grizzly Bare Waxing Studio, Montana
Jessica Slaneff, Esthetician, Shoppers Drug Mart
Jillian Ware, Esthetician, Vanishings Laser Esthetics
Jo-Ann Scott, Owner, Twiggleberries, Bowen Island
Joanne Phillips, Medical Esthetician, Dr. Stasiak
Jose Macuroy, Esthetician, Absolute Spa
Judy Drew, Owner, Atlantis Day Spa - Tsawwassen BC
Justine Ducharme, Esthetician, Absolute Spa - Airport
Kadie Ridgway, Esthetician, Spa Time, Tsawwassen BC
Kaileigh Schofield, Esthetician, Wild Orange Spa - Abbotsford BC
Kaitlyn Hill, Esthetician, Beverly's Spa On 4th
Kaithlyn Rauscher, Esthetician, Total Bliss Salon
Ka Ling Leung, Esthetician, Horseshoe Bay Laser & Beauty Clinic - West Vancouver BC
Karen Jane Lee, Esthetician, Decleor
Karen Melnychuk, Medical Esthetician, Dr. Braun
Katelyn Quinnell, Esthetician, Temptations Salon & Spa
Katelynn Perrin, Esthetician, Healing Springs - Harrison BC ,
Katie McGrory, Esthetician, Newbury Spa - Calgary
Katie Tolborg, Esthetician, Spa at the Madison - Burnaby BC
Kelsey Fenton, Esthetician, Razor's Edge – Prince George
Keri Patterson, Esthetician, Linda's Urban Spa
Kim Marshall, Esthetician, Casbah Day Spa
Kimberley Oldham, Owner, Spa Vilamoura
Krista Balliston, Esthetician, Absolute Spa
Krista Fleishauer, Esthetician, Metropolis Laser Centre
Kristie Caron, Owner, Essential Beauty Lounge
Kristin Cabeza-Erickson, Esthetician, Sonora Island Spa
Kristen Foote, Owner, Honey Dew Day Spa
Krystalynne Freeman, Esthetician, Element Spa - Whitehorse
Kristy Edwards, Owner, Kristy's, Ft. St. John
Krystle King, Esthetician, La Dolce Vita Day Spa & Salon – Kamloops
Laura Kidd, Esthetician, Sante Wellness Spa - Nanaimo BC
Laura Weaving, Esthetician, Glenmore Spa – Winfield
Laura-Lee Harrison, Esthetician, Vida Wellness Spa
Laura Gobbo, Owner, Fruition Day Spa, Deep Cove BC
Lauren Lee, Esthetician, Skoah
Leah Podgurny, Medical Esthetician & Manager, Dr. Shah
Leanne Saulnier, Europe Cosmetiques - Burnaby BC
Lee Windecker, Esthetician, Beverly's Spa On 4th
Ligia Hutiu, Esthetician, Dona Lucia Esthetics Salon
Linh Lam, Esthetician, Perfect Health
Lisa Digeso, Owner, Pampered Pretty – Kamloops BC
Lisa Tran, Esthetician, Vanessa Nails - Whiterock
Lola Pablos, Spa Utopia, North Vancouver BC
Lorraine Raynor, Owner, Beautiful You Mobile
Lori Zubko, Owner, Escape Tanning
Louise Dannhauer, Owner, Spa Time, Tsawwassen BC
Lydia Smith, Esthetician, Beverly's Spa On 4th
Lyndsey DeSilva, Owner, Time Defiance Day Spa
Lyndsay Perham, Esthetician, Fairmont Hotel – Jasper AB
Madeline Chow, Esthetician, Chi Spa In The Shangri La Hote
Mandeep Singh, Esthetician, Skoah, Vancouver BC
Marcia McBride, Esthetician, The Spa at Uplands / Merle Norman Cosmetics - Nanaimo BC
Maria Gorgounis, Esthetician, Absolute Spa
Maria Teczynska, Esthetician, Manager, West Coast Beauty
Maria Vu, Esthetician, Vanessa Nails - Whiterock
Marianne Gilbert , Esthetician, Safra Day Spa - Victoria BC
Marie Paquin, Esthetician, Skoah
Mary Banovac, Medical Esthetician, Dr. Braun
Meagan Huibers, Esthetician, Sanctum Day Spa - Palm Cove, Australia
Megan Diell, Esthetician, E-Clips
Megan Valin, Esthetician, Pampered Pretty – Kamloops BC
Meghan Herle, Esthetician, Zazoo
Melissa Gauthier, Esthetician, Spa Utopia
Melissa Lawson, Esthetician, Kiss And Makeup
Melissa Morris, Esthetician, Eccotique Spas and Salons
Melissa Weselake, Esthetician, Absolute Spa
Michelle Ambrosone, Medical Esthetician, Dr. Jang
Michele Lyle, Owner, Serenity Wellness Clinic
Michelle Hobbs, Esthetician, Faces Cosmetics – Kelowna
Mikki Maccumber, Esthetician, Out Of The Blue – White Rock BC
Misti Llewelyn, Esthetician, Caesar's Palace – Las Vegas, NV
Monika Keodouangdy, Esthetician, Eccotique - Metrotown
Mutlu Jones, Owner, Butterfly On Burrard
Nadia Torres, Esthetician, Miraj Hammam Spa
Nasante Demere, Owner, Soul 2 Soul
Nathalie Thomann, Medical Esthetician, Dr. Stasiak
Neena Bhogul, Owner, Beautopia, Williams Lake
Nicole Bisgrove, Esthetician, Eccotique Spa
Nicole Desmarais, Esthetician, Urban Body Laser
Nichole Duncan, Esthetician, Cutie Pie Wax Bar
Nicole Fishbook, Esthetician, Just For You – Vernon BC
Nicole Macdonald, Esthetician, Bloom
Nicole Myhra, Esthetician, Temptations Spa – Maple Ridge BC
Nita Sharma, Esthetician, Eminence Organic
Oanh Thi Nguyen, Owner, Oanh's
Pamela Bonaparte, Esthetician, Vida Wellness Spa – Whistler BC
Paula Boulanger, Owner, Crimpers
Queeny Luong, Manager, Eccotique Spa
Ramona Suciu, Esthetician, Spa Utopia
Raquel Schleppe, Esthetician, Tigh-Na-Mara – Parksville BC
Renu Bawa, Spa Director, Brentwood Bay Resort & Spa – Victoria, BC
Reshana Hussain, Esthetician, Spa Aqua Vitae – White Rock BC
Rosa Chiesa, Owner, Head to Toes
Sabrina Jamal, Owner, Paradise Salon and Spa
Sabrina Mael, Skin Care Expert, Sephora - Robson
Sadaf Almasi, Esthetician, Déjà Vu Spa
Samantha Diotte, Esthetician Manager, Spruce Body Lab
Sarah Casorso, Esthetician, Kingfisher Spa – Courtney BC
Sarah Kowall, Esthetician, Beverly's Spa On 4th
Sarah Wilford, Esthetician, Silk Road Spa – Victoria BC
Sayaka Hongo. Esthetician, The Westin Hotel Toyko, Le Spa Parisien - Tokyo, Japan
Serena Slade, Esthetician, Absolute Spa - West Vancouver
Shannon Shum, Esthetician, Eccotique Spa
Shirley Choi, Esthetician, Raintree Day Spa
Shirley Lim, Medical Esthetician, Dr. Thompson
So Yeon Hong, Esthetician, Alex Cosmetics
Susan Turner, Owner, The Garden Spa - Langley BC
Stacey Birk, Owner, Stacey's, Quesnel
Star Podwinski, Esthetician, Better Than Chocolate
Stella Io, Owner, Beautio Spa
Stephanie Jones, Medical Esthetician, Md Cosmetics And Laser
Stepahnie Richmond, Medical Esthetician, Dr. Shah
Suzane Dimichele, Medical Esthetician, Dr. Mosher
Suzanne Allan, Owner, The Coddled Dog
Suzene Pernia, Esthetician, Vida Wellness Spa
Tabitha Swanson, Esthetician, Absolute Spa - Vancouver BC
Taeko Ikehata, Esthetician, Chi Spa In The Shangri La Hotel
Tahera Khaku, Owner, Skinsavvy
Tanya Agecoutay, Esthetician, London Drugs
Tanya Wilkinson, Esthetician, Eco Chic Spa Whistler
Taralyn Matte, Esthetician, Spa Aqua Vitae – White Rock BC
Taryn Wilson, Esthetician, Spa Utopia & Salons
Tatiana Petrova, Esthetician, Deserving Thyme Lifespa
Tatihanna Fergurson, Esthetician, Chatters Hair | Beauty | Salon - Surrey BC
Tierra Sengotta, Esthetician, Refine Express Spa
Tina Eriksen, Esthetician, Elizabeth Arden
Tina Sadek, Esthetician, Skin Concepts
Tory Jackson, Owner, Home Spa, Calgary
Tracy Haubrich-Zambrano, Sales Rep, Clarion Medical Technologies
Valerie Bruneau, Esthetician, Bioethique Spa on 4th - Vancouver, BC
Vanessa Stephens, Esthetician, The SPA at Painted Boat - Pender Harbour, BC
Veronica Espino, Esthetician, Chi, The SPA at Shangri-La - Vancouver, BC
Victoria Belcher, Owner, Victoria's Place
Victoria Nyden, Esthetician, Spa Ethos
Wendy Duong, Esthetician, Salon Beauty Bar
Winnie Cheung-Pozo, Owner, Tao Day Spa - Richmond BC
Yavanna Arnold, Owner, Lavish
Zoe Wan, Customer Relation Officer, Strip (Waxing salon under Spa Esprit) - Hong Kong
Note: some of these Esthetics graduates may have changed positions in the interim.
Are you a BMC Graduate?
Are you a Blanche Macdonald Esthetics/Spa Therapy graduate interested in being profiled? Click here to send us your latest career highlights; we would love to hear from you!