PRO Hair: Graduate Highlights
The Blanche Macdonald Centre is pleased to highlight some of our notable alumni. These Pro Hair School graduates have excelled both personally and professionally, making an impact on a local, national and global scale. Read about their success and how Blanche Macdonald impacted where they are today.
Aaron Brousseau
Professional Hairstyling Graduate
Professional Hair Stylist at Illusion Studio & Spa - Vancouver, BC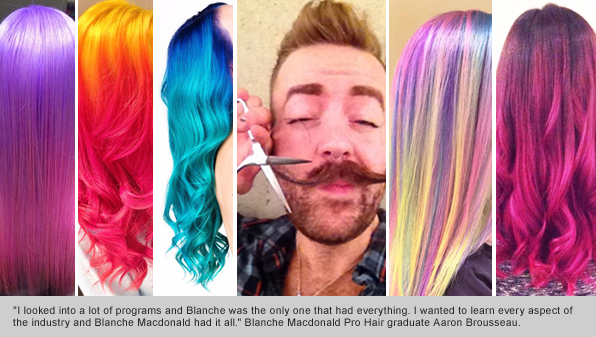 "No matter how long I do hair, the most rewarding part of the job is still changing someone's life."
Despite reaching near-celebrity status on the Vancouver hair scene, Aaron Brousseau still marvels at the transformative powers of the hair he is entrusted to shape.
"I love that I have the ability to give someone the most beautiful accessory they're ever going to wear. Hair can be life-changing, absolutely."
Starting out with only tenacity and a strong urge to get snipping, Aaron's been taming locks since a young age.
"The first haircut I ever gave was on my brother. I must have been about twelve. I took some clippers and started to cut his hair. Then the guard on the clipper came off and left a nice sized bald spot on his head. It was the most wretched haircut. We ended up shaving it all off."
Growing up as one of twelve children in the rural town of Terrace, B.C. may have offered plenty of willing young hair models but it didn't offer Aaron the opportunity to gain formal training as a Hair Stylist.
"[My own Stylist] saw me cutting and colouring for my family and siblings' friends, and saw that I was getting better. That's when she said, 'You need to go to school for this. You have a raw talent. You're good at what you do, but you need to be trained. If you don't apply for school by September, I won't cut your hair anymore.' So I applied to Hair School."
Read more about Professional Hairstyling Graduate Aaron Brousseau
Ali Smith
Professional Hairstyling Graduate
Professional Hair Stylist at Artel Salon - Vancouver, BC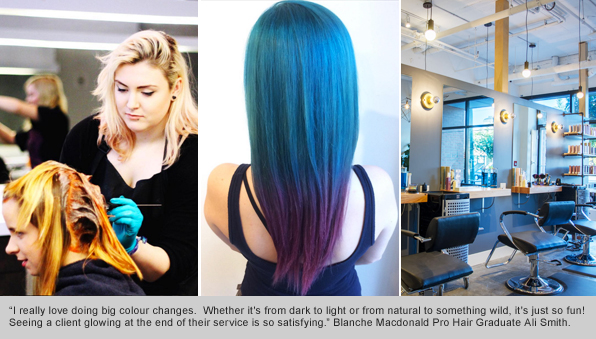 Sure to be sporting a mane of many and different colours, razor sharp liner and specs of glitter wandering randomly about her person, Ali Smith is not just the creator of unicorn hair – she exudes an essential 'unicorn-ness.' Having graduated from the Pro Hair program at Blanche Macdonald a mere 4 months ago, Ali has found herself behind the chair of one of Vancouver's premiere chop shops, Artel Salon. Owned by fellow Blanche Macdonald graduate Eliza Trendiak, Ali spends her days honing her skills, learning from fellow Artel stylists and crafting the latest looks for her burgeoning clientele. A flurry of retro Disney prints, witticisms, and perfectly timed meme humour meet the whirling dervish that is Ali Smith. Or as she puts it "Ariien. Brat. Kitty. Facial hair admirer."
Read more about Professional Hairstyling Graduate Ali Smith
Alissa Shalagan
Professional Hairstyling Graduate
Professional Hair Stylist at The Room - Vancouver, BC

It's not for us to declare Alissa Shalagan one of the very best young hair stylists in Canada. We don't have to. Independent experts have said it already. This year Alissa entered and won the British Columbia semi-final of the nationwide Redken Cover Competition and was flown to Toronto to compete with the finalists from seven other provinces. She's in elite company.
This success has come as little surprise to her instructors at Canada's top hair school. Her talent and enthusiasm at Blanche Macdonald led to a work experience placement at one of Vancouver's leading salons, Avant Garde Hair Studio, which turned into a full-time job as a stylist.
"I come from Red Deer, Alberta," she smiles. "There's not a lot going on there. You either get married and have kids, or you leave."
Alissa took the latter option.
Read more about Professional Hairstyling Graduate Alissa Shalagan
Allysha Lu
Professional Hairstyling Graduate
Professional Hair Stylist at Opus Salon - Downtown Vancouver, BC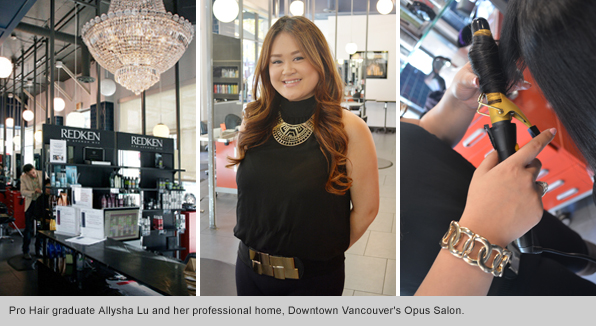 Allysha Lu isn't the first graduate from Canada's #1 Hair School to find a professional home at Downtown Vancouver's Opus Salon. She almost certainly won't be the last. But when it comes to the level of enthusiasm she brings to work every day, Allysha is a one-off.
"I still live in Coquitlam and my family is always asking why I don't work closer to home," she explains with a smile. "I can't imagine being anywhere else. There isn't a place in Coquitlam like Opus! We have such a great variety of people here. Jessica and Ludovic [the Paris and London-trained owners of Opus] share everything they've learned. That's so awesome. At Opus we have a lot of courses, learning about new products and styles. Fashion is constantly recycling itself, but it's innovated differently. That's why it's always exciting to discover."
Allysha's amazing enthusiasm for creativity was evident long before she'd even heard of Opus.
"I was always an artistic kid," she continues. "I always had a wild imagination that got me in trouble. I'd draw on walls or pretend I was in castle at the mall, digging my way through racks of clothing.
"My aunt was a hairdresser. She would do foils in front of me and cut and colour my hair. I watched her do that and was fascinated by how much she could change people."
Read more about Professional Hairstyling Graduate Allysha Lu
Ana Luisa Valdes
Professional Hairstyling Graduate
Davines Educator, Vancouver BC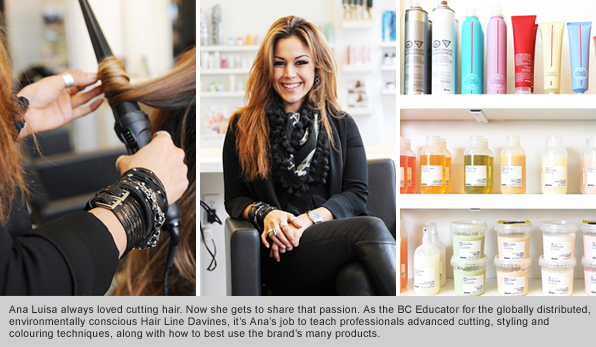 Ana Luisa Valdes always loved cutting hair. Now she gets to share that passion. As the BC Educator for the globally distributed, environmentally conscious Hair Line Davines, it's Ana's job to travel to salons around the Province, teaching professionals advanced cutting, styling and colouring techniques, along with how to best use the brand's wide range of products. It's a fabulous position, ideal for a stylist whose gift for making people look and feel great was apparent even before she arrived at Canada's #1 Hair School.
"I really don't remember how I started cutting hair," she laughs, recalling her time growing up in Tampico, Mexico. "I had no training. It was something natural to me. My aunts would get me to cut their hair with the same scissors they used in the garden. My sister-in-law ran a hair salon in Tampico. She saw me doing hair and said that I should help her in the salon."
When the suggestion came that she should enhance her natural talent with some formal training, Ana Luisa investigated the possibility of a dramatic change of scenery.
Read more about Professional Hairstyling Graduate Ana Luisa Valdes
ASHLEY BUDDEN
Professional Hairstyling Graduate
Professional Hair Stylist at Ka!Boom - Vancouver, BC
The critics have spoken. When Condo/Western Living magazine ran its "Where to get a real haircut in Vancouver" feature, Ka!Boom was listed as the best salon in the Coal Harbour neighbourhood, with a specific shout out to a certain Blanche Macdonald Pro Hair graduate.
"'Ashley works miracles' was what they wrote!" she smiles. "I got so many new clients from that story. The weird thing is, I don't know how it happened and I never found out who wrote it. I had my suspicions that it was a client but she denied it. So it's still a mystery!"
It's no mystery why that secret admirer is singing Ashley's praises. It's the same reason why her chair at Ka!Boom is continually filled with clients looking for the latest style and why pro hair line Moroccanoil has recruited her to educate other stylists across Vancouver; Ashley loves what she does. Growing up in Kamloops, BC, a life as a top hair stylist in the big city was always her ultimate goal.
"I was braiding my Barbie dolls' hair and experimenting on my younger sister from the time I was five. The first haircuts I gave happened in Grade 5 at a sleepover party. I announced, 'I can cut hair,' and went at all my friends with a pair of scissors. We all ended up going to hairdressers afterwards, but some of those hairdressers said, 'You know, she didn't do that bad a job!'"
Read more about Professional Hairstyling Graduate Ashley Budden
Annalisa Sidonio
Professional Hairstyling Graduate
Co-owner of RAW Hair Lounge, North Vancouver BC

When Blanche Macdonald Pro Hair graduate Annalisa Sidonio opened RAW Hair Lounge in North Vancouver this summer with her business partner, Casey McKerrell, she knew where to look for talented young stylists. She put in a couple of calls to Phil Loiselle, her old program director at hair school. Now Annalisa has a pair of Blanche Macdonald Pro Hair grads at the heart of the RAW team – Laura Viggers and Chelsea Uttley.
Read more about Professional Hairstyling Graduate Annalisa Sidonio
BROC GOULD
Professional Hairstyling Graduate
Professional Hair Stylist at Union Salon - Vancouver, BC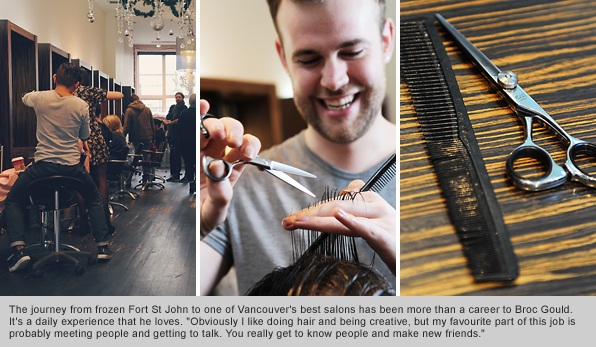 South Granville is arguably Vancouver's plushest shopping district. Its unique mix of high-end furniture, boutique fashion and fine dining brings visitors from across the city and beyond. For locals wanting to look their best, Union Salon is one of the neighbourhood's essential stops. And for Blanche Macdonald Pro Hair graduate-turned-stylist Broc Gould, becoming a part of that community has been both a job and a pleasure.
"I love it here," smiles Broc. "It's a chilled vibe and a good place to work. It looks small from the street but it's deceivingly big. On Thursdays, Friday and Saturdays it gets full. There are 15 stations. It can get a little bit cramped for the stylists, but that's the feel of it."
Bustle suits Broc just fine. A busy salon in the heart of Vancouver is the change he was looking for when he first made the decision to make the trip from his hometown of Fort St John in Northern BC to Canada's #1 Hair School.
Read more about Professional Hairstyling Graduate Broc Gould
BROOKE PEPPLER
Professional Hairstyling Graduate
Pro Hair Grad & Stylist, Sin 7 Salon, White Rock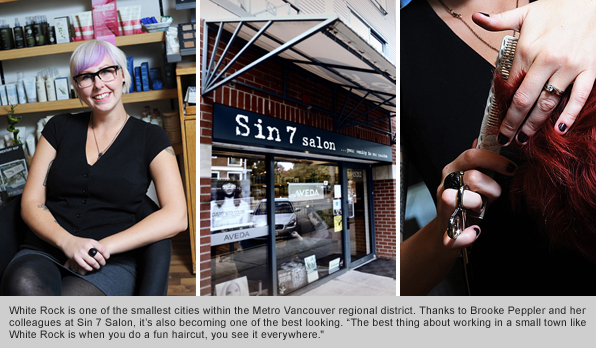 White Rock is one of the smallest cities within the Metro Vancouver regional district. Thanks to Brooke Peppler and her colleagues at Sin 7 Salon, it's also becoming one of the best looking.
"I get the chance to do cool haircuts all the time," smiles Brooke. "The best thing about working in a small town like White Rock is when you do a fun haircut, you see it everywhere. We have classes almost every week at Sin 7, so we bring in our own models for fun new cuts and colours. And we often get cool girls turn up who have moved back from college in Vancouver to live with their families. Whenever they come in I'm like, let's do this!"
It's somehow appropriate that Brooke has found a happy home bringing style to a small town. Growing up in the tiny BC community of Oyama until her early teens, and repeatedly moving around the province after that, wherever she lived, she was always accompanied by her spirit of creative adventure.
"I always did hair," she continues. "I gave all my friends my haircut. We were all walking around with bangs and a bob. Oyama wasn't that fashionable a place so I never thought it could be a career.
"I'd get different box dyes and play around with people's hair. I had some nightmares. All the weird chemical reactions between different dyes turned my hair silver-grey once. It would be cool now, but I was in Grade 5, starting a new school halfway through the year and it was terrifying. Everyone else was wearing flannel and rubber boots and I turned up dressed in Club Monaco with grey hair!"
Read more about Professional Hairstyling Graduate Brooke Peppler
COCO MANZANO
Professional Hairstyling Graduate
Professional Hair Stylist at Toni&Guy - Vancouver, BC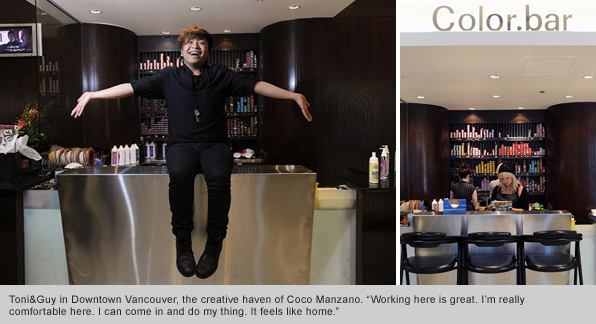 Coco Manzano has always had an affinity for hair. Just ask his family.

"My Mom says that when I was really young every time she got out of the shower I wanted to brush her hair," he recalls. "When I was in Grade Seven bangs were really in fashion so I asked my sister if I could cut her hair, which was really long. She said no, so when she was sleeping I chopped her hair really short – just above her eyebrows. Everyone was so mad at me. She has a really small forehead so it looked extra funny. She still won't let me cut her hair."

Plenty of people in Vancouver would leap at the offer of a cut from one of the city's most exciting young stylists. It's been a year since the Blanche Macdonald Pro Hair graduate dropped off his résumé at Toni&Guy and became a permanent member of the team at one of BC's busiest and best salons.

"Working here is great," he continues. "All the employees are really humble. I'm really comfortable here. I can come in and do my thing. It feels like home."
Read more about Professional Hairstyling Graduate Coco Manzano
DALE EWING
Professional Hairstyling Graduate
Goldwell Technical Associate and Hair Stylist at Salon 6 Twelve - Vancouver, BC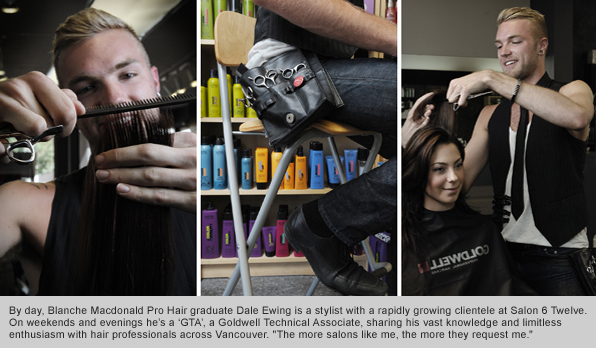 Every hair stylist faces challenges.
For Dale Ewing, Stylist at Vancouver's Salon 6 Twelve and Educator for global professional hair product brand Goldwell, his greatest challenge was getting his six foot five frame into a comfortable position to cut hair to begin with.
"It was tough when I started," he laughs. "Yoga works! I've been doing that for three years now. I've turned bending over from something painful into an exercise. I use a lot of power stances when I'm working and sit on a wheelie stool when I'm cutting bobs. It's not even problematic now."
Now he's working comfortably the graduate from Canada's #1 Hair School has been able to fully focus his energies on his dual careers. By day he's a stylist with a rapidly growing clientele at Salon 6 Twelve. On weekends and evenings he's a 'GTA', a Goldwell Technical Associate, sharing his vast knowledge and limitless enthusiasm with professional stylists across Vancouver.
Read more about Professional Hairstyling Graduate Dale Ewing
Danielle Kilotaitis
Professional Hairstyling Graduate
Professional Hair Stylist and Editor - Toronto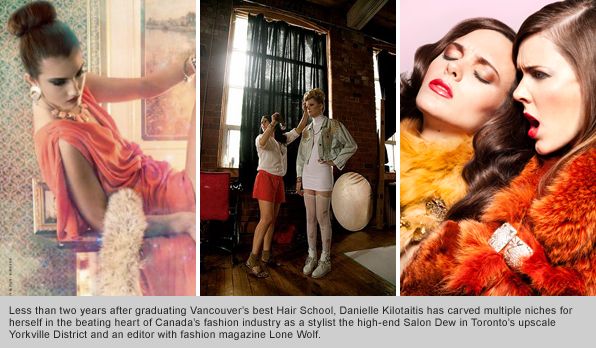 "I remember the first time I was in Toronto," recalls Danielle Kilotaitis. "I walked up to the front of the MTV studios and said to my sister, 'One day I'll do the hair here.' She just laughed, but I knew this was where I needed to be."

For Blanche Macdonald Pro Hair graduate Danielle, Toronto is now her home and MTV is a regular part of her life. So is a job as a stylist the high-end Salon Dew in Toronto's upscale Yorkville District and an editorial role with fashion magazine Lone Wolf. Less than two years after graduating Vancouver's best Hair School, she's carved multiple niches for herself in the beating heart of Canada's fashion industry. She's come a long way since she left her hometown of Cochrane, Alberta.

"My mum was a wedding designer, so I picked up her passion for fashion," she explains. "I was always surrounded by fashion and getting inspired by all the possibilities. When I was a little girl I'd change my hair five times a day. I'd get out of doing the dishes by saying I needed to go to the bathroom, and my mum would find me in there doing my hair or painting my nails.

"My first job in high school was a receptionist at a hair salon. I liked the atmosphere and watching what was going on. And I always carried a Vogue around with me. I've always been obsessed with editorials and couture and the way the hair looked. When I read an article about a hair stylist working backstage at fashion shows and travelling the world it totally dawned on me that I could do both careers at once."
Read more about Professional Hairstyling Graduate Danielle Kilotaitis
DONALD MCPHERSON AND BRANDON WOODWORTH
Professional Hairstyling Graduates
Professional Hair Stylist at Salon 5 Seventy - Vancouver, BC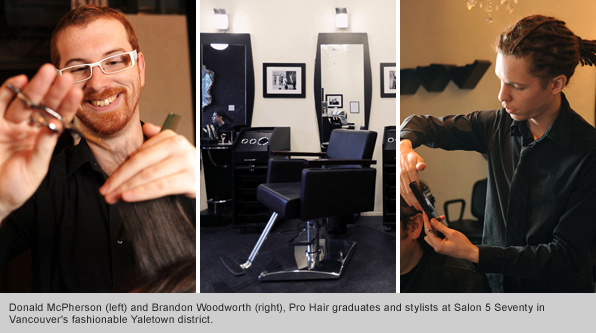 Denise Meikle, owner of Salon 5 Seventy in Vancouver's fashionable Yaletown district, knows talent when she sees it. As an ID artist with L'Oreal Professional and Award-winner, she insists on having only the best stylists working in her salon. Which is why it's no coincidence that she employs two graduates from the Pro Hair Program at the Blanche Macdonald Centre, Donald McPherson and Brandon Woodworth.

"What makes them special?" smiles Denise. "Their passion and their desire to better themselves all the time. Having seen people that have come through Blanche Macdonald, I see a school that teaches students the full realm of the industry. Not just cutting but how to build a business and customer service. They're number one in this industry. We've formed a really good family here and that's what I like."

Family is a fine way to describe the team at Salon 5 Seventy. The stylish, relaxed atmosphere is unmistakable. So is the shared sense of humour, drier than a vintage Cabernet Sauvignon.

"Everyone's comfortable here. There's a camaraderie," explains Donald. "And there's free coffee for all employees."

"We're professional and courteous," adds Brandon, without batting an eyelid. "Customer service is a huge part of the job. The salon is kept well and we work in a professional demeanour. We all love coming to work."
Read more about Professional Hairstyling Graduates Donald McPherson and Brandon Woodworth
Dylan Walker
Professional Hairstyling Graduate
Professional Hair Stylist at SIR Modern Barbershop, Vancouver, BC
Let's make one thing clear. Dylan Walker is a hair stylist, not a barber. Still, when you work at a salon called SIR Modern Barbershop, it's an easy mistake to make. Which is why, once in a while, the barbering skills he's picked up from some of his colleagues come in extremely helpful.
"I only really noticed that I had the confidence to do this when I left school and had to do it on my own. I was planning to take some time off, but I found the ad for SIR Modern Barbershop on Craigslist and came in for an interview and a demonstration of what I could do. I really liked the salon so I wanted to really wow the owner with extensions. But the girl I brought had the worst possible hair to try to do hair extensions on – really fine and slippery. I was sweating the whole time, but I did it. Not everybody does something like that in an interview. Anyway, I got hired. That was over fifteen months ago. Every day I get to see my lovely co-workers and clients. When you have regular clients you get to become friends with them. It's been awesome."
Read more about Professional Hairstyling Graduate Dylan Walker
Eliza Trendiak
Professional Hairstyling Graduate
2x Owner of Artel Salon and Senior Hairstylist, Vancouver BC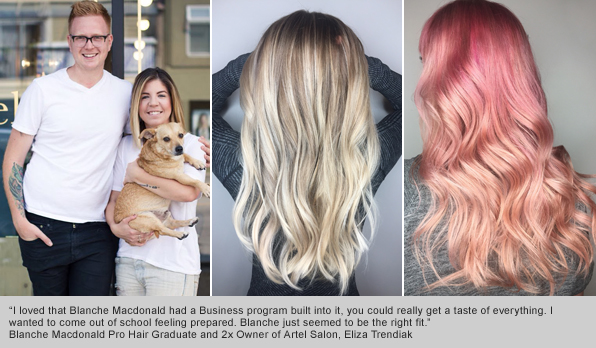 "Artel, in Russian, means an association of artisans living and working together. We brainstormed a whole list of names but I really felt that this summed up what we were about. We're all artists, we're all independent but we're also a family. We're a team, we all learn together," says Eliza Trendiak proudly. With the recent opening of her second location of Artel in the heart of Vancouver's trendy Cambie neighborhood, the rocket success of Artel can be aptly attributed to the Blanche Macdonald Pro Hair graduate dedication and drive of her craft.
Eliza is a natural entrepreneur but, then again, she's been self-starting since before she can remember.
"My family has always made fun of me, saying that I came out of the womb trying to start a business. As a kid I did lemonade stands, dog walking, sold cucumbers on the side of the road... you name it and was trying to start a business with it," laughs Eliza.
It was no surprise to her parents then when Eliza declared that she was leaving her native New Hamburg, Ontario to go to Business University in BC. What did come to a surprise to Eliza was that she wasn't 100% satisfied with the path that now lay at her feet.
"I didn't want to end up working in an office. At the time I was doing my doormates' hair and I just loved it. A friend told me that I should do what I wanted to do because I was going to be waking up and doing it every day. I took that to heart, so I graduated university and went straight to Canada's Top Hair School. "My sister and one of my best friends went to Blanche Macdonald for Fashion Marketing and the quality of their work attracted me to this school from the get-go. Blanche has one of the longer Hair programs in Vancouver, twelve months as opposed to six months; I felt that if I was going to invest in my education, I wanted to spend the most time I could learning. And I loved that Blanche Macdonald had a Business program built into it, as well as Makeup and Hair for TV & Film; you could really get a taste of everything. I wanted to come out of school feeling prepared. Blanche just seemed to be the right fit."
It was. Eliza took to the program like a curl to heat.
Read more about Professional Hairstyling Graduate Eliza Trendiak
EMILIE KLAUSSEN
Professional Hairstyling Graduate
Professional Hair Stylist at Trim Hair Salon - Vancouver, BC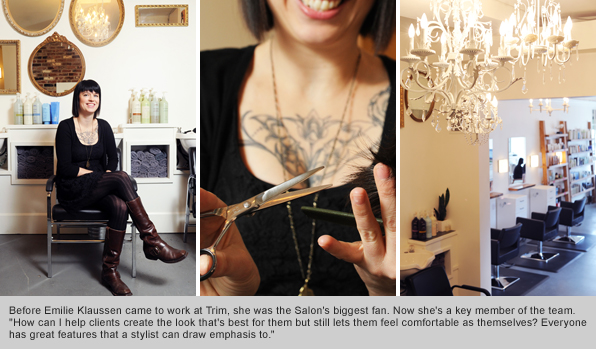 "First and foremost we're looking for genuinely nice people," explains Trim Hair Salon's Owner Sarah Stach. "And people who love to do hair, of course. Emilie has such a warm personality. Right away I wanted to spend time with her. That's a huge part of why we wanted to hire her."
Trim is a leading candidate for the title of Vancouver's most welcoming hair salon; a spectacular space where clients can drop in for a tea and a chat even when they don't have appointment. Blanche Macdonald Pro Hair graduate Emilie Klaussen is a perfect fit for Trim's friendliness first ethos with her laid-back demeanour, a terrific sense of style and an unwavering enthusiasm for the art of hair. Before she came to work there, Emilie was the salon's biggest fan. Now she's a key member of the team.
"I checked out the salon a couple of times before I actually came in and met everyone," she admits. "I'd come in pretending to be a customer, checking out the products and staff. I didn't realise that Sarah was the owner. She had cut my hair in Kitsilano a year beforehand and had encouraged me to do further training and keep growing my career."
Read more about Professional Hairstyling Graduate Emilie Klaussen
Emily Hope and Emily Vu
Professional Hairstyling Graduates
Professional Hair Stylists at On The Fringe - Vancouver, BC
There are two branches of the supremely hip hair salon On The Fringe. One is on Vancouver's ever-fashionable Main Street, delivering cutting-edge styles and hosting competition-standard photo shoots. The other is in the student union building at the University of British Columbia, introducing students from across Canada to the world of amazing hair. The commitment to excellence is the same at both. And it's no coincidence that each salon has a Blanche Macdonald graduate on its floor – Emily Vu at Main Street and Emily Hope at UBC.
"I like the education at Blanche Macdonald," explains On The Fringe's owner, award-winning stylist Shannon Simmonds. "The people that come through there are good stylists. There are certain schools that I won't take stylists from. I will take students from Blanche Macdonald.
"Emily Vu is great. She has an innate talent, which is a pleasure. She's open to learning, she's always in a good mood, she's great with her clients and she understands hair, which is really important. A lot of stylists have taken courses but don't really get it. She gets it.
"Emily Hope has an amazing talent. She's a joy to be around. We're very team orientated, and I look for people who can bring something to the team."
Read more about Professional Hairstyling Graduates Emily Hope and Emily Vu
ERIN KOSLO
Professional Hairstyling Graduate
Professional Hair Stylist and Owner of Vanity Corner Hair Salon - Calgary, AB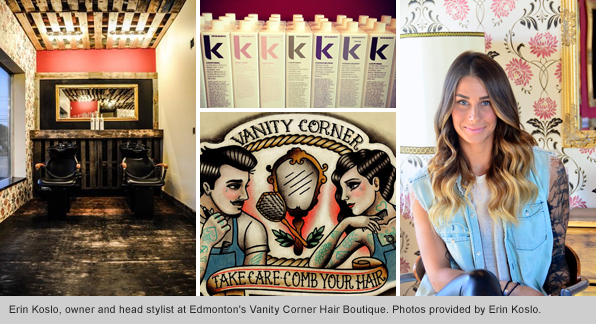 Looking around the bohemian chic and retro fittings of Edmonton's Vanity Corner Hair Boutique, owner and stylist Erin Koslo is fully aware of how far she's come. Seven years ago the idea of a career in hair had just come to Erin. Now she's a successful business owner with a stunning salon whose biggest concern is finding new stylists to keep up with growing demand.

It's been a journey that's taken Erin from Edmonton to Toronto to Vancouver and back to Edmonton, all marked by a determination to succeed that began with the decision to attend Canada's #1 Hair School.

"I grew up on an acreage 20 minutes south of Sherwood Park," explains Erin. "When I was in high school I was the girl in the group who would experiment on her friends' hair. I enjoyed doing it, but I never thought I would become a hair stylist. I left Alberta and lived with my Aunt in Toronto for four months. She works as an actress in the theatre and I got to see behind the scenes. The time and effort put in to the hair and makeup before each show was so interesting. That's when I thought I might want to get involved in hair. I liked the excitement of it. I moved back to Edmonton and realized that if I was going to go to hair school, I wanted to go to the best of the best. I worked three jobs for eight months in Edmonton to save up for the move to Vancouver. I got accepted to Blanche Macdonald and went from there."
Erin was used to hard work in Edmonton. Hair School wasn't going to be any different.

"I guess I would consider myself a natural with hair," she laughs. "There was a lot more bookwork than I expected though. Learning colour formulations and the reasoning behind them were difficult at first. I wasn't the greatest science student in high school, so it was rewarding to know that I could push myself harder and succeed. Once I really like something I practice it a lot, so when I started having clients in my chair I don't remember being nervous. It felt natural."

Looking back, Erin understands how her education provided an ideal springboard into the industry.
Read more about Professional Hairstyling Graduate Erin Koslo
Fiona Kennedy
Professional Hair and Makeup Graduate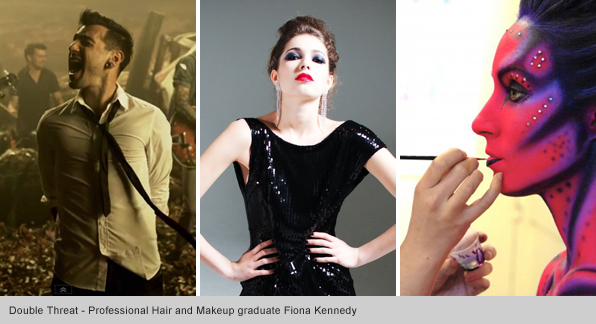 Fiona Kennedy came to Makeup School at Blanche Macdonald with some bold ideas about where she wanted to take her career.
"On the first day of classes, the instructor asked what we eventually wanted to do," she recalls. "I said, 'I'm a musician and an artist and I'd love to combine the two, touring with a band that has really fun makeup like Lady Gaga or Kiss.' I thought that would be living the dream."
She hasn't worked with Lady Gaga or Kiss. Not yet anyway. But the Makeup and Hair graduate has fulfilled her creative dream of working at the heart of the music business. You've seen her work in videos for Hedley, Marianas Trench, Band of Horses and many more. Rock and roll.
"It's such a fascinating industry to be a part of," she continues. "Bands need to be actors, writers, performers and models to be what they are. Josh Ramsay from Marianas Trench, he can do everything. I got shivers watching Jacob Hoggard from Hedley perform. It was so intense. It's great to work and be around people like that. You totally vibe off it and it enhances what you're doing. And they're all so bloody nice! They'll come and give us a hug at the end of the shoot and say how much they appreciate what we do.
Read more about Professional Hairstyling and Makeup Graduate Fiona Kennedy
FREDDY SIM
Professional Hairstyling Graduate
Professional Hair Stylist at Moods - Vancouver, BC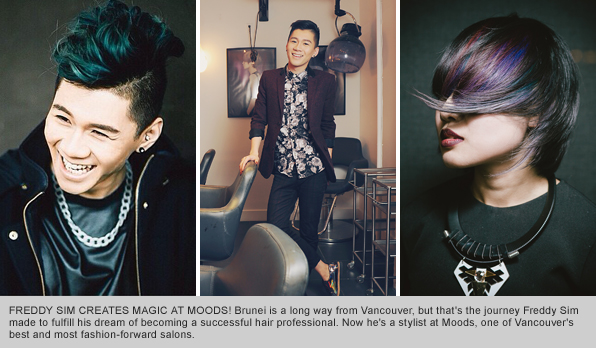 Tania Becker is a Vancouver hair legend. Every season she travels to work her styling magic backstage at Paris, London, New York and Milan Fashion Weeks, often in tandem with Blanche Macdonald's own Prince of Fashion Makeup, Jon Hennessey.
When Tania's not travelling between the World's fashion hotspots, she's the Chief Hair Officer at Moods, one of Vancouver's very best salons. She's always looking for the city's top emerging talents. Which is why she hired Blanche Macdonald Pro Hair graduate Freddy Sim.
"Freddy is a spectacular person!" she insists. "He has a lot of drive. We're all hair geeks at Moods, so we're drawn to other hair geeks. Being around that energy inspires me. We do hair on the fashion side of things and we're attracted to people that have that interest. We want people who are inspired by fashion and runway hair."
"When I was a student I really wanted to do some work experience at Moods," explains Freddy. "I knew that Tania and her co-owner Chad Taylor would go to the major Fashion Weeks every season and that they'd compete at the Contessa Awards, which is Canada's biggest hair contest. Fashion styling and hair competitions really excited me. So when I was a student I gave them a call and they had me in for work experience at Moods for four days. On the third day Johanna, one of the stylists, asked me to shampoo her hair. When she started blow-drying herself I asked if she wanted me to do it. She said 'sure,' and within 20 minutes I'd done a perfect, smooth bob blow dry. Johanna took a photo, sent it to Tania, and said that she should hire me. I started working here the day after I graduated from Hair School!"
Read more about Professional Hairstyling Graduate Freddy Sim
HEATHER HALL
Professional Hairstyling Graduate
Senior Hair Stylist at The Colour Room - North Delta, BC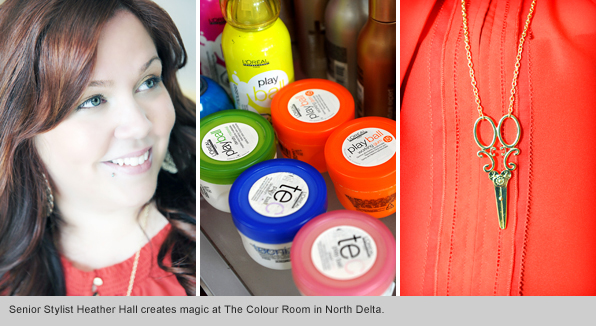 "We try to bring Downtown Vancouver style to North Delta here at The Colour Room," explains Senior Stylist and Blanche Macdonald Pro Hair graduate Heather Hall. "Our clients appreciate that. There's a misconception that you can only get style from high-end areas. If you know what you're doing and you've come from a good educational background you can create style wherever you are."

Heather speaks from experience. While she was studying at Canada's #1 Hair School she was fortunate enough to enjoy work placements at one of Vancouver's top salons, Avant Garde, where she was able to mine the expertise of one of BC's hair superstars, Jon Paul Holt.

"When I met Jon Paul I began to understand that personal relationships play such a big role in the industry," continues Heather. "He had hand-written cards with notes on all his clients. That's how I started to get to know people. I was Jon Paul's assistant for two days a week all the way through Hair School. It was a lot of fun. I was doing four or five blowdries a day for Jon Paul, and I was assisting his other stylists too. I was offered a chair at Avant Garde and had to weigh up whether I wanted to be Downtown or here in Delta at The Colour Room."
Read more about Professional Hairstyling Graduate Heather Hall
Ivory Stanton and Eliza Warford
Professional Hairstyling Graduates
Professional Hair Stylists at Style Lab Headquarters - Vancouver, BC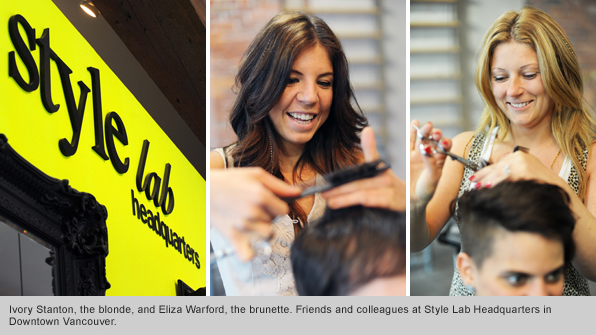 One of the very first people Eliza Warford met when she began her work experience at Style Lab Headquarters was Ivory Stanton. Back then Eliza was close to graduating Hair School at Blanche Macdonald. Ivory had graduated six months earlier. They immediately hit it off.
"I asked a ton of questions," recalls Eliza. "I was just about to graduate so I had a million fears. I didn't know if I'd be working here."
"We talked about school and I helped her out with the things that were coming," confirms Ivory. "Of course we're friends now. Everyone in the salon is friends."
That's the kind of salon it is at Downtown Vancouver's Style Lab Headquarters.
"I knew I wanted to come here from day one," continues Ivory. "Even before I went to Hair School I came to this salon as a client."
"One of my classmates had come here and she'd loved it," explains Eliza. "I'd never been to a salon that has an atmosphere like this. The second I arrived everyone was so welcoming and so laid back. I begged the owner, Leo Tioseco, for a job. And Ivory made it happen!"
Read more about Professional Hairstyling Graduates Ivory Stanton and Eliza Warford
Jashper Paras
Professional Hairstyling Graduate
Professional Hair Stylist at B-Bombshell Salon – Vancouver, BC
What happens when you mix a spot of South Park, a dash of Pokémon and a heaping tablespoon of competitive cheerleading and shake it up with a little somethin' extra? You get Blanche Macdonald grad and wearer of infinite hair bows Jashper Paras! With such eclectic interests, it's no surprise that Jashper has found his home at B-Bombshell Salon "Where Geek is Chic." Jashper is here, in charge and ready to rock your hair world with a dazzling smile that just happens to bring out the cutest dimples you ever did see - and let's be real, a dramatic cape flourish upon entrance. With a penchant for everything and anything from easy everyday looks to crazy fashion colours, there's nothing he can't do - including a darn good bouncy blowout. Skills? Check. Entertaining? Double Check. Enter your new stylist Sailor Jashper Paras: Agent of love, beauty and killer hair days.
Read more about Professional Hairstyling Graduate Jashper Paras
Jeff Sudnicki and Sam Baxter
Professional Hairstyling Graduates
Professional Hair Stylists at Rain - Vancouver, BC
Rain is one of Vancouver's elite boutique salons; an upbeat hive of style where racks of designer clothes complement the work of a team of extraordinary young stylists. That team now includes not one, but two graduates from the Blanche Macdonald Centre's Pro Hair Program, Jeff Sudnicki and Sam Baxter.
He's a small town boy from Ontario with a radical sense of style. She's a well-travelled psychology graduate from Vancouver. They share the same salon floor, but Jeff and Sam's drastically different routes to Rain prove there are many ways to launch a successful career as a hair stylist.
"I moved to Vancouver with no money from Thunder Bay and I cut my own hair for the first couple of years I lived here. Out of necessity really," recalls Jeff. "A stylist friend of mine told me I had great hair and that put the idea in my brain. I'd always been into style and fashion. The more I thought about it, the more I thought hair was the perfect career course for me."
Sam had pursued a counselling career after finishing her Bachelor's Degree in Psychology at Queen's University.
"After about two years doing a variety of jobs, I realised I didn't want to do counselling," she explains. "Traditional psychology careers were too heavy for me. One day I had a poignant conversation with my hair stylist. I explained how I was interested in fashion, business, style and the arts. She said that I sounded a lot like her and asked if I had ever considered hair styling? As soon as she said that I started investigating the idea, and I enrolled at Blanche Macdonald a week later. I looked at a few schools and Blanche Macdonald seemed like it had the most extensive program. It offered the most."
Read more about Professional Hairstyling Graduates Jeff Sudnicki and Sam Baxter
JENNIE KEIS
Professional Hairstyling Graduate
Professional Hair Stylist at On The Fringe Hair Design - Vancouver, BC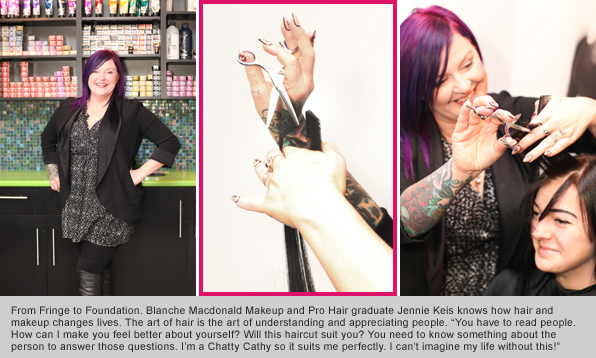 Jennie Keis knows how important a haircut can be. As a Stylist at the UBC branch of On The Fringe Hair Design the Blanche Macdonald Pro Hair and Makeup Graduate is helping students from around the world discover their sense of self-expression every day.
She's also taken her artistry out of the salon; launching her own Charity Foundation, Giving It Back, providing patients at Vancouver addiction centres with free makeovers as they prepare to restart their lives.


Jennie understands how hair and makeup changes lives. She's a prime example.


"I decided that I needed to do something with my life," she explains. "I was running a clothing, body piercing and tattoo store with a friend in Yellowknife. I was there for a year and it was way too cold for me. I returned to Quesnel, where I'd grown up, and realized that I needed to make a change. That's when I came to Vancouver and Blanche Macdonald."
Jennie had loved hanging out in the local salon from an early age ("I was happy to sweep up the hair. I liked the community and the conversations."). But her inner hairstylist would have to wait, as she'd been understandably wowed by the artistry and career opportunities of the Global Makeup Program.

"The Makeup program was so much fun. I met so many amazing people, classmates and instructors, and I'm still in contact with almost all of them. Even now, if I have questions I'll message Ashley Forshaw, Leanne Rae Podavin or Jon Hennessey."
"We did a Hair module on the Makeup program with Tyana Nichole, focusing on updo's and wedding do's. So if you were put on the spot as a Makeup Artist you could whip up a hairstyle. Ty was inspirational. I aced the hair module. Which was the only thing I aced!"
Jennie stepped straight from Blanche Macdonald into life as a professional Makeup Artist, both in the independent movie world and at Shoppers Drug Mart. But the lure of Hair soon proved too strong to resist. When it came to picking a School, there was never any doubt.
Read more about Professional Hairstyling Graduate Jennie Keis
JORDAN NOGIEC AND VICTORIA JAZIC
Professional Hairstyling Graduates
Stylists at Volume Studio - Vancouver, BC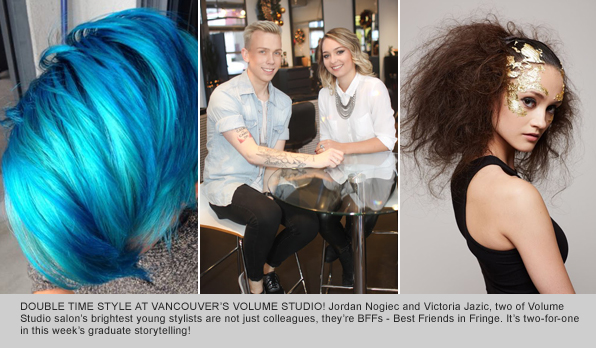 Whoever first gave the advice to never mix business and pleasure had obviously never met Jordan Nogiec and Victoria Jazic. Because every day is pure pleasure for the two Stylists at Vancouver's Volume Studio Salon. They're not just colleagues. They're best friends.
"Loving what you do makes such a difference in your life," smiles Victoria. "I enjoy what I do and who I work with. I never feel like I don't want to go to work in the morning."
"I get to see my best friend every day," interjects Jordan. "Even on my days off I end up hanging out in the salon."
Victoria and Jordan regularly finish each other's sentences. It's part of their special connection. It's been that way ever since they met on the Pro Hair Program at Canada's Top Hair School.
"I was really nervous when we started at Blanche Macdonald," recalls Victoria. "Jordan wasn't sure if I was being rude or just shy."
"She used to have really long hair and I always wanted to put my hands in it," he laughs. "I kept asking if I could curl or blow-dry her hair. That bound us together."
Read more about Professional Hairstyling Graduates Jordan Nogiec and Victoria Jazic
Kara Alaric
Makeup and Hair Artistry Graduate
Hollywood North's Hair and Makeup Film Crew Star and Instructor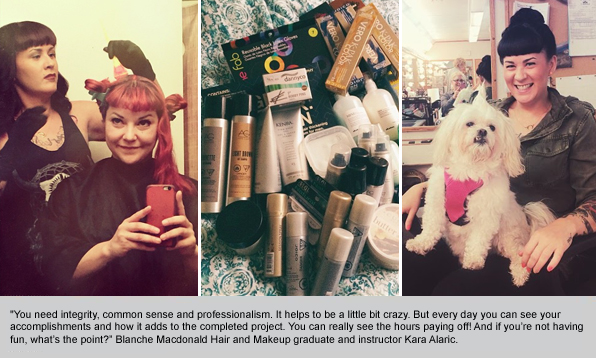 Blanche Macdonald Makeup and Hair graduate Kara Alaric knows exactly when she fell in love with the movies. To her, they're more than entertainment. They're a connection to great times.
"Every Friday night growing up in Whitehorse my family would go to the video store and rent the VHS tapes we'd watch that weekend," she recalls. "But I never thought I would make movies. My family called me a while ago to say that they found the DVD of Lonesome Dove Church, the first big movie I worked on, in Walmart. Seeing my name in the credits was so exciting for them. And it wasn't even in the $6.99 bin!"
Kara doesn't rent movies any more. She helps create them, starring on the hair and makeup teams on TV and film crews in her adopted hometown of Vancouver. In addition to her work as Key Hair Stylist on Lonesome Dove Church (featuring the great Tom Berenger), Kara has been in the thick of the behind-the-scenes action on series like When Calls The Heart, CBC's Full Flood and the Garage Sale Mystery series of TV movies starring Full House's Lori Loughlin.
"There's a huge sense of accomplishment when you work in film," she explains. "It's a big group effort and it's an incredible feeling when the crew is on the same page and everyone works together. My priority is to get my job done efficiently. But I'm also a fan of having fun. Once you establish camaraderie with a crew it's really rewarding."
Read more about Kara's life of creating Makeup and Hair magic on set!
Katherine Macdonald
Professional Hairstyling Graduate
Professional Hair Stylist at Vancouver's top hair studio "The Lounge" - Vancouver, Canada

Katt MacDonald, BMC Pro Hair Graduate - What she says about her experience at Blanche Macdonald
"I looked into the Blanche Macdonald Centre's Makeup program and when I found out they had started a Hair program, I knew I should do it. It was an opportunity to finally follow a passion I have had since I was young. The program seemed like it would be a perfect fit for me and it was. I had a great experience at Blanche Madonald, my class was great and I loved my teachers. They really got to know our skill level and us. They knew what we were capable of and pushed us to our limits. Blanche Macdonald opens the door to students to be able to work in salons during their training and it's up to us to take advantage of that and prove we can do it.
I think the big difference that sets the Blanche Macdonald Centre apart from other schools is the extra things we are taught, such as an introduction to TV and Film and period hairstyles. We learn how to develop business plans and the costs and responsibilities of salon ownership. We touch on Photoshop and learn to design business cards. At the end of the day, these extra skills will set Blanche Macdonald students apart from others, which is the basis of the hair industry, to set you apart from others. I started working at the award-winning Lounge Hair Studio in Yaletown six months before graduating from Blanche Macdonald. I had the opportunity of being on the floor as an Associate Stylist just days after graduating.
I have just had my one-year anniversary as a stylist and after a year of client building, I love every second of it. I have participated in a few photo shoots, some which have been entered in the Mirror Awards. Working for such big names in the industry and getting that caliber of education has definitely impacted my skills and way of thinking about hair. Our salon just recently had a two-day private class with Damien Carney, International Artistic Director for Joico and it was absolutely an amazing opportunity.
I absolutely would recommend the Blanche Macdonald Centre to people that are serious about working in this industry. After making the change from university and the business sector, working at a brokerage firm, to the creative industry of styling, there is no doubt in my mind I have made the right choice."
Read more about Professional Hairstyling Graduate Katherine Macodonald
Kristina Bellagente
Professional Hairstyling Graduate
Extensions Specialist at Pacific Hair Extensions - Vancouver, BC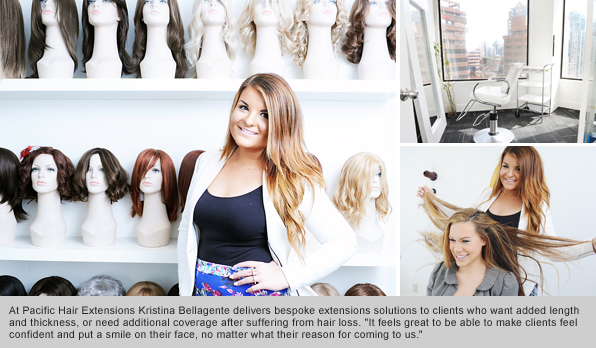 Kristina Bellagente always loved hair but wasn't sure that she wanted to work in a salon. So she found a job in the industry that suits her perfectly, becoming an Extensions Specialist at Pacific Hair Extensions. Now she delivers bespoke extensions solutions to clients who want added length and thickness, and clients who need additional coverage after suffering from unwanted hair loss.
"Working here makes you aware of the reality a lot of people face," she explains. "We specialise in extensions and hairpieces, so we have many clients who suffer from different types of hair loss. We have clients who have naturally thin or fine hair and want that extra body, and clients who suffer from many different types of hair loss due to alopecia or who are going through chemotherapy. It feels really great to be able to make them all feel confident and put a smile on their face, no matter what their reason for coming to us is."
It was only natural that Kristina would end up in the Extensions business. Growing up in Victoria, she was the teenager whose hair always had to look perfect. Soon after graduating high school she secured a job for herself doing clip in extensions (and, for a brief time, tape in extensions) with Luxury Hair.
"I started out doing extensions, selling styling tools and hair product with Luxury," continues Kristina, "and I ended up travelling with them doing promotional tours and trade shows. I worked for Luxury for two years and really enjoyed my time with them, but I always knew I wanted to learn colour and cutting. I wanted to be able to do everything, so I realized it was time to go to hair school and get professional training.
"When I started looking into hair schools the only place that offered extensions in its curriculum at that time was Blanche Macdonald. I thought, why not move from Victoria to Vancouver for a year? Vancouver is amazing!"
Read more about Professional Hairstyling Graduate Kristina Bellagente
Krystal Charlotte Schluessel
Professional Hairstyling Graduate
Newest member of the Essensuals London team, Vancouver BC

It's hard to miss the Essensuals London Hair Salon in Downtown Vancouver. If its clean lines and stylish interior don't grab your attention, then the posters on the windows certainly will. Those posters boldly proclaim Essensuals London to be the number one salon in Vancouver, as voted for by the readers of the city's Westender newspaper. It's a prestigious honour. And enjoying that prestige is the newest member of the Essensuals London team, Blanche Macdonald Pro Hair graduate, Krystal Charlotte Schluessel.
Life at the Vancouver branch of the next generation of UK-style salons from the Mascolo Group, founded by the famous Toni Mascolo, suits Krystal fine. A self-confessed nerd ("I loved the book work at Blanche Macdonald"), the Edmonton native always strived to maximise her considerable talents.
Read more about Professional Hairstyling Graduate Krystal Charlotte Schluessel
LAWRENCE HON
Professional Hairstyling Graduate
Professional Hair Stylist at Infinity Salon and Spa - Vancouver, BC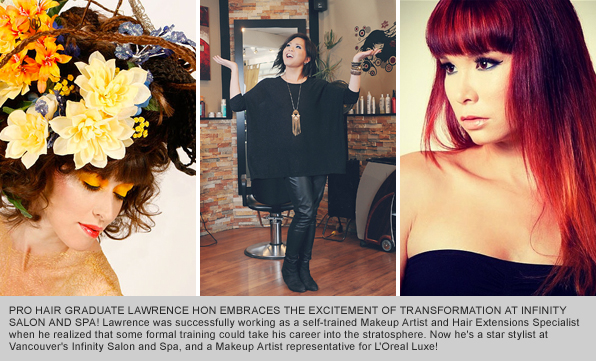 Lawrence Hon took a unique path to Blanche Macdonald. He was successfully working in the beauty industry as a self-trained Makeup Artist and Hair Extensions Specialist when he realised that some formal training at Canada's #1 Hair School could take his career into the stratosphere. Now he's a star stylist at Vancouver's Infinity Salon and Spa, and a Makeup Artist representative for L'Oreal Luxe.
"I would read the graduate profiles and was always amazed by the stories," he smiles, recalling his decision to add a Blanche Macdonald Diploma to an already-impressive résumé. "I was working as a full-time Makeup Artist and was considering moving to Toronto with Sephora. I had the honour of having my work photographed by Steven Kahn at the Toronto Film Festival and things were going amazingly. But I knew I loved education and that I'd missed out in certain areas. I needed to polish my techniques. Then Pearl Jung from Blanche Macdonald gave me a call. It was fate. I packed my bags and came back to Vancouver."
Lawrence was destined to become a beauty superstar from an early age. Growing up in an extended family full of women, he could witness the transformative power of hair and makeup at first hand.
"At my sister's graduation she had her hair and makeup done and all of a sudden she became so excited and so happy. Seeing that made me happy. I could see how it changed her appearance and confidence. I said to myself, I want to do that. I want to make every woman in the world feel that way."
When his sister went for hair extensions Lawrence saw the opportunity to jump headfirst into the beauty business.
Read more about Professional Hairstyling Graduate Lawrence Hon
LIZ PEDERSON
Professional Hairstyling and Makeup Artistry Graduate
Pro Hair Grad & Stylist, Is Salon, Vancouver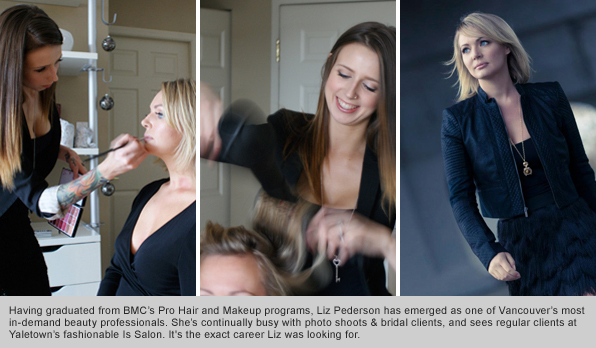 Can't decide between makeup or hair? Why not do both? For freelance Makeup Artist and Hair Stylist Liz Pederson double the expertise means double the opportunities.
"I'm doing both makeup and hair on jobs most of the time," explains the Blanche Macdonald Pro Hair and Makeup graduate. "You're more flexible as an artist and more valuable on a shoot. They work together so well. Whether I'm doing a wedding, a private client or an editorial the two go together seamlessly. And doing both helps me create a more cohesive end product."
Liz has carved a niche for herself as one of Vancouver's busiest beauty professionals since graduating from Canada's #1 Hair and Makeup School. She's continually working on photo shoots and bridal clients, while still finding the time to spend two days a week with her faithful hair clients at Yaletown's fashionable Is Salon. It's the ideal combination of creativity and commercial success. Which is the exact career Liz was always looking for.
"Creativity was always something that flowed through me," continues Liz. "When I was little I'd love doing anything creative, whether it was crafting, or sitting in front of the mirror for an hour doing my hair or playing with makeup."
Read more about Professional Hairstyling Graduate Liz Pederson
Maggie Andrews
Professional Hairstyling Graduate
Professional Hair Stylist at Verve, North Vancouver Canada
Walk through the doors of Verve Hair Lounge in North Vancouver and within seconds, you'll realise you're in a special salon. It might be the wearable designs and prints from local artists lining the walls. It might be the shelves full of high end products from Redken and Shu Uemura (Verve is the only salon in the entire North Shore to carry the Shu Uemura line). But it'll most likely be the warm welcome you receive from Blanche Macdonald Pro Hair graduate Maggie Andrews. She fell in love with Verve the first time she saw it too.

"I saw Verve when I was in Hair School," she explains. "I wanted to do my work experience here but I was way too chicken. I really wanted to work here, so what if they hated me? I creeped them, looking at their web site and twitter account. I'd get upset when they'd announce that they had a new teammate. I was like, that could be my job!

"After I graduated I was trying to figure out how to apply here and saw Verve was hiring on Craigslist. The ad said they wanted minimum three years experience, but I sent my résumé and a cover letter anyway. I said that I realise I'm young and straight out of hair school, but I love doing hair and I'm willing to work hard and learn. Amber George, the owner, called me the very next day and asked me to come in for an interview. The assistant job had come open. 'Just so you know,' she said, 'all my assistants in the past haven't made it. We'll try you out but we probably won't keep you'."

Read more about Pro Hair Graduate Maggie Andrews
Natasha Eland
Professional Hairstyling Graduate
Senior Stylist at Zazou - North Vancouver, BC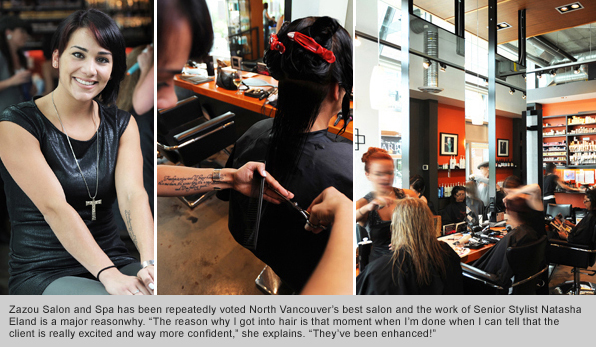 For Natasha Eland, Senior Stylist at North Vancouver's Zazou Salon and Spa, there's no debate about what she enjoys most about her job.
"The reason why I got into hair is that moment when I'm done when I can tell that the client is really excited and way more confident," she smiles. "They'll say something like, 'Well, I have to go out now. It looks amazing!' and I'll go, 'Yeah, you do and you should'. I love seeing them happy and having that extra confidence. People can sit down in my chair and an hour later they look totally different. They've been enhanced!"
Enhancing is what Natasha does best. Zazou has been repeatedly voted North Vancouver's best hair salon, and Natasha's commitment to the cutting edge of styling is a major reason why.
"I try to get my clients to switch it up all the time," she continues. "I've persuaded a lot of people to switch from the same cut they've had for years. I always ask if they want to try something new and then I'll suggest some ideas. I'm usually pretty good at changing their minds. We do have young people that get cool haircuts with shaved sides, but for most of our clients it's colour placement that we have fun with. Getting edgy but not too far out there. It's actually pretty fun to take a really cool idea and modify it a bit, toning it down to make it a more everyday look, or vice versa."
Read more about Professional Hairstyling Graduate Natasha Eland
NESSA PINEDA
Professional Hairstyling Graduate
Professional Hair Stylist at Barbarella hair saloon - Vancouver, BC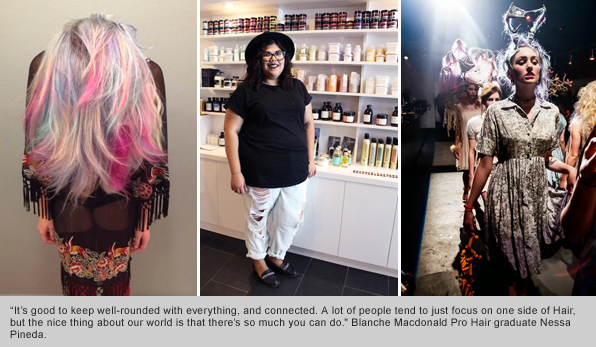 As we nestle into the clients' lounge of Barbarella Hair Saloon with Blanche Macdonald Pro Hair graduate Nessa Pineda, the six-chair corridor-style layout is sunlit and buzzing. We start in, and the other stylists chirp in intermittently as they frisk by, plucking product off the shelves, whisking bowls of yummy pastel pastes, laughing through the hum of dryers. Some come to lounge with us in between clients, their hair twisted up into bows, or tinged in toothsome hues. The atmosphere is vibrant and blithe for so early in the morning. And yet...
"Well, I believe that the salon is haunted," Nessa declares, eyes glinting from behind her signature thick black frames. "So there are definitely some crazy things that have happened. A few weeks ago the manager, Erin and I were opening the salon and we hear this noise. In our back room we have two sinks, and the one for the colour bowls was completely turned on…
"And my hairdryer turned on by itself yesterday!" proclaims Haley, another stylist, with an ominous look as she struts back to her station tailing her customer from the sink.
We can only speculate as to the spooky origins of the salon's omnipresent client, but one thing that can be stated for certain is that Nessa loves being a Stylist at Barbarella. Ghost or no ghost.
"We see so many different clients here! Our services are very colour heavy, and we're always trying something new, so it doesn't get boring.
"It's a great team and the owners really emphasize on teamwork. It's nice to come into an environment where there isn't that competition, and where you feel comfortable sending your clients over to another stylist when you're away because you know that they're going to do an awesome job."
Nessa has been stationed at Barbarella for four years now, and she's somewhat of a veteran of the Main Street hair hub, which sees multi-hued youth and unique-seekers of Vancouver flocking for seats. Those that plunk down at Nessa's station are never disappointed – she loves what she does, and she does it with brilliance.
Read more about Professional Hair Styling graduate Nessa Pineda

PAMELA JACEK-SHAPIRO
Professional Hairstyling Graduate
Pro Hair Grad & Freelance Stylist, Vancouver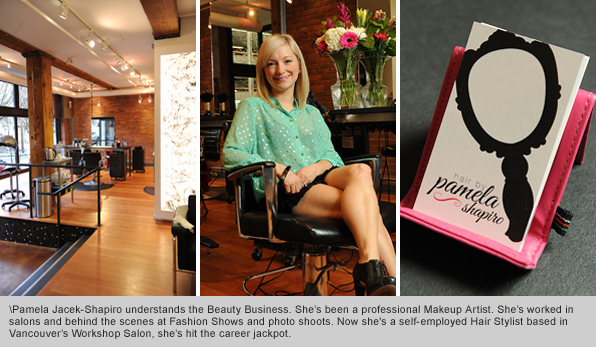 Pamela Jacek-Shapiro understands the Beauty Business. She's been a professional Makeup Artist. She's worked in hair salons and behind the scenes at Fashion Shows and photo shoots. So now the graduate from Canada's #1 Hair and Makeup School is operating as a self-employed Hair Stylist based out of Downtown Vancouver's Workshop Salon, she appreciates that she's hit the career jackpot.
"Renting a chair as a hair stylist is like living the dream," she smiles. "I have my own business. I have flexibility. My hours can be long, but that's because I want to really cater to my clients. I can work late or on my days off. I'm available for my clients when they need me. It's very satisfying to be out on my own making it work.
"The owner at Workshop, Franco Federico, is a friend of mine. He's very education-focused. So am I. I came here when the salon opened in June, and it's been awesome."
Read more about Professional Hairstyling Graduate Pamela Jacek-Shapiro
RAJ BHARTI
Professional Hairstyling Graduate
Owner and Creative Director, EzzCuts, Surrey BC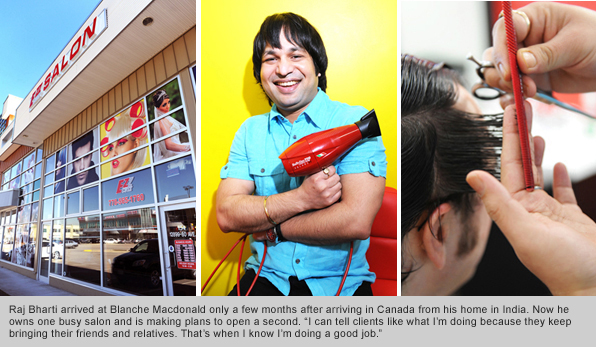 There's a reason Raj Bharti decided to call his Surrey salon EzzCuts.
That's pronounced 'easy cuts' and, as the name suggests, it's a space where men and women can treat themselves in a fun and informal environment; a salon where Downtown Vancouver styles don't come with Downtown Vancouver prices.
There's a gentle irony to the name too. Because getting to a point where Raj could become a successful stylist was far from easy. Although once Raj had decided that Hair was going to be his future career, he was determined to overcome any challenges that came his way.
"I'm from Delhi and my first jobs were in hotel management in Mumbai and Bombay," explains Raj, who graduated from Canada's #1 Hair School and is now the Owner and Creative Director at EzzCuts. "Lots of Bollywood stars live there. I would see film stars, TV stars, singers and models, and they all were having pictures taken the whole time. I liked that, and realised that I wanted to work in something creative. I wanted to work with my hands.
Read more about Professional Hairstyling Graduate Raj Bharti
Richard Vo
Professional Hairstyling Graduate
Professional Hair Stylist at Opus Salon - Vancouver, BC
"Au milieu de l'hiver, j'ai découvert en moi un invincible été."
Those words, tattooed across the chest of Blanche Macdonald Pro Hair graduate Richard Vo, were written by the French author and philosopher Albert Camus. They're words of courage, optimism and inspiration. And the ideas behind those words have led him to his current position as a stylist in the fabulous Yaletown salon, Opus.
"My parents wanted me to be a doctor, lawyer or accountant," recalls Richard. "In school math was my niche. I did calculus and all that fun stuff. My original career goal was to become an accountant. So I went to college to do my BBA in accounting. But I knew it wasn't for me. Accounting is really tedious. I remember picturing myself sitting at a desk every day crunching numbers for decades. So I decided not to continue with it."
Realising you're travelling down the wrong path is one thing. Having the courage to change direction is another thing entirely. Richard was working at an East Vancouver Starbucks when the realisation dawned that his natural warmth and a growing passion for hair could be the keys to a new career.
"I loved getting to know my everyday customers at Starbucks and hearing their stories. That connection is something I consider very valuable. And I'd always loved doing my own hair and getting my hair done. Walking down the street I'd always think, 'this person could look great if they wore their hair differently'. A lot of my girl friends would ask me what I thought they would look like with highlights. I could visualise it straight away. I was thinking about going into hair, but I was pretty nervous about it. I still didn't think I was going to become a hair stylist."
Read more about Professional Hairstyling Graduate Richard Vo
Sabrina Beltrano
Professional Hairstyling Graduate
Professional Hair Stylist at Workshop Salon - Vancouver, BC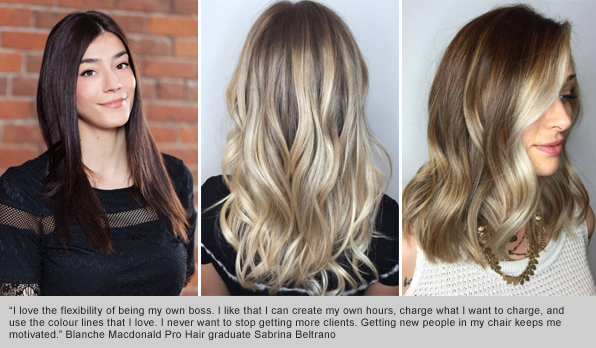 "I love the flexibility of being my own boss," insists Sabrina Beltrano, relaxing between clients at her professional home at Workshop, one of Downtown Vancouver's most beloved and fashion forward salons. "I like that I can create my own hours, charge what I want to charge, and use the colour lines that I love. I never want to stop getting more clients. Getting new people in my chair keeps me motivated."
Staying motivated is never a challenge for Sabrina. The Blanche Macdonald Pro Hair grad runs her own business as one of the independent hair professionals gathered under a single stylish roof at Workshop. A community of creative and entrepreneurial spirits, it's the perfect spot for stylists who enjoy working and playing by their own rules.
"I didn't want to be a regular stylist who'd do cuts and colours and then go home," continues Sabrina. "Renting a chair means it's my business and my responsibility. That means you have to make sure you're keeping up on Instagram, Facebook and Craigslist."
Was a career in hair Sabrina's destiny? Growing up in Kamloops, BC with a stylist mother meant it was always a distinct possibility, even when other passions took priority.
"I've had pretty much the same hairstyle since I was five. Long and dark! I knew I wanted to follow in my Mom's footsteps, but I was also a soccer-playing tomboy. I cared about my hair but I cared even more about sports."
It didn't take long after graduating high school to commit to a career in hair. And once that decision had been made the search for the perfect Hair School was swift and effective.
"I wanted to go to the best of the best. I googled 'Best Hair School' and Blanche Macdonald came up! I knew that when I would go for interviews employers would see the Blanche name and know that my training was really good."
Read more about Professional Hairstyling Graduate Sabrina Beltrano
SALEEMAH HASSAM
Professional Hairstyling Graduate
Pro Hair Grad & Stylist, Opus Salon, Vancouver, BC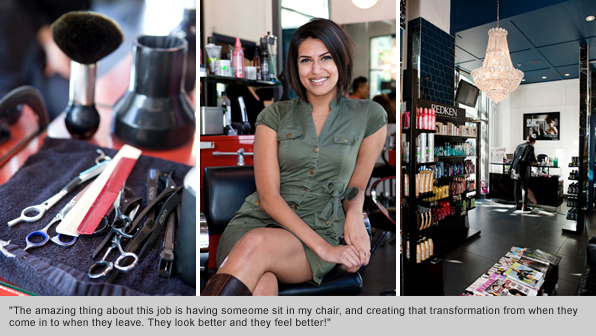 Saleemah Hassam is, first and foremost, an artist. It's Vancouver's good fortune that the medium she's chosen to work with is hair.
"I was looking for a career in art that I knew I could be really successful in," she explains. "That's why I chose hair.
"I guess I was always curious about it. When I was little I once put rollers in my sister's hair while she was asleep and she woke up with a tangled mess. I suffered through a few do-it-yourself bang trims. The worst was when I bought some bleach from a drugstore and put it in my hair. I kid you not, my hair looked like it was on fire."
The days of Saleemah's failed hair experiments are long over. The Blanche Macdonald Pro Hair graduate is now a stylist at Opus, one of Vancouver's most fashion-forward salons in the city's always-cool Yaletown district. Owned and run by Parisian couple Jessica and Ludo Jan, they've imported their European training and attitude to the Canadian West Coast. That suits Saleemah just fine.
"One thing I love about Opus is that Ludo and Jessica take care of their staff. We still all go to classes. It's so important to know new looks, trends and what's in style. Ludo makes sure we're up to date with cutting and colouring techniques. Another thing that makes this salon really great is the people working here. There's no drama, which is so pleasant. I'm always busting out dancing in the back room with [fellow Blanche Macdonald grad] Richard. It's no big deal."
Read more about Professional Hairstyling Graduate Saleemah Hassam
SANDRA PEROVIC
Professional Hairstyling Graduate
Professional Hair Stylist at Ignite Salon and Double Canadian Hairdresser Award Winner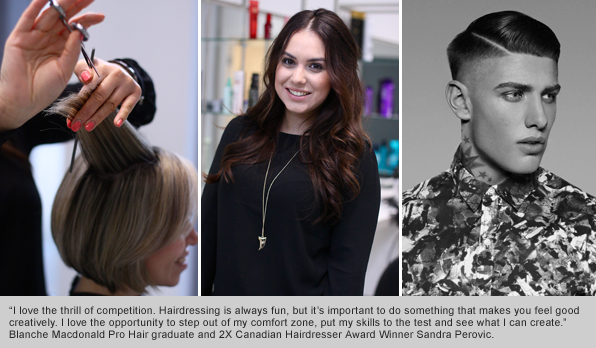 Ask Blanche Macdonald Pro Hair graduate Sandra Perovic what keeps her travelling from her Vancouver hometown for international hair competitions in Toronto and beyond, and her answer might just surprise you.
"I don't enter because I want to win," she explains. "I do it for me. I love the thrill of competition. Hairdressing is always fun, but it's also important to do something that makes you feel good creatively. I like what I do every day but I love stepping out of the box for competitions. Clients don't often want you to do something crazy to their hair. So I love the opportunity to step out of my comfort zone, put my skills to the test and see what I can create."
Sandra may modestly insist that she's not in it to win it, but her results say otherwise. She won an incredible two trophies for Best Men's Cut and Style and Best Day to Night Look at this year's Mirror Awards, Canadian Hairdresser Magazine's annual competition, and was recognized as one of North America's Top Five Newcomers at the Contessa Awards.
Competing in Toronto against some of Canada's most respected stylists at the Mirror Awards made her double victory particularly sweet and surprising.
"There were hundreds of people at the actual Award Ceremony. It's a really big event. They announced the Day to Night category first. I thought I had a chance but it was still shocking when they announced my name. And I was genuinely speechless when they announced my name as the winner of the Men's Cut competition. There were so many amazing stylists in that category. I was the youngest stylist in the final with the least amount of experience, so that was a big honour. A lot of people I didn't even know congratulated me, which was really awesome."
Read more about Professional Hairstyling Graduate Sandra Perovic
Sarah Jane Taylor
Professional Hairstyling Graduate
Professional Hairstylist at Barbarella Hair Salon - Vancouver, BC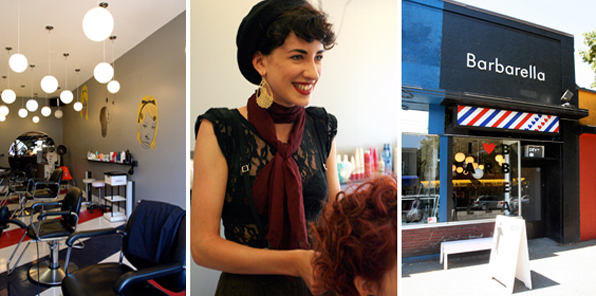 Main Street is the beating heart of Vancouver. More hometown than downtown, it's where you'll find the best coffee shops and the hottest boutiques. It's also home to Barbarella Hair Salon, one of the very coolest places in the city for a cut.
With its unique combination of stylish décor and relaxed informality, Barbarella perfectly reflects the attitude of its Main Street location. As does its newest stylist, Blanche Macdonald Pro Hair Graduate, Sarah Jane Taylor.
"Everyone here likes to have fun," she explains. "We try to keep our styling as up to date as possible, while incorporating elements from the past.
"I did my work placement at Barbarella when I was at Hair School at Blanche Macdonald. It was where I wanted to be. I lived on Main Street for a while and often walked by the salon, although I'd never been in there. I wanted to try something new.
Read more about Professional Hairstyling Graduate Sarah Jane Taylor
Sarah Krook
Professional Hairstyling Graduate
Owner/Stylist at Inspire Hair Design - Victoria, BC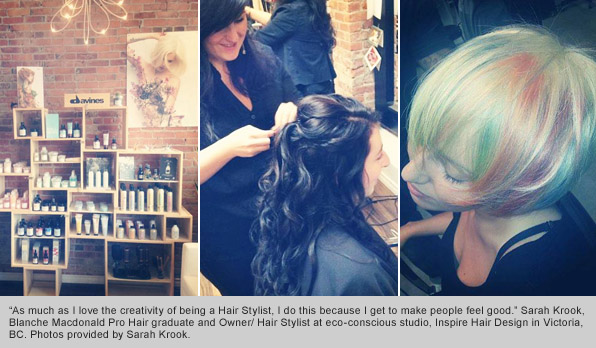 For budding hair stylists and entrepreneurs searching for inspiration, look no further than Blanche Macdonald Pro Hair and Makeup graduate Sarah Krook. Her personal and professional journey has taken her across much of Western Canada, eventually landing in Victoria, BC. Which is where, when presented with a chance to open her own salon, she seized the opportunity. Now Sarah heads a team of six stylists at one of Victoria's greenest and fastest-growing salons: its name, appropriately enough, Inspire Hair Design.
"Our idea was to have a salon that was as eco-friendly as possible," enthuses Sarah. "Our whole mentality is beauty with an eco-conscious mind. We just celebrated our two-year anniversary and it's been amazing! We started with just two stylists and took on more people from there. We put a lot of thought into who we wanted to bring into the team. Every one of our stylists are wonderfully talented and genuine, awesome people. I feel like every hairstyle that walks out the door has my stamp of approval."
Managing a thriving business in a big city like Victoria comes naturally to Sarah. Still, she's not forgotten her small town roots.
"I grew up on Quadra Island, three hours North of Victoria. I don't think there was a hair stylist on the Island when I was growing up. At 12 I moved to Port Hardy. I started picking up my first beauty influences from my friends there. I remember inviting a couple of the girls on our volleyball team over and colouring their hair with red box dye in my bathroom. The results were, let's say, questionable. And my bathroom looked like a murder scene!"
Sarah was living in North Vancouver when her friend Faye Alexander became the first member of her social circle to take the Makeup Program at Blanche Macdonald. Sarah volunteered to be Faye's model for the Hair Module of the Makeup Program. What she experienced opened her eyes to an entire world of possibilities.
Read more about Professional Hairstyling Graduate Sarah Krook
Sasha Urbanowski and Zachary Jackson
Professional Hairstyling Graduates
Professional Hair Stylists at Propaganda Hair - Vancouver, BC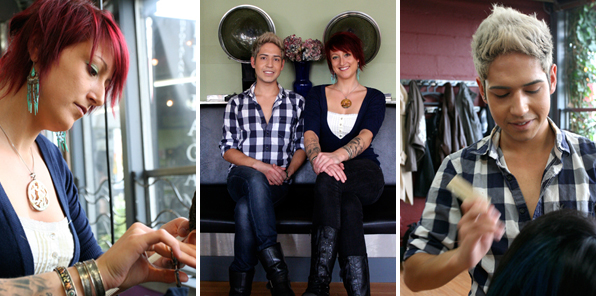 Sasha Urbanowski and Zachary Jackson are friends first, colleagues second.
It's not surprising. They have a lot in common. Their creative drives brought them from the far corners of British Columbia (she's from Victoria, he's from Haida Gwaii) to Hair School at Blanche Macdonald in Vancouver. They graduated within two months of each other and from there, their skills, talents and charm brought them to one of the city's most exciting salons, Propaganda Hair in fashionable Kitsilano.
"I was always an artsy person growing up," recalls Zachary. "I thought I'd be an artist. I worked in a salon as a receptionist when I was in high school and loved it. So I moved to Vancouver to go to Blanche Macdonald and to pursue this career."
Sasha's background is eerily similar to her friend's. Sister and brother from different mothers?
"I always did artwork and I wanted to explore that with hair," she explains, "getting creative with colour and cuts. I apprenticed at a salon in Sidney but left because the atmosphere wasn't what I thought it should be. I was looking at hair schools and found the Blanche Macdonald web site. It's pretty incredible. I was really overwhelmed by it.
Read more about Professional Hairstyling Graduates Sasha Urbanowski and Zachary Jackson
Shelly Overend
Professional Hairstyling Graduate
Professional Hair Stylist at Vancouver's prestigious "L'Atelier" Hair Salon - Vancouver, Canada

Shelly-Marie Overend, BMC Pro Hair graduate - What she says about her experience at Blanche Macdonald
"The Pro Hair Design program teaches more than just the basics. Blanche Macdonald's high standards in education and their students, sets the footprints to put you and your career in the right direction. I chose Blanche Macdonald because the success students have obtained upon completion in the Fashion/Film industry; no other hair school in Vancouver offers this. Upon completion I had three jobs offers before I had even started looking for employment. I am presently working at L'Atelier hair salon in Yaletown (in Vancouver) and am also a freelance stylist."
Read more about Professional Hairstyling Graduate Shelly Overend
Sophie McMullin
Professional Hairstyling Graduate
Professional Hair Stylist at East Vanity Parlour - Vancouver BC

They didn't just break the mould when they made stylist and Blanche Macdonald Pro Hair graduate Sophie McMullin. They smashed the mould with a hammer, put the fragments in a blender, buried what was left and built condos over the top for good measure. Her extravagant plume of hair (black, white and purple at the time of writing) grabs your attention. The incredible tattoo of Boris Karloff as Frankenstein's monster on her right shoulder puts it in a vice grip. Soon he'll have a tattoo of Elsa Lanchester, the original Bride of Frankenstein, on Sophie's left shoulder for company.
Sophie's unique attitude and remarkable talent has turned her into one of BC's most in-demand hair stylists, a star at Vancouver's shrine to vintage glamour glory, East Vanity Parlour.
Read more about Professional Hairstyling Graduate Sophie McMullin
Sue Nguyen
Professional Hairstyling Graduate
Professional Hair Stylist at iDaburn - Vancouver, BC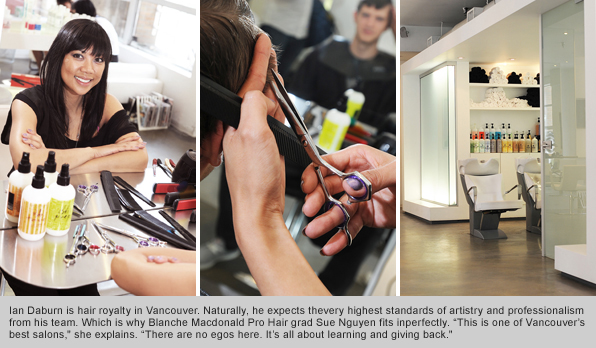 iDaburn Salon in Vancouver's fashionable Yaletown district is the brainchild of Ian Daburn. Born, raised and trained in London, England, where he was part of the Creative and Education Team at Toni&Guy, Ian has gone from strength to strength since moving to Vancouver. He's hair royalty in this City, and people know about it. It's no coincidence that readers of The Georgia Straight have named iDaburn Vancouver's Best Independent Hair Salon for the past two years.
Naturally, Ian demands and expects the very highest standards of artistry and professionalism from his team. Which is why Blanche Macdonald Pro Hair grad Sue Nguyen fits in perfectly.
"Ian selects people that he thinks will gel with his and everyone else's personalities," explains Sue. "There are no egos here. It's all about learning and giving back. We're all here to help and be there for each other. It's very team orientated. Everyone welcomes input from everyone else. It's not about being competitive. If one of our clients walk in and their usual stylist is busy, we'll recommend someone who is free. It's all about coming together and making sure the client leaves happy.
"This is one of Vancouver's best salons and I'm working with people who are really good at what they do. With Ian his ideas and the ways he accomplishes them are incredible. He's creative with everything; whether it's hair, photo shoots or his own web site. I'm learning from talented people with a passion for hair. And I'm feeding off that!"
Read more about Professional Hairstyling Graduate Sue Nguyen
Stefanie Middleton
Professional Hairstyling Graduate
Professional Hair Stylist at Xziste Studio - Burnaby, BC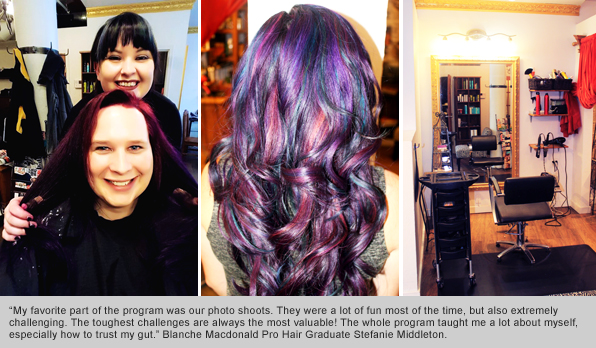 If you can't tell by her huge, lit up smile, Stefanie Middleton LOVES to do hair. Whether she's turning those dry strands into a luscious moisturized mane or helping you take your fringe to the next level with a funky chop, she's your girl. But a fresh look isn't the only thing that Blanche Macdonald Pro Hair grad Stefanie promises. The self-proclaimed "happy hair stylist" looks to keep your strands looking extra silky, but first and foremost to build each client's confidence higher with each visit to her welcoming chair. Tell us you don't want in on that deal! Coupled with her tenacity, Stefanie's desire to create exactly what her clients imagine has naturally placed her on the floor of Xziste Studio, whose mantra is exactly that – respect the utmost importance of the customer's needs. Daring enough to rock the latest trends on her own hair, Stefanie is at the ready to get your best hair on – and your best self!
Read more about Professional Hairstyling Graduate Stefanie Middleton
TRAVIS BATTAGLIA
Professional Hairstyling Graduate
Professional Hair Stylist at Supernova Salon - Vancouver, BC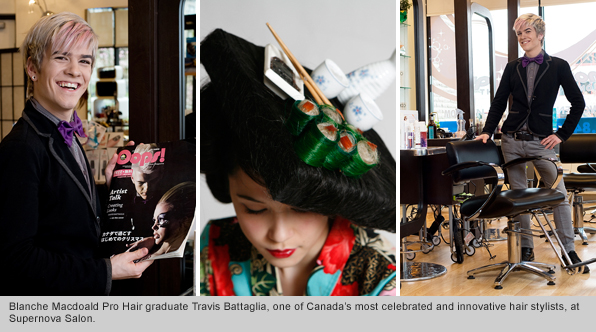 Wetaskiwin, Alberta, a small city of about 10,000 people, is currently best known for being home to Canada's Aviation Hall of Fame and a handful of NHL hockey players. But it probably won't be long until Wetaskiwin is far more famous for being the starting point in the career of one of Canada's most celebrated and innovative hair stylists. Blanche Macdonald Pro Hair grad Travis Battaglia has barely entered his twenties, and he already has over 300 fashion shows and shoots under his belt.
"Coming from a town, I never thought I'd ever be doing this in my life. But it's happened and it's definitely everything I thought it would be. Living the dream? Yeah!
"My year at Blanche Macdonald was fabulous. They showed me things I already knew, but they gave me new ways of doing them and how to perfect them. They had things that not many places offer – like photo shoots! And they have such an amazing team there. I've been graduated for nearly two years now, and I still go back a couple of times a month to see my old instructors. I've built great relationships with all of them. They're always willing to help out with anything I need. They've set me up with shows, and that really helped me start out in Vancouver. When you're a student at Blanche Macdonald you have the benefit of their name too. That name gets you out there and gets you shows. Although you still need to volunteer every moment that you have."
Read more about Professional Hairstyling Graduate Travis Battaglia
Tyla Malcolm
Professional Hairstyling Graduate
Owner/ Head Stylist at Parlour Beauty Salon - Prince Rupert, BC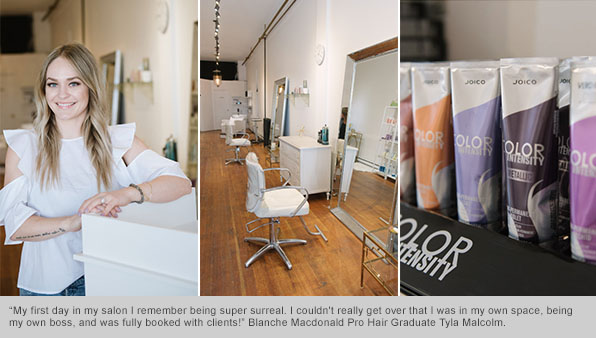 After graduating from Blanche Macdonald's Pro Hair Program, Tyla's stunning strand skills landed her behind a chair at Volume Studio, one of Vancouver's busiest and hottest salons. From there she laid out glowing balayages, killer cuts and everything in between for Vancouver's hair trendsetters. Setting her sights on fulfilling her long-time dream of owning her own salon, Tyla relocated to Prince Rupert and opened Parlour Hair Boutique. Tyla's dazzling reputation preceded her, and the salon has been fully booked since Day One. Although Parlour Hair Boutique has only been open a handful of months, it's already a celebrated addition to the entrepreneurial scene of Prince Rupert, with a loyal following of clients waiting to receive Tyla's magic touch. Graceful, poised and always professional, we're celebrating Tyla and her new Owner / Head Stylist status!
Blanche Macdonald Centre: Finish this sentence! "When I wake up in the morning, the first thing I do is _________."
Tyla Malcolm: The first thing in the morning I do, after having a quick snuggle with my dog of course, is without a doubt head for coffee! My day doesn't start until I've had my first cup. In fact, most people know not to talk to me in the morning until I've had a few sips haha!
BMC: What do you remember most about your first day in your own salon?
TM: My first day in my salon I remember being super surreal. I couldn't really get over that I was in my own space, being my own boss, and was fully booked with clients!
Read more about Professional Hairstyling Graduate Tyla Malcolm
Valerie Webb

Professional Hairstyling Graduate
Professional Hair Stylist at Copa Hair Studio & Day Spa - Victoria, BC
Valerie Webb knows about high performance. It's been a way of life for her since she started swimming competitively at the age of five in her hometown of Saanichton, BC. She became one of Canada's finest young rowers, and won a full athletic scholarship to the University of Miami in Florida. She earned an Exercise Physiology degree there, along with minors in Business and Sports Administration, and went on to work with some of North America's finest athletes, providing speed and nutritional training for NHL and NFL superstars.
It was this commitment to the very highest levels of performance that brought Valerie to Blanche Macdonald, and led to Victoria's Copa Hair Studio & Day Spa, one of the finest salons on Vancouver Island.
"I knew I wanted to be in Vancouver when I was looking for hair schools," recalls Valerie. "I met with other schools to see what was available and I enjoyed Blanche Macdonald's curriculum the most. It was the most comprehensive, and I really enjoyed the business planning aspect of the program."
Read more about Professional Hairstyling Graduate Valerie Webb
Zachary Skyler Jackson
Professional Hairstyling Graduate
Professional Hair Stylist at Yaletown's In.Salon - Vancouver, BC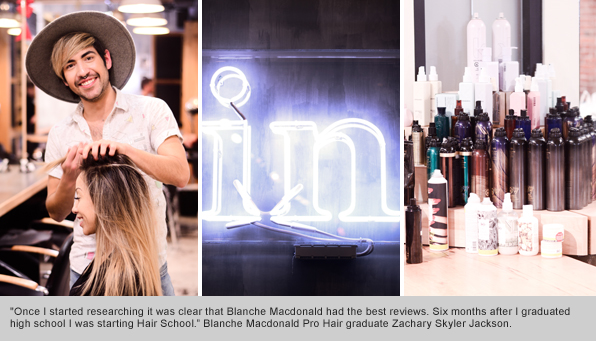 It's not where you're from. It's where you're at.
Few people illustrate this maxim better than Blanche Macdonald Pro Hair graduate Zachary Skyler Jackson, whose journey has taken him from a village on the Northern British Columbia islands of Haida Gwaii to one of Downtown Vancouver's busiest and most fashionable salons.

"It was awesome growing up on Haida Gwaii," explains Zachary, relaxing in the bustling surroundings of in.Salon, his creative and professional home for the past two years. "I just knew I wasn't an island boy. My hometown, Masset, has two streets and about 900 people. I loved cities and fashion was always an outlet for me, which mainly meant MTV and the magazines I could pick up when I went to see my Dad in Prince Rupert or visited Vancouver."
Zachary isn't looking at the fashion world from the outside any more. As a key member of the team at in.Salon, photo shoots and fashion shows come with the territory. Located in the heart of fashionable Yaletown, in.Salon does more than pay lip service to its tagline of 'Vancouver's trendiest salon.'
"in.Salon and our sister salon is.Salon both contribute to Brilliant, Vancouver's annual hair and fashion fundraiser. We play big parts in the Wella and L'Oreal shows too. So at least a couple of times every year I find myself backstage at a fashion show. It's pretty different from working in the salon when you have to get a dozen people on stage in half an hour. It's hectic but exciting. The energy backstage at a fashion show is incomparable. It's always cramped but everyone is having a great time."

As much as Zachary enjoys his forays backstage, he insists that even his adventures in high fashion don't compare with the connections and creativity he encounters every day at in.Salon.

"I really love my co-workers and the space I work in is amazing. But my favourite thing is seeing someone walk out the door knowing I've made their day a little bit better, having talked to them and made them look a little better."
Read more about Professional Hairstyling graduate Zachary Skyler Jackson
Bonnie Sexsmith-Buker
Image 1, Powell River BC
"I chose BMC because it is a well known name in the industry and the program outline dealt with the entire Cosmetology industry such as Hair knowledge for Salon, Fashion, TV and Film, Make up and Art and Technology. BMC gave me opportunities to volunteer at fashion shows as well as work on some photo shoots while I was still in school.

I enjoyed my time there and I'm now a full time stylist and extension technician at a trendy salon."
Charlotte Gee
Rush Salon - London England
"Since graduating from the Hair program, I have moved to London England and now work at one of the fastest growing salons in the London & Surrey area. Rush, the company I work for, has 32 salons and is 'the salon' to work for. I attended Blanche Macdonald B.C because I had always been told it was the best school to go to. I now work at the best salon in London. I truly believe I would not have had to confidence to even apply to work in the best salons if I had not had the best training!"
ROLL CALL
A selection of Blanche Macdonald Hair graduates and their career placements.
Adam Lee Suki's
Adriana Vero Emma & Co
Alex Duford Mario Pro Hair Design
AlexaRae Hamilton Atomic
Alex Kraubner Elianes
Alicia Emperingham Fuzion Tek
Alissa Shalagan Avant Garde
Alissia West Abantu
Alyssa Meek Joie de Vivre
Alyssa Swenson Locks & Lashes Hair & Aesthetics Salon
Amanda McIlmoyl Salon M2
Ana Luisa Valdes Toni & Guy
Andrea Turley Mint Hair Lounge
Anella Cusano Spa Utopia
Angela Livotte Synergy
Angelica Frangolias Firefly
Angeline Greening MegaHair
Angeline Prasad Toni & Guy
Annalisa Sidonio Aveda
Annette Rae Image One
Asal Shahin Sets Salon and Spa
Ashley Budden Whip
Ashley Hathaway Great Clips
Ashley Rowan Karma Hair Lounge
Atefeh Baradaran Bambu
Beth Butchko Holts Salon and Spa
Bonnie Sexsmith-Buker Image 1
Bob Gaba Sonu
Brandi Nevin Hair F/X
Brian Linn Toni & Guy
Britney Hocker Core Salon and Spa
Brittany Kilburn Urban Hair
Brittany Tims Ask
Caitlin Sylvestri Style Lab
Candice McLean Absolute
Candice Tisseur Eterna Salon and Day Spa
Carmen Elebracht Creations Guy
Cayla O'Brien Angles
Carolyn Velasco Toni & Guy
Cindy Duerst Zone 4 Hair Salon
Chantelle Hodgson Knock-Outs
Charlotte Gee Rush Salon
Chelsea Bond, Pizazz Salon, Stylist, BC
Chelsea Kapiniak Cutting Café
Chelsey Cardinal Temptations
Cheryl Philpott Strands
Christina Mutch Maude
Christy Mullin Canvas Salon
Coco Manzano Holt Renfrew Salon
Cora Miller Rock it Out Salon, Stylist, Edmonton AB
Courtney Grunberg Citrus Hair Salon
Crystal Morgan MoHair
Cynthia Griffiths, Mou Jam, Stylist, Surrey BC
Cynthia Prost Holts
Cynthia Werbik Alchemy Hair Design and Spa
Dani Mitchell Stratosphere
Danielle Dalshaug Munro's
Danielle Isaac Chop Shop
Danielle Oushal Canvas Salon
Donald MacPherson Aveda
Destiny Friesen, Accent on Hair, Port Coquitlam BC
Elizabeth Ferrier, Simplistic Hair Studio, Owner/Stylist, Yellowknife NT
Elizabeth Moul The Ridge
Emilie E Klaussen Toni & Guy
Emily Hope On the Fringe Hair Design
Emily Vu On the Fringe Hair Design
Emma Klasson Marcedus Hair Studio
Emma Lane, Michaud's Salon & Spa, Stylist, Surrey BC
Enola Medina Mega Hair
Eva Chao Le Spot
Freddy Sim Moods
Gabriela Rojas Sets Salon and Spa
Heather Hall Colour Room
Heather Williams Glass Hair Studio
Hsu-Feng Tsung Mega Hair
James Hou Laelle
Jamie Allison Steiner Transocean
Janine Tellier Redemption Salon
Jason Hatheway, JD's Barbershop, Stylist, Vancouver BC
Jee-Hyun Woo Aveda
Jeff Sudnicki Rain
Jennifer Ault Genta Bella
Jennifer Louangxay Whip
Jennifer Reid Bryley
Jenny Bell Cappelli Studio
Jessica Basso Glass Hair Studio
Jessica Lee Palmer Pretty Boutique and Salon
Jessica Krumin Firefly
Jessica Packman ARQ Hair Workshop
Jodi Gould Bryley
John Phung Opus Salon
Jordana Patterson Modas Operandi
Jordon Turner Moods
Josephine Bannavong Markus J Hair
Julie Ius Stratosphere
Kala Maines Embellished
Kaleesha Glazer Euphoria
Karine Dignard Toni & Guy
Katherine Macdonald The Lounge
Kathleen Sanderson Juice
Katie Maher Vivaci
Katie Paton Acacia
Katrina Danabassis Aura Salon
Katrina Spoor Blunt Salon
Katrina Suderman Europia
Kelsey Van Bodegom Michauds
Kim Belhumeur, Ultimate Hair Design, Delta BC
Kira Conrad Working in TV & Film
Kiran Pabla My Style Design
Kristin McKeown Opus
Kristina Bellagente Pacific Hair Replacement
Kristy Werbenuk Vault Salon and Spa
Krystle Blando Style Lab
Kylee Skoczylas Salon Cordeiro
Kym Werk On the Fringe Hair Design
Kyra Wise On the Fringe Hair Design
Lawrence Hon L'Oreal Lux
Leanna SmithersSalon Owner of Ingle's
Lina Komiya Splash Studios
Linda Le Canvas Hair & Nail Salon
Lisa Riddell Mirage
Lisa Watson Julien Grenier
Liz Pederson Is
Lourdes Acosta Is
Meagan Hardie Rain Salon
Megan Irish Crimpers
Megan Parks i.d. Salon
Maggie Andrews Verve Hair
Mahala Boychuk Elysian
Marley Holowach, Beaute Studio, Stylist, Vancouver BC
Matt McNamee Zennkai
Meghan Genereaux Paris Styling Group
Melodie Fallah Space Salon
Michael Van Der Est Firefly
Nadine Maier Chatters
Natasha Eland Zazou
Natasha Melendy Trinity
Natasha Smith Style Lab
Natasha Quewezance Zinc
Nicole Findlay Atomic
Nicole Kerr Pretty Boutique and Salon
Pamela Jacek Kaboom
Patricia Manzano Lure
Rachelle Yates Bent
Rasna Dhami Hairspray
Reay Fen Ho Chu Pure Glow
Reeva Calanza Eva Lasting Hair Design
Robin Helenius ARQ Hair Workshop
Ross Neasloss Jr. Juju Beauty Vancouver Hair Salon
Sabrina Schoch Headspace Salon
Sade Kehler Style Lab Salon
Samantha Baxter Poppy's Salon
Saleemah Hassam Opus Salon
Sanya Karmali Eveline Charles
Sara MacDonald Pure Form
Sarah Hennig Hair Benders
Sarah Krook Chatters
Sarah Taylor Barbarella
Sasha Urbanowski Propaganda
Shelby Sheppard Kast
Shelly Overend L'Atelier
Sophie McMullin East Vanity
Stephanie Abric Rockin Locks
Stephanie Barber Aveda
Sonya-Jean Bruneau Chop Shop
Sue Ho Aveda
Tabitha Brunner Propaganda
Tanya Holm Sets Salon and Spa
Tara Griffiths Capelli Hair Design
Taryn Day Hennessey
Tonya Heppell Hair Club for Men
Tran Do, Avant Garde Hair Studio, Stylist, Vancouver BC
Tyana Nichole, C-zô Hair Salon, Talent Leader, Vancouver BC
Veronica Chau Hennessey
Zachary Yang Hennessey
Note: some of these hairstyling graduates may have changed positions in the interim.
Are you a BMC Graduate?
Are you a Blanche Macdonald Pro Hair graduate interested in being profiled? Click here to send us your latest career highlights; we would love to hear from you!