Hair Extension Course
Given the technical range of Beauty Professionals who shine brighter than the rest, the days of simple cut and color jobs are a thing of the past. With the ever-growing standards within an extremely lucrative industry, clients are now looking for intuitive Hair Stylists who have mastered the subtle (and not so subtle) art and science of Hair Extensions. The ability to create sumptuous crowns of luxurious length, volume and density has become paramount in this impelling enterprise.
Covering the gamut from fashion to film and even medical practices, the demand for Hair Extensions has grown at an exponential rate. To put it simply, what used to be miracles are now every day practices that top stylists deliver on a daily basis. Here at Blanche Macdonald Centre we are more than familiar with said skills. We have been teaching them to some of the world's most adept hair students for years. Armed with myriad experience, graduates from the award winning Blanche Macdonald Pro Hair Course have gone on to become Senior Stylists, Leading Film and Television Hair Artists and Independent Salon Owners.
Here is where The Blanche Macdonald Hair Extension Course enters. We have designed an intensive ten-week training course specifically dedicated to the rapidly evolving world of extensions.
Pairing technical theory with considerable hands-on work that covers the broadest range of extension applications, our course will prepare even the most novice stylist for work in the salon, on-set or backstage. You will graduate with an ability to create the magical illusion of long natural hair with the utmost confidence and ease.
If you are sensing the time is right to take your career to the next level, we will help get you there.
The Changing Face of Extensions
The going rate for Fusion Extensions can range from $1500-$3000. Hair Stylists and Beauty Professionals on the cutting edge of the industry are reaping large rewards both creatively and financially, but the monetary rewards are just the starting point of possibilities. The Fashion Industry has a continual demand for stylists who deliver instant length and volume, be it working on an editorial shoot, advertising campaign or runway show. The story goes the same for the dazzling world of film and television. As luck would have it, Blanche Macdonald Centre is Vancouver based, otherwise known as "Hollywood of the North". However, Hair Extensions don't stop with cosmetic applications. Salons and clinics alike now provide Extension solutions for a variety of medical conditions. Patients undergoing chemotherapy or even dealing with alopecia are now benefiting from the marvelous art and science of Hair Extensions. It all begins with the right training.
Course Content
The Blanche Macdonald Centre Hair Extensions Course provides the country's most comprehensive training, beginning with the empathic art of consultation then moving into a plethora of Hair Extension applications. Through a combination of theoretical study and guided hands-on practice, graduates will be able to approach any Extension application with creative and professional confidence.
Understanding Extensions/ The Art of Consultation
The relationship between a Stylist and Client is an intimate one. The uppermost level of trust and confidence, that few other professions require, is an essential component of Hair Styling. Gauging how your client wants to look and feel as well as what will and wont work on your client's hair, is key. Our course will give you an in-depth knowledge of all available Extension Options including both Yaki and Remy hair types. We will give you a hyper detailed understanding of fundamental forms that in turn will provide you with a rock solid foundation to grow as an artist. Equipped with this invaluable information, you will be able to give your customers the hair dreams are made of. At Blanche Macdonald Centre, we believe that knowledge is power.
Understanding Ethnic Hair
No two heads are alike. Discerning and appreciating the divine textures, thicknesses and levels of fragility that our global community has, will enable you to recommend the most suited extensions for your culturally diverse clientele.
Perfecting Custom Fitting
Each client has a unique head of hair and will require Extension pieces that are customized to perfection. You will study the fascinating architecture of the head and various contemporary hairstyles, along with the benefits and limitations of each variety of Extension. Examining where and how attachments are placed will help you create the irresistible illusion of seamless, natural-looking hair.
Mastering Application Skills
At the Blanche Macdonald Centre Hair Extensions Course, we teach seven diverse styles, each requiring their own technique and creative approach.
Euro Locks
Euro Locks, Also known as Micro Rings, are formed by attaching individual strands of human hair through a small metal ring that is crimped to the base of the hair. A quick technique for both attachment and removal, Euro Locks are understandably the most popular application for Film and Television. Our industry leading instructors will thoroughly explain and demonstrate the most successful techniques for achieving flawless Euro Locks that always sit and lay flat within the client's own hair.
Fusions
Fusions use wax or Keratin bonds that provide clients with semi-permanent extensions, best suited for European and Asian hair types. Our instructors will give you a comprehensive understanding of this extremely profitable technique, ensuring extensions that sit flat and wont tangle over time.
Single Cornrow Attachments
Single Cornrow Attachments are defined by the tightness of braiding when they are initially applied. The expert stylist will ensure extensions that grow back naturally and will never slide back.
Weft Rows
Weft Rows are typically human hair extensions (either Yaki or Remy) that have been looped over and sewn into cornrows. If your braiding and cornrows are great, the hair will grow out cleanly. We will show you how.
Single Cube/Single Braid
Single Cube, or Single Braid, is a type of extension fastened to real hair, secured and finished with either water or hot fusion. This is the most ideal and popular long-term solution for ethnic hair extensions.
Glue Track and Tape Track
Glue Track and Tape Track are the ideal short-term solutions for both photographic and video shoots. The technique may seem relatively simple, however the true art is in creating the impression of natural hair through placement and sectioning.
Full Head Weave
Full Head Weave is a fine Extension technique for damaged or thinning hair. The weft is sewn into a net rather than a braid. Our instructors will help you master your sewing skills, in terms of speed and accuracy, ensuring the end result appears indistinguishable from authentic hair.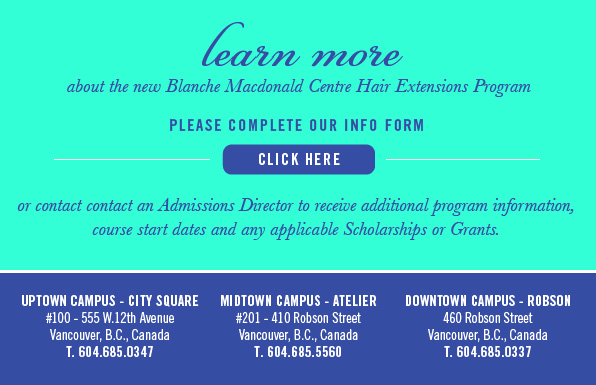 The Facts
The Blanche Macdonald Centre Hair Extension Course is an intensive ten-week course geared towards Certified Hair Stylists, Hair Specialists and Makeup Artists. Consisting of classes on Tuesday evenings and Sundays at our Robson Street Campus, our course will provide graduates with the all the fundamental Hair Extension skills to pass the highest industry standard requirements and thrive in all professional environments.
Graduates will receive a Certificate of Completion, recognized by the Beauty Council of British Columbia and within the Global Hair and Beauty Professional Community.
SCHEDULING OPTIONS
Option 1:
Sundays 9:00am to 5:00pm and Tuesday evenings 6:00pm to 10:00pm
12 hours per week
Total of 120 hours
10 weeks long
Option 2:
Mondays only, 9:00am to 5:00pm
8 hours per week
Total of 120 hours
15 weeks long
CERTIFICATE
Tuition starts at $2800, multiple payment plans available.
Please complete our Info Form or contact us at one of our campuses to receive additional course information and course start dates.
No previous hair training required. This course is an excellent add on for Hairstylists who can expand their services with Hair extensions, for Makeup and Nail Artists, Salon professionals etc. Or anyone who would love to learn Hair Extensions – it's a skill, a service and a really fun and creative art form.