Current Features

The 2017 edition of Vancouver International Makeup Artist Trade Show (IMATS) was a true amalgamation of Blanche Macdonald creative talent. Makeup mavens, cosmetic aficionados and film professionals rolled into Canada Place this past weekend, for what is one of the most anticipated makeup events of the year. Held annually in six cities across the globe (LA, New York, Vancouver, London, Toronto and Sydney) IMATS is a true playground for the Makeup obsessed. The atmosphere of excitement is palpable and inspiring: industry leaders collabing with industry newcomers, beauty product innovators, educational demos and all the must-have kit products and accessories.
Our Blanche Macdonald/CurliQue Beauty booth was also a hub of activity, consisting of demonstrations from some of our most buzzed-about and industry-leading graduates, mega-pro run-ins (like Ve Neill!) and of course, our talented student finalists in the show's centrepiece student competition, Battle of the Brushes (BtoB).

Picked from thousands of applicants, this is the ultimate competition for budding Makeup Artists as it allows the opportunity to garner international recognition and perform amongst stars of the industry. Battle of the Brushes saw four talented Blanche Macdonald Makeup students and recent graduates take to the stage, with our own Nina Nettle competing in both Saturday's hotly contested Character/Prosthetic competition, crafting a creature on the theme of Guardians of the Galaxy, as well as in Sunday's fanciful and fabulous Beauty/Fantasy category.
Our other Blanche Macdonald finalists – recent graduates Anna Rudik, I-Lan Yang, and current student Ulayu Sequalukwho – took to the BotB platform for the Beauty/Fantasy brush-off, each tasked with creating their look based on the conceptual theme of International Beauty. It was a thrilling day of artistry and anticipation, as each of these competitors pulled out all the stops, creating unique works of art.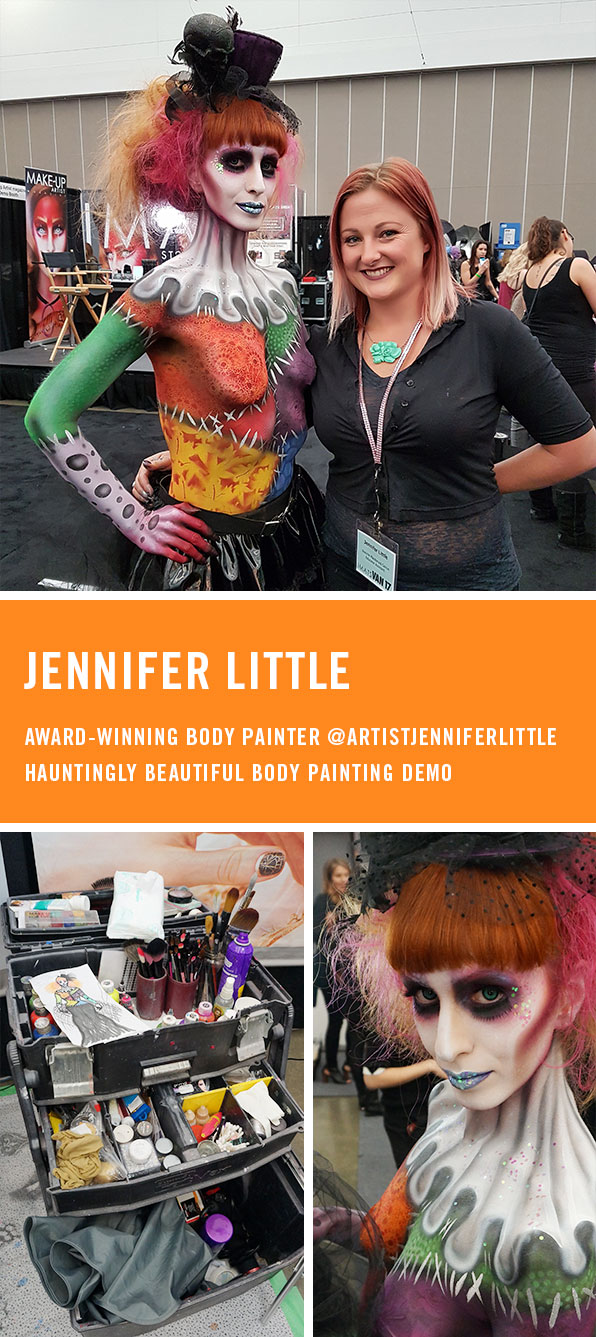 The weekend also saw pop-ins by a Tim Burton-inspired sea creature (by CurliQue Q Talent Leader and Queen of Transformation Jaylene McRae), blood-thirsty draculas, and TV & Film Makeup legends such as Emmy Award-Winning Special Effects Makeup Artist Thomas Surprenant (Star Trek, X-Men, Donnie Darko) and, two-time Emmy Award-Winner, Makeup Program Director and industry legend Todd McIntosh (Buffy the Vampire Slayer, Memoirs of a Geisha).
Our own Blanche Macdonald Fashion Makeup Director, founder of Vancouver's top creative agency NOBASURA, INGLOT Educator, and industry powerhouse Jon Hennessey (@j_hennessey) talked perspective in fundamentals such as colour, texture and space on the IMATS Stage. Jon's creative approach and personal style has elevated him to an international platform, with a distinctive signature that is part androgyny, part gestural and part ethereal. His demo and invaluable technique talk was eagerly devoured by the incredible roster of talent within the walls of Canada Place.
"IMATS is this amazing mix of fresh new talent and more established industry talent. We all get to intermingle and introduce ourselves to one another and it's just an incredible opportunity to meet new friends, see old ones, and gain some inspiration. IMATS feels like a family reunion to me."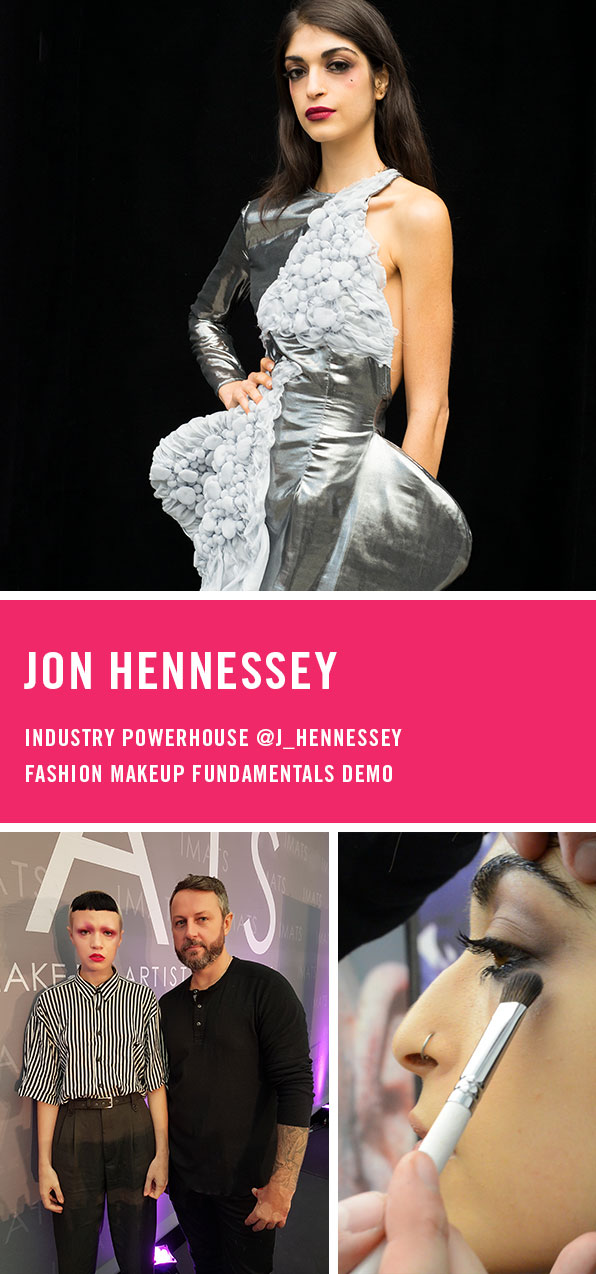 Back at our booth, it was nonstop creative flurry. The ooo-ing and ah-ing of passersbys who stopped to ogle our instructor demos didn't cease, which started with Blanche Macdonald Makeup graduate-turned- instructor, the Insta-famous Mimi Choi (@mimles) who started off the morning doing her famous 'Copy and Paste Multiple Eyes Look'. Pushing the boundaries of makeup, Mimi ended the first day on the IMATS Main Stage demoing her signature sliced makeup illusion. She shared tips and tricks, favourite products, and what inspires her to create. All of which left the crowd stunned, mystified and ready to create their own optical illusions.
Adjacent to Mimi at the Blanche Macdonald booth was another Makeup graduate-turned-instructor and award-winning body painter, the incredible Jennifer Little (@artistjenniferlittle), spritzing magnificent controlled strokes of airbrushed pigment, creating one of her body painted masterpieces. With eerily lifelike stitches and sutures, this superstar airbrusher created a spooky carnival creation that was an IMATS showstopper.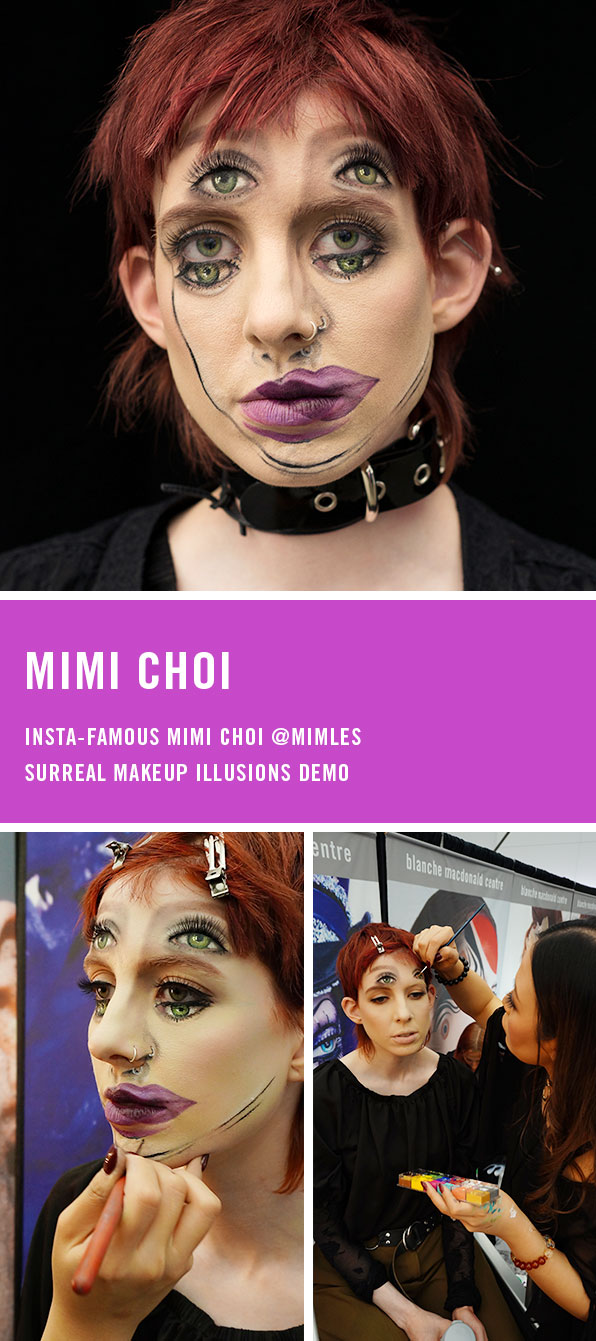 On the closing day, proving that the possibilities of Makeup are indeed limitless, Blanche Macdonald Makeup graduate, the ever-enchanting Lyle Reimer (@lylexox) took to the IMATS Open Forum Stage, warming up the crowd with charming personal stories, musings and hilarious anecdotes (like finding inspiration in spools of thread, asthma inhalers and Crocs). Lyle, notably known as @lylexox to his 90.3K followers on Instagram, created one of his signature makeup demos live, inspired by Maison Martin Margiela x Amy's Organic Soup can lids!
"The inspiration for my look started with soup can lids from Amy's black bean soup. I saw the lids as jewelry and adornment and then married those with my love of Maison Martin Margiela. The Margiela boutiques are all white and distressed versions of white ... so then ... VOILA ... the look was born. It truly was an inspiration of high end meets trash.
IMATS serves as a rare opportunity for industry professionals and makeup lovers to all come together! It's like one big creative love fest! It was such an honour to join with Blanche and showcase my work ... it really a perfect way to spend a weekend!"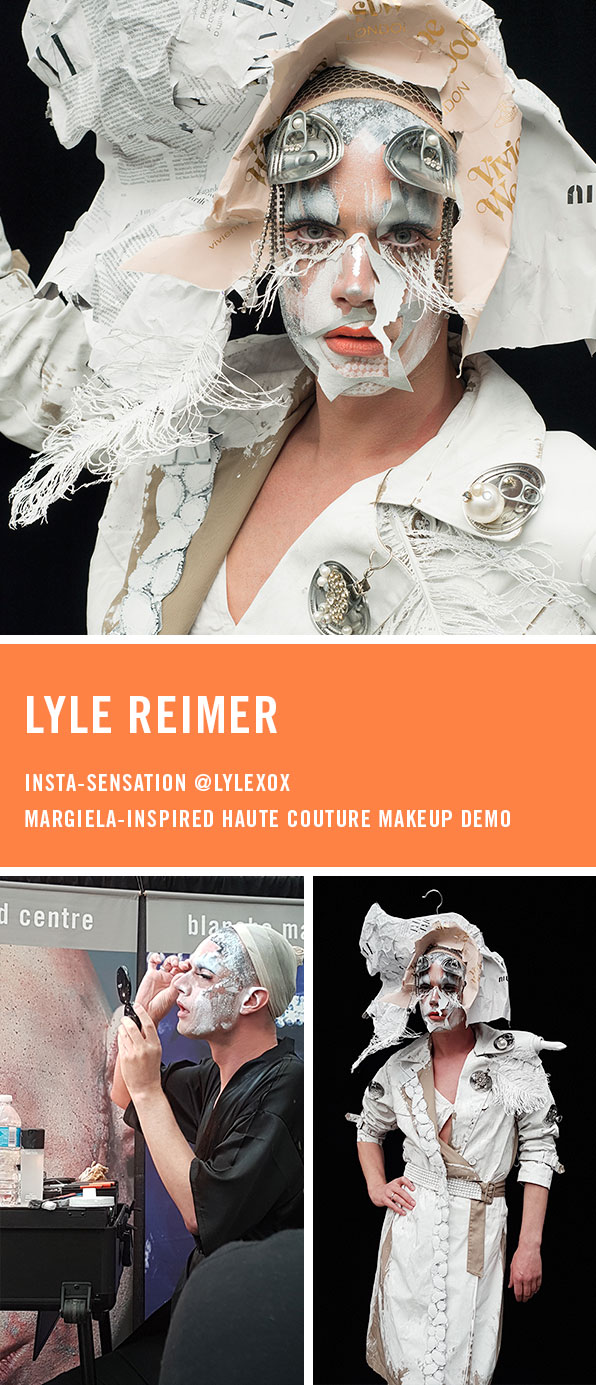 Simultaneously, on the IMATS Main stage, Blanche Macdonald graduate and artist extraordinaire, Timothy Hung (@timothyhungcom) spoke to a packed audience about the combination of high fashion and makeup, all whilst demonstrating his flawless techniques and sharing stories illustrating what inspires his artistry.
"The concept is to bring together the things that have been inspiring me recently in the last two to three months and putting that altogether into one look. At the same time I wanted to incorporate things that I really love which is texture and contrast. I started with a dress that I felt had a lot of impact and I added rhinestones, ribbons and jewels to it and that started to bring together the whole idea for my theme."
Undergoing the first phases of their looks while answering questions from captivated audiences, both Lyle and Tim then completed their jaw-dropping looks at our booth among their original Makeup family and a slew of admirers and spectators that followed from the audience.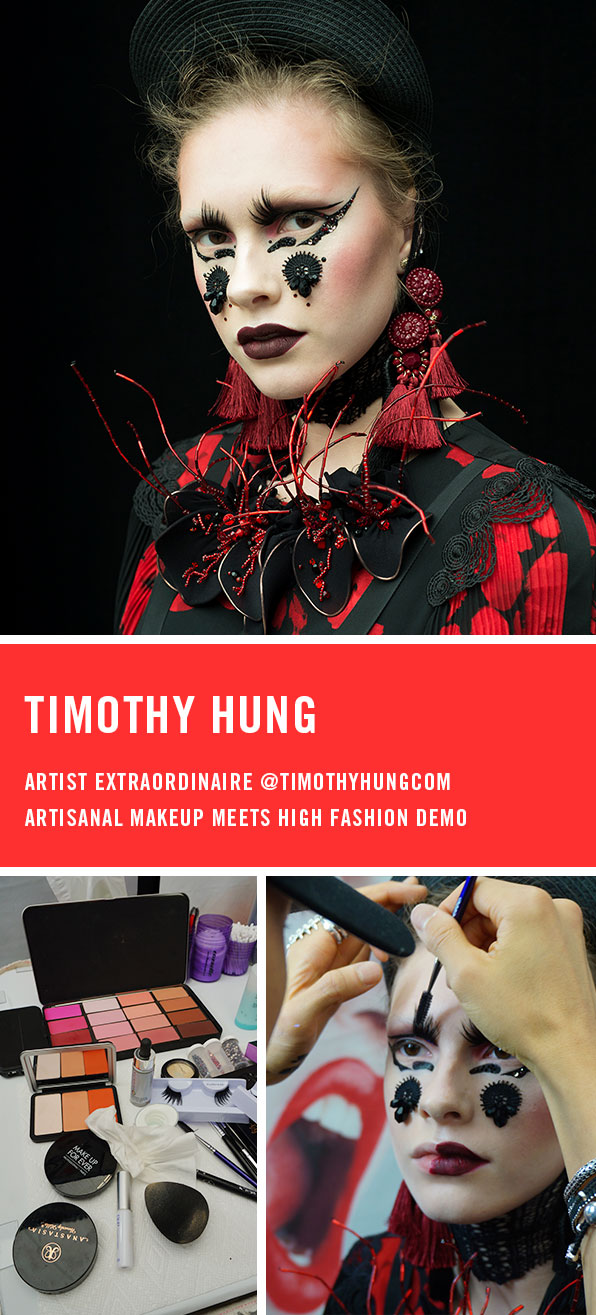 It was such a special weekend, catching up with old friends, and meeting new ones – a big THANK YOU to everyone who came by our booth to share in the beauty thrills and chills with us, and BIG congratulations to our all competitors! You were the heart of an unforgettable and beautiful weekend.