Makeup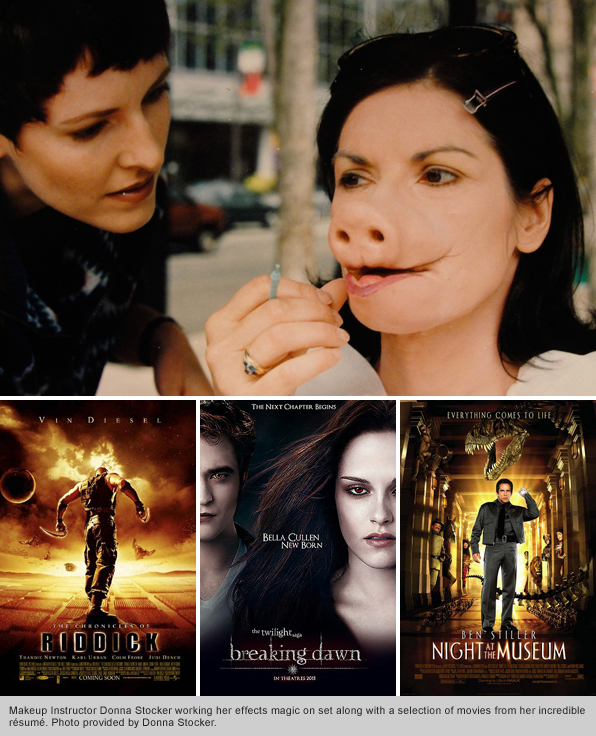 Students lucky enough to be in Donna Stocker's classes at Canada's best Makeup School know they're learning from one of the best.
Is she a tough teacher? Perhaps. Because she knows what Blanche Macdonald students can expect in the real world.
"I know what the TV and movie industries' standards are and I teach to those standards," she explains. "But I also know how to simplify things for students when they're first learning a technique. I let them build their knowledge up piece by piece with what they're learning."
Donna's understanding of the industry standards is the result of 17 years working on big TV and movie sets. She was part of the team for major productions like Twilight: Breaking Dawn, The Chronicles of Riddick, Stargate Atlantis, Night at the Museum, White Chicks, Santa Clause 2 and Dark Angel.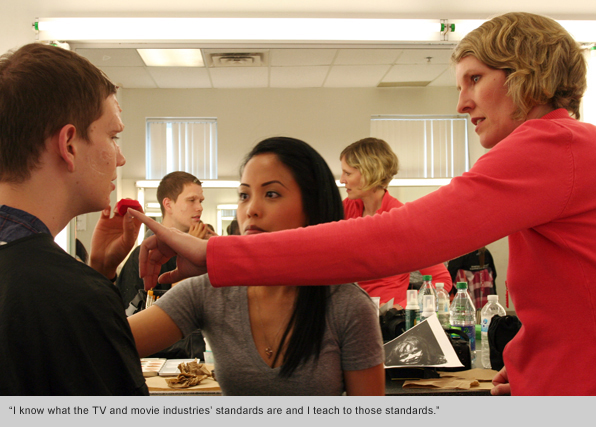 It's been an incredible makeup journey for Donna: one that began when she was a teenager and made a visit to Vancouver from her home in Penticton, BC.
"My mum, sister and I came to Vancouver to get a makeover done," she recalls. "I was 15 and I'd never worn makeup before. I was close to six foot tall and the woman at the counter asked if I had ever thought of being a model? So I took a modelling course in Kelowna. That's when I first learned how to do makeup. I moved to Vancouver and modelled for six months, then went to New York City, entering modelling competitions and trying to get agents' attention. But I was too tall. I dwarfed products and the other models."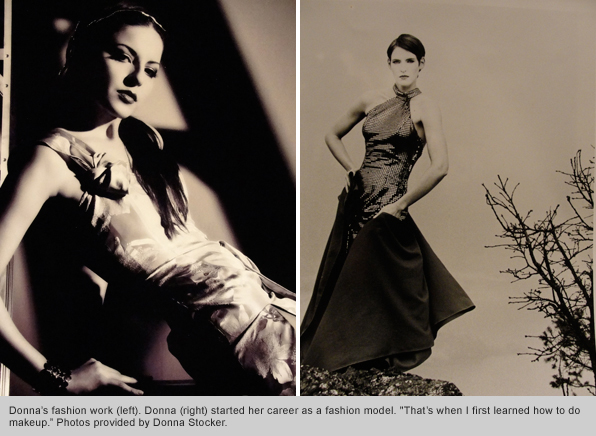 Although Paris and Milan never called, Donna stayed in the business, becoming an instructor at a modelling school on Vancouver Island, teaching makeup basics to her students. It was a fine job, but it wasn't what she really wanted. The more Donna thought about it, the more she knew she had to be a movie makeup artist. She was going to break into the business. It was just a matter of how.
"I knew in reality that it's not that glamorous," she insists, "But it's creative and it's a good way to make money by being artistic. And it was a cool job. I was a bit of a nerd growing up, so having a cool job was a big deal. I love movies. I love television. To me, it was exciting to meet a famous person. On my first show I was working with Gary Oldman and his girlfriend at the time, Isabella Rossellini, was there too. To find out what these people are really like is fascinating."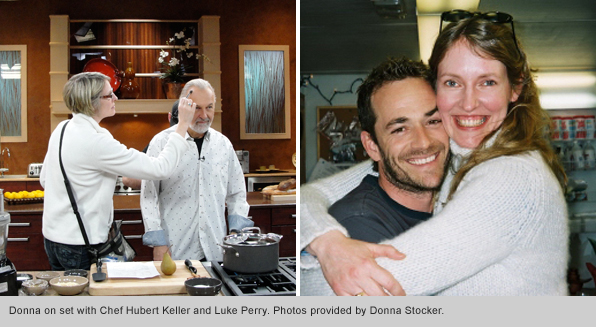 Understanding that she needed to improve her skills and her book of contacts, Donna relocated to Vancouver and won a job at the MAC counter.
"I worked there for three years," she continues. "I got great skills and was able to build my kit. I would network with movie makeup artists when they came into the store too. Lisa Love came in one day and was looking for someone to help her on a movie. That was Underworld with Dennis Leary and Joe Mantegna. It was fantastic! I did three days on that and got my name in the credits. Lisa let me remove a prosthetic from Dennis Leary's neck on the third night. She had the confidence in me because of my maturity and work ethic."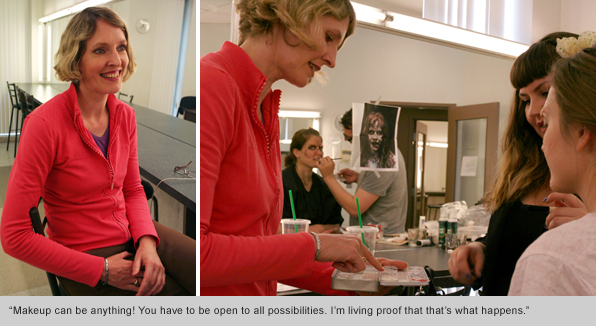 Donna eventually transitioned from modelling school to MAC to the movies.
"I got my first full time film job, Cold Squad. I did three or four episodes. And then Tina Teoli called me for Hope Island. That was eight months solid work and so much fun."
Donna had become what she'd always dreamed of. She was a full time movie and TV makeup artist. And it lived up to the expectations.
"First Wave was a favourite. I was the head of department for the first time on that show. The Chronicles of Riddick was another favourite. I did the whole movie, working under Academy Award-winner Ve Neill and Victoria Down for the first couple of months on Main Unit, before switching to Second Unit to help maintain continuity. We had to match stunt doubles the whole time.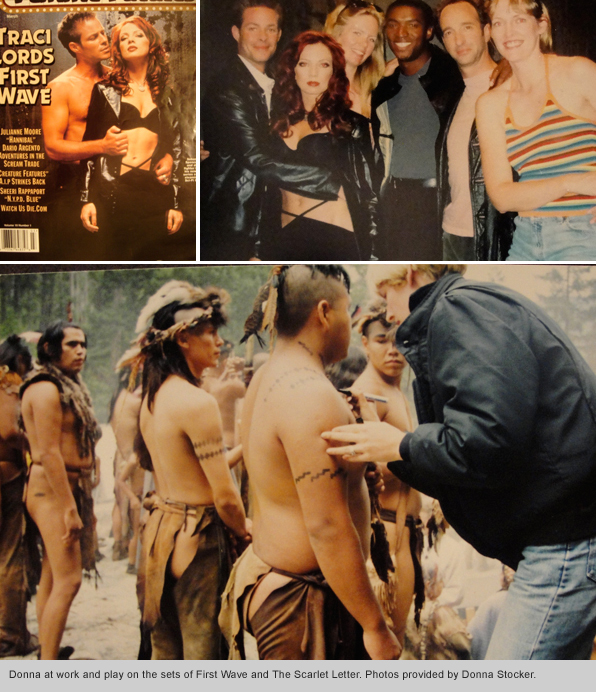 "The Head of Department for Twilight called me one day. I'd worked with her on Stargate Universe and other projects, so she knew my work. I'm respected in the industry now. I can get along with most everyone, and I know how to handle myself on set. I don't sweat the small stuff."
Donna was looking for new opportunities when a well-timed call from Sydney Silvert switched on a mental light bulb.
"Sidney was teaching at Blanche Macdonald and I eventually joined the faculty. Now I teach TV and film, special effects and I've co-taught prosthetics. I also teach résumé and self-promotion. I like to inspire people. I still do films, but I love it here.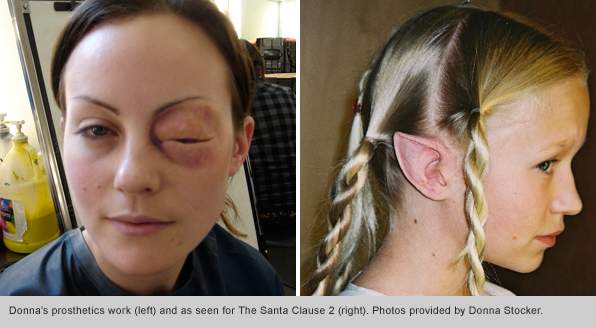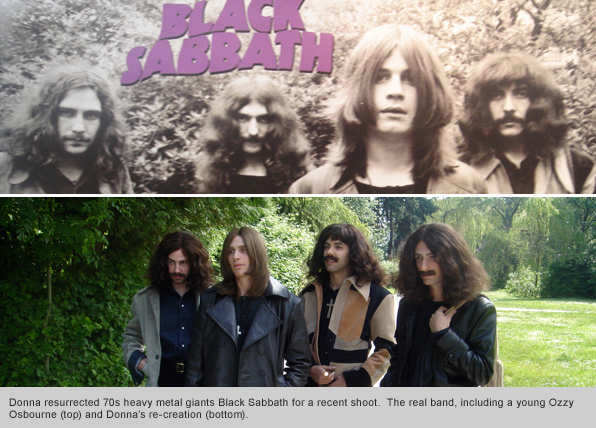 "I'm able to give to students a lot of opportunities. People in the industry know that I teach and they always call me asking about students. If I recommend a student for a job, they better step up. Because it's my name on the line!"
With her movie and teaching schedule, Donna is busier than ever. And yet, incredibly, she's found the time to create a new business for herself with the inspirational concept of medical makeup.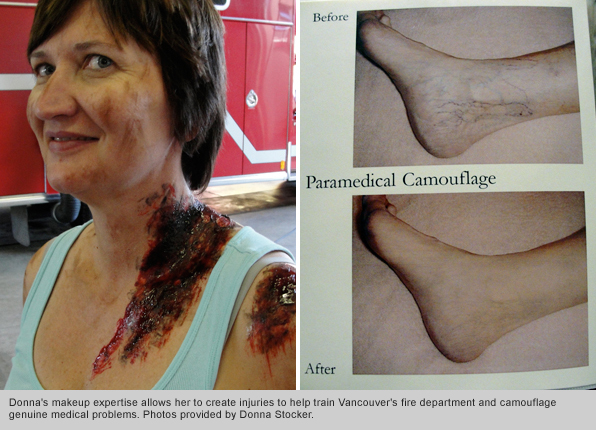 "One day a man turned up at Blanche Macdonald asking if he could see a makeup artist. He'd had his nose crushed in an accident. It had been rebuilt but the surgeons made it too small, leaving him with breathing difficulties. And it didn't really suit him. I worked with him, building up his nose with wax, and when he saw the resemblance of his old nose, he became very emotional. It gave him the courage to go through with the second surgery and it gave his doctors the visual they needed. He sent me a wonderful letter not long ago saying how much that process changed his life.
"That triggered the idea of doing medical makeup. Now I have an office in South Granville and a web site, Vancouver Medical Makeup."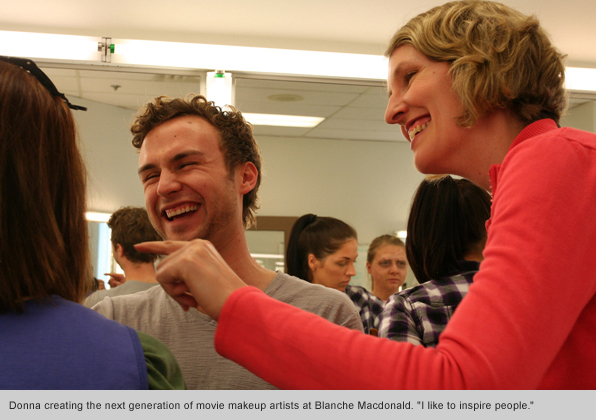 Donna has moved through modelling, retail, movies and now the medical field as a makeup artist. The journey makes perfect sense to her. And she's proud to demonstrate those limitless possibilities to her students on a daily basis.
"Makeup can be anything! That's something I convey to my students. You never know what job you'll be doing with makeup. You have to be open to all possibilities. I'm living proof that that's what happens. The psychology of makeup is fascinating. If I do an aging makeup on a student, they'll suddenly feel tired and sluggish. There's so much power in Makeup!"