Achievements
Overall Achievement: Kari Appelquist and Janis Procyk (tie)

Achievement in Pattern Making: Reghan Blake

Achievement in Garment Construction: Dorothy Ting

Honourable Mention for Pattern Making and Garment Construction: Katrina Chen

Achievement in Design: Kira Sams and Dorothy Ting (tie)

Achievement in Portfolio Presentation: Kira Sams

Special Award for Collection Interpretation: Tania Fergaru

Special Award for dedication to the program, attendance, professionalism, attitude and innovation: Li Liu
Sara Alexandre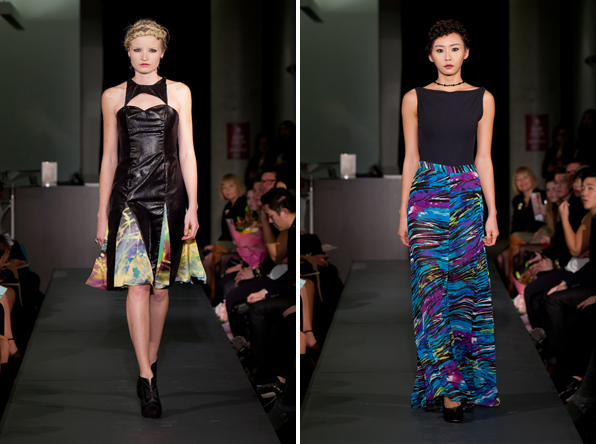 With a life long love for illustration and clothing, the self-proclaimed "loud and eccentric" designer Sara Alexandre made a capsule collection based on the bold and chromatic world of comic book art.
Kari Appelquist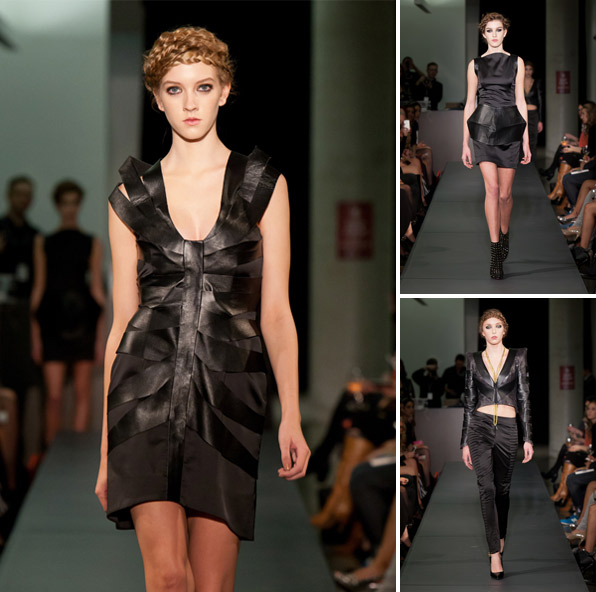 Overall Achievement Winner
Kari Appelquist's collection appropriately titled "The Fallen" was inspired by angels, fallen into a world of darkness. Her clever use of contrasting leathers and satin, peppered with delicate gold chain detail, takes us into a world where women can exalt their strength and more iniquitous sides.
Mike Arcangel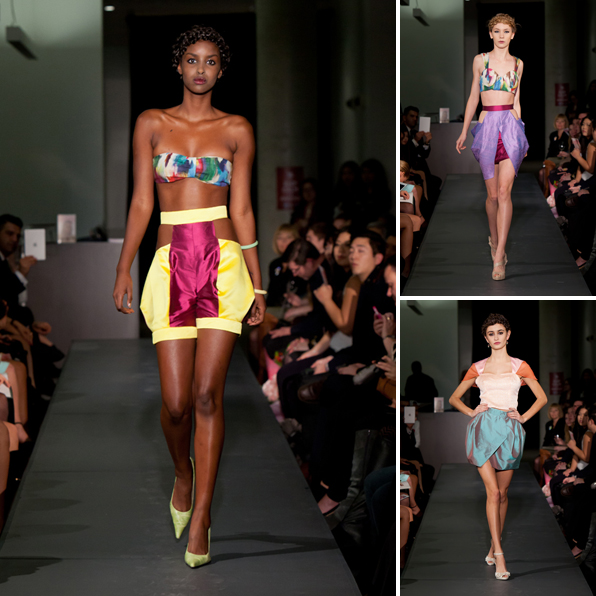 Laced with sugar and spice, Mike put his insatiable sweet tooth to use when designing his first collection. Using his favorite deserts as the stimulus for each look, Mike created a technicolour line of playful womenswear, delectable enough for any girl's closet or kitchen.
Jessica Banford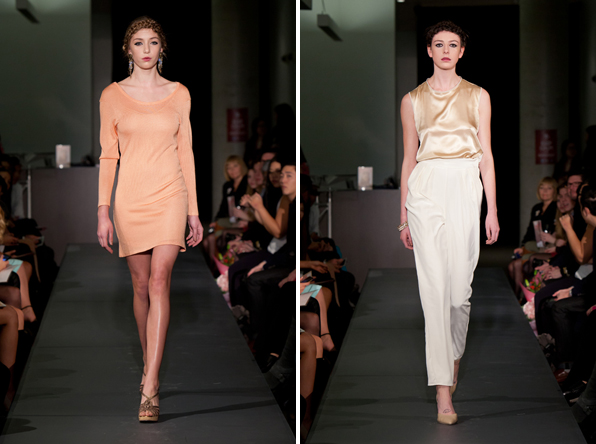 Jessica Banford's eternal quest for the "perfect piece" led her to create a collection of straightforward, polished and functional garments to be worn any time, anywhere, by any girl.
Reghan Blake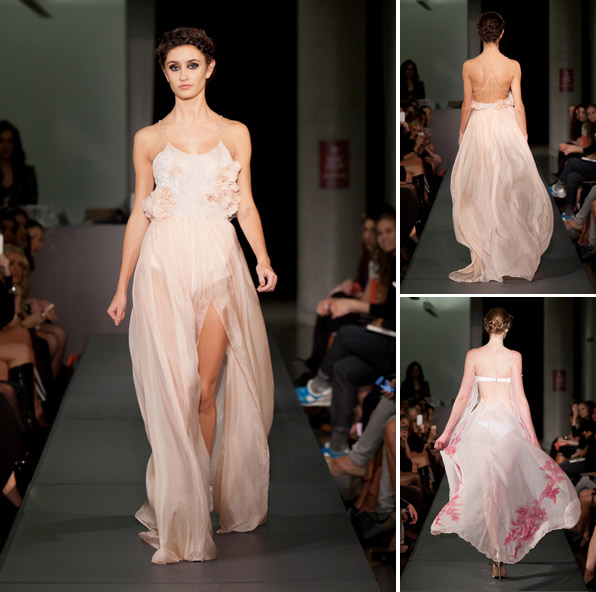 Pattern Making Award
Reghan Blake takes us from the beach to the ballet with: bathing suits and cover-ups, fitness wear, casual separates, cocktail dresses and evening gowns. The bathing suits in this collection feature chiffon, fabric peonies and Swarovski crystal embellishments inspired from her life as a dancer.
Paradee Chanyatanavut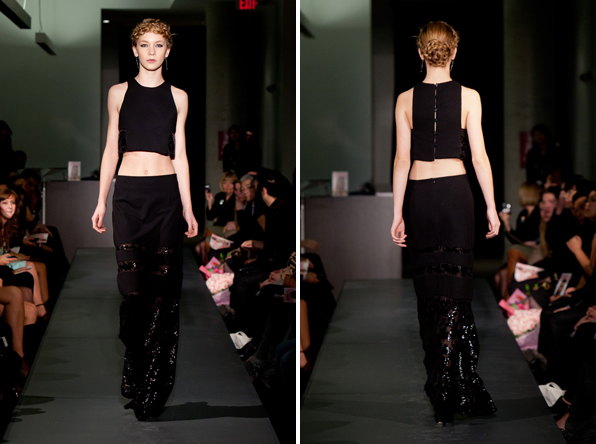 Designing clothes that she "would want to wear", the Thai native used dream catchers as her point of departure. With a focus on delicate and arresting details, Paradee explored the combination of straight lines and circular shapes with contrasting opaque and transparent textures.
Katrina Chen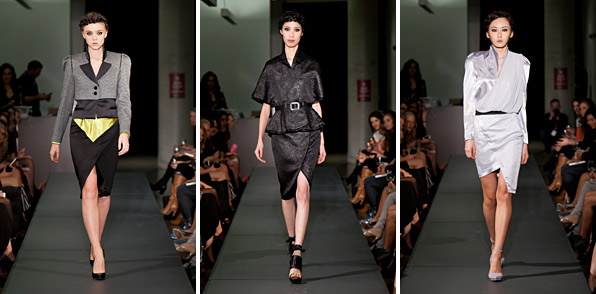 Honourable Mention for Pattern Making and Garment Construction
Moved by the power and radical geometry of lightning, Katrina conceived a sleek and feminine collection focusing on the "simplest qualities of luxury". Using acetate crepe, satins and organza's, Katrina's collection titled "Force of Lightning" shows a modern take on the workingwoman's wardrobe.
Salvador Chorro
Salvador Chorro was motivated by the awe striking architecture of the world's great cathedrals. Using the shapes of buttresses and stain glass windows, Slavador designed an innovative collection in monotone colors, mimicking the mood of iconic stone buildings. His ultra modern dresses take the best elements of ancient architectural masterpieces, making them new again.
Tania Fergaru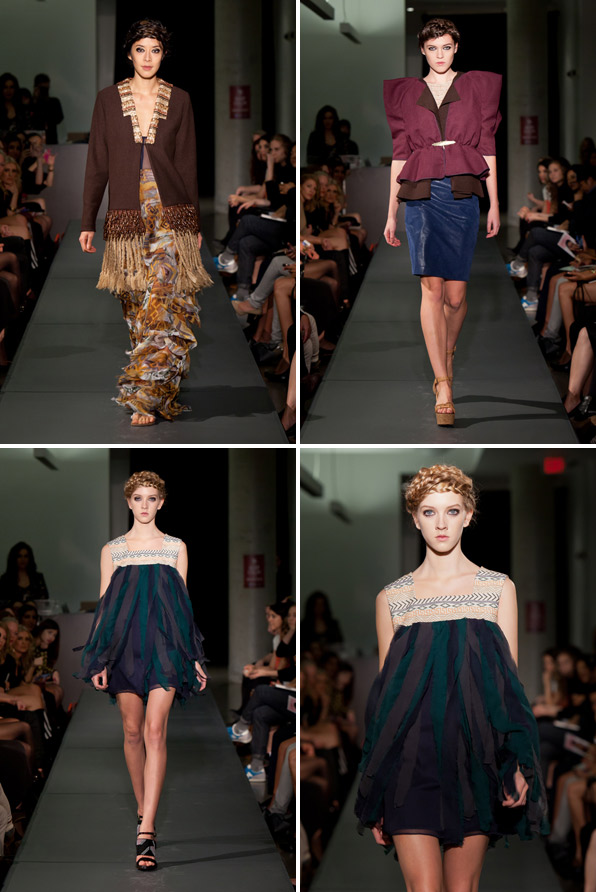 Special Award: Collection Interpretation
Wanting to infuse clothing with cultural elements from her native Mexico, Tania Garcia used the richness of Aztec, Mesoamerican art and textiles as her point of departure. With a patient and feathered eye, Tania spent countless hours hand-beading, embroidering and cross-stitching graphic patters influenced by the culture so near to her heart.
Sam Elias Ghahremani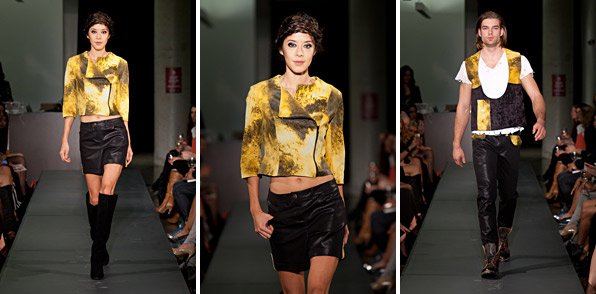 Moved by the power and agility of the bald eagle, Sam designed a collection for both men and women using treated leathers, cotton and wool.
Candice Grenard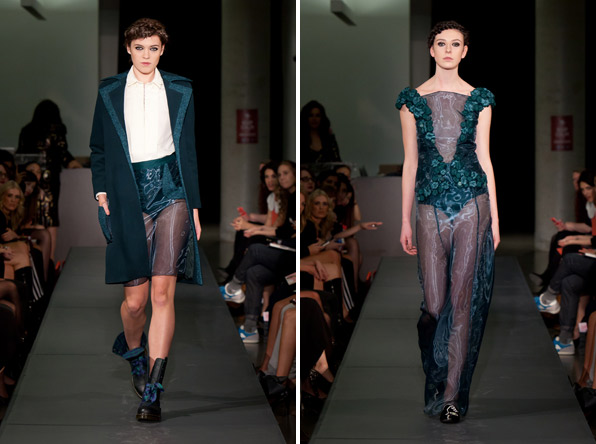 A born and bred Parisian, Candice brought the cultivated beauty of France to Blanche Macdonald Centre. Her assured collection in hunter green is fit for any bona fide bourgeois.
Joanne Huang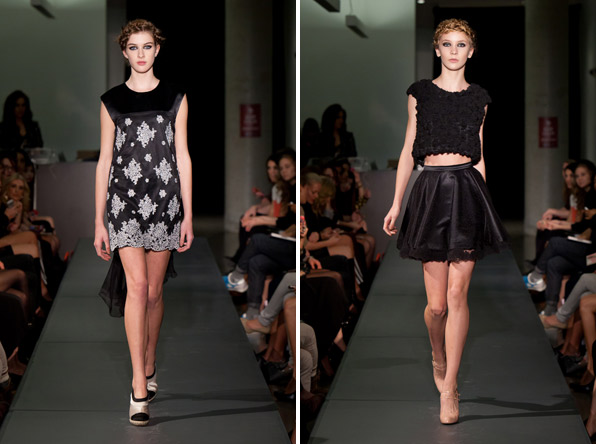 Joanne Huang is enchanted by decadence. Chanel, Dior, Hermes-oh my! Her tribute collection pays homage to the classic greats of fashion.
Danielle Jensen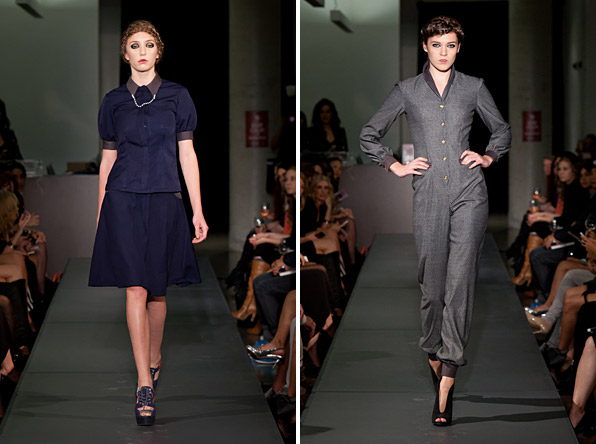 Danielle Jensen's collection "Maiden" was inspired by the surge of women empowerment during WW2. Danielle used components of utility wear and military inspired garments to create a collection that is interchangeable from day to night.
Qahira Kassam
Self proclaimed "Bow Girl", Qahira Kassam loves everything flirty and boisterous about the classic bow. Basing an entire 20-piece collection centered on this iconic shape sounds daunting, but Qahira certainly rose to the challenge.
Nancy Lau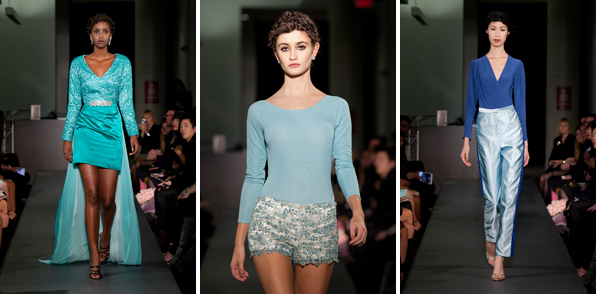 Bewtiched by cityscapes, windows and the infinite reflections cast from our city of glass, Vancouver, it only makes sense that the former flight attendant's first fashion collection is titled "Reflections". With a love for skyscrapers and meticulous details coupled with shades of green and blue, Nancy made a collection that is both tantalizing and practical.
Roginett Ligsay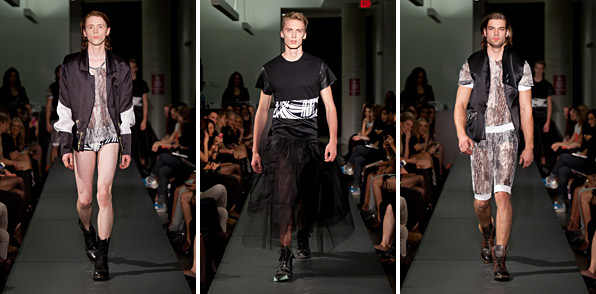 The foundation for Roginett's collection was discovered when he mixed his love of Grecian architecture, the country's Orthodox Catholic dress and an article he read on "Male Gender Flipping". Roginett forged an eccentric collection dripping in lustful appeal and street swagger.
Li Liu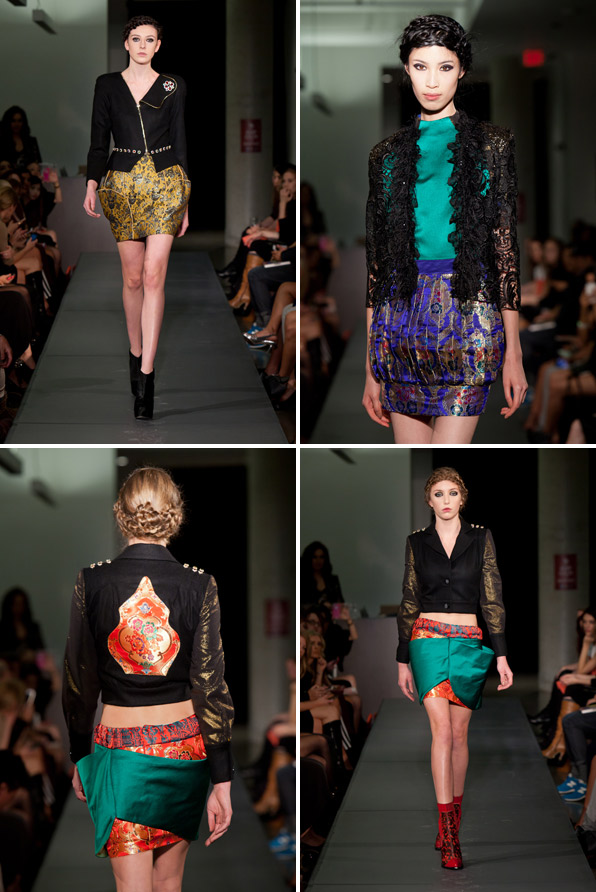 Recognized for her dedication to the program, attendance, professionalism, attitude and innovation.
Chinese Buddhist temples are at the apex of Li Liu's collection. Her fervor for engineered geometry and motley colours paint the backdrop of Li's collection. Lotus thrones, golden lanterns adorned with flower and fruit offerings, endless knots, ceremonial drums and bells are just some of the visual elements incorporated into this feast of fashion.
Janis Procyk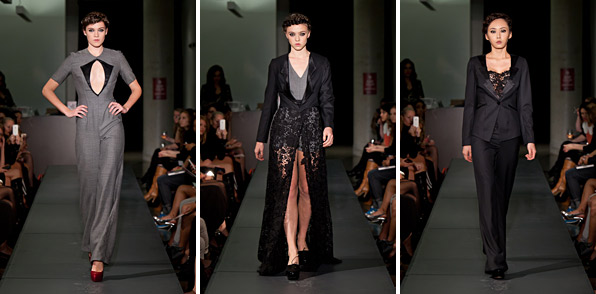 Overall Achievement Winner
The southeast Saskatchewan native used the dynamism and swagger of the all-to-often vilified Queen in traditional fairy tales, as the basis of her collection. Her designs transition from sophisticated suits for the workingwoman, to sultry eveningwear dripping in conviction.
Andrianna Pahl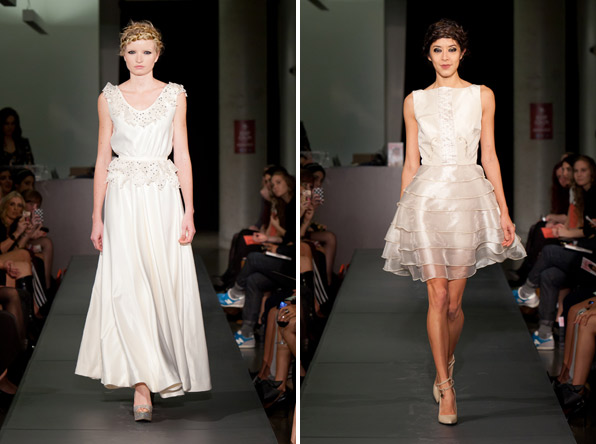 Cello player turned fashion designer, Annie Pahl was touched by "The Swan's Ballet", from Camille Saint-Saens' Carnival of the Animals. Crafting pleated dresses that mimic cello strings and appliqués in the shapes of Fortes, Annie's collection of amorous gowns captures the essence of this beautiful and timeless score.
Kira Sams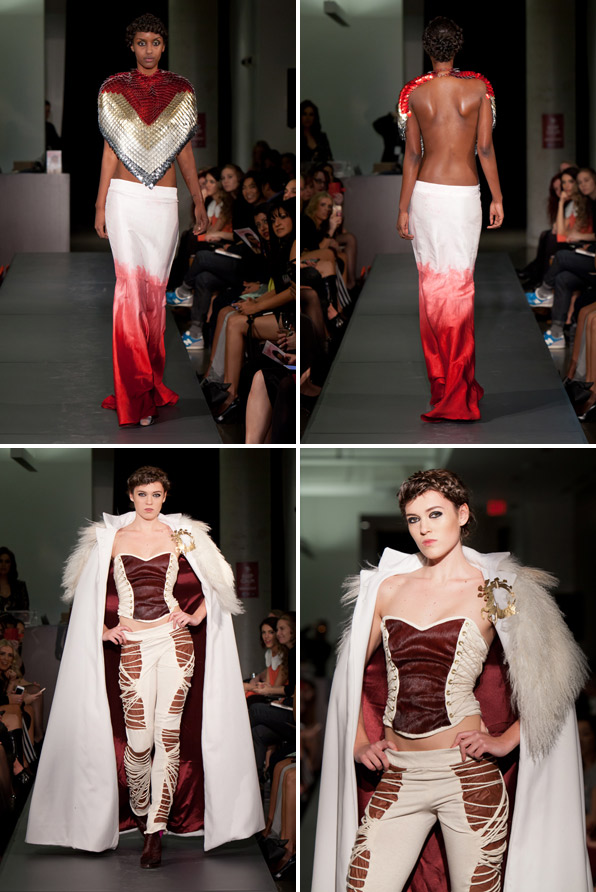 Achievement in Design and Portfolio Presentation
Kira Sam's collection "Die Walkure" was inspired by Wagner's play "Ring Cycle". The Calgary native with a background in theatre, used the iconic character Valkyrie Brunhilde as the muse for her costume designs. Exploring the strength of the classic heroine, Kira's costumes mark the journey from legend to warrior, to mortal, to prize and ultimately scorned woman who meets a tragic end. Kira's use of Mongolian lamb, pony hair and scale maille resulted in a collection seeping in dramatic flare.
Sara Sui
Focusing on the power-dressing aesthetic of today's businesswoman, Sara Sui created a cosmopolitan collection of chiffon taffeta tops and elegant wool coats.
Dorothy Ting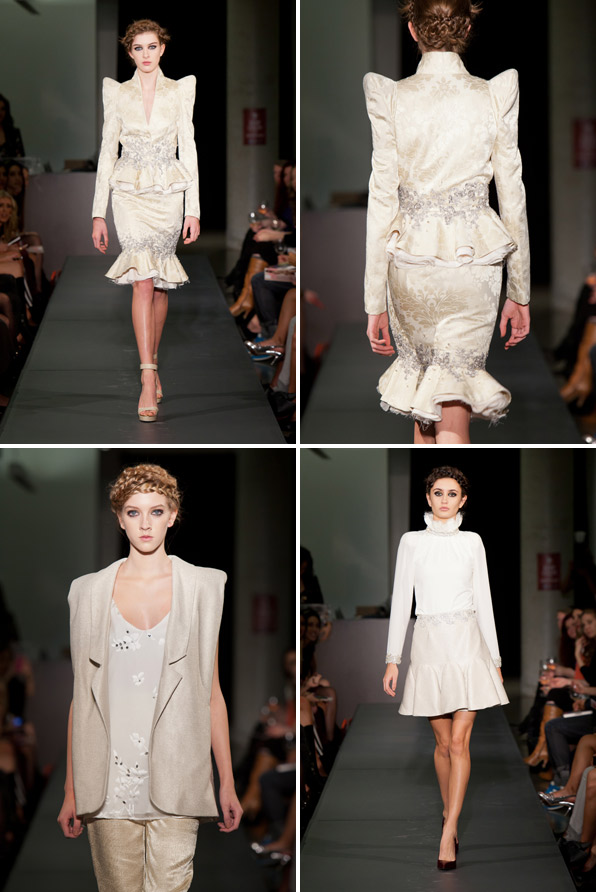 Achievement in Design and Garment Construction
In 2012, Dorothy Ting made a trip to France and more specifically Chateau Versailles. The moment she walked through the Mirror Halls of the renown Palace, her debut collection was born. Combined with her love of ballet, Dorothy infused her designs with the grandeur of crystal chandeliers and the fragile beauty of Swan Lake. The bold structure of her garments brindled with delicate crystal embellishments and raw edges make Dorothy's debut collection a remarkable achievement.
Sabinder Uppal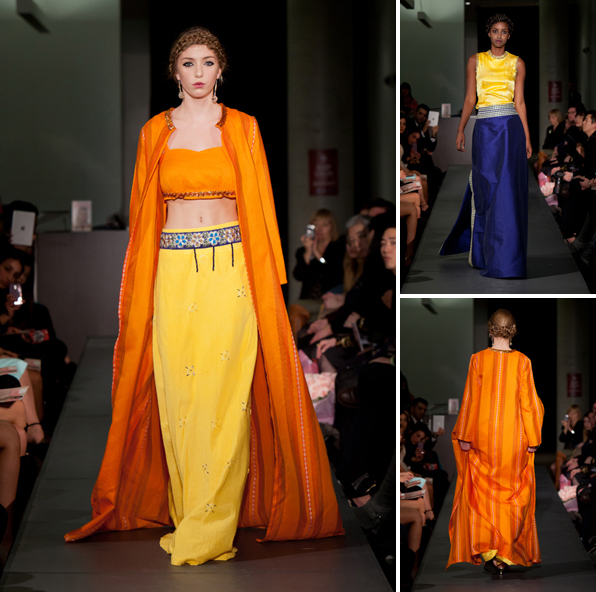 Sabinder Uppal's magnetism to the liberating expression of the1960's was the perfect place to start her creative journey. Fused with her East Indian culture, Sadinder made an innovative collection by hand dying fabrics using individual grains of rice. Her 60's homage finished with traditional Indian details is the ideal start for Sabinder's design career.
Janice Wang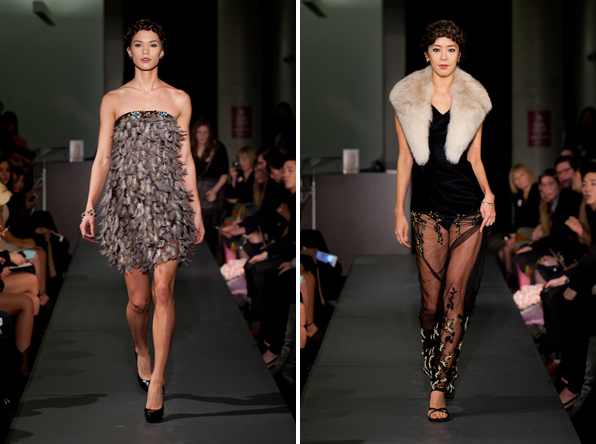 Janice Wang sites nature as her biggest influence as a designer. Her clothing stems from the fluidity of water and the intricate detail of flowers. Janice hopes to translate the most tender and loving parts of a woman into her designs.
Fran Will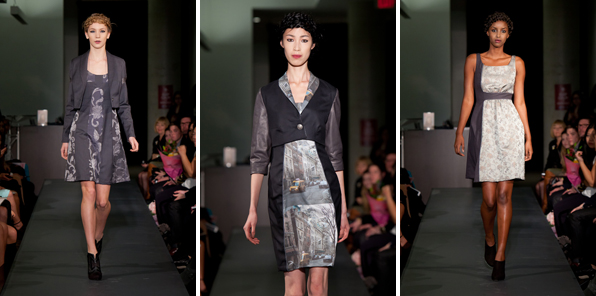 Frances Will's love affair with constructing and deconstructing clothing began when she was a little girl, whilst visiting fabric stores with her mother. Fran used an emotive approach to her first collection. Citing her mood when she looks at stone arches on a backdrop of bare trees against a dark evening sky as her inspiration, Fran's street-chic dresses and jackets in Italian suiting, brocade prints and luxurious lamb skin are must have's for the sophisticated woman.
Yinan Wu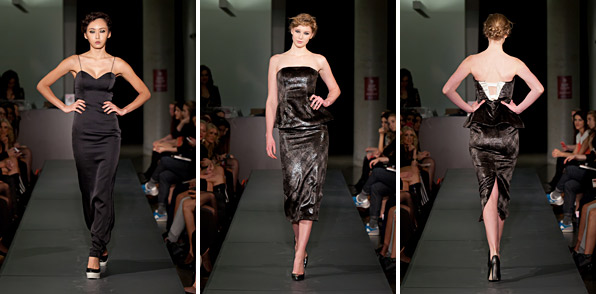 A trip to the natural history museum as a child planted the seeds for Yinan's inaugural collection. The gargantuan skeletons, and sweeping wings from a vanished time are at the heart of her designs. Transparent draping over skin-like fabrics with detailed boning are just some of the design elements incorporated into Yinan's work.