Fashion Design: Industry Leaders/Faculty
A well-rounded education is paramount at Blanche Macdonald Centre. We truly believe it takes a village. A wide range of experience is BMC's harmonious recipe for success; industry pioneers with decades of experience, along side several faculty members in peak stride of their career, splitting time between working internationally and educating future generations. Our eclectic and dedicated faculty members are more than just teachers. They are mentors, advisors and friends here to guide you through the road to your beaming future.
Peggy Morrison
Executive Program Director, Fashion Marketing and Design Programs
The chief matriarch of the Fashion Marketing and Design Programs, Peggy Morrison is a genuine visionary whose enthusiasm and encyclopedic knowledge steers the Blanche Macdonald ship. One theme that continually echoes through the profiles of our graduates is the respect, praise and gratitude they have for our fashion warrior. Peggy hails from Trail British Columbia. Despite it not being a traditionally recognized fashion hot spot, Miss Morrison comes from a dynasty of eccentrically stylish women.
Peggy is etched into the very marrow of our school. After graduating with a Bachelors degree in French and English from the University of British Columbia, a serendipitous meeting led Peggy to a charismatic woman named Blanche Macdonald who encouraged her to enroll in a course on Individual Development. Little did she know, that chance meeting would not only shape the next forty plus years of her life but also mold the future of countless fashion enthusiasts. Blanche Macdonlad Centre has evolved significantly since Peggy's first class on Individual Development but at its core the values are still the same. Apart from a pair of short sojourns to Nanimo and Victoria, Peggy Morrison has been rooted within the foundation of the Blanche Macdonald family for the last four decades as our Executive Program Director.
Peggy currently teaches Fashion Awareness 1 & 2 as well as the Fashion Elements courses. Her archival and ever growing database of all things fashion is a creative feast for any aspiring fashionisto. As a pillar in the Pacific North West Fashion Community, for Peggy seeing her fifth decade of Blanche Macdonald graduates work their way into the hearts of the fashion industry never grows stale.
Donna Baldock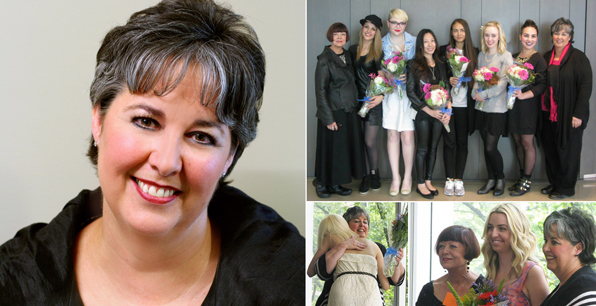 Executive Program Director, Fashion Marketing and Fashion Design Programs
Donna Baldock's unrivalled passion and knowledge of textiles, fashion history and the inner workings of the retail industry puts her at the heart and soul of Blanche Macdonald's Fashion Marketing and Design programs. Her exalted devotion and dedication to the students has never wavered in the twenty plus years she has been with the company.
Donna's ardor for textile science started long before her journey at Blanche Macdonald Centre. In fact it has been in her blood for as long as she can remember, crediting her grandfather who sold fabrics in Belfast at the turn of the century for planting those formative seeds.
After graduating University, Donna Baldock began her fashion odyssey working from the ground up for iconic fashion institution Eaton's. Starting her career in the men's department in one of the country's oldest department stores, Donna's dream of becoming a buyer was born. She rose through the ranks quickly and was soon opening stores for the company all across Canada.
When Eaton's moved their buying offices to the East coast, Donna and her family threw caution to the wind and moved to Vancouver where her reputation expeditiously had her involved with Blanche Macdonald teaching textiles to future generations. Her reverence for all things fashion coupled with her compassionate demeanor fit like a well-tailored suit at Canada's top fashion school. Within a year Donna was promoted to Program Director. Over twenty-one years later she has helped grow the company from three rooms to three campuses. Donna's guidance and hard work has elevated countless students to see phenomenal successes, making her an integral part of the Blanche Macdonald family.
Tyler Udall
Fashion Director, Fashion Marketing and Design Programs
The one time professional ballet dancer turned fashion maven is perpetually full of ideas with an eye for imagery that makes him an incredibly sought after Artistic Director for several prolific fashion brands around the world.
After a back injury ended Tyler's ballet career quite young, he turned to fashion where he graduated with honors from the Fashion Institute of Technology in New York City. While there he began to work for iconic fashion man of the hour, Marc Jacobs. A perpetual dreamer craving roads less traveled, Mr. Udall moved across the Atlantic Ocean where he quickly fell into the publishing game working for independent mogul Dazed Publishing. There he quickly rose through the ranks to senior fashion editor across all three of their titles: AnOther Man, AnOther Magazine and Dazed and Confused. Collaborating with the world's leading photographers and magazines, Tyler also began consulting for internationally recognized brands and celebrities such as: Levis, Edwin, J.Lindberg, Topshop, Sonia Rykiel, Joaquin Phoenix, Courtney Love, MIA and the Verve amongst others. Alongside Jefferson Hack, Tyler also edited the fort nightly column "Delusions of Grandeur" for the Daily Telegraph.
Craving native soils, Tyler returned to New York City where he took on the role of Creative Director for the Agency Fred and Associates, conceptualizing and heading up the online services of the creative talent giant and its newest divisions: My Best Fred and Fred Loves. Throughout this time he continued to consult for American mega brands such as Target and Nike.
In early 2010 Tyler moved to Vancouver where he took up the role as Executive Director for Bi Annual fashion giant Hobo Magazine. It was here that he fell into the folds of Canada's top fashion school. We welcomed Tyler with open arms and he began teaching the Styling and Communications courses, all the while perusing a side lined art career where he has made remarkable headway. In just under two years he has published a monograph with NY gallery Oh Wow, contributed to several prolific fashion magazines and is currently represented by Peter Hay Halpert Fine Art in New York City.
In January 2012 Tyler Udall took on the role as Fashion Director here at Blanche Macdonald Centre. His open heart, witty candor and love for sharing talent and ideas makes him a popular addition to our ever-growing Blanche Macdonald family.
Read more about Tyler Udall here: http://www.blanchemacdonald.com/news/fashion/2012/tyler-udall-fashion-director-blanche-macdonald/
Melanie Watts
Career Director, Fashion Department
Melanie Watts thoroughly understands the entire range of the fashion and entertainment industry.
Alumni of Blanche Macdonld Centre's Fashion Marketing program, Melanie Watts became an internationally recognized stylist, working with film and television stars, corporate clients and fashion's elite for over a decade. Recalibrating her attention, Melanie moved into the agency business and represented several top tier actors and as a model agency director used her keen and discerning eye to place Vancouver based models in the highest fashion echelons including New York City and Milan.
Miss Watts rejoined the Blanche Macdonald family eight years ago. As a Fashion Styling Instructor she inspired and groomed a new generation of stylists. As Special Events Coordinator she was one of the key figures involved in making the annual Fashion Design Graduation Show, an undisputed highlight of the Vancouver fashion year.
With her current role as Career Director for the fashion Department, Melanie's incredible warmth, honesty and enthusiasm for fashion, entertainment and education paired with her unrivalled skills and plethora of contacts, help pair Blanch Macdonald students with exciting career opportunities on a daily basis.
LISA GELLERT
Fashion Instructor
Lisa Gellert's prolific career in the fashion industry has been a global tour de force. Her acclaimed eccentricity brings a rare cultivated and comprehensive perspective to Blanche Macdonald Centre's Fashion Design Program.
Before Ms. Gellert became entrenched in the world of fashion she was working as a registered nurse in Victoria BC where she hails from. Lisa soon realized that with her discerning pallet and attention to detail, fashion was a true calling and attended the eminent Parsons School of Design in New York City where she earned her degree in 1984. Post graduation her insatiable thirst for knowledge lead her to Langara College, Emily Carr Institute of Art and Design and The University of British Columbia where she completed an extremely broad and in-depth study of life drawing and oil painting.
After her extensive studies, Ms. Gellert's career as a leading illustrator and textile designer was born. As a freelance illustrator, Lisa's range goes beyond the scope of fashion working with clients from The Vancouver Sun, Jax, Koret and Martha Sturdy to Freizal Virani. As an integral collaborator with one of Canada's leading couturiers Yumi Eto, Lisa's prints, illustrations and designs have graced every major fashion capitol in the world. She has received noteworthy editorials in Applied Arts Magazine, Nuvo Bridal and Marie Claire Japan.
In the late 1980's Lisa discovered her love of teaching and took on a position at Helen Lefaux School of Design where she taught for more than a decade while simultaneously pursuing her freelance career. In 2002 Ms. Gellert joined the Blanche Macdonald family teaching Fashion Design and Illustration. Our quirky maven continues to share her worldly expertise and eclectic eye with our students. Her ability to inspire and evoke creativity from malleable young minds is unrivaled and we are thrilled she is a part of our organization.
BRENDA SWINGLEHURST
Senior Pattern Making and Construction Instructor
Our veteran Pattern Making and Construction instructor Brenda Swinglehurst goes above and beyond the role of teacher. Her warmth, dedication and rapport with our students cannot be matched, making her one of our most prized faculty members.
Hailing from The United Kingdom, Brenda earned multiple creative degrees in graphic design, textiles, life drawing, ceramics and fashion design. Nevertheless, her true focus is on garment construction and pattern making. With degrees from both the Croyden College of Art and the Stockport School of Art, her seasoned list of credentials makes her one of Canada's most accomplished instructors.
As a designer and industry leading pattern maker, Brenda has been the chief architect in drafting lines for companies such as; Eto Clothes, Obaki, Jantzen, A&J Wolf, Simon Jeffery LTD, Fluent and Dorothy Grant. In the late 1980's Brenda Swinglehurst began sharing her wealth of experience with the students at Helen Lefaux School of Fashion Design where she taught Design and Pattern Making for over a decade. Brenda joined the Blanche Macdonald family in 2002 as the Senior Pattern Making and Construction instructor.
Students adore Brenda. Her encouragement and faith in them never waivers and year after year she continues to produce some of the most polished design graduates in the country.
Anahita Monzavi
Fashion Instructor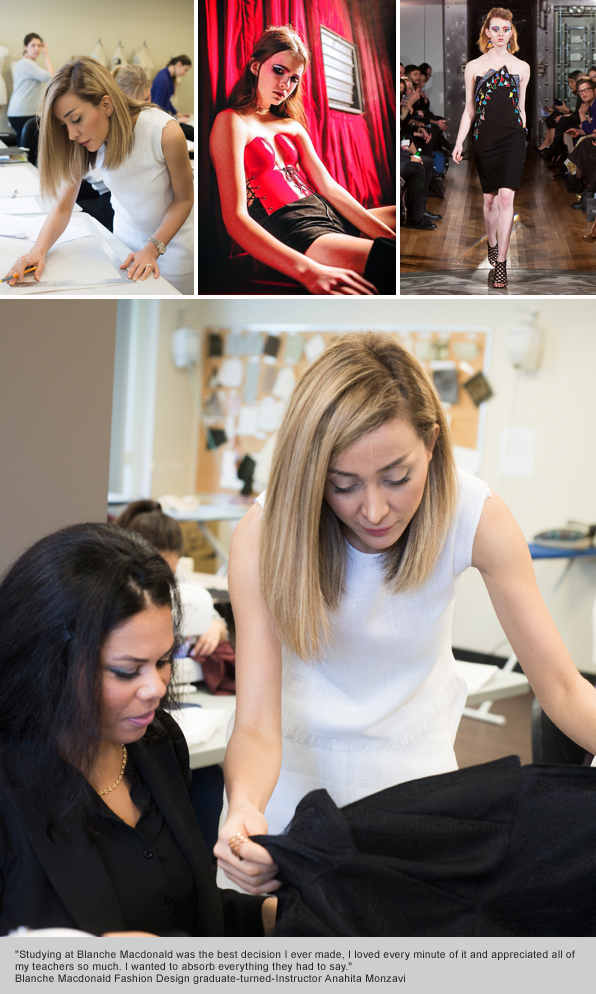 "Fashion Design is my passion. I never get tired of what I do. It's hard to put in words, but I never imagined I would love fashion and design the way I do. It's just the right thing for me."
Though Anahita Monzavi graduated from Canada's Top Fashion School in the spring of 2015, she was immersed in the world of Fashion Design well before that. Originally from Esfahan, Iran, Anahita worked for over eight years in fashion before moving to Canada, with five of those years spent running a showroom and designing custom evening and bridal gowns for a myriad of A-list clients. With an inherent knack for design, Anahita is proof that talent and fate so often fall hand-in-hand. When she walked through our doors on her first day at Blanche Macdonald, we knew she was exactly where she was meant to be.
"When I first came to Canada," she says, "I spent a lot of time researching and talking to people about which school I should go to. I already had experience so I didn't want to go back to Fashion Design school for four years. My friends and family who are from Vancouver said that I must go to Blanche Macdonald, that it was the best school. After that I did not look anywhere else."
After spending a mere two years in Vancouver, Anahita has gone from excelling as a student to shining as a mentor and instructor for budding designers. She's been impressing the fashion community since she first enrolled at Blanche Macdonald, so her accomplishments have come as no surprise. Investing the same attentiveness in fashion instruction as she does with her professional career, Anahita credits the mentorship of Senior Pattern Making and Construction Instructor Brenda Swinglehurst as well as Program Directors Peggy Morrison and Donna Baldock for her academic successes.
"Studying here [at Blanche Macdonald] was the best decision I ever made," Anahita says. "I loved every minute of it and appreciated all of my teachers so much. I'd have to say that Pattern Drafting and Garment Construction with Brenda were two of my favourite classes. I also loved Fashion Awareness with Peggy and Fashion History with Donna. I wanted to absorb everything they had to say."
Read more about Fashion Instructor Anahita Monzavi
Carlie Wong
Fashion Instructor
Bursting through the fashion forefront in 2007 as the youngest of twelve featured designers on the inaugural season of Project Runway Canada, in five short years Carlie Wong has grown into an internationally recognized creative leader.
Graduating with a bachelor's degree in fashion design, she launched the Carlie Wong Label and in 2012 established Carlie Wong Atelier; a line featuring couture, evening and bridal wear specially designed for private clientele. Focusing on feminine and luxurious pieces, her design philosophy is grounded in quality construction, attention to detail and a strong play on silhouette and proportion. It is no surprise that her red carpet gowns have garnered such a strong following from fashion elite and celebrities like: Carly Rae Jepson, Florence Welch, Serinda Swan and Nina Dobrey. Her work has also graced the pages of many internationally recognized publications including: Flare, Fashion and Elle Magazine to name a few.
When Ms. Wong isn't creating gowns for the stars, she is teaching the Design Awareness and Introduction to Manufacturing courses to Fashion Marketing and Design students at Blanche Macdonald Centre. Her feathered eye combined with her ever so personal and dedicated demeanor makes Carlie an unbelievable instructor.
LYNDI BARRETT
Fashion Instructor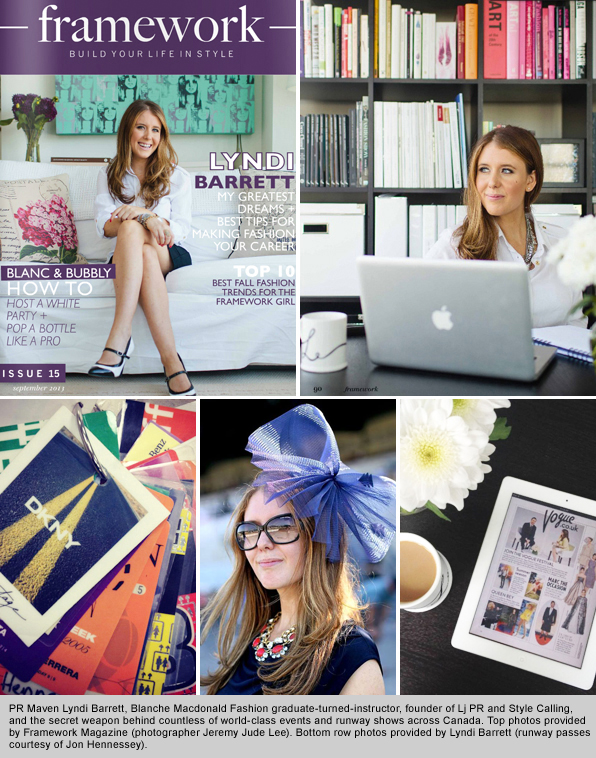 Poised, sophisticated and radiating enthusiasm for all things fashion, it's immediately apparent how Fashion Marketing graduate-turned-instructor Lyndi Barrett became one of Vancouver's most celebrated Public Relations mavens. Students at Canada's #1 Fashion School can sense her success the moment they meet her.
"I'm a people person and I love problem solving!" smiles Lyndi, the founder of Public and Media Relation Agency Lj PR and the secret weapon behind countless runway shows and choice events across Canada. "Working in a collaborative environment that requires organization and on-your-feet decision-making is definitely my thing. Whenever there's a VIP attendee without a front row seat, I'm the one who jumps in to figure it out. I absolutely love solving on-the-spot problems."
Still in her 20s, the South African native has already amassed a clientele of internationally renowned fashion heavyweights, including H&M, L'Oreal, BCBGMAXAZRIA and Le Chateau. When she isn't working with leading brands at Lj PR, Lyndi is sharing her expertise at Blanche Macdonald, where she teaches Runway Show Production and Public Relations classes.
"At Blanche Macdonald, I speak with so many enthusiastic young people and am able to share everything I love about the Fashion Industry," continues Lyndi. "My mother is a teacher so I've always liked being in that environment. The students always remind me how exciting our job can be and help me recognize just how far I've come!"
Read More about Fashion Instructor Graduate Lyndi Barrett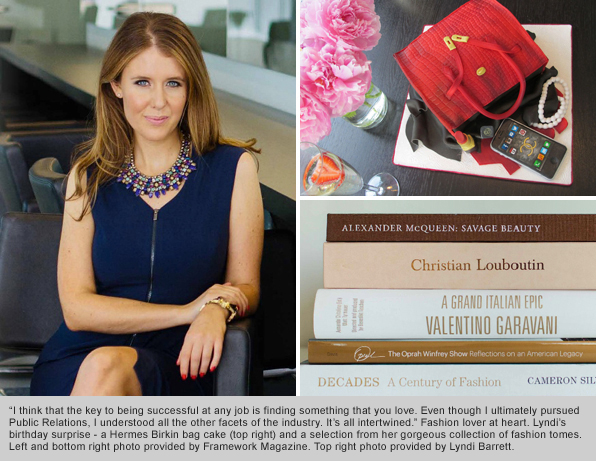 Sara Armstrong
Fashion Instructor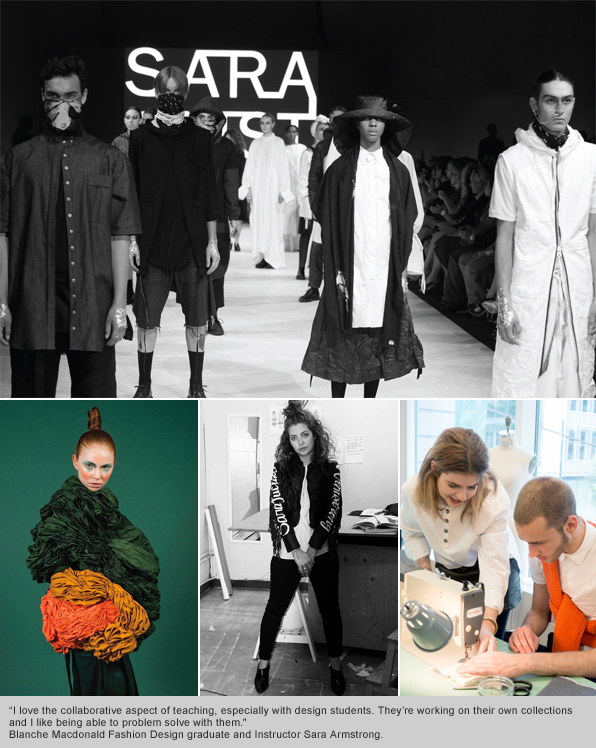 The rain-heavy clouds have only just swept past this city block and a crisp beam of winter sunlight now rays down upon the shop front of Vancouver's Greenhorn Cafe. Blanche Macdonald Fashion Design graduate-turned-instructor and eponymous label owner Sara Armstrong ambles up the sidewalk, folded in to the dark cocoon of her coat, and we pause together to marvel at the timely turn of the weather. As we upright a couple of chairs outside, brushing off a few errant drops of water, our conversation turns to the magnificent line and craftsmanship of her jacket.
"I finished it just now, actually. I'd been feeling a cape, but I think I might stick with this," Sara says with a humble shrug. Her shoulders are framed in angled raglan seams, sloping and structured all at once.
When she speaks, it's with dream-like deliberation; every word—the right word—matters, her sentences themselves like sharp garments patterned and sewn with precision. "My style is a strange combination of fashion and sculpture," she says, "though I actually feel that combination should be more common. It's about transforming a two-dimensional to a three-dimensional form. I reference this a lot in my architectural seams. My background in sculpture has also been helpful in being a bit more fearless with materials."
Sara received her B.F.A in Intermedia & Sculpture from the University of Regina, Saskatchewan, the province she calls home and the city where her foray into art-as-career first began. Though she ultimately decided that sculpture wasn't the medium for her, her studies became the lens through which she developed her fashion aesthetic: Dynamically arching lines and intriguingly formulated silhouettes that have garnered international acclaim.
"When I was doing my degree," Sara says, "I was focusing mainly on public sculpture. I thought, 'Well, what do you do – work on one project for five years? How do you stay inspired through that?'" She smiles. "Fashion design is my own kind of public sculpture, I suppose. Everyone can take a piece, and what I want people to do is to make their own stories and life around them. I don't think of them as these trendy one-season pieces. I want the people who own them to incorporate them into their lives."