Fashion Programs: Graduate Highlights
The Blanche Macdonald Centre is pleased to highlight some of our notable alumni. These Fashion Design School graduates have excelled both personally and professionally, making an impact on a local, national and global scale. Read about their success and how Blanche Macdonald impacted where they are today.
ALEX S. YU
Fashion Design Graduate
Award-winning Fashion Designer/Owner of International Fashion label ALEX S. YU, Emerging Designer of the Year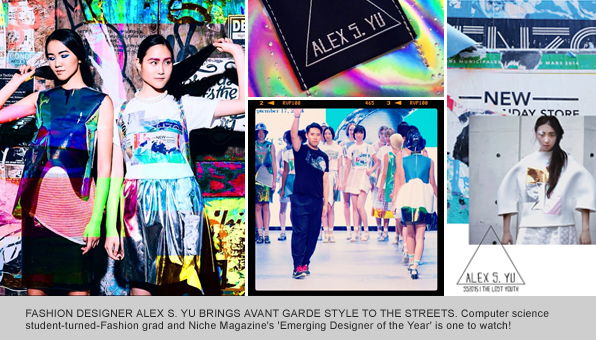 Fragmented fairy tales peppered with nostalgia. Susie Bubble meets Dr Seuss. Throw in a little teenage rebellion for good measure, and you have Fashion sensation Alex Yu. If the name doesn't ring bells yet, commit it to memory. At the rate the Blanche Macdonald Fashion Design graduate's accolades are piling up, he's sure to be a household name in no time. In the most fashion-conscious households, of course.
Alex gradated from Canada's Top Fashion School three years ago. Since then he's continued his studies at the renowned London College of Fashion, won rave reviews from his debut collection at Vancouver Fashion Week, earned features by the likes of British Vogue and Elle Italia and opened a pop up shop that sold out completely. It's crystal clear that Alex is one to watch.
"I actually started out studying computer science, believe it or not," reveals Alex, with a cheeky grin. "I'd always loved fashion, but my family thought it best for me to be a doctor or lawyer or a computer programmer. While I was studying at university I began to sew and draw and even dabbled in marketing. I thought perhaps I could work the business side of fashion."
Those computer science and technical studies weren't entirely in vain. Their influence in his contemporary womenswear rings loud and clear.
Read more about Fashion Design Graduate Alex S. Yu
Amaly Narong
Fashion Design Graduate
Owner, Today You Are Special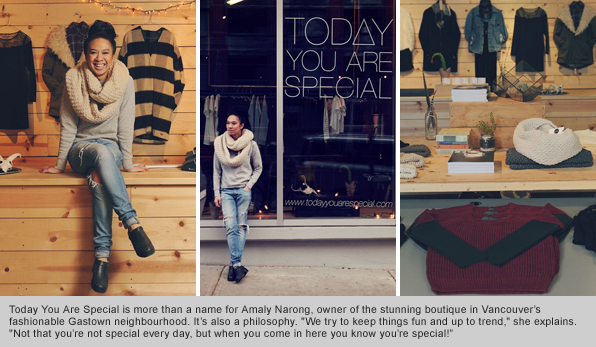 Today You Are Special is more than a name for Amaly Narong, owner of the stunning boutique in Vancouver's fashionable Gastown neighbourhood. It's also a philosophy.
"We like to keep everything in here very modern and current," she explains. "We try to keep things fun and up to trend, hence the name Today You Are Special! When you come in here you should feel like you're special. Not that you're not special every day, but when you come in here you know you're special."
Amaly is pretty special herself. The Fashion Design graduate from Canada's #1 Fashion School has had a journey that's taken her across North America and back again before making her dream project a reality. And it all started in the small, chilly city of Red Deer, Alberta.
"People aren't thinking fashion there," she laughs. "They're thinking agriculture. I always loved and admired fashion. It's the ultimate way to express yourself creatively, based on how you feel each day. In high school I was a morbid teenager and that was evident in what I wore. There were a lot of black clothes and eyeliner! But after I finished high school I got to know myself a little better and my own personal fashion started to evolve. I studied marketing at college in Alberta for a while but the people were so boring. I told myself, 'I'm going to do this fashion thing.'
"I did a lot of research about Fashion Schools in Canada and Blanche Macdonald was the one that jumped out. I came to Vancouver, spoke to the career coordinators, some instructors and really liked the feel of the environment. I could see everyone encouraging creative expression. I didn't have that backing when I grew up so I appreciated that."
Read more about Fashion Design Graduate Amaly Narong
Anahita Monzavi
Fashion Design Graduate-turned-Instructor
Designer/ Owner of Aiki District, Vancouver BC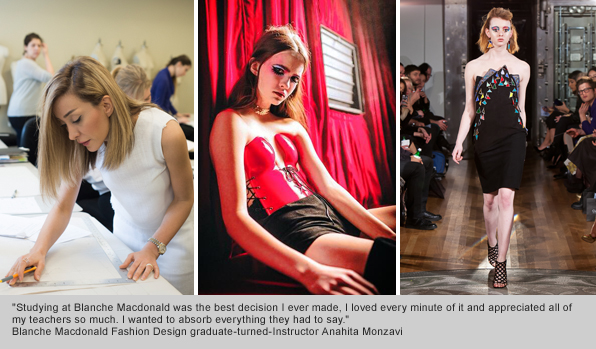 "Fashion Design is my passion. I never get tired of what I do. It's hard to put in words, but I never imagined I would love fashion and design the way I do. It's just the right thing for me."
Though Anahita Monzavi graduated from Canada's Top Fashion School in the spring of 2015, she was immersed in the world of Fashion Design well before that. Originally from Esfahan, Iran, Anahita worked for over eight years in fashion before moving to Canada, with five of those years spent running a showroom and designing custom evening and bridal gowns for a myriad of A-list clients. With an inherent knack for design, Anahita is proof that talent and fate so often fall hand-in-hand. When she walked through our doors on her first day at Blanche Macdonald, we knew she was exactly where she was meant to be.
"When I first came to Canada," she says, "I spent a lot of time researching and talking to people about which school I should go to. I already had experience so I didn't want to go back to Fashion Design school for four years. My friends and family who are from Vancouver said that I must go to Blanche Macdonald, that it was the best school. After that I did not look anywhere else."
Read more about Fashion Design Graduate Anahita Monzavi
Ash Turner
Fashion Design Graduate
Creator and Designer of Mechanic Organic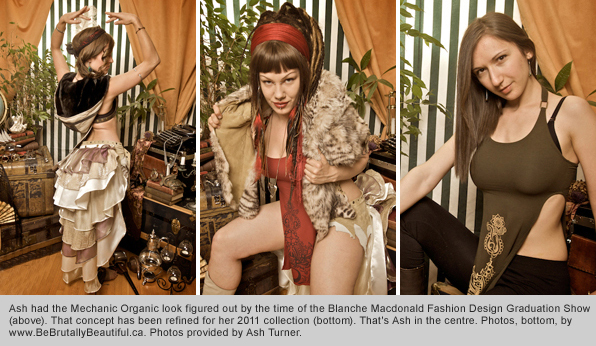 "Every day you are give the unique opportunity to become more than you have been. If you can wake up every morning, say that to yourself and believe it, it'll give you the push to make your life your own, rather than wait for someone else to do it for you. Life is too short to half-ass it."
This is the philosophy that drives Ash Turner, the creator of Vancouver-based performance artist and festival-wear label Mechanic Organic. And it's a philosophy that's produced both success and incredible clothes since Ash graduated from the Fashion Design program at Blanche Macdonald.
"I probably work 16-18 hours most days," she smiles. "But I wouldn't want to be doing anything else. When I came out of Fashion School I went straight into doing custom work for individual clients. I'm pretty good at networking, so I put it out there and people started biting."
Ash is doing much more than custom work now. She's designing and producing collections for Mechanic Organic, retailing the lines at festivals across the Pacific Northwest and putting on club nights and fashion shows with her role at event organisers, Perception Events. It's not the life of the traditional fashion designer. But Ash has never done anything the traditional way.
Read more about Fashion Design Graduate Ash Turner
Caroline Calvert
Fashion Design Graduate
Designer/Owner of Caroline Calvert Couture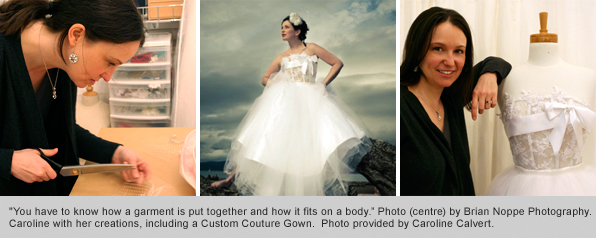 When you're dealing with the most important dress most women will ever own, things can get emotional. Couture wedding gown designer Caroline Calvert understands.
"One girl came to me a month before her wedding," recalls Caroline. "She was almost in tears because a dress she'd bought from another store looked absolutely horrible. She was so upset and wanted to know if we could make her a dress quickly. I said, 'No problem. We'll rush it through and we'll get it for you.' She picked a dress from my collection and we got it made. The day she arrived to pick it up, she came in with her mum. She came out of the fitting room wearing the dress and no one was saying anything. I thought her mum wasn't happy with it, but it was actually because she was crying. Her mum came and hugged me. And then we all cried!"
Turning fears into tears (of joy, of course) is all part of the service at Caroline Calvert Couture . From her stylish boutique in the Kitsilano area of Vancouver, Caroline offers a heavenly selection of wedding gowns from her collection that will be made to every bride's individual measurements. For brides with their dream dress already in mind, Caroline will create a custom piece of couture. Every bride leaves with her dreams, at least in terms of her wedding dress, fulfilled.
Read more about Fashion Design Graduate Caroline Calvert
Dace Moore
Owner & Designer, dace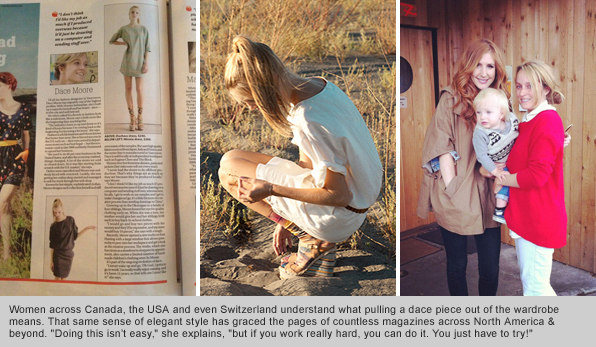 That's the proud mission statement greeting visitors to the facebook fan page of dace, the internationally acclaimed, Vancouver-based fashion label.
Women across Canada, the USA and even Switzerland understand what pulling a dace piece out of the wardrobe means. That same sense of elegant style has graced the pages of countless magazines across North America and beyond, including LOULOU, Redbook, Fashion, Flare, Elle, Chatelaine, NYChic and Canadian Living. For the label's creator, designer Dace Moore, becoming one of Vancouver's fashion superstars wasn't easy. But there's always been a sense of inevitability about Dace's fashion ascendancy, even before she arrived at Canada's #1 Fashion School.
Read more about Fashion Designer Dace Moore
DAVID JACK
Fashion Design Graduate
Designer, Vancouver BC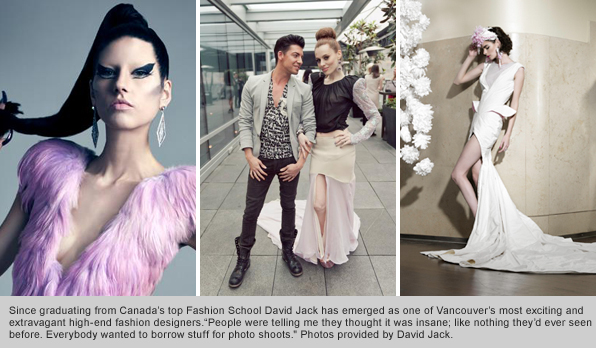 It wasn't fashion that brought David Jack to Vancouver from his original home in London, England. It was fate.
"My family used to come on vacation to BC every year," he explains. "We all fell in love with the idea of moving here permanently and it made perfect sense for me to set myself up in Vancouver."
London's loss was Vancouver's gain. Since graduating from Canada's top Fashion School David has emerged as one of Vancouver's most exciting and extravagant high-end fashion designers. With the benefit of hindsight, this hasn't come as a surprise.
"I've always been interested in fashion," continues David. "My Dad used to take me into Central London and we'd look around all the high-end shops: things like Vivienne Westwood. That's what got me going with fashion. I'd make dreadful things as a kid. I once attempted to make a corset for a girlfriend of mine from some old football shin pads. Needless to say, it wasn't very good. My Mum found it recently. She was like, what the hell is this?"
Relocating to Vancouver invoked a mild case of fashion culture shock, but David soon learned how to locate like-minded individuals. A big part of that was finding a Fashion School that fit his personality and career aims.
Read more about Fashion Design Graduate David Jack
Evan Clayton
Fashion Design Graduate
Designer, Vancouver BC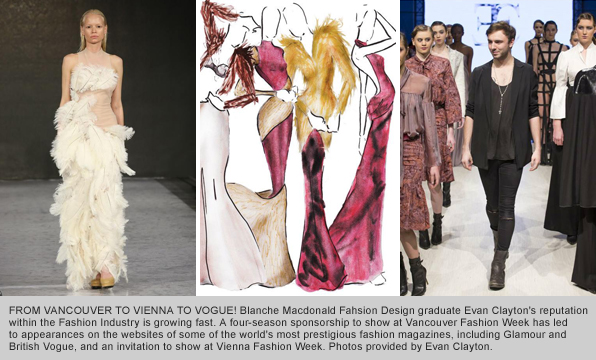 Evan Clayton can remember the exact moment that he decided to become a Fashion Designer. Its memory is still the motivation behind every aspect of his design life.
"I was watching Fashion TV back when I was in high school," he explains, "and they were profiling an Alexander McQueen show, 'In Memory of Elizabeth Howe', from Fall 2007, which was inspired by the Salem Witch Trials. Back then I was a little emo goth kid so I was instantly interested in witches and paganism. The day I saw that show I saw every other show of his I could on YouTube. As I started to learn more about Alexander McQueen and saw more of his shows, his work really spoke to me. A lot of people think fashion is something very superficial. But to me, fashion is a high art form. The designers I've come to admire and respect see it the same way and treat fashion as a narrative, which is what I like to do with my work too."
Evan's fine art approach to fashion is winning him fans around the world. The Blanche Macdonald Fashion Design graduate received a four-season sponsorship to show his collections at Vancouver Fashion Week, which in turn has led to appearances on the web sites of some of the world's most prestigious fashion magazines, including Glamour and British Vogue, and an invitation to show a collection at Austria's Vienna Fashion Week.
For the young man from the Kootenay region of the BC interior, it's already been an incredible journey.
Read more about Fashion Design Graduate Evan Clayton
Genette Salgado
Fashion Design Graduate
Designer/Owner of the SALGADO collection - Vancouver, BC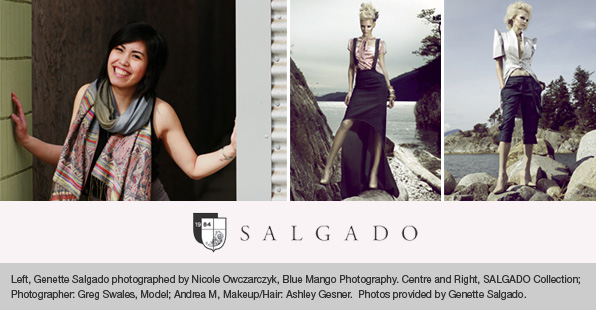 After graduating from Blanche Macdonald Centre's Fashion Design Program with top marks and an achievement award for Overall Portfolio Presentation, Fashion Design Graduate Genette Salgado launched her own self-titled label, S A L G A D O. This very talented designer also has a BA in Anthropology and a background in athletics and performing arts, and has channeled her creative and competitive spirit into a beautiful clothing line for the trendy, flirty and confident woman.
"Blanche was more than I expected, and I already had high hopes prior to the start of my program!" says Saldago. "The teaching staff is incredibly talented and knowledgeable, and I was very fortunate to have been part of a very inspired and inspiring class. We were all able to create a very supportive environment in which we could all grow into unique designers. It was an immensely gratifying year."
Read more about Fashion Design Graduate Genette Salgado
Hilary MacMillan
Fashion Design Graduate
Fashion Designer/Owner of Fashion label Hilary MacMillan, named Top Ten Fashion Designers at Toronto Fashion Week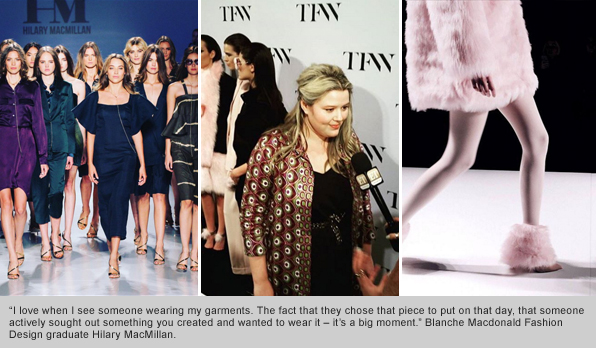 "My mother is an artist, so growing up I was always engaged in some art project. She encouraged me to be creative and to think outside of the box from an early age."
Every designer's story is a little different; for some it takes time for the realization to slowly dawn, but for others, it is an innate sense of purpose. For Blanche Macdonald Fashion Design graduate Hilary MacMillan, it's as though every step along the way was kismet, propelling her to where she is today.
Boston-born and Toronto-raised, it was an Undergraduate Degree at the University of British Columbia in Political Science and Economics that originally brought Hilary to Vancouver. However, it was during this time that she decided to change direction, recognizing that her life-long love affair with fashion could in fact become her career.
Her creative journey started at the Blanche Macdonald Centre, when she made the life-altering decision to scrap law school and pursue her unshakable passion for art and design. With a clear artistic vision and a passion to create for the modern urban women she was surrounded by, Hilary's namesake label has been turning heads since its inception in 2012. Fast forward to present day, Hilary has just established a new stockist in Morocco, allows celebrities to pull her garments for Toronto International Film Festival and is showing both Fall and Spring collections at Toronto Fashion Week. We've come to conclusion, this was always her calling.
Read more about Fashion Design Graduate Hilary MacMillan
Hrissa Soumpassis
Fashion Design Graduate
Designer/Owner of elika designs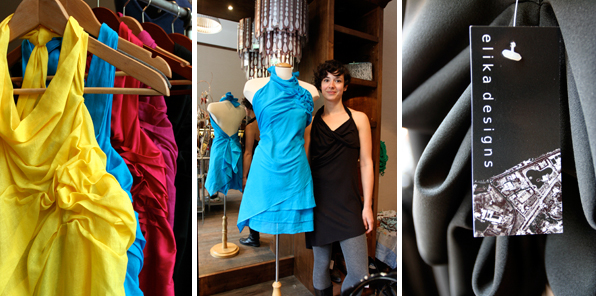 When Hrissa Soumpassis was twelve, her parents asked her what she wanted to be when she grew up.
"I told them I was going to be a fashion designer," she laughs.

It was a bold prediction. Hrissa is now the Designer and Creative Director of elika designs, a high-end women's ready-to-wear label selling to fans around the world.

"I was obsessively drawing clothing from the age of six or seven," she smiles. "I loved clothes. I always had my own weird style."

Hrissa took inspiration from the vintage clothing that found its way to her hometown of Prince Albert, Saskatchewan and began designing as a teenager.

"I started experimenting with clothing in high school," she recalls. "I was making outfits for my friends to wear at parties. I could do magic with fun fur!"

Hrissa had two major ambitions on graduating high school. She was going to travel and she was going to break into the fashion industry. Preferably both simultaneously.

"After high school I did a year at a fashion design school in Saskatoon," she recalls. "It was totally ridiculous. They were geared to teaching women to become seamstresses, not fashion designers. So I studied Humanities at university then went backpacking for a year. In New Zealand I interned with a designer who taught me a lot about the industry, even how to experiment with possum fur.

"Before I left Canada I knew I wanted to enrol in a Fashion Design program. I'd loved Vancouver when I'd visited, so I found its best fashion school – Blanche Macdonald. I got back from Australia, drove straight from Saskatchewan to Vancouver and started the Fashion Design program."
Read more about Fashion Design Graduate Hrissa Soumpassis
Jenny Hedberg
Fashion Design Graduate-turned-Instructor
Owner of label Hawks Ave.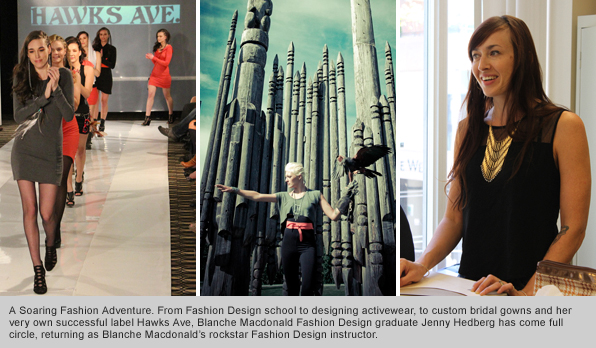 Blanche Macdonald Fashion Design Instructor Jenny Hedberg understands what it's like to be a student atCanada's #1 Fashion School. Ten years ago she was sitting in those classes herself, learning techniques and insights from the teachers who are now her colleagues.
"I love it here," she smiles. "I really like to see the moment when students understand a concept. They each have their own vision for their collection. It's very inspiring! You get to see unique perspectives, and help students build their skills to reach their goals. It's also a challenge for me because one person might be doing bridal gowns, and someone else doing leather or swimwear. That keeps me on my toes!"
The change from student to teacher is only one transformation for Jenny. She's forged a remarkable career for herself as a Designer; transferring her skills between activewear, custom bridal gowns, and her own label, Hawks Ave, before returning to the School that launched her fashion adventure. She's also created a home for herself in Vancouver, a long way from her start in Prince George, BC.
"At 15 I started making clothes for myself and friends," she explains, "and I started my first company at 19. I rented a little storefront and would make custom clothing. I ended up doing a lot of alterations and repair work. That was amazing and really great experience, because I had to teach myself how things are put together."
Read more about Fashion Design Instructor Jenny Hedberg
Jill Rothert
Fashion Design Graduate
Freelance Designer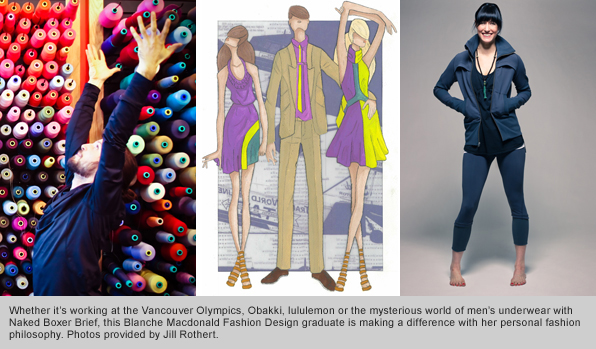 By the time you read this, Jill Rothert could very well be starting the next chapter in her fashion story on the other side of the planet.
"I've been speaking with a recruiter about jobs in Asia," she explains. "He's really interested in what I have to offer. I always wanted to work overseas, even for just a couple of years. I'm up for a position at NeilPryde. It's a windsurfing company in Hong Kong. They're looking to branch into clothing so they are looking to build a design team.
"There were a few other jobs we've been talking about too. Adidas are opening an office in Shanghai and there's a job with Puma in Finland. I'm open to it all."
A journey to Asia would be a big step, but not an unexpected one, for Jill. She sees her design career as a sequence of opportunities waiting to be taken. Whether it's working at the Olympics, Obakki, lululemon or the mysterious world of men's underwear with Naked Boxer Brief, the Blanche Macdonald Fashion Design graduate is going to make a difference with her personal fashion philosophy.
"Fashion isn't just fashion," she insists. "I enjoy designing clothing that is functional and wearable and has a purpose. It needs to do more than just look good."
Read more about Fashion Design graduate Jillian Rothert
Katie Quinn
Fashion Design Graduate
Creator and Designer of Downtown Betty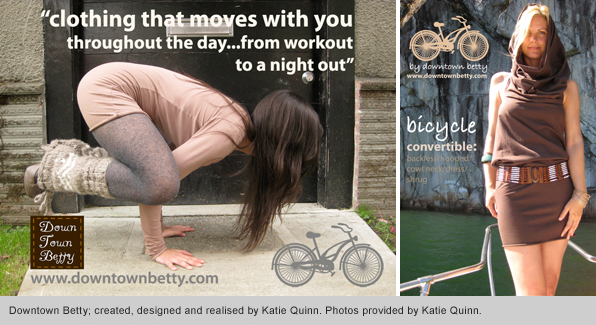 If you visit the Downtown Betty web site one of the first things you'll read is the casual glamour label's mission statement.
"It is the goal of Downtown Betty to make products that last a lifetime in the heart of the owner, not as overflow to the landfill".
For owner and designer Katie Quinn, there's more to fashion than what's appearing in that month's magazines. She wants her clothes to be ethically made, timelessly stylish and most of all, comfortable.
"Downtown Betty isn't trendy or seasonal," she explains. "They're comfortable and mobility-focussed pieces. I don't think people get tired of the pieces. They're cosy. It's the type of clothing you put on and it transforms with you for three or four days until you absolutely have to wash it."
It took a while for Katie to realise that there was a fashion designer inside her waiting to get out. Other people had spotted it long before Katie even considered taking the Fashion Design Program at Blanche Macdonald.
"My mother always had a sewing machine and my aunt told me that she figured I was going to become a fashion designer. She told me that she never met another 13-year old who would run into the house for a couple of hours, sew something up and run out again with a new skirt."
Read more about Fashion Design's Katie Quinn
Katsuki Shimizu
Fashion Design Graduate
Fashion Editor, Hinode Publishing, Tokyo, Japan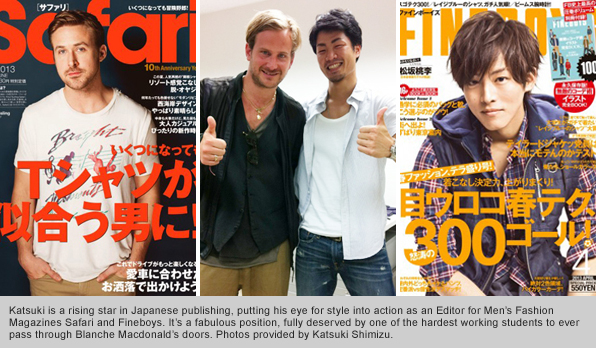 Don't let Katsuki Shimizu's modesty fool you. The Fashion Design graduate from Canada's #1 Fashion School is a rising star in the Japanese publishing industry, putting his eye for style into action as an Editor for Men's Fashion Magazines Safari and Fineboys. It's a fabulous position, fully deserved by one of the hardest working students to ever pass through Blanche Macdonald's doors.
Growing up in Japan with the twin loves of baseball and fashion; an injury forced the young Katsuki to trade his cap and uniform for an entirely new wardrobe.
"My whole life at high school was baseball. It's a very Japanese thing. I was practicing and playing almost every day. But I hurt my back and thought I just wasn't good enough to go professional, so I decided to go to Canada to study English. My English was improving and I was looking to study either fashion or photography. That's when one of my English teachers told me that Blanche Macdonald was probably the best Fashion School in Vancouver."
Katsuki's English wasn't quite fluent when he first sat down with Admissions Director Jaye Klippenstein. Even when he couldn't find exactly the right words, his enthusiasm was evident.
"I told Jaye I wanted to create things and she was sure I could do it. So I decided to go for it!
"When I started Fashion School I was still worried about my English. I'd have to ask my instructors a lot of questions after class about all the things I didn't understand."
All Katsuki's instructors were impressed with his determination to understand every aspect of every class. Program Director Donna Baldock began as one of those instructors. She soon became a friend. She'd provide Katsuki with all the information and inspiration he needed. It was a fair trade. He was inspiring her at the same time.
Read more about Fashion Design Graduate Katsuki Shimizu
Kirsten Ley
Fashion Design Graduate
Named "Student of the Decade" and Blanche Macdonald Fashion Design Graduate 2016 "Overall Achievement" Award Winner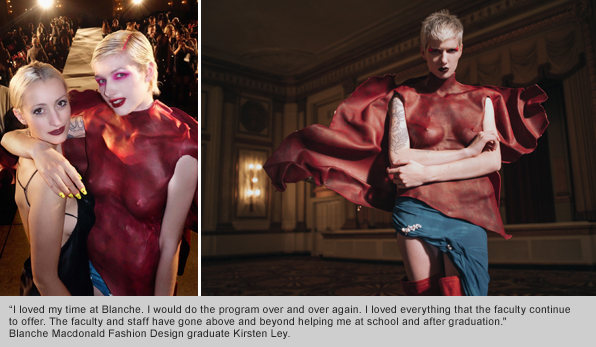 Kirsten Ley won more than the Award for Overall Achievement at Neon Dreams, this year's Blanche Macdonald Fashion Design Graduate Show. She also received one of the all-time great complements from Executive Program Director Peggy Morrison (not someone known for distributing praise lavishly), who declared Kirsten, "the Student of the Decade."
Since then Kirsten's been busy preparing to conquer the world with her eponymous label. And it'll be little surprise if Kirsten Ley becomes a household name in fashionable homes within the next five years. She's practically Wonder Woman.
"I get up at 5am every morning and go to bed around 2am every night," she explains. "When I was in the Fashion Design program at Blanche Macdonald I also had an internship and was teaching yoga every morning. I'm a night owl and a morning person. I find my relaxation and rest practicing yoga. I get enough rejuvenation from that to compliment my sleeping schedule, or lack of one!"
Channelling her endless energy directly from the universe (rather than the traditional method of sleep we mortals use), Kirsten's intellectual approach to creativity knows few bounds either. Her brilliant graduate collection juxtaposed concepts by matching the constriction of leather body casts with the free-spirited escapism of billowing silks.
"One of the ideas that sparked this collection was my own personal experience," continues Kirsten. "I was diagnosed with scoliosis when I was 13 and was put in a back brace for 22 hours a day. I was an actress, dancer and opera singer and the only time I was out of the brace was when I would dance, sing or perform. The dichotomy of the bound leather garments with the flowing silks is like breaking free of the confines I grew up with, which is one reason why I called my collection 'The Unbearable Lightness of Being.' That's one of my favourite novels too. Milan Kundera took Nietzsche's idea of eternal return, which I think is relevant to the cyclical nature of fashion."
Read more about Fashion Design Graduate Kirsten Ley
Lauren Ingle
Fashion Design Graduate
Head Designer Tonic Lifestyle Apparel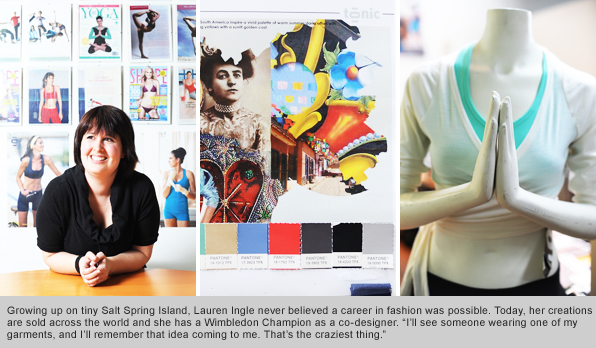 As Head Designer for all three lines of Tonic Lifestyle Apparel, Lauren Ingle makes the big decisions. Still, she always listens to her design colleagues' feedback when it comes to perfecting the Tonic Tennis line. Lauren knows fashion. One of her co-designers, Martina Hingis, Wimbledon Champion and winner of seven Grand Slam titles, knows tennis.

Two years ago we got a call from one of our retailers in London," explains Lauren. "Martina's trainer had come in and bought all the Tonic in the store. She contacted us and Martina was really interested in starting her own tennis line."

For yogawear label Tonic and its Blanche Macdonald Fashion Design grad Head Designer, it was another challenge to be embraced.

"Tennis is different to yoga," continues Lauren. "It's high impact and there's a lot of bouncing up and down, compared to yoga, which is focused on being still. We married the two and it's proving to be very popular. Martina came to Vancouver last summer, met with the team and we bounced ideas around. We had her try on all the garments and she told us what she liked and didn't like. She played tennis in them, and we went from there. It's important to keep her aesthetic in it and merge that with our own. It's like she's part of the design team."
Read more about Fashion Design Graduate Lauren Ingle
Lisa Malcic
Fashion Design Graduate
Designer/Owner of the Beba Bean Design Inc. Vancouver, BC

Inspiration can arrive from strange sources. A falling apple was Isaac Newton's first step towards developing of his theory of gravity. Seeds sticking to George De Mestral's dog's fur led him to invent Velcro.
For Blanche Macdonald Fashion Design graduate Lisa Malcic, owner of the Beba Bean line of baby wear and gifts, inspiration came directly from her infant son, Alex. Every time she or her husband Peter changed his diaper, young Alex would take the opportunity to pee on his parents. In an effort to stay dry Mr and Mrs Malcic invented the Pee-pee Teepee, defensive cones of cotton to place over the little hose during danger moments.
The rest is history. Today the company that began with these pee protectors is sells its lines in retailers including Gap Home, Babies R Us and Barneys New York, and California boutiques like Kitson, La La Ling and Fred Segal. Beba Bean now has over 120 sales reps across North America and boasts A-list celebrity clients including Brad and Angelina, Will Ferrell, Colin Farrell, Nicole Richie, Jennifer Hudson, Catherine Zeta-Jones, Matthew McConaughey and Gwen Stefani.
Read more about Fashion Design Graduate Lisa Malcic
Marcie LeBlanc
Fashion Design Graduate
Co-owner of Style Bridge - Victoria, BC

It hasn't come as a surprise that Marcie LeBlanc is making waves in the fashion community. Marcie graduated from Blanche Macdonald at the top of her Fashion Design class in 2005, and before long she was collaborating with owner Christine Lavdovsky on the reopening of the popular boutique Style Bridge in Victoria, BC.

Having formed a successful business partnership and friendship, Marcie and Christine now use Style Bridge as home for their three exclusive house labels Stil Brucke, Ludmila and BlackFish WhiteFish. And it's not just us who've been impressed. Marcie and Christine's talents were officially recognised by Vancouver Island's Times Colonist, being awarded the title of 'Most Awesome Clothing Design of 2008' for their highly customizable dresses which are created by hand according to the vision of the customer.
Read more about Fashion Design Graduate Marcie LeBlanc
Matthew Burditt
Fashion Design Graduate
Owner/designer of Oak Custom Clothing - Vancouver BC



Matthew Burditt has designed clothing for alt-folk/indie rock artist Regina Spektor indie vocalists CocoRosie and New York City's Antony and the Johnsons, who have performed with Bjork and Lou Reed. He is also working on garments for a few local bands.
"I got a job in the industry quickly, actually right after graduating, at Copasetic. It is a great job that has given me invaluable experience with every aspect of the apparel industry. I have been involved in everything from logistics to trend forecasting and I work closely with all aspects of the company," says Burditt.
"The education and experience I received at BMC was very important to me acquiring and maintaining my position here. I never know from day-to-day what skills I will need to use, from illustration to organization, technical drawing to pattern drafting - even the lingo, which I had never heard before the course. I have learned to be more direct and self-sustaining and most importantly, to look at it as what it is – business," says Burditt.
Read more about Fashion Design Graduate Matthew Burditt
Paul John Reyes
Fashion Design Graduate
Intern at J. Lindeberg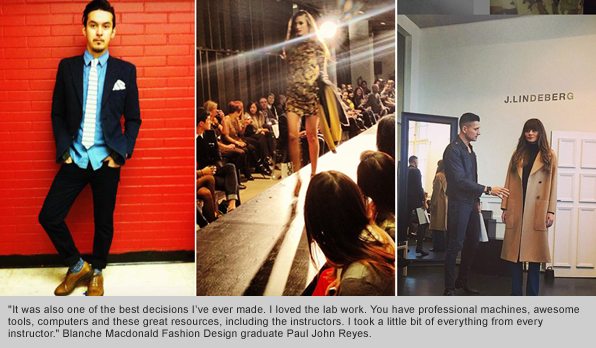 Speaking from his chic apartment in Stockholm, Sweden, Paul John Reyes is living proof of how an eye for style and a taste for hard work can take a young Fashion Design graduate anywhere he or she wants to go.
"I knew I wanted to move to Sweden before I'd even graduated from Fashion School," he explains. "The more we learned about the various Fashion Weeks around the world, the more I started understanding the origins of certain looks. I really liked the Scandinavian culture and style. They're very straightforward with everything in life, especially fashion. They have a functional, minimalistic approach with simple silhouettes. If you're on the subway here 90% of the colour is black and white. I wanted to come to Sweden to be inspired by the culture and style, and to mature myself as a designer."
Inspiration and perspiration go hand in hand. Paul put in the long hours of research and hustled his way to the ultimate Scandinavian fashion experience, negotiating a five-month internship for himself at International lifestyle label J.Lindeberg. That internship has finished now. He's still digesting everything he learned.
"J.Lindeberg wasn't easy to find," laughs Paul. "They don't advertise internships. I had to go deep into the internet to find an email contact. When I finally got in touch with the right person they asked me to send my stuff over, then invited me to do a Skype interview, which eventually led to the internship.
"As a fly on the wall I could observe and learn a lot. I could see how the professionals do it in fashion and business. I was in this creative environment that was really inspiring and got me excited for work every day. I took a lot of knowledge from my time there. If I started my own brand or worked for another company, I'd look at it from an entirely new perspective now. I'm wiser and more mature. I have a far better understanding of how I'll do things when it's my turn."
Read more about Fashion Design Graduate Paul John Reyes
Roberta Rodger
Fashion Design Graduate
World Champion Snowboarder and Designer, Foursquare Outerwear Collection
Okay, wow, we are impressed. A hit of Google and "Roberta Rodger snowboard" brought up page after page of articles and accolades, photos and awards. Sheesh, what does "slays rails" and "halfpipes" mean? Uhmm, memo to us, must ask Roberta.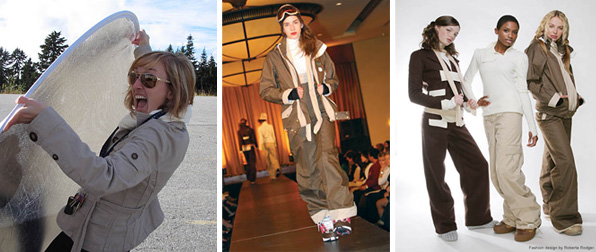 Roberta Rodger is a world-class, world champion professional snowboarder who, in her nine years as a professional boarder, won the World QP Championship in 2001, was part of the Sessions pro-team, part of the Canadian National Halfpipe Team and was a co-owner of an all-female snowboard company, Chorus, who built snowboards for women by women in a male-dominated sport. The list of accomplishments is endless Rodger, and has no doubt appeared in the various snowboard magazines that have featured her in competitions and photo shoots around the world.

Who better than to design outerwear and streetwear for the Women's Spring collection for NOMIS – which will be shown at the ASR this Fall – or apply her knowledge and skill into designing the California-based Foursquare's Outerwear Collection for 2009? Rodger's love of snowboarding and her passion for sewing and fashion make her the perfect candidate to infuse fresh style on the slopes.
Read more about Fashion Design Graduate Roberta Rodger
Roger Shum
Fashion Design Graduate
Marketing Manager (市場銷售部經理) at Doriano International Ltd. - Hong Kong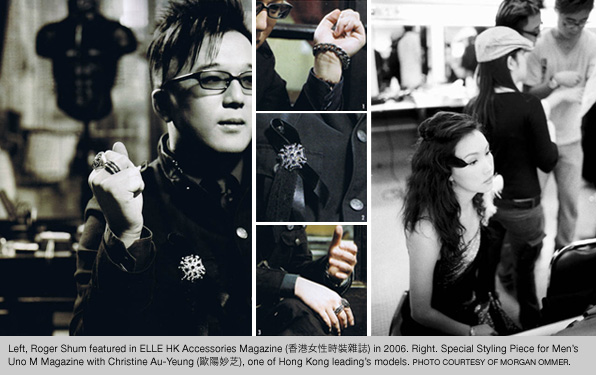 Roger Shum began his career in Fashion Design as an Assistant Designer for Doriano International Ltd. in 2001. In 2003, he became a Marketing Executive worked with a variety of suppliers, designers, models, photographers, make up artists and magazine editors. In 2005, he began working for a production house until returning to Doriano as a Marketing Manager in 2007.
"We did the Joyce Show, The Lane Crawford Show, and last but not least …the most important one, we did the first Vivienne Westwood Show in Hong Kong in 2006," says Shum. "Ms Westwood was in attendance with her entourage. I met her. She was lovely."
Of his time at Blanche Macdonald Centre, Shum says, "The Fashion Show Production, Hair and Make up courses in the Fashion Design Diploma program are excellent. Fashion History is also extremely helpful and Fashion Awareness I and II courses are essential.
I think I learned a lot more from BMC than some fashion design students I meet in Hong Kong. Their course is more manufacturing and production based compared to BMC."
Read more about Fashion Design Graduate Roger Shum
Sara Armstrong
Fashion Design Graduate-turned-Instructor
Designer/ Owner of Sara Armstrong Designs, Vancouver BC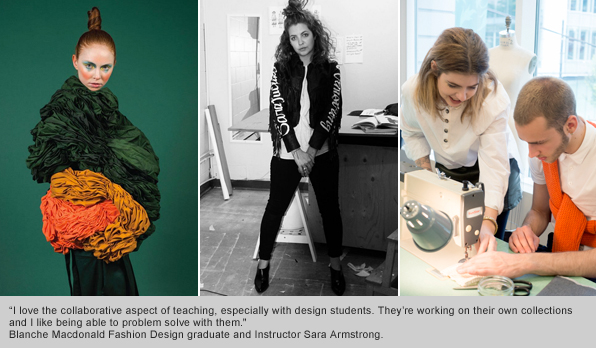 The rain-heavy clouds have only just swept past this city block and a crisp beam of winter sunlight now rays down upon the shop front of Vancouver's Greenhorn Cafe. Blanche Macdonald Fashion Design graduate-turned-instructor and eponymous label owner Sara Armstrong ambles up the sidewalk, folded in to the dark cocoon of her coat, and we pause together to marvel at the timely turn of the weather. As we upright a couple of chairs outside, brushing off a few errant drops of water, our conversation turns to the magnificent line and craftsmanship of her jacket.
"I finished it just now, actually. I'd been feeling a cape, but I think I might stick with this," Sara says with a humble shrug. Her shoulders are framed in angled raglan seams, sloping and structured all at once.
When she speaks, it's with dream-like deliberation; every word—the right word—matters, her sentences themselves like sharp garments patterned and sewn with precision. "My style is a strange combination of fashion and sculpture," she says, "though I actually feel that combination should be more common. It's about transforming a two-dimensional to a three-dimensional form. I reference this a lot in my architectural seams. My background in sculpture has also been helpful in being a bit more fearless with materials."
Sara received her B.F.A in Intermedia & Sculpture from the University of Regina, Saskatchewan, the province she calls home and the city where her foray into art-as-career first began. Though she ultimately decided that sculpture wasn't the medium for her, her studies became the lens through which she developed her fashion aesthetic: Dynamically arching lines and intriguingly formulated silhouettes that have garnered international acclaim.
"When I was doing my degree," Sara says, "I was focusing mainly on public sculpture. I thought, 'Well, what do you do – work on one project for five years? How do you stay inspired through that?'" She smiles. "Fashion design is my own kind of public sculpture, I suppose. Everyone can take a piece, and what I want people to do is to make their own stories and life around them. I don't think of them as these trendy one-season pieces. I want the people who own them to incorporate them into their lives."
Read more about Fashion Design Graduate Sara Armstrong
Sheila Wong
Fashion Design Graduate
Owner of Sheila Wong Fashion Design Studio (SWFDS), Vancouver BC

Inspiration comes in many forms.
For Fashion Design graduate Sheila Wong, inspiration blooms when art and ideas flow naturally and everything a designer could ever need is close to hand. Which is why inspiration is in plentiful supply in Vancouver's Gastown at Sheila Wong Fashion Design Studio (SWFDS), a space where experienced and novice designers can unleash their talents in the company of likeminded fashion fanatics.
"It's the environment we have here," explains Sheila. "This space generates the inspiration and the networking opportunities. People come here and are able to speak to other designers, meet new clients or just show they exist. If you're an artist working by yourself, it can be a lonely lifestyle. When they get out and get the chance to be creative with someone else, they can find the inspiration and get things going. Designers always say to me, if it weren't for this space, I wouldn't have gone this way with the design."
Sheila delivers more than the inspiration of a location alive with colour and the latest works from some of Vancouver's best visual artists. For budding fashionistas looking to take their first steps into the world of design, Sheila teaches beginning, intermediate and private sewing classes. For experienced designers, she provides everything they need to produce work that matches their visions.
Read more about Fashion Design Graduate Sheila Wong
Theola Wong
Fashion Design Graduate
Senior Apparel Designer, Nike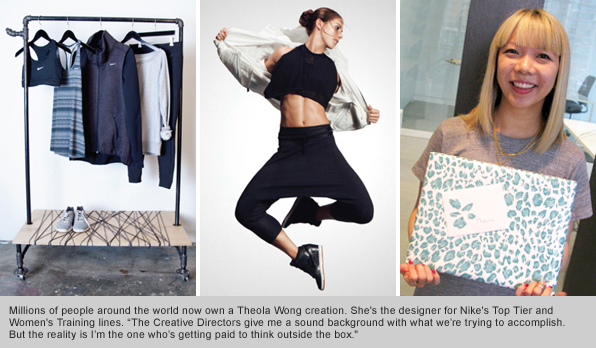 "I knew I was going to be a designer when I was five years old," smiles Nike Senior Apparel Designer and Blanche Macdonald Fashion Design Graduate Theola Wong. "My mother sewed all the time. When I was four I asked her how to use a sewing machine. She taught me how to crochet and gave me a needle and thread instead. I started making crochet clothes for my Barbies when I was five."
Theola's early practice paid off. As a Senior Designer for Nike her creations now reach across the planet. The numbers are staggering. When a new Nike pop-up store in Chicago pocketed an incredible $16 million in its first week, a third of those sales were clothes from Theola's Women's Training line. In a word, wow.
"I can't understand the concept of 100,000 units of anything," she laughs when asked about the global reach of her designs. "But it's not just down to me. I'm supported by our merchandising and branding teams. Even if you're the best product-maker in the world, unless you have someone telling your story you'll never succeed."
Read more about Fashion Design Graduate Theola Wong
Theresa James and Roger Prince

She's a former human rights lawyer who worked in Albania and Papua New Guinea with the United Nations. He's a construction worker and home renovator with shoulders like an Olympic swimmer. Together, Blanche Macdonald Fashion Design graduates Theresa James and Roger Prince are Vancouver-based design team Retarded Velvet. And they are crazy for each other.
Read more about Fashion Design Graduates Theresa James and Roger Prince
Wen-chee Liu
Fashion Design Graduate
Chef d'Atelier, Jason Matlo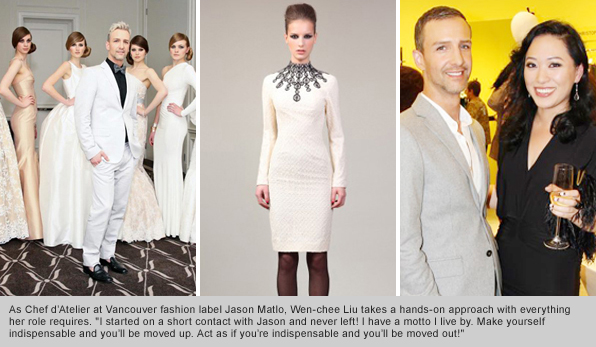 As Chef d'Atelier at Vancouver fashion label Jason Matlo, Wen-chee Liu takes a hands-on approach with everything her role requires. Which leads to the obvious question, what exactly is a Chef d'Atelier?

"It's a very fancy name!" laughs Wen-chee. "People think that I cook. I don't! It actually means that I head up the studio. It's Jason's name on the label, but we have about six people here all working together. The creative process is very exciting. We all pitch in design ideas, do research, draft patterns and sew. The eventual decision of what we create depends on what looks good, what's cost effective, and what fits into our customer profile and brand DNA. Everyone that works at Jason Matlo contributes to the design process from conception of design to finished product. And when Jason isn't in the studio I'm responsible to act on his behalf."

Chef d'Atelier is actually a highly revered French term; the most important position in a design house. The role embodies much more than just designing. A Chef d'Atelier needs to possess many skills and aptitudes: expertise in drafting, draping, garment construction and production. Working with a team, training, insuring proper execution, and managing deadlines are essential. The Chef d'Atelier must have style and a level of taste as the decisions they make contribute to the final look of a collection. It's Jason Matlo's name and reputation that's at stake with every garment that leaves his Gastown Atelier, and the designer puts plenty of responsibility on Wen-chee's shoulders.
Read more about Fashion Design Graduate Wen-chee Liu
ROLL CALL
A selection of Blanche Macdonald Fashion Design graduates and their career placements.
Aimee Grane, Knitwear Designer, Chloe Angus
Alesha Frederickson, Knitwear Owner/Designer, March & August (designs and constructs bags, accessories and clothing from recycled plastics)
Alison Mogg, Wardrobe Assistant, Claudia Daponte / Taylor Ramsay
Annika Forde, Line Lead, Lululemon Athletica
Brenda Holmes, Senior Designer, Lululemon Athletica
Brianne Thompson, Visual Merchandising, Guess
Catherine Chan, Sales Associate, Topshop
Chanel Gagnon, Stylist Assistant, Arc'teryx
Chantelle Pellerin, Graphics & Clothing Designer, Cocymela Yoga Wear - Whistler
Ching-Lin Lo, Sales Associate, Blubird
Dace Moore, Designer, Dace (carried at Holt Renfrew and many stores throughout North America)
Emanuelle Renaud, Technical Designer, Aritzia
Emma Jilesen, Fit Technician, Point Zero
Erin Mairs, Operations Manager, Obakki
Evan Clayton, Merchandising, Topshop
Francesca Percival, Design Assistant, Obakki
Genette Salgado, Owner/Designer, Salgado Collection
Hana Chiang, Teachers Assistant, Blanche Macdonald Centre
Heather Leaf, Photo Studio Coordinator, Lululemon Athletica
Hrissa Soumpassis, Designer of Elika Designs (featured in Elle, Fashion and Gloss Magazines)
Irene Kehler, Associate Designer, Kenan
Iris Chen, Sales Associate, Club Monaco
Jaeriah Tay, Sales Associate, Topshop
Jaimie Ochrey, Sales Associate/Visual, Tenth & Proper
Janet Yip, Production Assistant, Uni-Pro Apparel
Jason Robins, Artist/Designer, JR Fashion
Jayn Simpson, President/Designer, Jayn Simpson (featured in Style, The Globe and Mail, The National Post)
Jeannette Heins, Production Manager, Patricia Fieldwalker Lingerie
Jenna Pearce, Designer, Rice Society - based in Taipei, Taiwan
Jennifer Habicht, Production Manager, Justina McCaffrey Haute
Jenny Sandberg, Owner/Designer of Hawks Ave., Designer for Papillon Eastern
Jessica Leung, Key Accounts Coordinator, Elevate Sports (licensed merchandiser for 2010 Olympics merchandise products)
Jill Sawatzky, Owner/Designer of organic clothing line Tony Chestnut
Jillian Rothert, Assistant Designer, Lululemon Athletica
Joyce Ma, Designer, Tension Clothing, T, Sweet Chemise, Coy Cat
Kaitlyn Quinn, Designer, Mintage
Kate Macdonald, Designer/Seamstress, Delta Gymnastics Club
Katie Quinn, Designer/Owner of boutique Downtown Betty and Costume Designer for Television and Film; credits include Dear Mr. Gacy, Year of the Carnivore with Sook-Yin Lee and Pain Killer Jane.
Katy Curry, Raw Materials Planning Lead, Lululemon Athletica
Kelly Schmidt, Creative Director, Blanche Macdonald Centre
Kim Cathers, Owner/Designer, kdon, (finalist on Project Runway Canada)
Lauren Ingle, Head Designer/Head Patternmaker, Tonic Lifestyle, Activewear and Tonic Tennis
Lauren Osmond, Store Manager, MANDULA
Liis Sober, Fashion Design Assistant, Lululemon Athletica
Lillian Ku, Quality Control Technician, Lululemon Athletica
Lisa Malcic, Owner/Designer, Beba Bean Designs Inc. (over 450 accounts worldwide)
Mandy Brost, Teacher Assistant, Blanche Macdonald Centre
Matthew Burditt, Owner/Designer, Oak Custom Clothing
Marcie LeBlanc, Co-owner/Designer, StyleBridge
Megan Dunn, Creative Director, Damsel Funk
Megan James, Designer, Giraffe Dactyl
Melissa Rosvold, Designer, Vie Maternity
Michelle Rasmussen, Senior Boardroom Designer, Boardroom Custom Clothing
Mikelli Orbe, Sales Associate, Gravity Pope
Nadine Chong, Assistant to the Designer, Shelley Klassen, Blushing Designs
Roberta Cottam, Designer, Blue Bear Aware
Roberta Rodger, Designer, Foursquare Outerwear Collection
Roger Shum, Marketing Manager, Doriano International Ltd.
Sam Ghahremani, Sales Associate, The Bay
Sara Alexandre, Showroom Assistant, Part Two / Lead Designer, Richard Boa
Sara Armstrong, Educator/Design, Lululemon
Sarah Korba, Lingerie Designer, Melons and Sweetcheeks
Shannon Wilson, Designer, Lululemon Athletica
Sheila Wong, Production Manager, Aritzia
Shereen Guliani, Book Manager for the Fashion, Style & Crafts Department, McNally Robinson Booksellers
Simmi Sian, Sales Associate, Aritzia
Sophia Yu, Pattern Maker, OrangeNYC
Sydney Wharton, Technical Designer, Please Mum
Tanya Close, Owner/Operator, Fit to a T Fashions
Tenille Magnuson, Head Designer, Aritzia
Thanh Bui, Sales Associate, Topshop
Theola Wong, Senior Apparel/Accessories Designer, Adidas Respect M.E. for Missy Elliott
"Tucky" Aalto, Garment Graphic Artist, Agoo
Wedan (Diane) Jawhari, Designer, Nidal-Zahar Haute Couture in Lebanon
Wen Chee Liu, Assistant Designer for Jason Matlo, Jason Matlo
Ying Ying Zhang, Seamstress, Lululemon
Yumi Mizuno, Manager in Training, JNBY
Note: some of these fashion design graduates may have changed positions in the interim.
Are you a BMC Graduate?
Are you a Blanche Macdonald Fashion Design graduate interested in being profiled? Click here to send us your latest career highlights; we would love to hear from you!