Fashion Programs: Graduate Highlights
The Blanche Macdonald Centre is pleased to highlight some of our notable alumni. These Fashion Marketing graduates have excelled both personally and professionally, making an impact on a local, national and global scale. Read about their success and how Blanche Macdonald impacted where they are today.
AMANDA ROZAK
Fashion Marketing Graduate
Head Booker, Lizbell Agency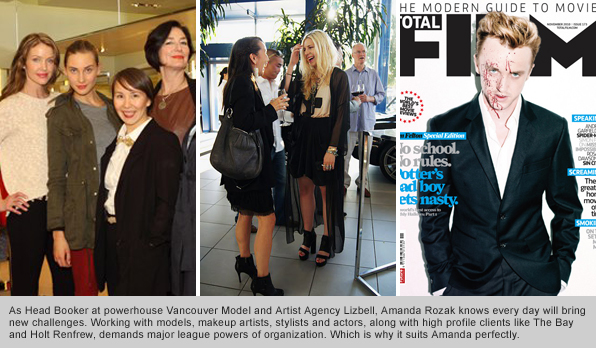 As Head Booker at powerhouse Vancouver Model and Artist Agency Lizbell, Amanda Rozak knows every day will bring new challenges. Working with dozens of models, makeup artists, stylists and actors, along with high profile clients like The Bay and Holt Renfrew, demands a deep understanding of the fashion industry and major league powers of organisation. Which is why it suits Amanda perfectly.
The Victoria native had a passion for the modelling industry before she came to the Fashion Merchandising program at Canada's #1 Fashion School. The rest came with time.
"I was always fashion obsessed," explains Amanda. "I would spend summers with my Dad in Port Hardy on Vancouver Island. He was a commercial fisherman so I would spend those summers on his boat. Every time I could go into town I would pick up every new issue I could get my hands on. I became model-obsessed. I loved Linda Evangelista and her transformations. I collected every tear sheet I could find of her and I'd figure out who the names and the companies were. I became as immersed in it as I could be in Port Hardy and Victoria. I would dream about this world where they created these beautiful things and clothes. I loved that world. These snippets of people's lives were so intriguing. I didn't know what I could do in the industry, but I knew I wanted to be part of it. At first I thought I wanted to be a stylist, because that was the only real job term I could find.
"My parents thought I needed something secure so I got a job at a government agency called Vital Statistics, which was stable, well-paid and so boring. I saved up, went to Europe and said that when I came back I'd go to Blanche Macdonald to pursue fashion."
Read More about Fashion Marketing Graduate Amanda Rozak
AMANDA WATT
Fashion Marketing Graduate
Marketing and Events Coordinator, Holt Renfrew Vancouver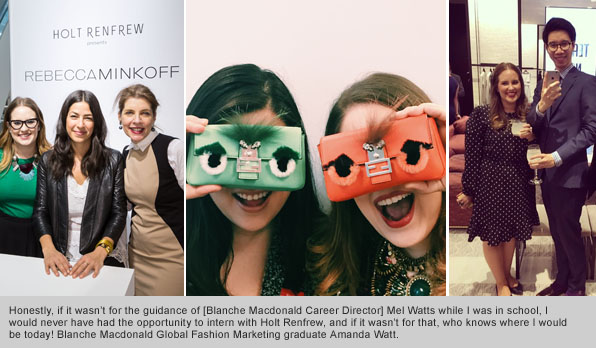 Set your mind to it and it may happen. Do it with heart and it's guaranteed. Blanche Macdonald Global Fashion Marketing graduate Amanda Watt has approached her burgeoning career with this doctrine, hustling (with heart) on her way to become Marketing Coordinator at Vancouver's coveted luxury retail department store, Holt Renfrew. From setting up large scale events featuring the most buzz-worthy designers and mega-names in the industry, to coordinating intimate fêtes, prepping hundreds of swag bags and sourcing for what's to come next, she's always on her toes, ready to tackle the next big fashion moment. Meet Amanda Watt, gracious, accomplished and fanatical for Fashion.
Read More about Fashion Marketing Graduate Amanda Watt
Amy Lu
Fashion Marketing Graduate
Fashion and Celebrity Stylist - California, USA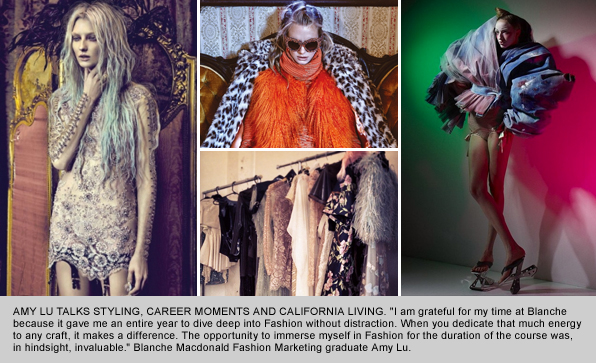 As a leading fashion stylist, Amy has created an aesthetic that makes fashion believers of even the most disenchanted crowds.
These days, Amy is most often found jet-setting about the hottest of US destinations, or surrounded by racks of dreamy pink and cream designer gowns. Putting it simply, Amy has made it. A self-proclaimed lover of all things sparkly, Amy is always bringing something luxe into the mix, never shying away from texture, and using her incredible knack for layering in editorials that are always alluring: daring yet polished, edgy yet refined.
Building a high profile styling career overnight isn't a reality. Amy understands that. It is a passion for what she does, along with immense drive and talent, which makes her a salient figure in the world of Fashion Styling today.
Her strong work ethic, paired with an inimitable eye for Fashion and unrivaled creativity, has landed her in the driver's seat of numerous artistic projects and lust-worthy editorials. Since graduating from Blanche Macdonald's Fashion Marketing Program, Amy has worked with renowned photographers, models and celebrities in locations around the globe. Following her time at Blanche Macdonald, Amy relocated to Canada's Fashion epicenter, Toronto, where her career success continued to flourish. She had no other direction to go but up.
Read more about Fashion Marketing graduate Amy Lu
BRADLEY FAIRALL
Fashion Marketing Graduate
Mario Testino +, London, England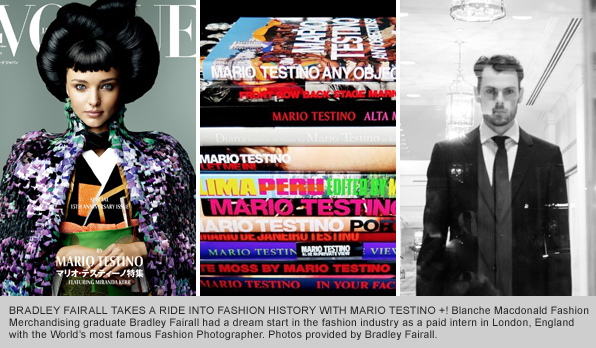 "It was incredible to see Mario's images when they'd come through for the first time. Soon after I started he shot the cover of German Vogue with Miley Cyrus. It was instantly clear that I was working with someone very important."
Blanche Macdonald Fashion Merchandising graduate Bradley Fairall isn't the only person who speaks about Mario Testino in reverential terms. As a paid intern in London, England with arguably the World's most famous Fashion Photographer, Bradley's had a dream start in the fashion industry. Now he's back in Vancouver, the lessons he learned continue to guide his career trajectory.
"Every day in London I would pick up new things," he continues. "I learned that Creative Direction is where I'd really like to go. It's about developing an eye for things and being able to translate a brief into an image; seeing what the client is after and putting together a team that will be able to create it. In London I could see how important Creative Directors were in magazines and advertising."
Read More about Fashion Marketing Graduate Bradley Fairall
BRIAN CHAN
Fashion Marketing Graduate
Visual-Merchandiser-In-Charge, Louis Vuitton, Hong Kong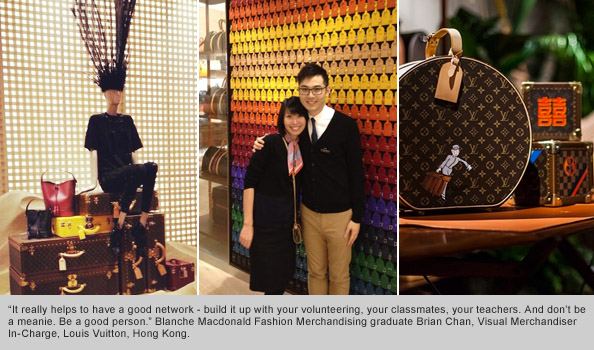 We are on opposite ends of our daylight. As the sun makes its morning spill into the streets of Vancouver, in Hong Kong it is already past one a.m. the next day. Despite the late hour, the voice coming through the speakers is bright – radiating energy. This doesn't come as a surprise from Blanche Macdonald Fashion Merchandising graduate Brian Chan – after all, you would probably be chipper too if work meant spending your day in the smooth gloss of mega-luxury shop Louis Vuitton, in Hong Kong's premiere Times Square shopping district.
"As a Visual-Merchandiser-In-Charge, I conceptualize the store, design the layout and arrange the presentation of the collections. It's definitely fun but with great power, comes great responsibility," says Chan, dropping his voice ominously before cracking into a laugh. "I take a big fashion risk every rotation. Sometimes they're rewarding, and sometimes they're not right-away, but they always teach me something!
"At Louis Vuitton, we do things a little bit differently; I hold many responsibilities within the store. I look at reports every day from all over Hong Kong and we compare the products or the product lines that are doing well, and those that are doing not-so-well at each location. For Visual Merchandising I lead a team of twelve people to do window and store rotations. We use my insights from the reports to decide on a merchandising plan."
Such a position requires a deft maneuvering of a wide array of skill sets. The interplay of hands-on creativity and business is one that Brian thrives in as Visual Merchandiser In-Charge, Client Advisor, and In-Store Trainer at Vuitton, but there is a lot of hard work, as well as a diligent awareness to his everyday.
"Perspective varies with different people, and even if there's a guideline for you to follow it will never work for every single store, in every single moment. You have to truly understand what or who you are dealing with in order to put something together that is an effective business driver. You have to be well-rounded. As a Client Advisor you learn quite a lot about the customers' buying patterns. It definitely helps with making both business and visual decisions!"
Read more about Fashion Marketing Graduate Brian Chan
Chelsea Leadbetter
Fashion Marketing Graduate
Agent, NEXT Canada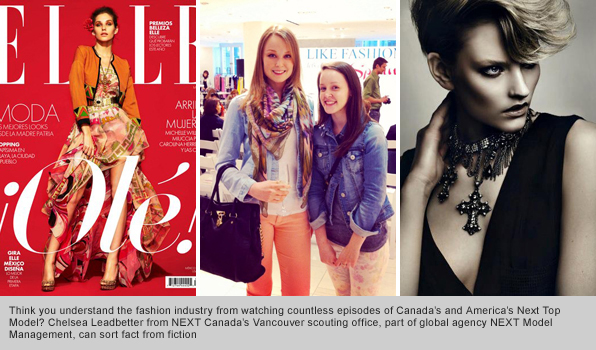 Think you understand the fashion industry from watching countless episodes of Canada's and America's Next Top Model? Chelsea Leadbetter, Agent for NEXT Canada can separate the fact from the fiction.
"America's Next Top Model is completely for television," she laughs. "It's been on for way too long and it's so cheesy now. I used to watch the first few seasons when I was modelling. Now if I watch it I'm thinking, what are they doing? That's the most ridiculous concept I've ever seen. We would never let our girls shoot that."
Chelsea works out of NEXT Canada's Vancouver scouting office, part of the global agency NEXT Model Management who represent supermodels worldwide including Anja Rubik, Abbey Lee, Catherine McNeil, Anna Jagodzinska, Ana Beatriz Barros, Miranda Kerr and Arizona Muse, among many others.
Read More about Fashion Marketing Graduate Chelsea Leadbetter
Christine Visnjak
Fashion Marketing Graduate
Owner of Music Social Fashion House, Surrey BC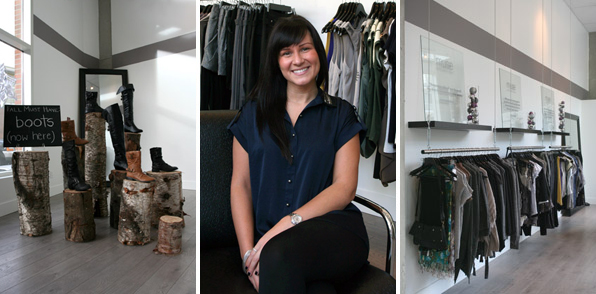 Muse Social Fashion House has only been open a few months, but it's already changing lives in South Surrey, BC.
"When a lot of people come in here for the first time the one thing they say is 'Finally!'" explains owner and Blanche Macdonald Fashion Merchandising graduate Christine Visnjak. "That's probably the biggest compliment, hearing people say that finally there's something unique out here."
As one of the Lower Mainland's fastest growing towns, South Surrey has been a prime target for chain stores seeking new markets. One thing it was lacking was an independent, fashion-forward boutique. Christine changed that.
Read more about Fashion Marketing Graduate Christine Visnjak
Claudia Da Ponte
Fashion Marketing Graduate
Fashion Stylist - Da Ponte Style
No one is going to hand your dreams to you. Blanche Macdonald Fashion Merchandising graduate Claudia Da Ponte understands that.
She's talented, of course. But it's Claudia's positive attitude and work ethic that's turning her into one of Canada's leading young professional stylists. The Vancouver native has worked backstage at concerts by Céline Dion and Britney Spears. She's styled models for European fashion magazines and high profile advertising clients. She's even appeared on Entertainment Tonight Canada, providing the fashion expertise for Cheryl Hickey's Makeover segment. In fact, she's rapidly approaching celebrity status. The facebook page for her company, Da Ponte Style, now has over 850 official fans.
That number is poised to grow as she's recently taken the plunge and relocated from Vancouver to Canada's fashion epicentre, Toronto. Looking back, it was a move that was almost inevitable.
Read More about Fashion Marketing Graduate Claudia De Ponte
Cole Firkus
Fashion Marketing Graduate
Assistant Manager, Nordstrom, Calgary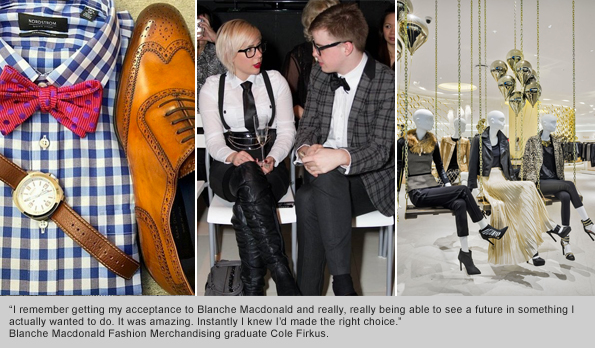 "Fashion needs to sustain you! This is an ever evolving and changing industry that requires flexibility and an incredibly tough skin. You must have passion to be here. Without that passion to drive you, the rest will just wear you down."
As Assistant Manager of Nordstrom Calgary's department TBD, housing women's denim and contemporary lines, it's Cole Firkus' job to ensure his team is working together, keeping their numbers up and, of course, helping their customers look fabulous. The Blanche Macdonald Fashion Merchandising graduate has worked immensely hard to get to where he is today and though he loves his job in the midst of the Fashion Industry, he's very careful to dispel any romantic notions of constant glitz and glam.
"If you're only in Fashion to look good, then get a great job in something else that can aide you in shopping for the best clothes. You don't get into fashion to look good. You get into fashion to change how the world looks."
Growing up in rural Cochrane, Alberta, fashion wasn't a main interest for Cole, even though he always appreciated a certain aesthetic. This good taste is at the heart of his work. Even as a child, he knew how he wanted and didn't want to look.
"My Mom says I never left the house dressed improperly. I was always put together even as a kid and never in sweatpants," he laughs. "Once I became a teenager, my interests evolved to actual fashion and designers and trying to find the clothes I liked that really showed who I was."
Read more about Fashion Marketing Graduate Cole Firkus
COURTNEY HUNTER
Fashion Marketing Graduate
Owner of Cashmere and Cupcakes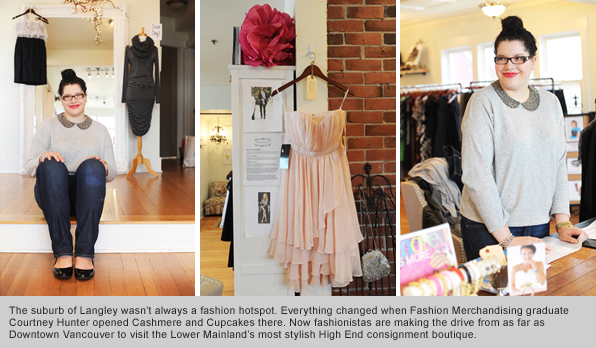 The Vancouver suburb of Langley wasn't always known as a fashion hotspot. Everything changed when Blanche Macdonald Fashion Merchandising graduate Courtney Hunter opened Cashmere and Cupcakes there. Now fashionistas are making the drive from as far as Downtown Vancouver to pay a visit to the Lower Mainland's most stylish High End consignment boutique. The bargains there are too good to resist.

"It doesn't look like a normal consignment store," explains Courtney. "It's nothing like a thrift store. You're getting designer clothes in really great shape. I love that we never know what's coming in. We just had a Prada sweater arrive with the labels still on. We've had Versace bags, Alexander Wang bags, an Alexander McQueen shirt and a lot of great vintage pieces.
"Consignment stores are the ultimate sale shopping. I just found a brand new Victoria Beckham dress for $300 that would have been $1500 new. It's stuff that's different too. It's not like going to the mall and seeing the same clothes as everyone else. Once you find a great deal you're hooked."
Read More about Fashion Marketing Graduate Courtney Hunter
DANIEL PETERS
Fashion Marketing Graduate
Buyer, Roden Gray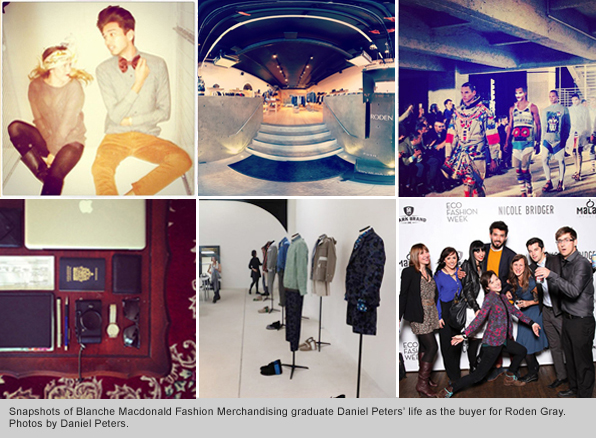 The next round of menswear shows in Paris is looming for Daniel Peters. As the buyer for Vancouver's cult favourite men's boutique Roden Gray, Daniel will be living and working in the Parisian pinnacle of fashion, Place Vendome, and meeting with some of fashion's major players: Dries Van Noten, Raf Simons, Kenzo and Mihara Yasuhiro.
As you'd expect, he's understandably enthusiastic about the task ahead of him.
"I'm really excited about my trip but when you are buying a 100-piece collection for a year ahead, it can be a bit stressful!" he admits. "I'm really looking forward to seeing Dries and Raf. They're probably my two favourites. Dries is just so amazing!"
This French work trip is one of the career highlights (so far!) for the Blanche Macdonald Fashion Merchandising graduate, who came to Canada's #1 Fashion School three years ago with his best friend (and fellow graduate) Stephanie Smith.
"Stephanie and I waited six months to start the program and we had the opportunity to do a lot of work together before starting school. The two of us were heavily involved in Vancouver Fashion Week and we were doing a lot of freelance photo shoots even before our year at Blanche Macdonald. It was great to finally get to school and learn from people who were in the industry. I really appreciated learning how to write about fashion from Tyler Udall and I enjoyed Peggy Morrison's classes too. Exploring the in-depth history of fashion was fascinating and enabled me to understand its evolution. So many people only care about Karl Lagerfeld because of Chanel, but he did a lot before that!
Read More about Fashion Marketing Graduate Daniel Peters
David Chiang
Fashion Marketing Graduate
International Supermodel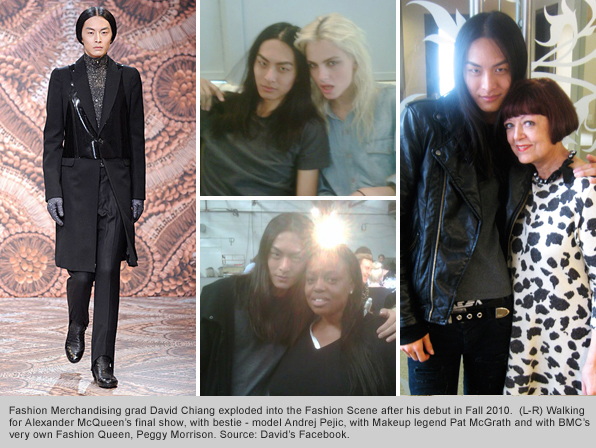 At Blanche Macdonald, we're always proud of how our Fashion grads make their mark across the Fashion World. For Fashion Merchandising grad David Chiang, his mark is being seen by millions every day. It's been four years since he left BMC and in that time, he has become one of the top male models in the world.
Between castings in Europe and right before he left to walk for Milan Fashion Week, this busy supermodel brought his gorgeous 6'2, fast-food loving, outspoken, good-humoured and loveable self (head to toe in his signature shades of black) to our Downtown Campus to catch up with the fabulous ladies in our Fashion Department and to hang out with one lucky Fashion Merchandising class.
David exploded into the Fashion Scene after his debut in Fall 2010. His stunning looks quickly made him a favourite for the international runway: Rick Owens, Paul Smith, Ermenegildo Zegna, Missoni, Richard Chai, Diesel, rag and bone among many others… and even as an exclusive for Dior Homme. He's also the first Asian model to ever walk for Emporio Armani. His all time fave show? Alexander McQueen's final Menswear Fall 2010 where McQueen personally asked David to stay for fittings.
David's dream is to walk the catwalk with wings on. Victoria's Secret wings. Specifically, Tyra's wings. Given the whole gender-bending model trend going on, this just might happen. David's androgynous looks, and those of his fellow model and bestie, Andrej Pejic, have made them two of the most recognized faces that currently defy the norms in the modelling industry. While we may have to squint our eyes and lean closer to he monitor to see how his handsome features work as a woman, some of the world's most iconic designers were quick to take note. Even Karl Lagerfeld told David that he was a "very beautiful Chinese girl"!
To read more about David Chiang, click here.
DUSTIN RUSSELL
Fashion Marketing Graduate
Owner, Buyer of Launch Menswear, Abbotsford, BC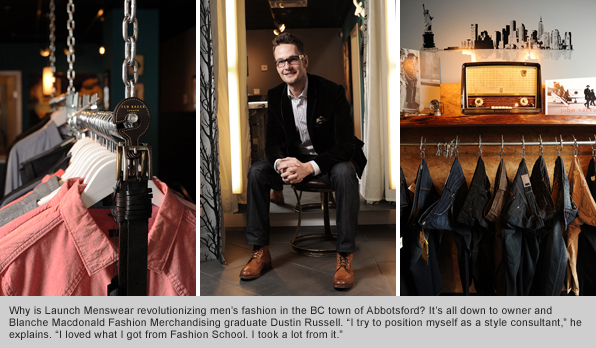 Dustin Russell can still remember what sparked his lifelong interest in fashion. After all, what motivates most men to do anything?
"In my mind, it was a way to attract girls," he smiles. "I liked looking good. I liked the attention that came with looking good. I was never one of those kids that wore sweat pants. I always tried to put something together. My Dad was a suit and tie kind of guy, so it probably came from him. My grandfather was very well dressed too. And it definitely worked with the girls."
Dustin still dresses to impress these days, just not for the girls. He's married with a family, but as the owner of Launch Menswear, an oasis of fashion in British Columbia's Fraser Valley, the men of Abbotsford and the surrounding areas appreciate having their own style icon to look up to.
"I try to position myself as a style consultant," explains Dustin. "I'm not just here to sell somebody clothes. If I talk you into buying something and you take it home and it stays in the closet, that doesn't do me any good. It leaves a bad taste in your mouth if you've been sold on something and never wear it. I get a lot of people in here that want to change their image. They've read my blog or seen the site and know I have experience, so they trust me. I never anticipated that. I thought I'd just be selling clothes."
There are three main reasons why Launch Menswear is thriving (helping Dustin pick up Abbotsford's Eric Vanderham Young Entrepreneur of the Year Award on the way). One, Dustin looks great. Two, there's nothing like Launch for miles in any direction. And three, as a Blanche Macdonald Fashion Merchandising graduate with extensive experience in the heart of London's fashion industry, Dustin knows what he's talking about.
Read More about Fashion Merchandising Graduate Dustin Russel
Hey Jude Vintage
Fashion Marketing Graduate
ONE TO WATCH - Founders of Hey Jude Vintage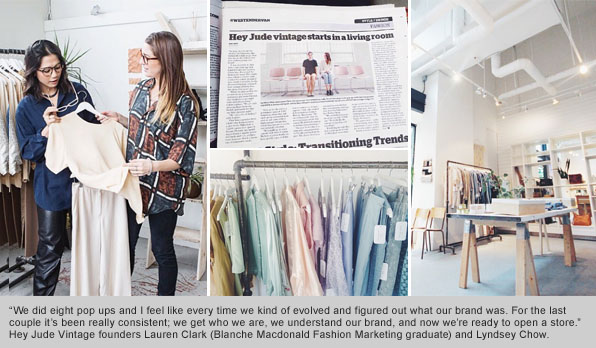 It's fitting that we find ourselves at the threshold of a Woodwards building street level storefront. Built in 1903, Vancouver's historic shopping behemoth sat vacant for a period of nearly a decade before the renaissance of Gastown in 2003. Now, the revolving 'W' sign crowns one of the city's most exciting boutique neighborhoods, and the soon-to-be Hey Jude shop, in which two sharp young women plan to continue their reinvigoration of vintage aesthetic in a permanent space. And under the vaulting, industrial ceilings of their new home at 315 Abbott Street, much like in their slick heritage surroundings, old is anything but outdated.
Few pop up shop announcements have caused more buzz over the years than those of Hey Jude Vintage and now, five years in, Founders Lauren Clark, Blanche Macdonald Fashion Marketing graduate, and Lyndsey Chow are readying themselves for big moves. Every step of their growth has been a savvy one, in both business and style, and the insights they've collected along the way are just as discerning and covetable as their clothing. When we meet, the pair have only just picked up their keys, and we spend a moment contemplating the space, barren but promising in the pale spill of morning. The months ahead promise a whole lot of hustle, so we lock up and hightail to Prado Cafe to fuel up and talk thrift.
Read more about Hey Jude Vintage founders Lauren Clark and Lyndsey Chow
Irene Yokoo 横尾ちとせ
Fashion Marketing Graduate
Production Coordinator at Mountain Equipment Co-op

Talk about a multi-dimensional career in Fashion and Merchandising! Moving from one continent to the next, Irene started off as the Operations Coordinator for Uppercut Menswear. Sold in fashion forward boutiques such as Fred Segal in the US and Eugene Choo in Vancouver, Uppercut is an emerging Canadian Menswear Design and Wholesale company based in Vancouver. As Operations Manager, Merchandising Grad, Irene Yokoo, oversaw everything from corresponding with customers, shipping out samples for magazine photo shoots, prepping for trade shows to receiving inventory and preparing import and export paperwork. Then, bitten by the travel bug, she moved on to the UK and landed a position as Production Manager for the major label Burberry womenswear in London. She made such an impression that the legendary brand named a jacket after her! Now, back home in Vancouver, she has landed at Mountain Equipment Co-op as the Production Coordinator.

"Blanche Macdonald met my expectations in that it provided me with the basics needed to start in the fashion industry. The school is always evolving and growing to incorporate new and relevant industry education! Blanche Macdonald allowed me to see that even within a creative industry such as fashion that there are many different roles and career paths to follow, not just as a designer or a buyer."

"I feel the Fashion Merchandising program at Blanche Macdonald provided me with the fundamentals necessary to take the plunge into the fashion industry. The Instructors and Career Coordinator are great sources of information and provide support even after completion of the program. Being connected to their network circle gave me the confidence to embark on a new career path in this highly competitive industry!"
Read More about Fashion Merchandising Graduate Irene Yokoo
Janelle Knihnitski
Fashion Marketing Graduate
Visual Manager, COS Vancouver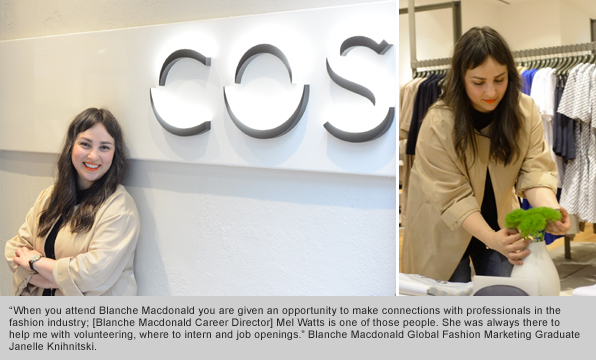 As the Visual Manager at the highly-anticipated Vancouver opening of Swedish modern-minimalist brand COS, Blanche Macdonald Global Fashion Marketing graduate and Saskatoon-native, Janelle Knihnitski has successfully circumnavigated the Vancouver fashion scene, testing fate and ambitiously pursuing her goals to land herself in this coveted role. Besides being aligned with Janelle's values and personal aesthetic,another fulfilling aspect of life with COS is that Janelle has already had the opportunity to travel to Montreal, New York, Toronto and Miami in her new position. Maintaining this sleek and resplendent space is no easy feat, but Janelle has demonstrated she is up to the task. Enthusiastic to learn, eager to grow and excited for what's next to come, meet Janelle Knihnitski, accomplished, adventurous and a visionary in her creative field.
Read More about Fashion Marketing Graduate Janelle Knihnitski
Jessica Clark
Fashion Marketing Graduate
Revlon's National Wardrobe Stylist, Commerical, Editorial and Personal Fashion Stylist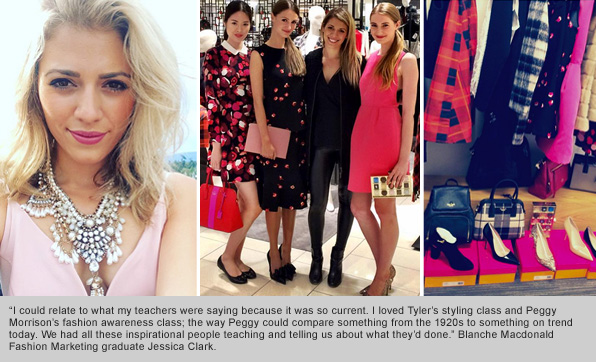 Think working as a wardrobe stylist means a never-ending stream of free clothes and cutting edge looks? For Blanche Macdonald Fashion Marketing graduate and Cross-Canadian stylist Jessica Clark the reality is a little different.
"As a stylist people think you're always working with high fashion. But on commercial jobs I need to make people look real. That's what my job is a lot of the time. My clients are trying to sell a product, so I'm trying to meet the creative vision of the ad agencies and art directors. How can I make this actor or model look like they own this product? How can I make them look like the target market?"
Jessica is adept at answering those questions. Regularly travelling across Canada, from her native Alberta to Vancouver to Toronto and beyond, she's styled for household name brands like Revlon, Maison Simons, Honda, Adidas, Kate Spade, Vince Camuto, Poppy Barley and American Crew. Her portfolio is understandably full of high end looks for magazines, designers and modelling agencies, but Jessica is acutely aware that being a successful stylist requires more than surfing the wave of the latest trends.
Read More about Fashion Marketing Graduate Jessica Clark
JESSICA COTE
Fashion Marketing Graduate
Owner and buyer for Obviously Chic Boutique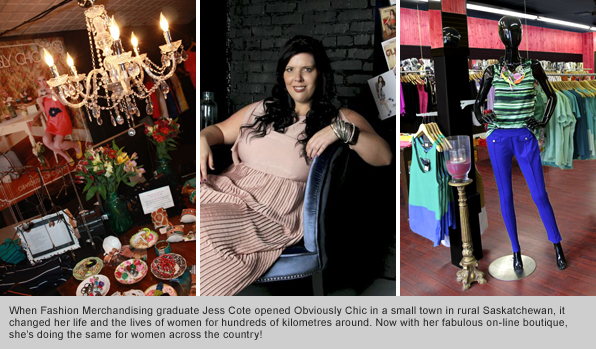 When Jess Cote opened Obviously Chic Boutique two years ago it was the culmination of an adventure that began and ended on the plains of Saskatchewan, taking lengthy detours via Calgary, Toronto and Vancouver on the way.

Now, as the creator and builder of Obviouslychic.com, Canada's first on-line fashion boutique, the Blanche Macdonald Fashion Merchandising graduate has begun a second adventure. One that she's confident has no limits.

"One day I thought, 'I'm sick of making millions of dollars for everyone else. I need to go and make it for myself.' I want to be the number one and won't stop until I do it."

Jess runs her growing on-line empire from the small town of Estevan, Saskatchewan. It's the home of Obviously Chic Boutique, Jess's store that's been a fashion lifeline for women from hundreds of kilometres around. It's also not far from the tiny town where her adventures began.

"I grew up in Lampman, Saskatchewan, population about 400. My high school graduating class was 20 people. It was very, very country. I had no inspiration. Everyone would get married and have kids. You didn't stray much from that. I was always fashionable in high school, but growing up in rural Saskatchewan, I had no concept that fashion could be a career. That was a fantasy."
Read More about Fashion Merchandising Graduate Jessica Cote
Jill Lansky
Fashion Marketing Graduate
#BMCSOCIALSAYER: Personal Style Blogger of The August Diaries, Internet Superstar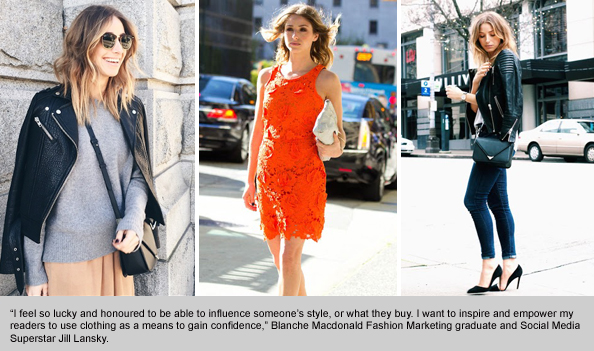 Jill is that friend you call on when buried in a pile of sneakers and silk, desperately scrolling Tumblr over what to wear. Deftly weaving trends into the patterns of personality, lifestyle and whims with a voice that's cool-headed and warm, The August Diaries has become both a haven for the style-shy and an oasis for the Fashion-obsessed. Her own style steeped in a coastal crispness, fusing minimalism with a European ease, she'll stop short of telling you how to dress, instead guiding you through what YOU want and need (though, you'll most likely end up wanting one of what she's got anyhow). Balancing an astronomical drive with a down-to-earth cool, and a sharp mind with a sharp eye for style, Jill is that powerhouse pal who leaves you awed and charmed at every turn.
Read more about Jill's brilliant tips on styling and being relevant on social media.
JILLIAN SHERIDAN
Fashion Marketing Graduate
OWNER, Gold Lemon Creative and Eastwood Cycle Santuary
"There are three important messages I carry with me on a daily basis. One: if something isn't working, look to yourself first. Are you effectively communicating or managing your team? Two: sales solve everything. And three: don't get caught up working in the business. Create time everyday to work on the business."
Blanche Macdonald Fashion Merchandising graduate Jillian Sheridan knows a thing or two about communicating important messages. Just over two years ago she founded Social Media Company Gold Lemon Creative, building a client list including Vancouver boutique BluBird and Fidelity Denim in Los Angeles. Now she's refocusing her limitless energy on a second project, opening spin centre Eastwood Cycle Sanctuary in Vancouver's fashionable Gastown neighbourhood with her husband, Craig Sheridan.
Gold Lemon headquarters in the heart of Gastown is the ideal combination of contemporary design and Vancouver heritage. Jillian has certainly made it her own: high vaulted ceilings and exposed brick are juxtaposed with an abundance of candles, filling the space with warm, golden light.
Style comes naturally to Jillian. Growing up in Cranbrook in the BC interior, she was drawn to fashion long before she moved to Vancouver to attend Blanche Macdonald.
"Fashion was always something my mom was really passionate about and so I inherited that that from her. Seeing new issues of Vogue was like opening up this whole other world for me. It was this glamorous and beautiful industry, one that I was really drawn to. And it became this challenge, an attainable goal, for me to move to Vancouver to pursue fashion."
Read more about Fashion Merchandising Graduate Jillian Sheridan
JOSHUA LANGSTON
Fashion Marketing Graduate
Editor-in-Chief, The Social Life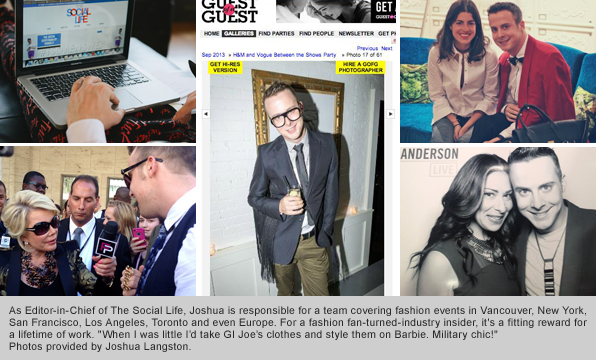 When Joshua Langston returns to Blanche Macdonald to speak to Fashion Merchandising students, they listen. It wasn't long ago that he was in their position, eager to enter the Fashion Industry and hoping to sample the glamour it promises.

As Editor-in-Chief of the on-line fashion publication The Social Life, Joshua is now responsible for a team covering fashion events in Vancouver, New York, San Francisco, Los Angeles, Toronto and even Europe. He's one of Vancouver's style leaders and on his multiple fashion-based trips to New York (nine and counting at present) he's attended some of the biggest shows and even been interviewed by Joan Rivers for Fashion Police. He's demonstrated that graduates from Canada's #1 Fashion School can step directly into the pulsating heart of the Industry.

No wonder current students are so eager to hear how he did it.

"Fashion was always huge for me," smiles Joshua. "I'd put together outfits for my Mom when she'd go on business trips. When I was a little boy I'd take GI Joe's clothes and style them on Barbie. Military chic!
Read More about Fashion Merchandising Graduate Joshua Langston
KARISSA PUKAS
Fashion Marketing Graduate
YouTube Sensation, named Top 3 most subscribed Youtube Beauty Channels in Australia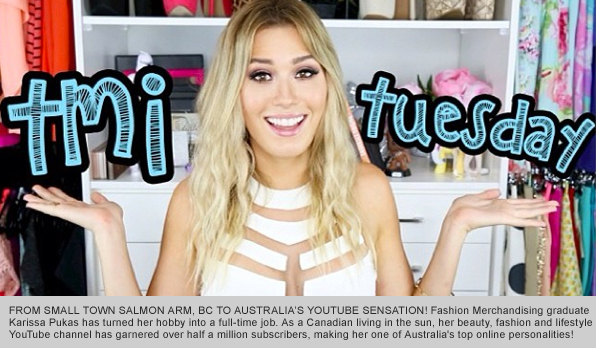 She'll deny it of course, but Karissa Pukas is a celebrity. Her beauty, fashion and lifestyle YouTube channel, Saturday Night's Alrite (now known as Karissa Pukas) and its sibling vlog channel, Sunday Morning's Ok Too, have over half a million combined subscribers, with fans from all over the world tuning in to see the Blanche Macdonald Fashion Merchandising graduate's easy-going and honest approach to personal style, makeup and hair tutorials, and life as a Canadian in the sun.
Broadcasting to Planet Earth from her home on the Central Coast, New South Wales, Australia, what started as a hobby is now a full time job. Karissa worked hard and smart to create her popularity. Now she's converting that fame into collaborations with a growing list of fashion and beauty brands. She's even launched her own line of eyelashes, SocialEyes.
"Sure, I'm known on the Internet," she'll admit if you push her. "If I go to the shopping centre there's at least one or two people who'll say hello and say that they watch my channel. That's really cool. The first time I was recognised I was in New Zealand in a line up for a Subway. I was ordering a sandwich and the girl behind me recognised my voice from YouTube. That was pretty surreal."
Read More about Fashion Merchandising Graduate Karissa Pukas
Kim Busch
Fashion Marketing Graduate
Stella McCartney's Press Office, London UK

Stella McCartney's reign as the golden girl of British fashion shows no sign of ending. Since she was first appointed Creative Director of Paris fashion house Chloé (following in the footsteps of legends like Karl Lagerfield), she's been named Vogue Designer of the Year, opened stores across the world and had a high street line for H&M sell out in a single day. Oh yeah. And she designed Madonna's wedding dress.
The latest addition to the Stella McCartney Team is Blanche Macdonald Fashion Merchandising graduate Kim Busch. She flew into London this summer looking to become part of one the world's great fashion cities. She found it. Now she's an intern in McCartney's hectic press office, spreading the fashion gospel around Europe and the world.
"It's so different every day," explains Kim, speaking from the heart of London's West End. "I work with the European PR manager and I am very grateful for the amazing experiences I've gained and for everything she's taught me so far. Every day is something new, which I love!"
The glamorous streets of London's Mayfair and Fitzrovia are a long way from Kim's native Kelowna, BC. She went to business school, became a real estate sales rep and managed a restaurant there, but Kim was still looking for more.
Read More about Fashion Merchandising Graduate Kim Busch
KRISTA GULOIEN
Fashion Marketing Student
Olympic Medallist Krista Guloien strives for Fashion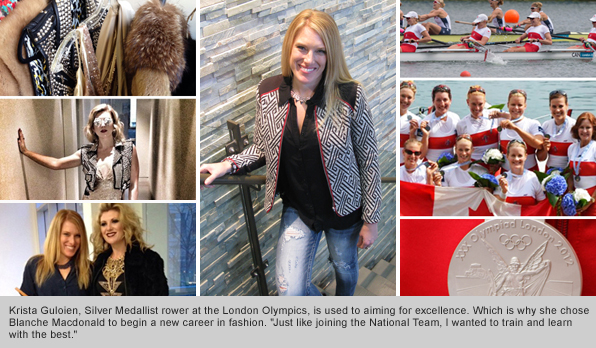 Pushing through a styling shoot exam that's running behind schedule can be tough, but not tough enough to rattle Blanche Macdonald Fashion Merchandising student Krista Guloien. A two-time Olympic rower and a Silver Medallist at the London Games, Krista is no stranger to stressful situations. The Port Moody native knows that every temporary hurdle can be overcome with concentration and determination.

"I've been under a lot of pressure before," she explains with a smile. "I don't think I'll ever be under the kind of physical or emotional pressure that I faced at the Olympics. Nothing will ever be harder than that."
"When someone mentions Fashion School in Vancouver, people's first reference is likely Blanche Macdonald. Just like joining the National Team, I wanted to train and learn with the best. My thought process was that a year-long program is perfect for me to gain confidence and knowledge in an industry I want to move forward in."
From the podium to Canada's #1 Fashion School:
Read More about current Fashion Merchandising Student Krista Guloien
KYLE ZIEGENHAGEL
Fashion Marketing Graduate
Regional Merchandiser, Zara Canada, Vancouver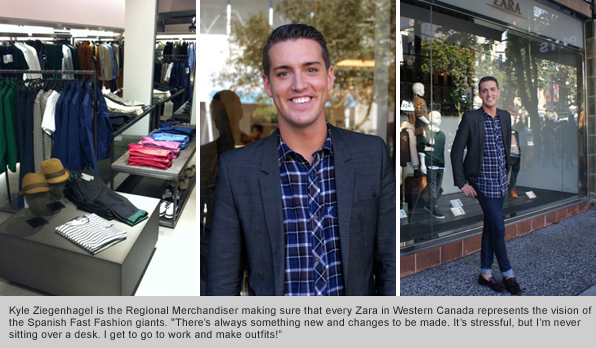 It's hard to pin down Kyle Ziegenhagel. His job as Zara Canada's Regional Merchandiser for Western Canada for Men's and Childrenswear doesn't leave him with too much free time. He'll only be at home in Vancouver for two weeks every month. The rest of the time he could be in Alberta, Toronto, Montreal or even the Zara head office in A Coruña, Spain.

"It's busy," he smiles. "I'm not home very much, but it is fulfilling. Because I look after multiple stores and two departments I'm very rarely in the same store two days in a row. I'm always working with different people, which I like. And I really enjoy that no two days are ever the same.

"It's my job to make sure that the information coming from Spain – whether it be standards or trends of the season or things to focus on – is implemented properly in Western Canada. There needs to be a consistency. You should be able to go to a Zara in Vancouver or Istanbul, and it should be fairly similar. But there's a lot of room for creativity too, because the clientele in London and Tokyo aren't going to be the same, right? My region, Western Canada is actually a bunch of niche markets. Calgary, Vancouver and even Richmond have different types of customers. You need to take the standards and make them work in each individual market."
Read More about Fashion Merchandising Graduate Kyle Ziegenhagel
Leighann Boquist
Fashion Marketing Graduate
Owner of Oliver & Lilly's Clothing and Accessories Inc., Vancouver BC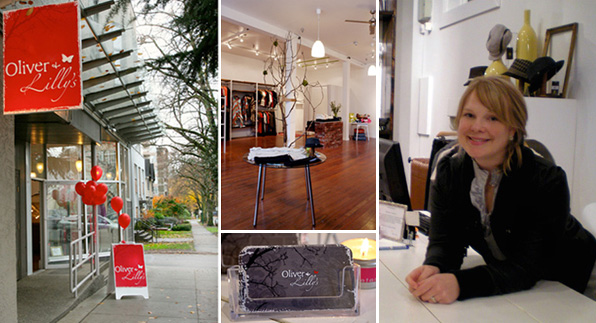 "My experience at BMC was invaluable. Having a Fashion Merchandising education from Blanche Macdonald opened up work experiences that I would never have received otherwise. It was one of the best education decisions I made.
BMC is an inspiring place to be. The directors are so knowledgeable and create an environment for you to absorb all the relative information that you really need to pursue the suitable fashion career for you. Upon entering BMC, I had no expectations and I came out with many possibilities."
Read More about Fashion Merchandising Graduate Leighann Boquist
LEILA BANI
Fashion Marketing Graduate
Fashion Stylist, THEY Representation Inc.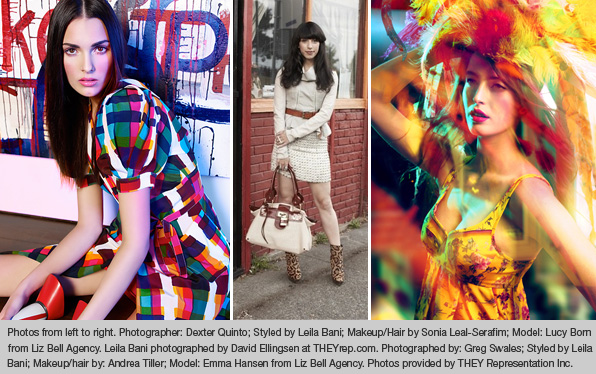 Stylist Leila Bani's passion is fashion. She loves the opportunity to be creative, putting her passion and innate fashion savvy to work. For Bani, it's all about creating amazing pictures, team work, and sometimes the craziness involved in getting those shots.
"We were on location in Las Vegas doing a shoot slated for the Latin American Marie Claire. The whole team was so excited. The location was over the top and we had a great model who wasn't showing up! We tracked her down two hours later. The shoot was madness, with hundreds of gawkers, because we were shooting in the middle of a huge tourist attraction. The model had to make fast changes in public, with onlookers snapping pictures! Lucky for us, she wasn't shy!"
Leila Bani has also styled episodes of Canada's Next Top Model. Her client list includes Chulo Pony, Elle Canada, Nuvo, and Ion to name a few of many. She has dressed singers such as Diana Krall, Cory Lee and Lisa Brokop, supermodel Coco Rocha and actress Lucy Lawless and many more.
"Learning proper fashion terminology, understanding fabric and historical fashion references are crucial to my career as a stylist. As a student, I was able to ask questions and get answers from a working stylist. Our final project was a photo shoot. It was a great opportunity to start a budding portfolio"
"I was lucky to have many wonderful teachers. Peggy Morrison is a national treasure! She is so incredibly talented and knowledgeable. When it comes to textiles, Donna Baldock is the Jedi master!", says Bani.
Leila Bani is represented by Theyrep.com. To view her incredible portfolio of work, check out their website: www.Theyrep.com/leilabani.
LYDIA OKELLO
Fashion Marketing Graduate
Blogger, www.styleisstyle.com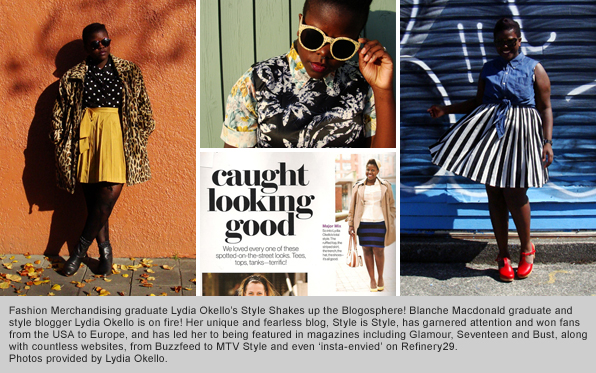 Lydia Okello understands that opinions can open doors. Her fearless style blog has garnered attention and won fans around the world, and has led her to being featured in magazines including Glamour, Seventeen and Bust, along with countless web sites, from Buzzfeed to MTV Style to Refinery29.
When it comes to writing about fashion, Lydia insists that honesty is the only policy.
"My greatest asset, in terms of people being interested in my blog, is having a unique voice and not compromising that voice," she explains. "People can often feel that they need to present themselves a certain way or mould themselves after someone who's already successful. The times I've been the most honest and personal and forthcoming have been the most successful in terms of my readers."
As the creator and lone contributor of www.styleistyle.com, along with a styling and consignment role at top Vancouver boutique Front and Company, Lydia's voice is being heard. She didn't plan it that way. It's just part of an ongoing journey that began even before she came to Canada's best Fashion School.
"I grew up in Abbotsford, BC. I always had an interest in fashion. The fact that Abbotsford was isolated was probably a really positive thing. I could explore different avenues and what I should like was never dictated to me. We would go to Value Village and buy 1980s prom dresses. Whatever was weird and silly and cheap was our protocol for what to wear. It made me appreciate the fun of fashion. It's something I look for even now: the joy of experimenting through clothes. I started blogging and realised that fashion could be more than a hobby. Bloggers were starting to have a voice in the fashion industry."
Read More about Fashion Merchandising Graduate Lydia Okello
Lyndi Barrett
Blanche Macdonald Fashion Instructor
Founder of Lj PR and Style Calling - Vancouver, BC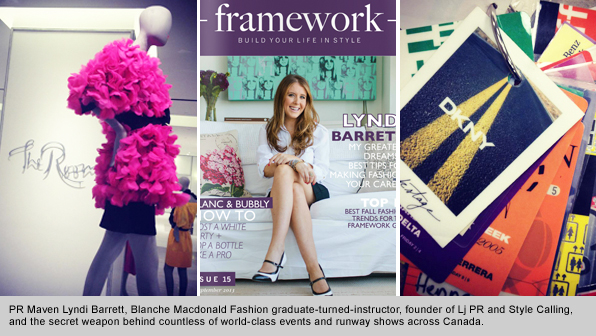 Poised, sophisticated and radiating enthusiasm for all things fashion, it's immediately apparent how Fashion Merchandising graduate-turned-instructor Lyndi Barrett became one of Vancouver's most celebrated Public Relations mavens. Students at Canada's #1 Fashion School can sense her success the moment they meet her.
"I'm a people person and I love problem solving!" smiles Lyndi, the founder of Public and Media Relation Agency Lj PR and the secret weapon behind countless runway shows and choice events across Canada. "Working in a collaborative environment that requires organization and on-your-feet decision-making is definitely my thing. Whenever there's a VIP attendee without a front row seat, I'm the one who jumps in to figure it out. I absolutely love solving on-the-spot problems."
Still in her 20s, the South African native has already amassed a clientele of internationally renowned fashion heavyweights, including H&M, L'Oreal, BCBGMAXAZRIA and Le Chateau. When she isn't working with leading brands at Lj PR, Lyndi is sharing her expertise at Blanche Macdonald, where she teaches Runway Show Production and Public Relations classes.
"At Blanche Macdonald, I speak with so many enthusiastic young people and am able to share everything I love about the Fashion Industry," continues Lyndi. "My mother is a teacher so I've always liked being in that environment. The students always remind me how exciting our job can be and help me recognize just how far I've come!"
Read More about Fashion Instructor Graduate Lyndi Barrett
MELODY RHIND
Fashion Marketing Graduate
Owner of Escargot, Vancouver BC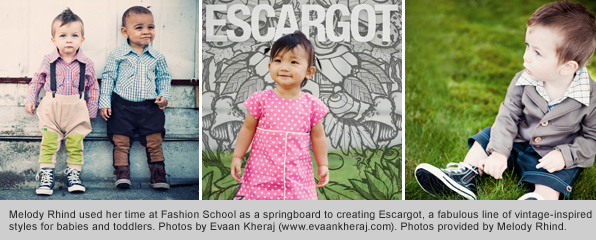 One of the great things about car journeys across Canada's vastness is that it gives travellers time to think. And it was on one of Melody and Jared Rhind's regular drives from their home in Calgary to Edmonton, that a conversation about kids clothing gradually turned into an idea for a business. That idea eventually became Escargot, a fabulous line of vintage-inspired styles for babies and toddlers.
"We used to live in Calgary and we'd often drive to Edmonton and back, having long discussions," recalls Melody. "On one of those three-hour drives I had the idea that when Jared and I eventually had kids of our own, we should make clothes for them that looked just like ours. We were joking back and forth, and gradually realised that this might be a good idea. I'd always been interested in fashion, but I wasn't making clothes at all back then and had never thought about doing it professionally."
Back then Melody was stuck in a Calgary-shaped rut, living day to day with a career that didn't exactly test her creative resources.
"I was working at a box factory," she laughs. "Not making, but selling the boxes. It was a very uncreative place to work. It was pretty much exactly like the show The Office. Although you'd be amazed at how many emergencies can come from a lack of boxes."
When Jared was accepted to industrial design school in Vancouver, Melody was glad to travel with him and head to the coast. A new city came with new opportunities. And Melody knew that the time was perfect for learning how to make the dream of owning a label a reality.
Read More about Fashion Merchandising Graduate Melody Rhind
NICOLE BAMPTON
Fashion Marketing Graduate
Regional Sales Manager for Sixty Canada

Riffing on everything from Grunge, 80's, Disco and the Arts, hip hot Italian design group, Sixty, has their global fashion ears to the ground. With streetwise menswear labels Sixty and Energie, progressive and edgy Miss Sixty style to the sassy babe Killah collections, Sixty's uber cool fashions turn up the urban heat with an urban beat.
Miss Sixty recently kicked off New York Fashion Week with their inaugural catwalk show that had Nelly Furtado, Kelly Rowland and Natasha Bedingfield in attendance.
As the Regional Sales Manager for Sixty Canada, Nicole Bampton, represents all of the Sixty labels. Meeting with store buyers, planning fashion shows and booking models, assisting stylists with photo shoot selections, and generating sales are all in a day's work for Bampton. And no two days are ever the same!
"I love my job because I get to be hands on in the fashion industry, utilizing both my analytical and creative skills. My job has so much variety - it changes with the time of year, from selling season, to sample sales, to down time."
"My year of study was made truly valuable and fulfilling by the combination of the Instructors' extensive knowledge and comprehensive course material. The projects I completed were challenging and contributed to a striking portfolio that I'm very proud of".
"The Fashion Merchandising Diploma I received helped make me a top candidate with the fashion wholesalers I applied for positions with. I believe it's because industry professionals are keen on the level of education BMC grads leave with and they are aware of the strong reputation of their Instructors", says Bampton.
Nicola Loewen
Fashion Marketing Graduate
Owner of Mad About Style Boutique, Winnipeg, Manitoba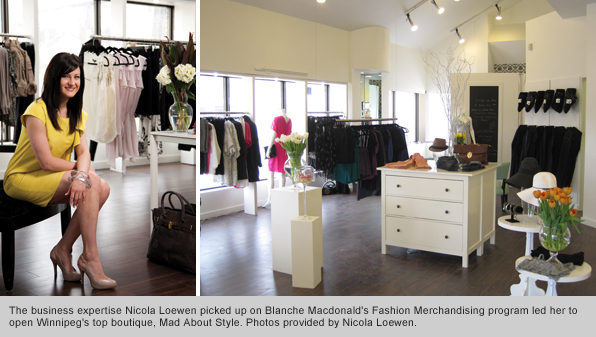 Launching a fashion store can be a nerve-wracking business. For Winnipeg native and Blanche Macdonald Fashion Merchandising graduate Nicola Loewen, opening the doors of her boutique for the first time was borderline terrifying. She needn't have worried.
"I was shaking before we opened," she laughs. "That first day was amazing. There were people outside the door waiting. We'd done a huge marketing campaign on facebook. We put out flyers. We did radio ads. We sold out three-quarters of our stock on day one. A week after we opened my Mum and I had to take off for Los Angeles to get more product."
It's been over a year since that boutique, Mad About Style, opened its doors. Winnipeg hasn't been the same since.
"It's just getting better and better," insists Nicola. "We have a great existing clientele and we're gaining new clients all the time.
"It's the coolest feeling when I see our clothes on people. It's a personal complement because I picked everything. If we see you wearing our clothes on the street we'll give you a 10% off coupon that says, 'You look amazing!'
"We've changed Winnipeg a little bit. We've brought unique products at great prices. People are bargain hunters in Winnipeg. Everything in the store is $150 or under, so people can come back often."
Read More about Fashion Merchandising Graduate Nicola Loewen
Nicole Dennis Durnin
Fashion Marketing Graduate
Owner of LYNNsteven Boutique, Vancouver BC
We think LYNNsteven Boutique in Vancouver's trendy Gastown is fabulous. But then again, we're biased. Its owner, Nicole Dennis Durnin, graduated Blanche Macdonald's Fashion Merchandising Program in 2003. That makes her family.
We're not alone though. The International Interior Design Association agrees. This global organisation of Designers and Architects named LYNNsteven the World's 'Best Retail Space' in their 2010 Awards. The experts have spoken. And they think LYNNsteven is fabulous too.
Nicole didn't become the owner of an award-winning boutique overnight. It's the end result of a lifetime love affair with fashion, 18 years experience in retail and a Fashion Merchandising Certificate from the Blanche Macdonald Centre.
Read more about Fashion Merchandising Graduate Nicole Dennis Dunin
"Fashion has always been a huge passion for me," she reveals. "I knew I had to work in fashion. My mother could tell you stories. Apparently I was dressing myself from the time I was two or three."
Nicole had already found a job in the industry when she decided to further her career with some formal fashion training.
Read more about Fashion Merchandising Graduate Nicole Dennis Durnin
Nicole Ritchie-Oseen
Fashion Marketing Graduate
Owner of body politic, Vancouver BC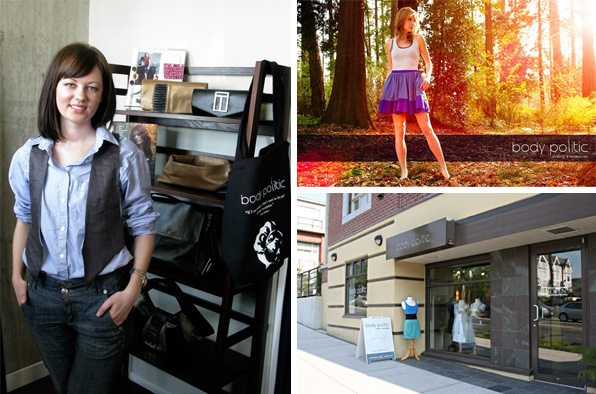 "Attending Blanche really gave me the confidence to tackle every aspect of the industry that I would encounter when starting and running my store. Previously I had only "studied" fashion as a hobby so to be able to indulge in all the information, especially fashion history, was so captivating. I also became close friends with two Blanche students who work with me to create a seasonal "lookbook" for body politic. Help like that is invaluable!"
Read More about Fashion Merchandising Graduate Nicole Ritchie-Oseen
NIKKI DINDO
Fashion Marketing Graduate
NYFW PR Maven with People's Revolution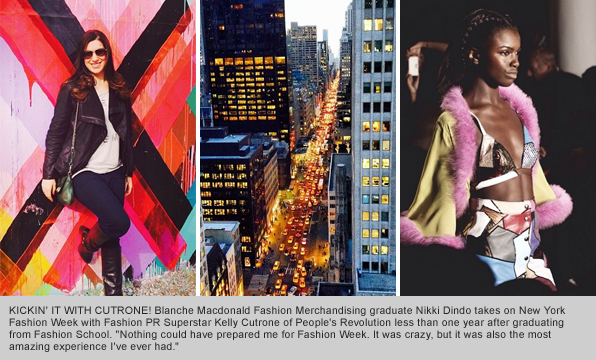 In the world of Fashion Public Relations, Kelly Cutrone is not a name to toss around lightly. Even if you didn't grow up watching hit reality television series The Hills, her reputation for high industry standards, towering expectations, and nonsense intolerance within her prestige New York-based Fashion PR company People's Revolution is widely acknowledged, and daunting for many.
Not so for Nikki Dindo who, less than a year since graduating from Blanche Macdonald's Fashion Merchandising program, has braved and survived a whirlwind internship through two seasons of New York Fashion Week with People's Revolution.
"She was a bit intimidating obviously, but once you get to know her she's actually really nice and super helpful," chirps Nikki. "She was the mom figure for everyone; she'd even cook for us during Fashion Week! She'd bring us cups of soup and make sure we were never there too late."
This is not to say that the internship was all chicken noodle and nine to fives.
Read More about Fashion Merchandising Graduate Nikki Dindo
Peter Ty
Fashion Marketing Graduate
Visual Merchandiser and Style Blogger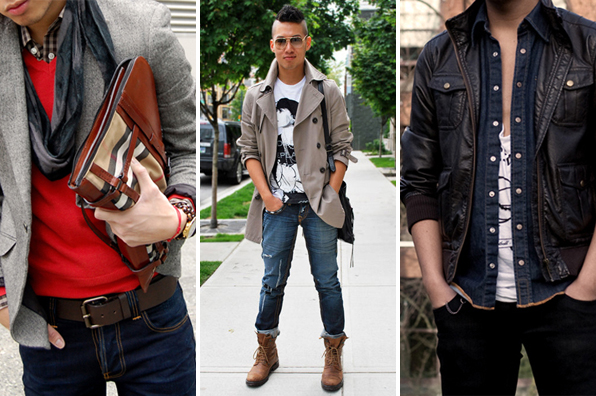 There are two sides to Peter Ty.
By day Peter is a Visual Merchandiser for one of Canada's most prestigious and recognisable high-end menswear stores. As soon as the workday is done though, Peter becomes one of Vancouver's funniest and most fabulous style bloggers, dishing out clothing advice, laying the smackdown on fashion disasters and celebrating the simple joys of looking terrific. Peter Ty is The Starving Stylist.
It's a dual existence with a common base in Vancouver's growing fashion industry. And whether it's the creative challenge that comes with a fresh delivery from one of the world's most famous labels or accentuating his natural sassiness for a particularly potent blog post, they're roles rooted in Peter's first love.
"My sister bought me a pair of Calvin Klein jeans when I was six," recalls the Blanche Macdonald Fashion Merchandising graduate. "She introduced me to fashion, brand names and the idea of quality. I enjoyed it and watched her buying expensive designer things. I got used to it."
Read More about Fashion Merchandising Graduate Peter Ty
Sarah Danniels
Fashion Marketing Graduate
Freelance Stylist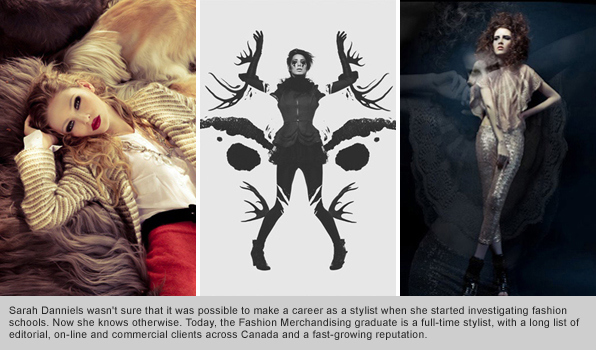 Three years ago, Sarah Danniels was facing a dilemma about her future. She had earned her degree, travelled around the world and was coming back to Canada less than thrilled at the prospect of returning to the music industry job she'd left behind.
"People told me that I should be a stylist," she recalls. "I thought, 'Do people actually do that? Can you really make enough money to live doing that?'"
Sarah has answered her own questions. Today, the Fashion Merchandising graduate is a full-time freelance stylist, with a long list of clients including BC Health, Fairmont Hotels, L'Oreal, Esquire.com, Perfect Wedding Magazine and TV Week, and a fast-growing reputation that's led to an editorial of her own in Zink Magazine.
"I get to do a different thing every day!" she smiles. "Nothing is ever the same. In jobs I had in the past I would get so bored so fast. I wanted a job that would be different every day and I found it. Different people, different clothes, different places. I'll go from one day of shooting high fashion couture to styling a bunch of kids in pirate hats. You can still leave your touch on it, even when it's not obviously fashion. I love being creative and I love the concepts behind the business like branding and marketing. I love working with celebrities that are just starting out, sitting down with them and asking them what they want to look like and what they want people to think of them."
It's only natural that Sarah has ended up styling celebrities. She's never been star-struck; a quality that comes from growing up in the music business. She won't mention it unless you ask, but Sarah's father has been the manager of Canada's greatest rock band, Rush, for the last 40 years.
To view Sarah Danniels' incredible portfolio of work, check out her website at www.sarahdanniels.com!
Read More about Fashion Merchandising Graduate Sarah Danniels
SOROUSH MATOOR
Fashion Marketing Graduate
Personal Shopping Coordinator, Holt Renfrew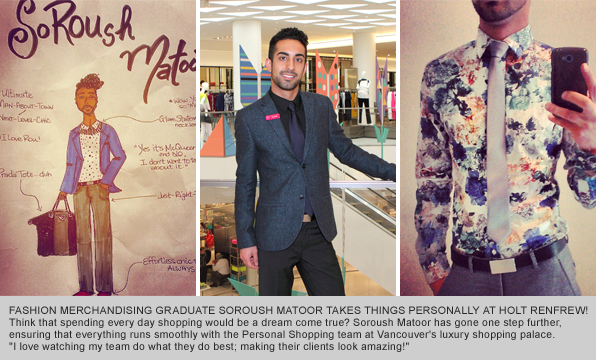 Think that spending every day shopping would be a dream come true? Soroush Matoor, who's made the leap from Canada's #1 Fashion School to the position of Personal Shopping Coordinator at Holt Renfrew, has gone one step further. It's his job to ensure everything runs smoothly with the Personal Shopping team and their clients at Vancouver's luxury shopping palace, managing the business and facilitating sales when needed. It's a dream job, even though Soroush appreciates that reality and fantasy are two completely different entities.

"People who think this would be their ideal job need to ask themselves a question," he explains. "Do you really want to work in fashion or do you just love to shop? Just because you like to cook once in a while doesn't mean you're willing to do it for a living. If you're prepared to work hard and can accept that you probably won't be getting free designer clothes handed to you at every opportunity, then this might be the right path for you. You do it, not just because you love fashion, but because you love working with people, giving them great service and helping them look their absolute best. You don't do it because it seems like a glamorous career that will be 'totally fun'."
Read more about Fashion Merchandising graduate Soroush Matoor
SYDNEY GIBSON
Fashion Marketing Graduate
Merchandiser at The Bay, West Vancouver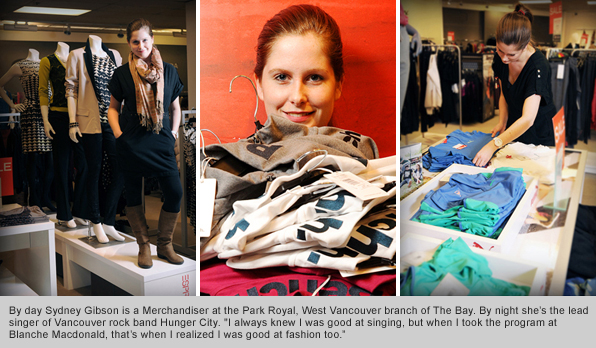 Sydney Gibson's love for fashion started early. It didn't hurt that her mother, Bet Gibson, was a Fashion and Makeup Instructor at Blanche Macdonald.
"I always liked fashion, even through Elementary School," explains Sydney. "I always loved clothes and dressing differently. I like to think I started some trends within my set of friends. In Elementary School I had parachute pants, huge hoop earrings, and a weird gypsy look. At that time I was really into Nelly Furtado. People used to say I looked like her. That was me being influenced by music."
Today Sydney balances her twin loves of fashion and music. By day she's a Merchandiser at the Park Royal, West Vancouver branch of The Bay. By night she's the lead singer of Vancouver rock band Hunger City.
"Music always came before fashion," she admits. "Even with what I'm wearing I've always been influenced by musicians and their styles: female singers like Gwen Stefani and Lana Del Rey. I always knew I was good at singing and knew I wanted to sing, but when I took the program at Blanche Macdonald and started to go a little further with my job at The Bay, that's when I realised I was good at fashion too."
It almost seemed inevitable that Sydney would end up on a program at Vancouver's top Fashion School. Her Mum was a core member of the Blanche Macdonald family. Which meant young Sydney was too.
Read More about Fashion Merchandising Graduate Sydney Gibson
Talya Lee
Fashion Marketing Graduate
#BMCSOCIALSAYER: PR Maven and Founder of Her Collective Media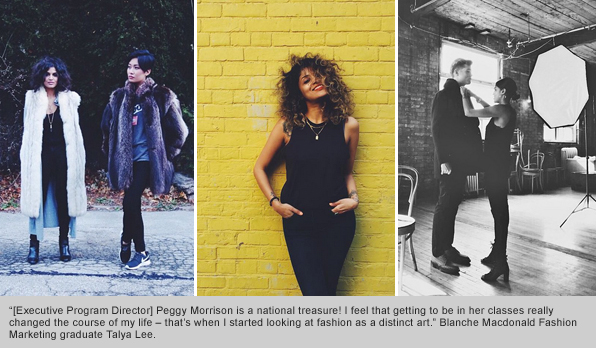 Public Relations maven Talya Lee is where effortless street style and old-school hustle come together. Following her love of the arts and honoring her wanderlust roots, she circled the globe after graduating from Blanche Macdonald's Global Fashion Marketing Program, dipping her toes in the most exotic of locales. Today, with her feet firmly planted in Toronto's bustling creative community and PR circles, Talya's days are a whirlwind of fashion, events, travel, and collaboration amid Canada's epicenter for the arts.
Streaming in via Skype from Toronto on a chilly afternoon, Talya's signature mass of dark brown curls vie for a majority the screen as her metal, minimalist accessories glint in the sunlight that haloes her head and shoulders. Everything about Talya—from her posture to her grin—speak volumes about this genuinely cool and humble social media maven. Leaning in eagerly towards the screen, Talya offers greetings and kind words from her bare-lipped smile that immediately sets a tone of old friends catching up rather than a cross-country Skype call. Talking New York Fashion Week, Canada's national treasure (hint: you probably know her too!), girl power and Toronto's artistic renaissance, here's Talya giving us an insight to her self-made, ultra-chic and creatively centered world.
Read the full Q & A with Fashion Marketing Graduate Talya Lee
VIVIEN PHUAH
Fashion Marketing Graduate
Fashion Assistant, Elle Taiwan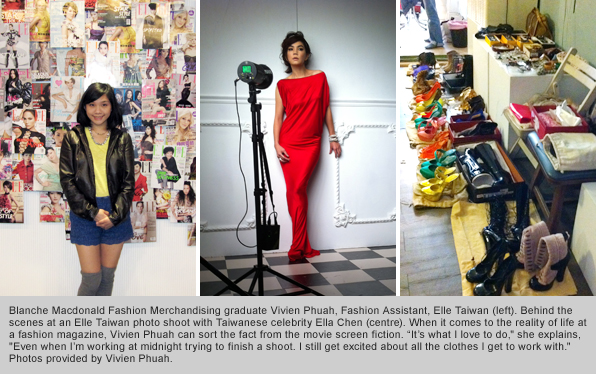 Everyone knows the clichés about life at a fashion magazine, right? Vivien Phuah, Blanche Macdonald Fashion Merchandising graduate and Fashion Assistant at Elle Taiwan, can sort the fact from the fiction.

"It's pretty close to The Devil Wears Prada," she laughs, "but the people I work with are much more understanding. The stress is just as busy. It's a hard job, but it's what I love to do, even when I'm working at midnight trying to finish a shoot. I still get excited about all the clothes I get to work with. I don't get to finalise the clothes for shoots, the fashion director says what's in and what's out, but I do get to style them.

"At the beginning of the month I'm looking at celebrity and runway photos, focusing on trends and what we can write about in upcoming issues. We're looking for reoccurring themes. I'm also selecting store merchandise items and shooting product images for runway to street style editor's picks. I'll make my selections, write about them, and then give it to our fashion director to edit."
There you have it. Fashion magazine reality is not nearly as venomous as the movies make out. It is, however, just as glamorous.
Read More about Fashion Merchandising Graduate Vivien Phauh
Bo Wu
Sales and Merchandising Head, Bong Wear
Nordstroms, Boys' Co, Aritzia, Below The Belt, Off The Wall, Levi's Stores, and Smart Set. What's the link? Bong Wear, a private label manufacturing company that owns factories both locally in Vancouver and overseas in China. Specializing in denim and fashion knit tops for the junior ladies and mens markets across North America, Bong Wear also produces their own hot international labels, London Red, Fiftees, B-Wear and Mully and Pip.
Travelling across North America and abroad to work with clients is all in a day's work for Bong Wear's Sales and Merchandising Head, Bo Wu. This Blanche Macdonald grad loves his job and he is crazy busy.
"I am having a blast at my job! I would not have had this opportunity if I did not go through Blanche Macdonald's Fashion Merchandising program. It really laid out a great foundation for what I needed in the real world. Moreover, BMC provided a smooth transition from school to the work field. It really teaches you the essentials required for whatever fashion field you decide to get into!"
"Throughout the Blanche Macdonald Fashion Merchandising program, students are given great opportunities to get a sneak peek into whatever field they are interested in entering into. I truly enjoyed my time there!"
Carmen Watson
Merchandising Coordinator, The North Face
From Mount Everest to Mount Seymour, The North Face is responsible for it's own kind of global warming with everyone from hip hop artists to trendy urbanites outfitted in their upscale outerwear. Known for quality, endurance and streetsmart style The North Face, according to Wikipedia, got it's name from the north face of mountains which are generally the steepest, coldest and most difficult face to climb.
BMC Fashion Merchandising grad, Carmen Watson's fashion career is on the rise as a merchandising coordinator with The North Face. A typical day's work combines merchandising The North Face concept stores, working with key clients in the showroom during busy selling months and researching new fashion accounts. Every day is different and Watson loves that aspect of her job. Not being chained to a desk, she has the freedom to create her own schedule.
"Blanche Macdonald definitely helped open my eyes to other opportunities in the fashion arena since the courses were diverse. Career Coordinator Joy McLean was tremendous when it came to helping me find work. She was always available and eager to help. Even when things weren't looking good she was onto the next opportunity.
I speak with her frequently and keep her abreast of what I'm up to."
"Like most things in life, school is what you make of it. If you choose to seriously pursue a career in fashion, Blanche Macdonald is a great school that provides its students with the resources and opportunities to excel in the field of fashion".
Chris Lam
Director of Stores, Menswear, Zara Canada Inc. - Toronto ON
Chris Lam started with Zara as a part-time sales associate while attending Blanche Macdonald. His career quickly took flight when he was promoted to Assistant Manager and then Menswear Manager in Toronto.
According to Chris, "The recruiter for Zara actually came to Blanche Macdonald looking for fashion students to employ. I was hired as a part-time sales associate while attending school. With the knowledge I had, I quickly became an important part of the team, especially in training."
One of Lam's fondest memories is the first time he led a store opening on his own with great success. Since then, he has led six other openings and overall, has been part of nine of fourteen stores opened across Canada.
Over the course of his studies in Fashion Merchandising at Blanche Macdonald, he realized how many different facets of the industry there actually were. He uses what he learned daily.
"Donna Baldock said it at the beginning of the course and she was right! The textile course I use on a daily basis, whether at work or at home. Peggy Morrison was an amazing encyclopedia of information when it came to the history of fashion. She showed me how fashion from the past influences every aspect of today's designers and gave me such an appreciation for the art of design. Everything you see new today has an old reference point!", says Lam.
Danielle Swanson
Visual Display Stylist, Le Chateau - Vancouver BC
Le Chateau is known for their quick i.d. and speedy response to fashion's trends. Having a whole store of clothing to create the newest, hottest looks is Le Chateau Visual Display Stylist and BMC grad, Danielle Swanson. Though it means being up and down ladders, drilling, stapling floors and lifting heavy mannequins, it's total glamour for Swanson. Creating something beautiful, exciting and sellable is all in a day's work for this grad.
Lillian Lam
Art Director at Together Productions Creative Group Inc. - Vancouver BC
Blanche Macdonald Merchandising grad, Lillian Lam has worked as a Senior Custom Artist for Sugoi, Vancouver performance wear manufacturers who outfit runners, swimmers, hikers and cyclists worldwide. Now a partner in the design and print firm, Together Productions, she designs jewelry for the international brand Playboy and is a graphic designer and media assistant for the Vancouver Asian Film Festival.
Nicole Denis
Manager, LaCoste Boutique - Vancouver BC
LaCoste, the upscale sportswear and lifestyle wear brand, recently opened it's first freestanding boutique on Vancouver's Golden Mile, and hired BMC Merchandising grad, Nicole Denis as Manager. Loved by sports stars, hipsters, prepsters and fashion elite, LaCoste has grown from LaChemise LaCoste, the white polo shirt designed and launched by tennis star Renee LaCoste in 1933 to a luxe line of colourful women's and men's apparel, footwear, fragrance and furniture. The crocodile logo? Renee LaCoste's nickname.
Pat Yang
Assistant Coordinator, Insight Film Studio
With film productions like "Blonde and Blonder" starring homegrown Pam Anderson, "When a Man Falls In The Forest" starring Sharon Stone and award-winning docs, Vancouver's Insight Film Studio is having a banner year. According to their website, Insight's film production has doubled from the previous year. Wow!
As an Assistant Coordinator at Insight Film, Pat Yang, is currently working on a feature film with Kim Basinger. From office-related duties like booking hotels for cast and crew, data entry and ordering supplies to the fun stuff like picking up cast members at the airport, booking Insight's wrap parties at this city's trendy restaurants and getting paid to shop, every day is different for this recent Blanche Macdonald Fashion Merchandising grad.
"The education I received from the Fashion Merchandising program at Blanche Macdonald helped me get here. The Marketing and Advertising courses gave me an idea as to what to expect in this industry, whether it was fashion or movie related. In my department I am dealing with all the other departments like Props, Set Decoration, Wardrobe etc., and there will be the odd question and it's good to know that I have the answer.
The Instructors at BMC have been so helpful and great!! Donna, Peggy and Joy have all been wonderful. I have learned things that I had no idea about - the Instructors knew the business inside and out and what it is like out in the real world."
ROLL CALL
A selection of Blanche Macdonald Fashion Marketing graduates and their career placements.
Alanna Kuznetsov, moved from North Face as Regional Merchandiser to Corporate Sales, Kenzie
Albian Kwok, Sales Associate, Camper Shoes
Alexandra Samborn, Product Manager, Le Chateau
Alicia Bell, E-commerce, Lululemon
Allison Mcleod, Assistant to the Brand manager, LK Collections
Alysha Karim, Assistant stylist, Operation Style
Alyssa Truant, Sales Associate, Tory Burch (opening new store in Calgary)
Amanda Allan, Buyer Footware, The Bay (Head Office)
Amanda Anderson, Agent Booker, Liz Bell Agency
Amanda Kane, Sales Rep, Anzie
Amanda Moorby, Assistant Denim Buyer, Bootlegger
Amanda Watt, Lead Business & Special Projects, Holt Renfrew
Amanda Woods, Head Visual Merchandiser, The Gap on Robson Street
Amber-Lee Schneider, Fashionista Blogger, Project Manager, Naked Underwear
Amelia Mackenzie, Freelance Fashion writer, ION Magazine, Skinny Magazine
Amy Laverdure, Sales Associate, Holt Renfrew
Amy Lu, Fashion Stylist, Judy Inc. - National Artists' Agency
Amy Wutzke, Stylist Expert, Pacific Centre.
Angela Ghislieri, Assistant Manager, Club Monaco
Anna Talbot, Costume Dept., Some Assembly Required (YTV)
Arantza Montoya, Switchboard, Holt Renfrew
Ariana Terado, Associate Manager, Aritzia
Ashley Mitchell, Assistant Personal Shopper,Holt Renfrew
Ashley Bachmeier, Assistant Denim Buyer, Bootlegger
Ashley Park, Sales Associate, Louis Vuitton at Holt Renfrew
Ashley Weaver, Co-owner, Tickle Trunk and Weaver Agencies
Aurelia Cerquozzi, Assistant Manager, Club Monaco
Avery Brown, Operations, Holt Renfrew
Babak Safari, Sales Associate, Brooklyn Clothing Company
Bayley Thompson-Willard, Sales Associate, Jewelry & Accessories Holt Renfrew
Beau Muncer, Manager, Moule Social Fashion House
Brenton Crawford, Sales Associate, TOPMAN
Bridie Morgan, Assistant, Judy Inc. - National Artists' Agency
Bridget Thiessen, General Wholesale, Yates & Co
Brittany McCoy, Visual Merchandising, Oak + Fort
Brittany Mounce, Sales Associate, Aritzia
Brittany Whitney, Stlyist and Sample Coordinator, Ivivva/Lululemon
Brooke Neufeldt, Social Media, Gentle Fawn
Carly Dargatz, Sales Associate in gift & gourmet, Holt Renfrew
Carly Jones, Merchandiser, Sportcheck
Carmen Watson, Visual Merchandiser, North Face
Carrie Sharma,District Manager, Club Monaco
Catlin Nagi, Sales Associate, Oak + Fort
Chris Lam, Director of Stores - Menswear, Zara Canada Inc.
Christine Visnjak, Owner, Muse Social Fashion House
Claudia Da Ponte, Stylist, Life and Style with Zara
Candice Chic Fashionista Blogger
Carmelita Roscoe, Visual Merchandiser, BCBG Max Azria (Calgary)
Carmen Watson, Merchandise Coordinator, Arcteryx Wholesale
Chelsea Lagenstam, Operations, Holt Renfrew
Chelsea Tibayan, Sales Associate, Joe Fresh
Christine Pallen, Brand Manager, Gentle Fawn
Courtney Hunter, Sales Associate, Hudson's Bay Co/The Room
Courtney Stoy, Merchandise Manager, Aritzia
Courtney Stroet, Assistant Manager, Club Monaco
Danika Osborn, Sales Associate, Lüt Boutique / Newnique Representation
Danielle De Coste, Men's Merchant, Banana Republic Robson
Danielle Lepak, Visual Merchandising, Oak + Fort Calgary
Danielle Swanson, Visual Display Stylist, Le Chateau
Elaine Harrison, Sales Associate, Holt Renfrew
Elise Michie, Visual Merchandising, Holt Renfrew
Emily Gray, Senior Buyer, Secret Location
Emma Mackey, Junior Buyer, Bootlegger
Emma Pickering, Admissions Associate, Blanche Macdonald Centre
Evelyn Wong, Merchandise Coordinator, Pedder Group (Hong Kong)
Frances Pei, Airfare Product Coordinator, Flight Centre
Ghazal Elhaei, Sales Associate, Hudson's Bay Co./White Space
Hailey Brooke, Sales Associate, Pilar's Boutique
Irene Yokoo, Production Coordinator, Mountain Equipment Co-op
Ivan Jimenez, Sales Associate, Club Monaco
Jacky Le, Sales Associate, J Crew
Jamie Patterson, Visual Presentation Coordinator, Jacob - West Edmonton
Jenalee Kreiser, Visual Merchandising, American Apparel
Jennifer Pitura, Sales Associate, Harry Madden & Associates
Jennifer Wendell, PR for Sports and Entertainment, GR Solaris
Jenny Yang, Seasonal, Holt Renfrew
Jesus Morales, Sales Associate, J Crew
Jessica Clark, Holt Renfrew Edmonton
Jessica Hodgson, Sales Representative, Rosen Agency
Jessica Walden, Account Manager, Buur Fashion
Jessica Weaver,Co-owner, Tickle Trunk and Weaver Agencies
Jessie Ryan, Dresser, Louis Vuitton
Jillian Crago, Sales Representative, The Dakota Group
Jill Zdunich, Associate Buyer, Aritzia
Jessica Cote, Director of Marketing, Wear Else
Jill Connolly, Canadian Rep, Fluid Agency
Jillian Lee, Assistant Brand Manager, Diverse Group
Jiwan Han, Sales Associate, Holt Renfrew
Joanne Wilkins, Visual Merchandising, Holt Renfrew
Jodi Sam, Fashion stylist, www.jodisam.com
Jonita Parhar, Assistant Stylist to Luisa Rino Fashion Stylist
Jordan-Ann Piper, Event Coordinator for Miss New Westminster
Jordan Kawawaki, Fashion Merchandising Current Student Full time, Manager in Training JNBY
Jordan Krahn, Concierge, Holt Renfrew
Jordan Schmidt, Diesel Representative, Holt Renfrew
Julia Taylor, Merchandise Coordinator, Winston Retail Systems
Julian Chan, Asisstent, Gold Lemon Creative
Julianna Christie, Floor manager, Aritzia
Julie Duquette, Owner/Operator, Dirty Girl Uniforms
Justin Barrington Foote, Manager, Betsey Johnson
Justine Martin, Sales Representative, SKOUT
Kaleigh Storer, General wholesale/production, Mimi and Marge
Kara Rothdram, Business Development & Sales, Vancouver is Awesome
Karen Tran, Visual Merchandiser, Wear Else
Karen Wyder, USA Operations Manager, Lululemon
Kate Keys, Assistant to Associate Buyer, Moule Social Fashion House
Kate Rose, Visual Merchandiser (North America), Helly Hansen
Kate Wotherspoon, Personal Shopping, Holt Renfrew
Kathleen McGlew, Associate Buyer, Army & Navy
Katie Farrant, Assistant to Regional Sales Manager, Sixty Canada
Kattie Skjolde, Purchasing, Blanche Macdonald Centre
Kaylee Stewart, Assistant Manager, Coach
Kelsey Ram, Sales Rep, Yates and Company
Kendra Perry, Sales Associate, Aritzia
Kendra Pugh, International Sales & Operations Coordinator, Herschel Supply Co.
Krista Guloien, Catalogue Coordinator, Lululemon (HO)
Kristy Rogerson, Operation Style and Wardrobe, X Weighted (Reality TV Show)
Kyla Plotnikoff, Social Media and Marketing Coordinator, Aveda, Calgary
Kyle Dennis, Sale Associate, Coach
Kyle Ziegenhagel, Visual Merchandiser, Zara
Laila Bedard, Sales Associate, Topshop
Laila Fox, Social Media and Marketing Coordinator, Blanche Macdonald Centre
Laura Norbury, Associate Style Producer, Honey Mustard
Laura Spencelayh, Sales Rep / Support, Buur Fashions
Leanne Armstrong, Full Time Sales Associate, Holt Renfrew
Leanne Brown, Assistant Personal Shopper, Topshop
Leanne Saulnier, Sales Associate, Gentille Alouette
Leigha Robinson, , Assistant Manager, Secret Location
Leila Bani, Fashion stylist, THEY Representation Inc.
Lhasa Porter, Buyer, Please Mum
Leighann Boquist, Owner, Oliver & Lily's Clothing and Accessories Inc.
Lesley Ann Paterson, Visual Merchandiser, Holt Renfrew
Lesli Storrier, Customer Service, Global Shoes
Lillian Lam, Art Director, Partner, Together Productions Creative Group Inc. - Vancouver BC
Lilyanne Nguyen, Sales Associate, Gucci
Lindsay Helm, Designer on contract, Lav & Kush Designs
Lindsay McNab, Sales Associate, The Block
Lindsay Wilkins, Visual Merchandiser, Esprit
Lindsay Wikens, Visual Merchandiser, Mexx
Lisa Salsbury, Assistant Buyer, Off the Wall
Lisa Schminowsky, Assistant to Brand Manager, Gail B Wholesale Agency
Luna Kozaczuk, Sales Associate, Dianes Lingerie
Lyndi Barrett, Agency Director, Lj Public Relations. Blanche Macdonald Centre Instructor
Maggie Hou, Broadcaster for TVB, Travelling for the TV stations for Asia and Europe
Mandy Rennenberg, Sales Associate in gift & gourmet, Holt Renfrew
Marcela Banales, Sales Rep, Victoria Secret
Margaux Jackson, Major Accounts Manager, Roxy
Maria Polansky, Visual Merchandising, Zara
Mariana Reynose, PR/Marketing - Front of House, Spend on Trend
Marta Djordjevic, Sales Associate, Anthropologie
Martina Kirdzija, Styling, Arcteryx
Maxime Roberts, Assistant Designer, Some Assembly Required (YTV)
Meghan Keene, Sales Associate in Shoes The Bay Downtown
Melanie Cheng, Sales Associate, Holt Renfrew
Melissa Cumming, Operations, Holt Renfrew
Melissa Rosvold Lynne, Owner of Vie Maternity & Children's boutique
Melody Rhind, Freelance Stylist & Head Designer, Escargot Kids
Michelle Corner, Assistant Buyer for Sporting Goods, The Forzani Group
Michelle Kulas, Agent, Hidden Talent Agency
Nadia Chu, Sales Associate - Women's Contemporary, Holt Renfrew
Namrata Singh, Sales Associate, Joe Fresh
Natasha Campbell, Owner of Tashae Productions (Telus Ski & Snow Board Weekend, 2010 Winter Olympic Apparel, Chum Television, BC Fashion Week)
Natasha Heine, Sales Associate, Banana Republic
Natalie Malheiro, Sales Rep, Gibson Agency
Natalie Willson, Lululemon Educator, Lululemon
Nazreen Nawaz, Wholesale Representative, BMA Apparel Group
Nicole Bampton, Regional Sales Manager, Sixty Canada
Nicole Denis, Manager, LaCoste Boutique
Nicole Ritchie-Oseen, Owner, body politic
Nikki Hyssop, Sales Associate, Obakki
Paniz Jamali, Dresser, Louis Vuitton
Paula Bruzzese, Adminstrative Assistant, Copasetic Clothing
Peter T.Y. Hoang, Blogger, The Starving Stylist
Raffaele Megaro, Western Canadian Representative, Ralph Lauren
Rebekah Lipsey-Ouimet, Manager, American Eagle
Renee Palkovsky, Sales Associate, Aritzia
Rina Sakakibara, Operations (Footwear), Holt Renfrew
Salina Irwin, Sales Associate, J Crew
Samatha Muir, Sales Yest/Customer Service, Buur (Dutch Company)
Sandra Nanavaty and Renata Milanovic, Owners of wholesale agency THEORI
Sara Brandt, PR & Marketing, Hugo Boss Canada Inc.
Sarah Chen, Allocation Analyst / Inventory Controller, Please Mum
Sarah Daniels, Assistant to Robert Del Pino
Sarah Granger, Operations, Holt Renfrew
Sarah Scouler, Sales Rep, In Stock Clothing Ltd
Sarah Wenschlag, Assistant Stylist, Shiva Shabani
Scott Mayo, Audit and Control Associate, Holt Renfrew
Selina Lam, Assistant Buyer, Mariposa
Serena Wang, Marketing, Holt Renfrew
Shaleen Suleman, Sales Associate, Holt Renfrew - Tory Burch
Shauna Cookson, Asisstent Manager, Michael Kors
Shelby Schramm, Office Manager, Blanche Macdonald Centre
Shenna Marie Willows, Assistant Manager, Little Burgundy (Aldo Group)
Silesia Sutherland, Client Services Coordinator, Garison Bespoke (Aldo Group)
Sonia Jagpal, Admissions Associate, Blanche Macdonald Centre
Sonia Sun, Sales Associate, Secret Location
Souroush Matoor, Personal Shopping Coordinator, Holt Renfrew
Stephi Chin, Visual Merchandising, Top Shop
Suzie Cromie, Sales Associate, John Fluevog
Sydney Gibson, In-Store Marketer, The Bay - Park Royal
Tania Garcia, Sales Associate, Jacqueline Conoir
Tanya Albulet, Marketing Manager, Vitamin V
Taylor Ramsay, Head Visual Merchandiser, Forever21
Tenai Scott, Sales Associate, Topshop
Tiana Kruzel, Fashion Wholesale Sales, Horton Berner
Tina Yu, Sales Associate, Club Monaco
Tiffany B Brown, Executive Assistant, Rethink Communications
Toban Raiston, Visual Merchandiser, CanSki Village and CanSki Blackcomb
Vanessa Brown, Merchandiser, American Apparel
Veronica Cleary, DSA/Visual Merchandier, Levis/The Bay
Vicki Chang, Sales Associate, Leone
Victor On, Sales Rep, Michael Kors
Vivian Tai, Social Media/Ecommerce & Visual Merchandising, Stylista Fashion
Vivien Phuah, Assistant Buyer, Secret Location
Xinyu Deng, Visual Merchandising, Izzue
Yuli Wei, Sales Associate, Blubird
Yumi Mizuno, Manager in Training, JNBY (Metrotown)
Note: some of these fashion merchandising graduates may have changed positions in the interim.
Are you a BMC Graduate?
Are you a Blanche Macdonald Fashion Marketing graduate interested in being profiled? Click here to send us your latest career highlights; we would love to hear from you!