Signature Series
Blanche Macdonald Centre is a leader in Makeup Training. We are committed to advancing the Makeup education and careers of Makeup Artists on a local, national and international level.

To this end, we have launched our new Signature Series - Global Makeup Masters.
Ve Neill
Advanced Seminar on Character Design
Our inaugural event was launched with the legendary Makeup Master, Ve Neill. One of the most renowned Makeup Artists in the motion picture business, Ve has set many standards of excellence in the makeup field. Over the course of her thirty-year career, Neill has won three Academy Awards, two Emmy Awards, two Saturn Awards, a BAFTA Award, Local 706 Best Character Makeup Award and the first Artist to be awarded Hollywood Foreign Press "Makeup Artist of the Year"Award. That is a total of 19 international nominations for her creative and innovative makeups.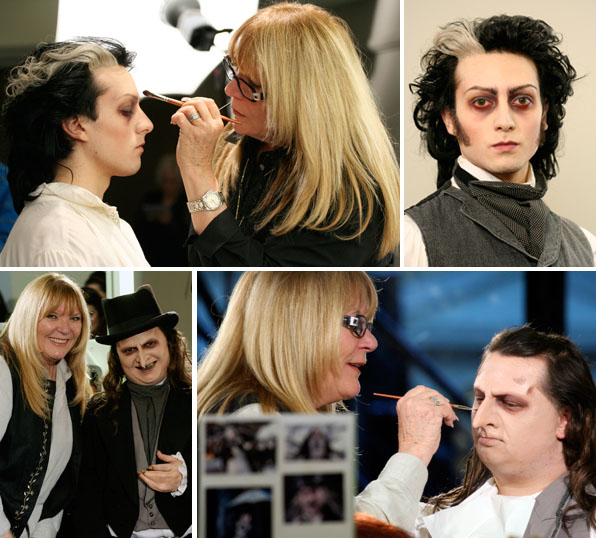 For the launch of the Signature Series, the College was able to host a series of exclusive events with this legendary Makeup talent. Ensuring that each and every Makeup student would be able to gain access and to learn from a World Class Makeup artist, the College organized a series of complimentary workshops solely for our students. In addition, specialized workshops were provided to the Makeup faculty.

This Signature Series was capped off with a standing room only event, with a full day of training where she shared her techniques on Advanced Character Design - the role of a Makeup Department Head, Character Design, Collaboration with other departments and Makeup Character breakdown and demonstration of her makeups for The Penguin, Sweeney Todd and Jack Sparrow.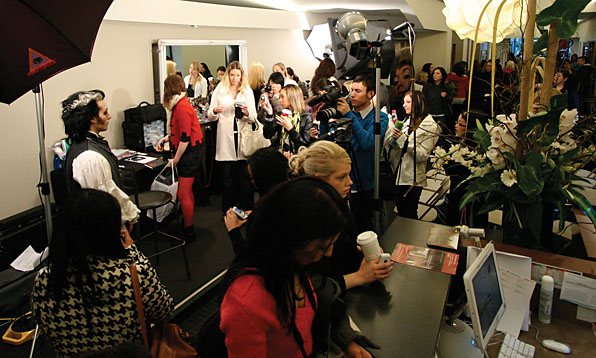 Read more about Ve Neill's Signature Series Events here:
http://www.blanchemacdonald.com/news/signature/2009/ss-ve-neill-bmc/
http://www.blanchemacdonald.com/news/signature/2009/ss-ve-neill-cms/
http://www.blanchemacdonald.com/news/events/2009/ss-ve-neill/
Sharon Gault
Advanced Seminar on Makeup for Fashion Runway and Music Videos
Our second Signature Series event was an exclusive event with internationally reknowned Celebrity Makeup artist, Sharon Gault.

This was a special event dedicated and held exclusively for the Blanche Macdonald Centre Makeup students. Sharon demonstrated her makeup talents and skills with looks from the latest runway collections and her recent Lady GaGa music video.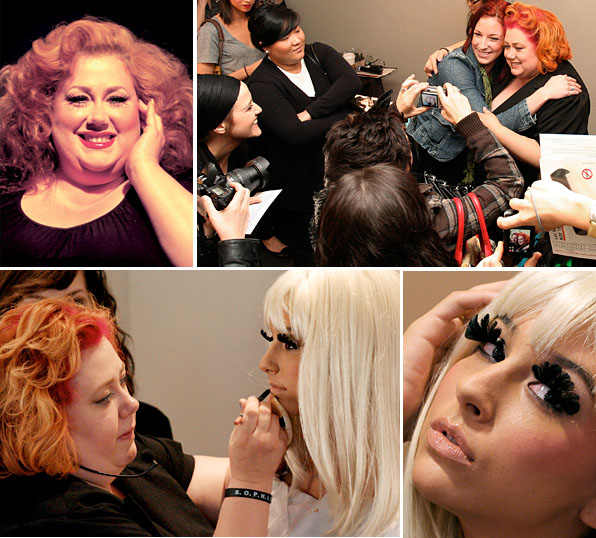 Internationally known for her groundbreaking work with makeup, Sharon Gault has created iconic looks for some of the biggest names in show business and fashion, and in the process, defined emerging trends for two decades in modern pop culture.

Already a veteran of the Hollywood fashion scene, it was not until she toured with Madonna on the "Blonde Ambition" tour, and was featured in the candid feature documentary "In bed with Madonna" that Sharon came to the attention of the world. To this day, many people know her simply as "Mama Makeup", a nickname given to her by the dancers on the tour.

Her work is constantly in demand by Hollywood celebrities, who need to look their best for red carpet award shows, interviews, and photo shoots, giving her a client roster that includes Charlize Theron, Renee Zellwegger, Cameron Diaz, Madonna, Kate Bosworth, Gwen Stefani, Demi Moore, Cindy Crawford, Britney Spears, Hilary Swank, Jennifer Garner, Drea De Matteo, Hilary Duff, Amber Tamblyn, Rachael Griffith, Robert Downey Jr, Sarah Michelle Gellar, Johnny Depp, Enrique Iglesias, Thora Birch, and many more.

Sharon brings a unique dynamic to her clients including Lady GaGa, Keri Hilson, and Solange where she works with her clients and their directors to create innovative music videos. Sharon has also collaborated with some of the world's most acclaimed photographers including, David La Chapelle, Ellen Von Unwerth, Isabel Snyder, Matthew Rolston, Tony Duran, Richard Mclaren, Michel Comte and Herb Ritts.
Read more about Sharon Gault's Signature Series event here:
http://www.blanchemacdonald.com/news/makeup/2009/ss-sharon-gault/
Howard Berger & Tami Lane
Advanced Seminar - New Makeup Technology, the use of 3D Makeup Transfers and Silicone Prosthetics
With motion picture credits ranging from such mega block busters as the ongoing Chronicles of Narnia series, Kill Bill 1 & 2, and Green Mile to the spectacular Lord of the Rings trilogy, Blanche Macdonald Centre was proud to showcase the creative and technical talents of these celebrated Makeup luminaries. It was an honour and a privilege for us to host them at Blanche Macdonald.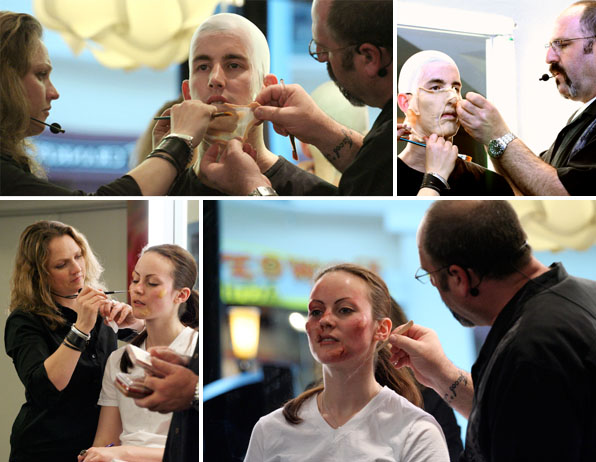 3D transfers were first used in the Makeup industry as small pieces but new technology and techniques have evolved this makeup process where it can now be used for much larger forms. These 3D transfers were recently used to create the Academy Award winning makeup for Greg Cannom on Brad Pitt, for his highly acclaimed feature film, Benjamin Button. William Corso, who received the Oscar for his work on Lemony Snicket, used the 3D transfers to age Jessica Lange and Drew Barrymoore for the new, much anticipated HBO film, Grey Gardens.

The application of 3D transfers is becoming an essential skill of Hollywood Makeup artists. Howard Berger and Tami Lane reviewed how 3D transfers are used and demonstrated their use on a "casualty" character. They also be demonstrated the "Hag" character from The Chronicles of Narnia which involves Silicone Prosthetics. This is a whole character makeup which is highly complex, challenging and creative.
Read more about Howard Berger and Tami Lane's Signature Series event here, along with a second visit by Howard Berger:
Oscar Duo, Howard Berger and Tami Lane at BMC!
Academy Award-Winning Makeup Artist Howard Berger visits Blanche Macdonald!More from Howard Berger's visit to BMC on our blog!
Sign up for our email or Facebook updates for all upcoming Blanche Macdonald Signature Series – Global Makeup Masters events.

Sign up on the Blanche Macdonald Centre page on Facebook® or on our website: